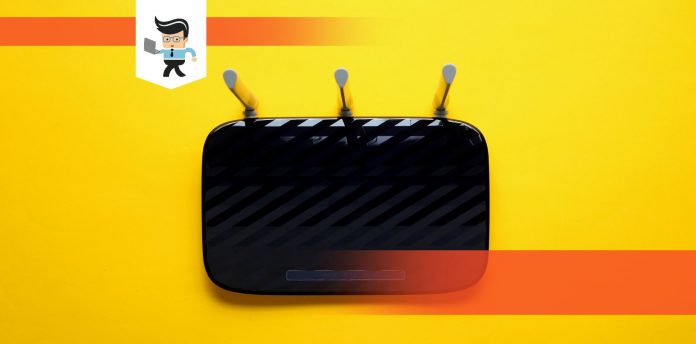 The Netgear CM600 vs. Arris SB6190 pits two quality modems against each other. With such devices essential to stay connected to the internet, it's best to get your choice right the first time.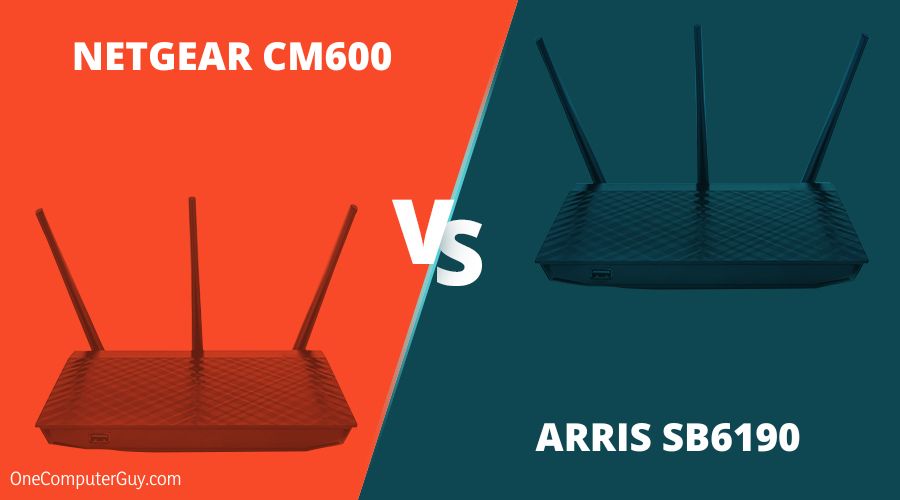 There are thousands of options for providers, modems, cables, and much more, so you'd be forgiven for seeking help to choose one.
Not to worry, we've narrowed your choices to these two modems with a comprehensive review of their features and how they compare to each other. Read on!
Netgear vs. Arris Key Specifications
Product
Key Specifications
CM600

Brand: Netgear
Gigabit ports: 1
DOCSIS: 3.0
Chipset: Broadcom chipset
Upload speed: 356.36 Mbps
Download speed: 960 Mbps
Bonded channels: 24 X 8

SB6190

Brand: Arris
Gigabit ports: 1
DOCSIS: 3.0
Chipset: Intel puma 6 chipset
Upload speed: 131 Mbps
Download speed: 1.4 Gbps
Bonded channels: 32 X 8
Arris SB6190 and Netgear CM600: A Comprehensive Review and Analysis
It's vital to stay connected in a world that continues to revolve around the internet. There's a lot you can get, including first-time news, play online games, and stream a lot of video content. That said, these two modems are what you're looking for, if speed and a vital connection matter to you as a user.
A cable modem is a top consideration to access the Internet since you can't do so without it. That's why you need to get yours and have a flexible time going about your activities. Besides, you get many top models to choose from, and you can plug a solo device directly into your cable network or use a router for a wireless connection.
When you're out to buy your own modem, you have the opportunity to pick one that best suits you and speeds up your ISP Internet plan offers. That means you also get to save on your monthly rental charges. In line with that, there are two options in this review to choose from – Arris and Netgear brand.
You get the Surfboard SB6190 on the one hand and the Netgear CM600 on the other. These routers have fast Gigabit speeds, are compatible with major cable ISPs, and use the same DOCSIS protocol.
The question now is which of these modems offers more?
Read on to find out!
Pros
  It comes with 400 Mbps ISP Speed
  Will support multiple ISPs
  Easy installation and better firmware protocol
  It works with any Wi-Fi router
Cons
  It doesn't come with its Wi-Fi router
  It has a single Gigabit port
The Netgear cable modem is a suitable device from one of the most popular devices in the world. They've had a hand in some of the best wireless devices like routers, so it's only normal to try their hands with routers.
So far, they are doing well, and this CM600 is proof of that after other top-quality models that even feature the DOCSIS 3.1 cable protocol. However, the main focus here is the CM600, which takes after the CM500.
– Design and Appearance: Classy and Appealing
Netgear makes an excellent first impression with the CM600, which comes with a sleek appearance and it offers great elegance based on design. You get a back case covered by a black matte finish which adopts a polyhedron-shape approach coupled with soft rounded corners.
In addition to that, the overall design is quite similar to that of the CM1000. It is covered by almost the same type of frame and base on the device. The CM600, like other exciting modems, is a compact and sturdy device that won't occupy too much space and can easily fit anywhere in the home or office.
It has a sturdy feel thanks to its weight of 1.0 pounds, a built-in base platform, and small silicone to cover its feet. That means you can't mount this modem on the wall, so you have to find a proper angle that doesn't hide its vents.
– LED: Provides Indicators
At the front of the Netgear modem, you get polished pieces of plastic occupied by the LED lights, which provide indicators for different purposes. It shows you the status of the power, and if it's on red, then the modem is at risk of overheating.
The Downstream solid amber indicates that one channel is locked while two or more downstream channels are locked on solid green. The Upstream is a bit the same and focuses on the up-screen channels.
For example, if the LED blinks green, the modem is synchronizing to the CMTS and Ethernet. Green also shows that a device is connected at 1,000 Mbps, while amber indicates a 10/100 Mbps connection.
– Software and Firmware: Inside the Modem
Going on with our Netgear CM600 review, it is important to note that the device comes equipped with 128 MB of RAM. Also, an 8 MB NOR flash memory and a Broadcom BCM3384 SoC.
It also comes with 24×8 DOCSIS 3.0 channel bonding that translates into 1029 Mbps and 216 Mbps for the maximum theoretical downstream data transfer speed and maximum theoretical upstream data transfer speed, respectively.
After some tests, on average, the device maxed out at 295 Mbps and had an average download speed of 287 Mbps.
In addition to that, the 24×8 bonded channels of the CM600 are more than enough to handle a sub-Gigabit Internet speed, but some people might want more. They'll feel that a 24×8 modem may still not be future-proof enough.
If that applies to you, the CM600 will not be enough, and you may want to switch to a DOCSIS 3.1 modem. You can get that in the Netgear CM1000, which is more future-proof than CM600.
– Compatibility: Works With Many Platforms
This modem works well with many devices and platforms such as Comcast, Spectrum, Suddenlink, WOW, Mediacom, Cox, RCN, and Cable One.
Still, before purchasing, make sure the CM600 is compatible with the ISP of your choice.
– Setup: Simple and Straightforward
Getting this modem to run is pretty much easy to do, thanks to the instructions provided. You're not making any significant connection on it, and once you find a router that fits, you'll get the best out of it.

– Netgear CM600 Overview
If you want a high-speed connection to connect multiple devices in your home, this is it. The CM600 is compatible with devices running DOCSIS 3.0 and 2.0 protocol.
Pros
  Works with any Wi-Fi Router
  Advanced firmware protocol
  It will support multiple ISPs
  Simple installation
Cons
  It has a single Gigabit port
  Costs more
Our Arris Surfboard SB6190 review focuses on the device's unique features, including compatibility with various cable ISPs such as Comcast Xfinity, Cox, and Spectrum.
With this device, you can stream UHD videos, play multiplayer games online, and use the internet on multiple devices without any hassle. There's great speed here, too, since the maximum download speed limit is concerned, making the modem provide rates as high as 1.4 Gbps.
Just like its counterpart reviewed above, its Gigabit port is restricted to one. But you get the 32×8 Channel bonding which helps the modem avoid data congestion when multiple devices are connected. We also like the setup process, which requires you to connect the cables and request your ISP to activate your internet plan through the website portal.
– Modern Tech: Seamless High-Speed Internet
This Arris surfboard device utilizes DOCSIS 3.0 firmware protocol, which is much faster than DOCSIS 2.0. As a result, the protocol allows for high-speed Internet to be routed through this modem.
– Connections: Multiple ISP Compatibility
The SB6190 has a reputation for being suitable for Comcast Xfinity, Cox, and Spectrum Cable Internet Plans. In addition to that, it supports a wide range of Internet service providers.
But the thing is, only Comcast Xfinity's 600 Mbps Internet Plan is compatible with this router. In contrast, for all other ISPs, lower-speed plans are compatible.
A 1.4 Gbps cable internet connection can also be handled by this modem. However, it will limit the maximum download speed on the Gigabit port to 1 Gbps.
There are no in-built routers, but there are provisions for Wi-Fi routers you can connect via the Gigabit port to this modem. With that, you can share the Internet on the modem with wireless devices.
– Easy Setup: Cool as You Like
Setting up the Arris SB6190 is easy and shouldn't take more than five minutes when you follow the simple steps to get it running. Just plug the cable, power it, and contact the ISP to activate your Internet.

– Arris SB6190 Overview
You'll find the Arris SB6190 is very fast across any network and provides better features than modems of similar capabilities. However, if you want it, prepare to pay more.
Netgear CM600 vs. Arris SB6190: Head to Head Comparison
The main difference between Netgear CM600 and Arris SB6190 is, Arris SB6190 has a better speed of 1.4 Gbps, compared to the CM600's 960 Mbps, but Netgear CM600 comes with a Broadcom chipset and is more affordable.
Our Netgear vs. Arris comparison takes another dimension with the critical specifications on each router compared. That way, we know which one stands out and, by extension, the best for you.
Range and Speed Capacity
The SB6190 boasts more bonded channels at 32 X 8 than the 24 X 8 on the CM600 modem. The number of bonded channels shows how many devices can be supported simultaneously on the network. Also, it shows the amount of data the ISP can allow to pass through while downloading or uploading.
When it comes to speeds, the SB6190 also scores higher than the CM600; that's because it offers more at 1.4 Gbps download and 131 Mbps upload speeds. In line with that, the SB6190 is suitable for complex multimedia services, heavy internetwork environments, and video streaming.
In comparison, the CM600 offers a reliable and affordable way to connect to the Internet. That way, you get uninterrupted internet connections even during peak usage times, when everyone in your home is connected.
Overall, Sb6190 is better concerning speed since you get a theoretical max speed of 1.4 Gbps, compared to the CM600's 960 Mbps.
Structure and Design
The truth is that Arris and Netgear modems are a bit identical in size and shape, portable sizes, and done appearance. The SB6190 provides more options in color, and they both weigh over one pound and have similar dimensions.
Both of these routers also offer one Gigabit port and have no in-built router. What's more, their designs are versatile. That means they can adjust to take up more speed in the future.
Technology
The two of these modems have provision for future technological advancement to obtain faster speeds. Here, the SB6190 still has the edge as it projects to offer speeds of up to 1.4 Gbps against the CM600's 1 Gbps.
In the same vein, the two modem's Gigabit Ethernet ports connect with various computer brands and different Wi-Fi devices, including Arris routers.
For the chipsets, the SB6190 comes with the Intel variety, while Netgear has a Broadcom chipset which gives the device a more reliable and stable output. Some users have complained about the Intel chipset causing jitters and latency flaws.
Conclusion
We like these two modems, and they both meet the Internet needs of regular users in the home or small offices. If you're more concerned about a reliable and affordable modem, the Netgear CM600 appeals. However, if you need quality speed and security, Arris SB6190 is your answer.
In our review team, we think the CM600 has a slight edge over the SB6190 thanks to its array of features at a more affordable price point and the impressive Broadcom chipset that deals with latency.