Going over this Netgear AC3000 vs AC3200 comparison will help you appreciate two tri-band routers that offer fast connectivity and even better stability. That's because tri-band Wi-Fi devices are the fastest Wi-Fi service routers since they provide three connections.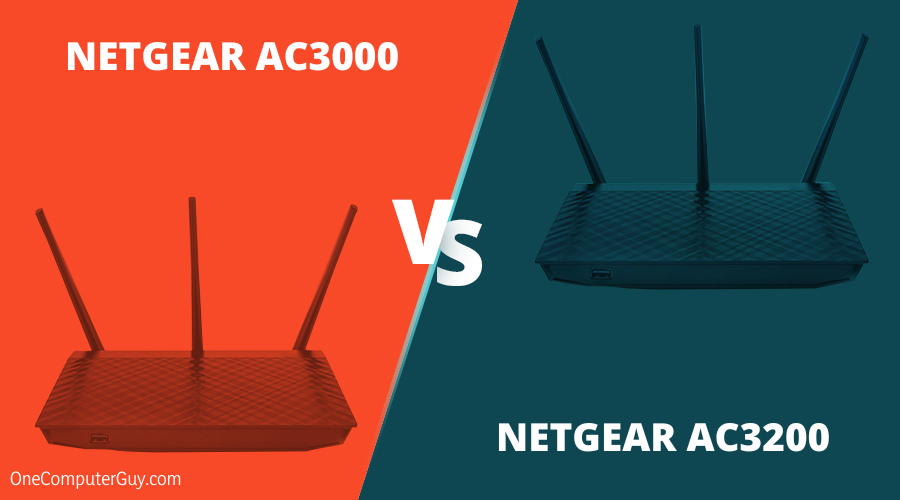 While these two routers pack many features, capabilities, and outstanding similarities, they're also separated along some parameters. Go on to read our review of these two routers before settling on the best option for your devices and applications. 
Netgear AC3000 vs AC3200 Comparison Table
| | | |
| --- | --- | --- |
| Features | TP Link AX3000 | TP Link AX3200 |
| Speed  | 2.4GHz-450Mbps, 5GHz-1300Mbps | 2.4GHz-600 Mbps, 5GHz-1300Mbps |
| Connectivity  | 1x USB 3.0  | 1x USB 2.0, 1x USB 3.0 |
| Wi-Fi  | Tri-Band Frequency  | Tri-Band Frequency  |
| Processor  | Dual-Core 1GHz Processor  | Dual-Core 1GHz Processor  |
| RAM/Flash Memory  | 256MB/128MB  | 256MB/128MB |
What Are the Differences Between Netgear AC3000 vs AC3200?
The main difference between the Netgear AC3000 and AC3200 is that the AC3200 offers more total speeds on different bands than the AC3000. It can reach an overall speed of 3200 Mbps, which is more than its counterpart can offer.
– Connectivity/Storage Ports 
Winner: Netgear AC3200 
Whether you want to upload data on the internet from external devices, like printers or external hard drives, or introduce additional networks, connectivity ports go a long way.
Many routers like the AC3000 and AC3200 from Netgear have USB ports for use with USB-enabled devices. They're also ready for cloud services. However, there's only one USB port on the AC3000 – USB 3.0. 
On the flip side, the Netgear Nighthawk AC3200 has USB 3.0 and USB 2.0 ports compared to the AC3000. Other ports like the sole WAN and four LAN ports remain the same . But the AC3200 wins this category since it has two USB ports and can connect to more devices simultaneously. 
– Speed
Winner: Netgear AC3200 
You wouldn't be wrong to settle on a fast or speedy Wi-Fi router. These two Netgear routers don't disappoint in that regard, and back their speeds up with a 1GHz dual-core processor that enables them to handle vast amounts of data from multiple devices.
That way, you're assured of fast file transfer speeds. Also, the two routers have a network coverage of 3500 sq ft.and consist of three separate channels.
While the AC3000 is a tri-band router with a total speed of 3000 Mbps with speeds reaching up to 1300 Mbps at 5GHZ and 450Mbps at 2.4GHz, it's a little short of its counterpart here.
That's because the AC3200 is also a tri-band router with an overall speed of 3200Mbps with 600Mbps at 2.4GHz and 1300 Mbps at 5GHz.
From the assessment above, the fastest router between the two is the Netgear AC3200. 
– Performance/Streaming Capabilities 
Winner: Netgear AC3200 
How a router performs is a major consideration, thanks to many demanding applications and processes. For users who are majorly into online gaming and online video streaming, especially for 4K and HD video streaming, it is very important to look for a router that gives priority to their Quality of Service since frequency bands and speed determine the quality of your user experience.
Speaking of which, both Netgear AC3000 vs AC3200 routers have been equipped with the important hardware and features needed to handle your most demanding online activities. 
Notably, they both feature the dynamic QoS technology feature that automatically brings up the speed and bandwidth required by specific devices or activities. That includes streaming HD content or gaming.
But it is important to point out that while both routers feature four Ethernet ports, they differ in their overall streaming performance and the user experience might not be the same for everybody. 
For example, the AC3000 has an overall speed of 3Gbps and can connect up to 55 products at a time. Meanwhile, the AC3200 has a total speed of 3.2Gbps and can be linked to about 50 devices simultaneously. That makes it the fastest router here and most suitable for streaming and gaming performances. 
Pros
Super-fast speeds 

Easy Installation process 

Top-notch security provided by NETGEAR Armor 

Compatible with multiple devices 
Cons
Bulky make 

Limited USB functionality 
The Netgear Nighthawk AC3000 is a powerful tri-band Wi-Fi router that can deliver smooth connections and fast speeds. It can automatically connect to Wi-Fi enabled devices in homes and small offices.
You'll also get an impressive combination of features, such as wireless speeds reaching about 3Gbps, Smart Connect Intelligence, and three dedicated Wi-Fi bands. 
A Dynamic QoS and the NETGEAR Armor are among the plethora of features you have to enjoy the best user experience. The router is powered up by a 1GHz dual-core processor with three offload processors. It also hosts a 256MB RAM and 128MB flash memory capacities. 
The AC3000 comes with six high-performance antennas that contribute to maximum network range and coverage. We also like the Beamforming+ connectivity, which helps you improve on the router's reliability and wireless range for all to enjoy. Every connected device will have access to a fast and secure network. 
Furthermore, there's only one USB 3.0 port that offers storage-ready access and delivers high speeds all the time. It also has bundled software, including the NETGEAR Armor and the Circle App.
The NETGEAR Armor is a software that protects all your connected devices from cyber threats and attacks. Things like viruses, spyware, ransomware, and Trojans are blocked from affecting your network and connected devices. 
As for the Circle App, it's an application that provides smart parental control so that you can manage the time and content online.
As your children study, socialize and play on the internet, you can monitor their activity and secure their online activities by using online content filtering, intrusion detection, and activity monitoring. Any connected device, including those from your kids, will be monitored and timed.

Pros
Super-fast, reliable performance 

Easy to install and run

Comes with the NETGEAR Armor 

USB 2.0 and 3.0 ports
Cons
Big design occupies space
A router from a proven lineup and brand is worth having as part of your rig. That's what you get with this Netgear Nighthawk AC3200 router, which is a tri-band router enclosed in a rectangular chassis with six retractable antennas that can easily fold in and out. 
The properties of the antennas mean you can position them to get the best signal and adjust them accordingly. For a processor, this router comes with a dual-core 1GHz processor coupled with three offload processors. Like its counterpart above, it has 256MB of RAM and 128MB of flash memory.
Speed is one of the driving forces of this router because it takes devices to the best levels of connections. You'll get a theoretical bandwidth of 1300 Mbps on each 5GHz band and 600 Mbps on the 2.4GHz band. Overall, the AC3200 has speeds of 3.2Gbps and network coverage of up to 3500 sqft. 
More Connectivity options are available on the AC3200 router than its AC3000 counterpart. You'll get two USB ports; USB 2.0 and USB 3.0 that allows you to connect it to external drives and printers. Furthermore, there are four LAN ports, a single WAN port, and an LED on/off switch.
There are several bundled software you'll get access to, such as the Circle with Disney – a free premium account that allows you to monitor and manage the time spent online. The content and data usage for the connected devices, as well as ways to set filters, are other things you can use the software for. 
Another positive with the Netgear AC3200 router is that it comes DLNA-ready. As a result, you can comfortably share and play music and videos with your family and friends. The router also features voice controls to help you control the network using Google Assistant and Amazon Alexa.

Frequently Asked Questions
1. How Many Devices Can the Netgear AC3200 Router Hold at Once?
This depends on the assigned bandwidth, but the AC3200 wifi router can hold a maximum of 50 devices. You can connect your doors, computers, smartphones, desktops, and other internet-enabled products and devices to this router all at the same time.
2. Do I Need to Have an External Modem Before I Can Use the Netgear AC3000?
No, and this is because the Netgear Nighthawk AC3000 is already a tri-band wifi router, so you can expect a seamless connection. Also, you don't need an external modem to make any connection to your devices, so you don't have to worry about this.
3. Is the Netgear AC3200 Good for Gaming and Streaming?
Yes, the Netgear AC3200 router is fast and ready to handle a lot of internet-intensive applications, which makes it ideal for gaming and 4K HD video streaming. You can rest assured that this router can handle your gaming and movie sessions.
Conclusion
It does not matter if you're a gamer, a regular user, or an avid internet user in need of a stable connection for your rig, having a fast and reliable router that can handle whatever you throw at it is just very important.
There are many tri-band frequency routers on the market, and these two are some of the best. That's because the Netgear AC3000 and AX3200 represent classy options and additions for your home or small office. 
So which of them should you settle for? The answer is up to you and is largely dependent on your preferences. However, after careful consideration and testing, we realized that the Netgear Nighthawk AC3200 is much better than its counterpart.
Overall, it seems a tad faster than its counterpart and comes with two USB ports, including the 3.0 variation, that allow you to add more devices to the router simultaneously — a feature that will come in handy for gamers and online streamers alike.