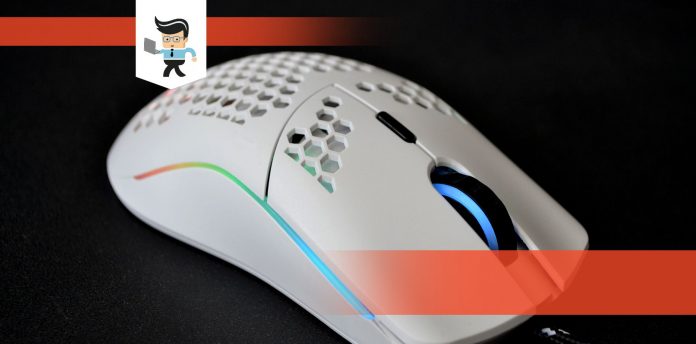 If you're stuck with choosing a mice battle between Logitech m705 vs. m510, you'll need a closer look. To that end, we've taken it upon ourselves to review both products by showcasing what they have to offer. Moreover, a mouse does more than perform a few clicks. It's a viable and vital part of your computer rig.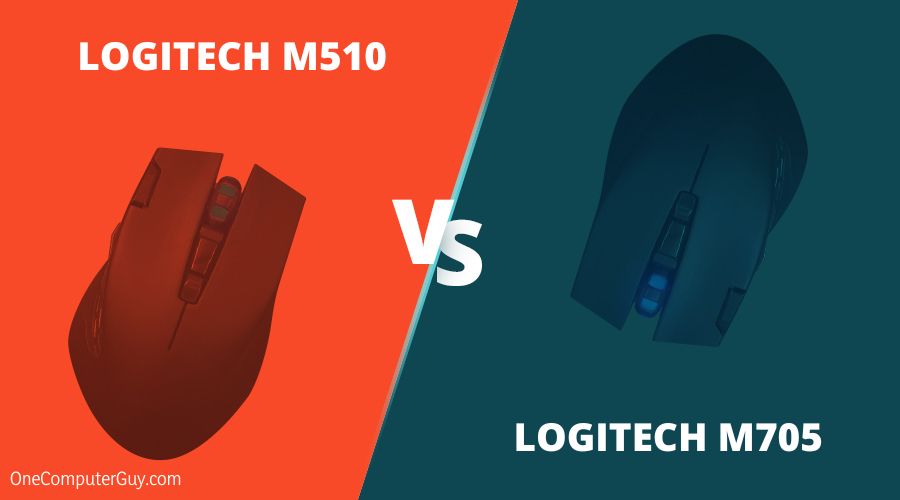 Logitech m510 vs. m705: Key Specifications at a Glance
Products
Specifications
Logitech m510

Buttons: 7
Design: Standard
DPI: 1000
Battery: 24 months

Logitech m705

Buttons: 7
Design: Ergonomic
DPI: 1000
Battery: 36 months
Comprehensive Review of the Logitech M510 and Logitech M705
Computer peripherals have a place on any computer rig out there. They might not make up the mainframes, but they more than compliment your computer. That's why a mouse makes sense to have. You can use it to play games or click through a wide range of functions.
The m510 and m705 provide an excellent base to work with. They both have long-term batteries you'll hardly max out. Also, their DPI's are the same at a thousand, which is good enough.
However, that figure isn't great if you're a gamer. Other features they share in common include the number of buttons (seven) and similar scrolling speeds.
Let's delve deeper into both products to see how they compare and perform individually.
Pros
• Contoured shape
• Portable and programmable
• Tilting scroll wheel
• Durable battery
Cons
• Slow Double click
• Favors a right-hander
To get this Logitech m510 mouse review started, we observed it comes in several amazing colors, such as red, black, and blue. The Lazer of the mouse can work on any surface, including carpet, wood, and glass.
For shape, it features an hourglass shape that guides your hand into a natural position. To that end, it's more suited for a right-hander.
The contours will give your wrist a break to ward off fatigue. Besides that, the rubber grips on the side create a soft landing pad for your pinky finger and thumb.
– Good Punchy Buttons
On close quarters, it's easy to see that there's no shortage of buttons. You've got seven of them here. As such, your hand will feel more like a control center for shortcuts. Well, with the Logitech SetPoint software, you can have those buttons customized.
What's more, the extra buttons for your thumb on the left side enable you to flick back and forward. For example, you can swap between pages in a web browser or media player.
– Working Receiver
The Unifying Receiver is tiny, thanks to innovative shrinking USB ports. That means apart from the wireless feature; you can use a USB dongle for a keyboard, mouse, and other devices.
– Battery: The Best Point
For all the Logitech m510 specs, we feel the best is its battery life. According to Logitech, this mouse uses two AA batteries to power it. It can last for two years. If you want more out of it, you can switch the power off when after use.

– Performance: Precise and Functional
The m510 uses what Logitech refers to as High Precision Optical Tracking. With it, users get a highly tuned cursor control and extended battery performance. Further, the sensor technology might allow this mouse to function on most surfaces.
For its size and capabilities, the m510 does perform above average. Besides, the 1000 DPI here means it's not as fast as gaming mice out there.
If you want a modern-day mouse to cover less burdensome activities or tasks, get your hands on the m510.
Pros
• Ergonomic shape and parts
• Easy to customize buttons
• Two scrolling speeds
• Durable battery life
Cons
• Feels jumpy on mouse pads
We'll jump right into the Logitech m705 review by stating how appealing and form-fitting it is. The mouse comes designed to fit your hand and with enough buttons to customize.
Also, it might not be the fanciest or most robust wireless option out there, but it sure works. You can put that down to a three-year battery and more than moderate 1000 DPI.
The m705 also features programmable buttons, tilt-scrolling, and two scrolling speeds. However, it's more comfortable for small-handed right-handed users who want a suitable fit.
– Exceptional Design and Buttons
Apart from its compact and comfortable design, the Logitech m705 setup is simple. It has a slight build that's just fit enough because it shapes your hand. Also, you have a more stable feeling thanks to its nearly 5-ounce weight.
There are two thumb buttons here alongside a scroll wheel which includes a button prompt. With the button below the scroll wheel, you can shift from notched to hyper-fast scrolling. Besides that, all the other five buttons are easy to reach, quiet, and responsive.
The matte finish won't give in to smudging and fingerprints noticeable on glossy wireless mice. There's also an easy-access power button to help you conserve the battery.
– Top-Level Performer
The Logitech m705 specs come with High Precision Optical Tracking. As a result, you get a highly-tuned cursor control and extended battery performance. Besides, the sensor technology gives the mouse an edge to function on most surfaces, including solid, patterned, and textured surfaces.
The Logitech m705 dpi is raged at 1000 and offers quality sensor and tracking accuracy. That way, you can complete the most basic of computing tasks.
– Customization: Boost Your Chances
The Logitech Options software makes it easy to customize your mouse. You can set your preferred action for the buttons and also pointing speeds. All the controls you'll want for the five buttons are easily programmable. You can do that with a click of the button you'd like to customize or reassign.

The M705 mouse presents an above-average wireless solution to those who want a straightforward mouse. Also, if you fancy the longevity it boasts, it's the right fit for you.
Logitech M705 vs. M510: Just How Different or Similar are They?
the main difference between Logitech M705 and M510 is, Logitech M705 has a stunning ergonomic design and uns three years on 3x AA batteries, while Logitech M510 features a well-contoured shape and run for two years on 2x AA batteries.
– DPI
Dots Per Inch (DPI) refers to the sensitivity of the mouse. It's a factor that matters if you're looking to buy a mouse for competitive gaming. However, both of these mice feature a low DPI at 1000. As such, they're perfect for home and office use.
They're both fast, though, and have a quick response rate to boot. If you want either, be rest assured that you can't play games with them.
– Design
There's a clear winner here. That's because the m705 has a stunning and captivating ergonomic design. The shape has a look designed to maximize your comfort level. You've got a hyper scroll button and an on-the-fly customized button. Both serve to enhance the beauty of this mouse even more.
The M510 features an ordinary shape. While that's functional, it looks very much like those standard mice from the 2000s era. The glossy and matte finish provides a nice touch alongside the rubber grips on the sides for a comfy grip.
Both of these mice feature seven buttons that are all customizable. Besides that, they both come in as mice that favor right-handed users.
– Connectivity
The Logitech m705 dimensions are similar to that of the m510, but they're both wireless mice. Also, both of them are featured with Advanced 2.4Ghz Wireless technology. As such, you get a strong connection Bluetooth can't offer.
The tech here will let you operate these mice from at least ten meters away from your device. That's cool and will enhance your home multimedia.
– Battery Life
Battery life is a sticking point for many users. It's a consideration that cuts across different devices. To that extent, it's ideal to have a mouse you can count for a long while. The m510 and m705 offer excellent battery, timing, and durability.
In a head-to-head, we'll settle for the m705 simply because it offers more lifespan. While the m510 will run for two years on 2x AA batteries, the m705 gives you three years on 3x AA batteries.
– Performance
The M705 comes designed with comfort in mind. That's why it provides a very comfy and user-friendly stance. It helps you use this mouse for hours without shedding a sweat. The only issue here is the right-handed form of the mouse.
The m510 has a well-contoured shape that helps your hand fit around it. The grips around will give you a good base and grip. Overall, they both perform well, considering they're not the best out there.
Conclusion
Between the M705 vs. M510, we feel the former just edges it even if they're both great. What you get on either one are a user-friendly experience and functional software.
We'll go with the m705, though.
It has a longer battery life, ergonomic design, and customizable parts. The m510 gives it great competition, but it's mainly basic. If you want a capable mouse with quality features for the long haul, get the m705.