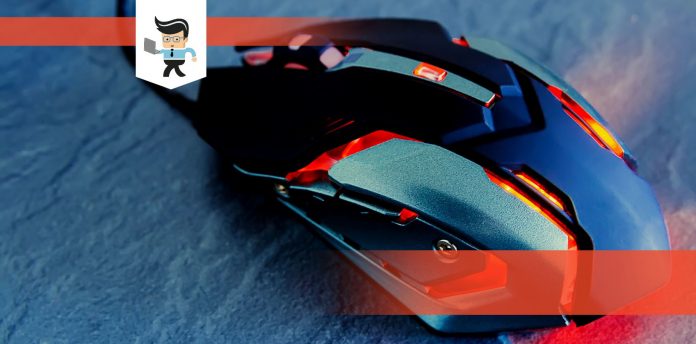 SteelSeries Rival 310 vs 300 – what are the differences between them, and which mouse is the best one to use for gaming? There are a lot of similarities between the two offerings from Steelseries.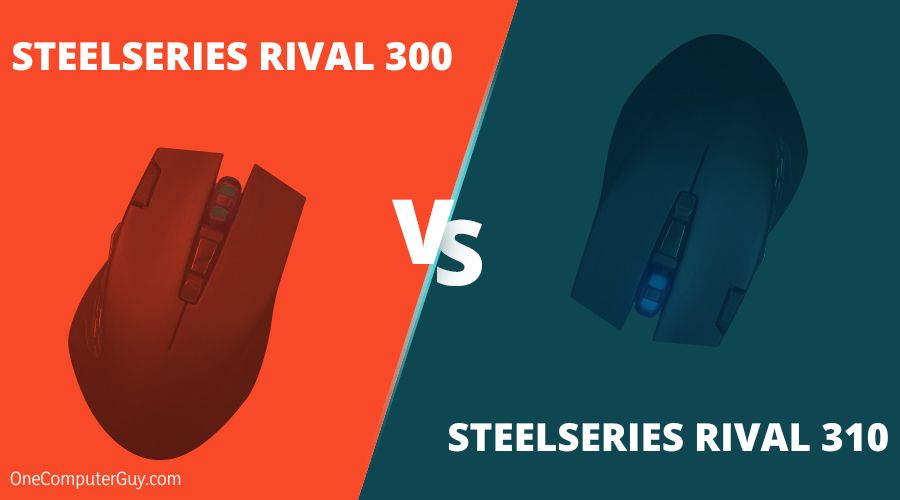 Both products make use of a wired USB connection, utilize optical sensors for input, and are ergonomically designed. Even though both the Rival 300 and Rival 310 are made by Steelseries and some similarities are to be expected, but the 310 is an upgrade over the 300.
Read below for our review on how these two mice compare to one another in terms of DPI, weight, wireless or wired connection to the computer, lighting options, and the sensor technology.
Mous
Pros
Cons
Steelseries Rival 310

Comfortable, ergonomic shape
TrueMove 3 sensor
Lightweight and easy to use
Soft and lightweight rubber cable

Scroll wheel could be improved

Steelseries Rival 300

Comfortable, ergonomic shape for extended use
Textured side grips
Flawless Pixart PMW 3310
Pros:
Comfortable, ergonomic shape suitable for long working and gaming sessions
Untilizes the TrueMove 3 sensor
Lightweight and easy to maneuver
Soft and lightweight rubber cable for wired connection to the machine.
Cons:
Scroll wheel could be improved upon
– Specs:
Mouse weight is 3.115oz (88.3g) without the connecting cable
Textured plastic body with rubberized grip for the fingers
Steelseries TrueMove3 optical sensor
Programmable DPI/CPI range from 100 to 12000
Connection to computer is a 6.6 foot (2m) long USB cable
Has a dimension of 5.024 inches x 2.76 inches x 1.653 inches (compact form factor)
Right-handed gaming mouse for palm and claw grip
The Rival 310 is an upgrade to the Rival 300 hence and as such, there are not many differences between the two. The Rival 310, is, however more compact than the Rival 300 and it is lighter by a full ounce, making it easy to maneuver and control.
– Design
The two side buttons of the Rival 310 are also better placed than those on the 300 model, making it easier to hit mouse button four. Its contoured, ergonomic shape means it is easiest to use by right-handed gamers, but it also works with how it is most comfortable for those right-handers to grip. Specifically, unlike other contoured gaming mice, it supports both a palm grip and a claw grip.
The shape is not overly exaggerated and makes it comfortable to hold for long work and gaming sessions, and it will work with a variety of hand sizes because it has a length of 5" and a grip width of 2.441". Because it is also narrower than some other gaming mice, people who have smaller hands may prefer the Rival mice over Logitech or other brands.
The Rival 310 is made with a textured plastic finish, making it easy to maintain your grip on the mouse and it doesn't get slippery if your hand starts to sweat over time.
The mouse is also fingerprint and grease resistant, making it easier to maintain and keep looking fresh and neat without constant cleaning. The sides of the mouse have a rubberized grip, just like the 300 does, and this provides control and stability during use.
The scroll wheel also has a rubberized finish to make it easier to scroll through long documents, and has a notch for a dedicated DPI button at the back. This customizable setting for the DPI can be adusted to anywhere between 100 and 12,000. In order to access these settings, however, you need to download SteelSeries' Engine software.
– Features
Installing the SteelSeries engine also gives you access to other settings as well, for example to control the RGB lighting in the mouse, allowing you to customize the lights on the SteelSeries logo and the mouse's scroll wheel.
The Rival 310 makes use of SteelSeries' TrueMove3 optical sensor which provides the high DPI sensitivity. The sensor itself is located in the middle of the mouse's base so that it can maintain even weight distribution during use.

The Rival 310 mouse tracks excellently with no flaws at any DPI you set it to. It has no lost pixels, no acceleration or delay, smoothing or spin out issues.
Pros:
Comfortable, ergonomic shape for extended use
Textured side grips to encourage proper mouse positioning
The Rival 300 sensor is a flawless Pixart PMW 3310
Cons:
The switch feels a bit mushy
– Specs:
Rival 300 weight is 4.586oz with the connection cable
Rubberized finish
Pixart PMW 3310 sensor
Programmable and adjustable DPI/CPI range of 1 to 6500
Connects to computer using a 6.6 foot (2m) USB cable
Has a dimension of 5.236 inches x 2.756 inches x 1.772 inches
Has 6 control buttons
Right-handed gaming mouse
Works without software
Makes use of RGB lighting
The Rival 300 is a gaming mouse designed for right handed users, and it is meant to be both ergonomic and recognizable.
– Design
It comes with 6 buttons, weighs 4.586oz with the USB cable attached, and has dimensions of 5.236 x 2.756 x 1.772". It's not a wireless mouse and connects with a 2 meter (78.76 inch) long USB cable which makes it ideal if there is a lot of distance between your computer and your desktop, allowing the mouse to still move freely.
Compared to other mice, the Rival 300 has a rather boxy shape unlike some of the aggressively contoured gaming mice on the market. It best suits people with larger hands and accommodates users who prefer to use either a palm grip or a claw grip.
Its finish at the top is rubberized as opposed to the textured plastic finish of the Rival 310 mouse, and it has large textured side grips on both the right and left sides.
SteelSeries use switches they developed for both the right and left clicks and they are quite heavy but instead of providing good feedback with the required heavy pressure, they feel a little mushy.
Like the 310 that came after it, the Rival 300 scroll wheel has a notch, and behind it is a dedicated DPI button that provides good tactile feedback. This mouse is capable of working with no additional software, and the Rival 300 DPI settings by default are 800 and 1600. These default DPI settings are not a limitation, as it is very easy to access other DPI settings by installing SteelSeries' Engine 3 software. The software provides other features as well, such as controlling the RGB lighting in the mouse.

– Features
Its optical sensor in the Rival 300 is the Pixart PMW 3310 sensor. Pixart is known for making high quality sensors and the PMW 3310 is no exception. It has no acceleration or prediction, and offers a DPI range of 50 to 6,500. The Rival 300 operates without a native DPI and happily functions at DPI setting in its range with 50 step increments.
Steelseries Rival Comparison
The main difference between Rival 300 and 310 is, Rival 310 has an improved sensor, higher DPI sensitivity, and is significantly lighter while Rival 300 is better suited for games or actions that do not require a high DPI.
– DPI
DPI is a measure of how precise the mouse is by detecting the "dots per inch" of movement. The higher the DPI, the better the reaction you get from the mouse due to the input that it is able to use, which is very important in gaming and particularly in shooting games.
Very high DPI values become annoying because they reach a point of diminishing returns and a lightning-fast cursor that isn't of much use to anyone, but it's not necessarily a problem because you can use low sensitivity settings with high DPI mice to give you an appropriate speed.
The Rival 310 is a more sensitive mouse with a higher DPI and therefore better for gaming than the Rival 300. The Rival 300 is better suited for games or actions that do not require a high DPI as its lowest value is very low.
– Weight
The lighter a mouse is, the easier it is to use while gaming. The older Rival 300 weight is 4.586oz (130g) which is significantly more than the Rival 310 which comes in at 3.104oz (88g).
In terms of weight and compact size, the Rival 310 is the better choice because it is easily maneuverable and you can handle it for longer periods of time without fatigue.
– Connection
This is where both mice are on level footing. Both mice use a wired USB connection to the computer and do not have a wireless option. The length of the connecting USB cable is 78.74" (2m), which gives you plenty of length to connect your mouse to your computer and still make all the necessary movements of the mouse.
– Lighting
Both Rival mice incorporate full RGB with a spectrum of 16.8 million possible colors. Both mice have 2 RGB zones (the scroll wheel and the SteelSeries logo) contributing to improving your overall gaming experience and synergy with any other RGB components you have. With either mouse, you need to have the SteelSeries engine installed to modify the lighting.
– Price
The 310 has some significant improvements over the 300, including SteelSeries own sensor, so it is understandable that there is a price jump between the 300 and the 310.
The price difference is not an extreme one, and it may be worth it to you to spend a little extra and get the added sensitivity of the 310, but if you are pinching pennies on your computer budget (or don't have much left over after an upgraded graphics card or processor) then you can go with the 300 without any problems.
– Sensor
Both mice make use of optical sensors. The Rival 300 uses a sensor manufactured by another company, soecifically the Pixart PMW3310. The Rival 310 makes use of SteelSeries TrueMove 3 which is a more recent and updated sensor, and it was created by SteelSeries, meaning it doesn't need to use the PXImouse driver that Pixart sensors do.
The in-house sensor technology makes the Rival 310 the better choice for a gaming experience with fewer issues.
Conclusion
The differences between the SteelSeries Rival 300 and 310 are small, but significant.
The 310 has an improved sensor, higher DPI sensitivity, and is significantly lighter, which all contribute to a better user experience.
If you can afford to make the price jump to the Rival 310 over the 300, then you should go with the updated technology and choose the better SteelSeries mouse for your needs.