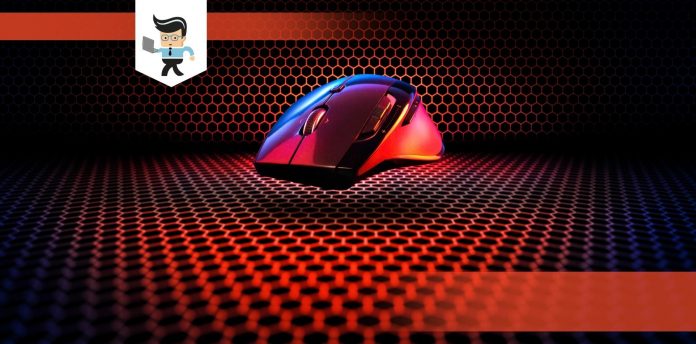 Deciding whether to buy the Logitech M317 vs M185 can be a little exhausting since they share too many similarities. While one is on the pricier side and comes with an LED light, the other is cheaper but has as many features as the former.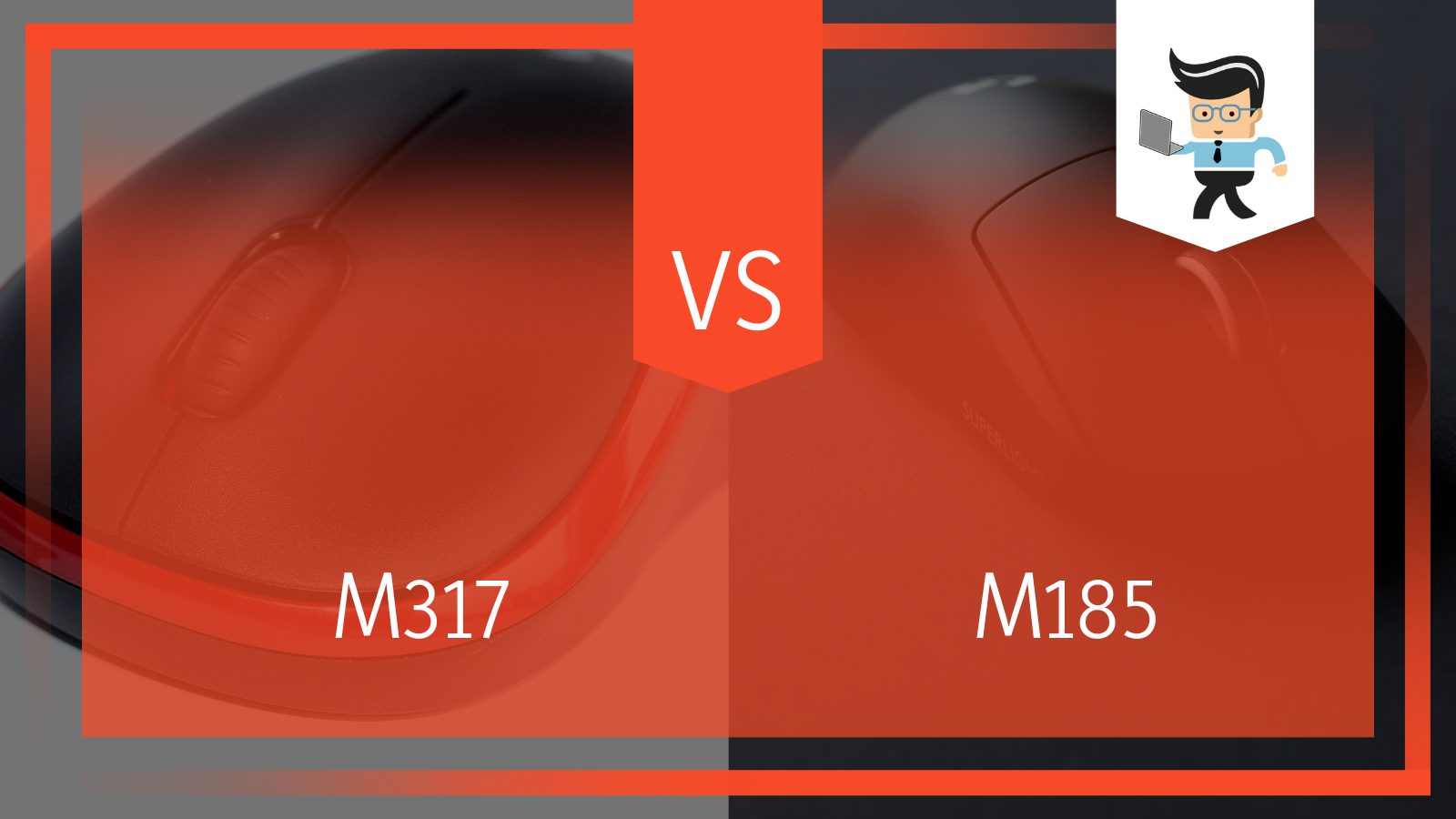 If you're in this predicament, you don't need to worry as our experts will be comparing both mice and revealing their specs and performances to help you make a better buying decision. With the help of our comparative guide, you'll be able to make the best decision when it comes to choosing the best mouse for your PC needs.
Logitech M317 vs M185 Comparison Table
| | | |
| --- | --- | --- |
| Features | | |
| DPI | 1000 |  1000 |
| Buttons | Three | Three |
| Sensor Type | Optical | Optical |
| Scroll Type | Scroll Wheel | Scroll Wheel |
| LED Illumination | Single color | None |
| OS Support | Linux, Mac, Windows | Linux, Mac, Windows, Chrome OS |
| LED Indicator | Battery Level | None |
| Battery Type | 1x AA Alkaline | 1x AA |
| Wireless Connectivity | 2.4GHz RF | 2.4GHz RF |
| Wireless Range | 33 feet | 33 feet |
What Is the Difference Between Logitech M317 vs M185?
The main difference between Logitech M317 and M185 is that the M317 is pricier and has a single LED light option while the M185 is cheaper and comes with no LED option. Also, M317 comes with rubber grips while the M185 doesn't.
The Logitech M317 mouse is best for everyday office use. It comes in a wide variety of patterns and colors and is an ideal fit for laptop users. You get a battery and USB receiver right out of the box and you can pair up to six different devices to the receiver.
– Pros
Thanks to the small form factor of the Logitech M317, you can easily slip it into your backpack and carry it with you without it feeling like extra weight. The size of this mouse comes in handy for remote workers who are always on the go.
It is portable, small, and extremely responsive.
It can work with any operating system.
This mouse can last up to a year using the single pre-installed battery.
With the nano receiver it comes with, this M317 features a wireless range of up to 33 feet.
– Cons
The small form factor of this mouse means that it may not be suitable for users with large hands.

– Design and Comfort
The Logitech M317 wireless mouse comes with a wide variety of features that make it similar but distinct to the M185 at the same time. The Logitech M317 features an ergonomic design that makes it comfortable to use, especially for people with small hands. It's also available in a wide variety of designs and colors, which means that you can choose the one that suits your taste or matches your computer's design.
This mouse is a precise and portable wireless mouse that's easy to use. It features an ambidextrous shape, which makes it easy for both right and left-handed users to utilize it. While it's a bit small, the soft rubber grips it's designed with makes the touch wheel comfortable to use.
– Performance
The Logitech M317 can cover a range of 33 feet or ten meters thanks to its wireless connection. Its connection is stable and reliable and you can use the mouse while being away from your computer as long as you're within the range it covers. You also get a smooth and accurate cursor control that functions properly on all versions of Chrome OS, Windows, Linux, and Mac.
There are a total of three buttons on the M317, including the scroll button as well as the left and right buttons. The scroll wheel is nothing special since it's just like what you get on a typical mouse.
There is a switch on the backside of this mouse that helps control when it's turned on and off. Thanks to the four grips located at the bottom of the M317, you won't experience any slipping, especially if you use your wireless mouse on your desk instead of a mousepad.
Setting up the Logitech M317 is quite easy. All you have to do is plug in the USB dongle and you're good to go. There's no input lag with this mouse and you can utilize it on a wide range of devices, including tablets, desktops, and laptops.
– Battery
The Logitech M317 comes with an AA alkaline battery that's guaranteed to last up to one year. The battery is pre-installed and even though it's said to last up to 12 months, its life will vary depending on how much you use the mouse as well as your computing conditions.
You get a smart sleep mode that helps you extend the battery usage and you can easily swap the battery out by popping off the battery compartment cover on the backside of the mouse.

The Logitech M185 is best for those who are looking for an office mouse that is cheaper than the M317. While it misses some of the features found on the M317, it costs significantly less and serves as a good value for money. The M185 is a reliable mouse that's very easy to use.
– Pros
All you have to do is plug in the wireless receiver and you can start using this mouse immediately without the need to install special software. You get a three-year limited hardware warranty from Logitech and extremely fast data transmission with no dropouts or delays in your inputs.
This mouse is lightweight and has a good wireless range.
It features an excellent build quality and good battery life.
The Logitech wireless M185 mouse is portable, affordable, and comes with a nano receiver.
– Cons
On the other hand, here are some of the drawbacks that come with this mouse:
The buttons are clicky and loud, which can be a bit distracting and disadvantageous to those that get easily distracted.
It comes in a very small form factor, which makes it unsuitable for those with large hands.
The on/off switch is small and may be difficult to reach for users with big hands.

– Design and Comfort
The Logitech M185 comes in an ergonomic design that's similar to what you get on the Logitech M317. It features a contoured shape, which makes the mouse look simple and nice. While black is a constant color in all variations of the M185, the frame is available in three different colors, including blue, red, and grey.
This Logitech wireless mouse is an ambidextrous mouse just like its M317 counterpart. It's suitable for both right and left-handed people but a little small for users with big hands. If your hands are small, the M185 would be a perfect fit for you, allowing you to enjoy excellent control and comfort.
– Performance
The Logitech M185 is a good value for money in terms of performance. It features three buttons that feel good on the fingers when they are clicked. The scroll button is quite clicky and might be a little distracting. Just like the M317, the Logitech M185 offers a 10-meter range and it's compatible with most operating systems except Chrome OS.
There's an on/off switch located on the backside of the M185 as well as icons that depict where the battery and wireless dongles are. You can store your wireless dongle in its compartment when the mouse is not in use, thereby reducing the chances of losing the unifying receiver.
This wireless optical mouse uses an invisible optical sensor so you don't have to be alarmed when you turn on your Logitech mouse and can't find any light indicating that the sensor is active. The only indicator you have on the Logitech M185 is a red and green sticker located under the switch that helps you determine whether or not the switch is on or off.
– Battery
The M185 comes with an alkaline battery that lasts up to one year. This battery is pre-installed and the usage depends on how much you use your mouse.

What To Choose
Both the Logitech M317 and M185 have the same DPI resolution and advanced optical tracking, which means that you're likely going to get the same speed and technical performance from both mice. Also, they both have the same battery life and number of buttons. The only difference between both is that the M317 features a more modern look while the M185 comes in a simple, basic look.
You get up to ten colors and four different rubber grips on the M317. On the other hand, the M185 doesn't come with rubber grips and it's only available in three different colors. With that said, the Logitech M317 is the newer version and it's more expensive than the M185. While both mice are okay for causal games, none of them are fit to play FPS games even with their advanced optical tracking and precision.
If you're looking to choose a mouse with a wide variation of colors, an LED indicator, rubber grips, and a modern design, the Logitech M317 should be your go-to option. It suits the modern workplace and thanks to its small form factor, it won't take up much desk space and the rubber grips would make sure it doesn't slip off of your desk or mouse pad.
On the other hand, if you just want a basic mouse that's budget-friendly and comes with precise control, the Logitech M185 is a great option to work with. It's the ideal mouse for students and home use.
Conclusion
As you can see from our discussion above, both the M185 and the M317 share various similarities and few differences. The main difference between both mice is that the M317 has an LED indicator, features a more ergonomic shape, comes with four rubber grips that prevent it from sliding around, and is available in up to 10 colors while the Logitech M185 Mouse features a simple design and is available in only three colors.
If you want a basic mouse to use at work or in any professional setting, the Logitech M317 Mouse should be the one to work with even though it's more expensive than the M185. On the other hand, if you want a cheap alternative or a simple mouse to buy for your kids or use at home, the M185 is also a great option.