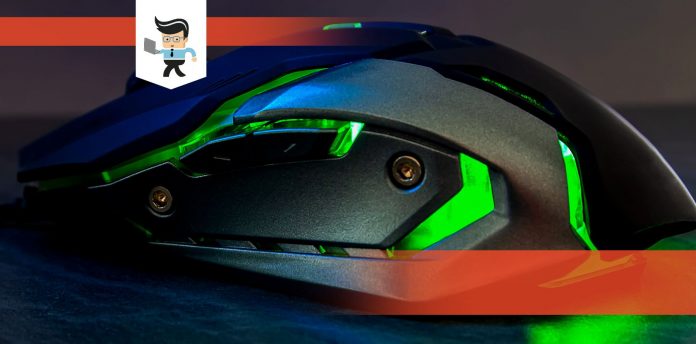 Deciding between the Logitech G502 vs. Logitech G402 can be challenging. Both offer a ton of unique features, all at a great price. What sets them apart? Here is a detailed list of their features and how they compare.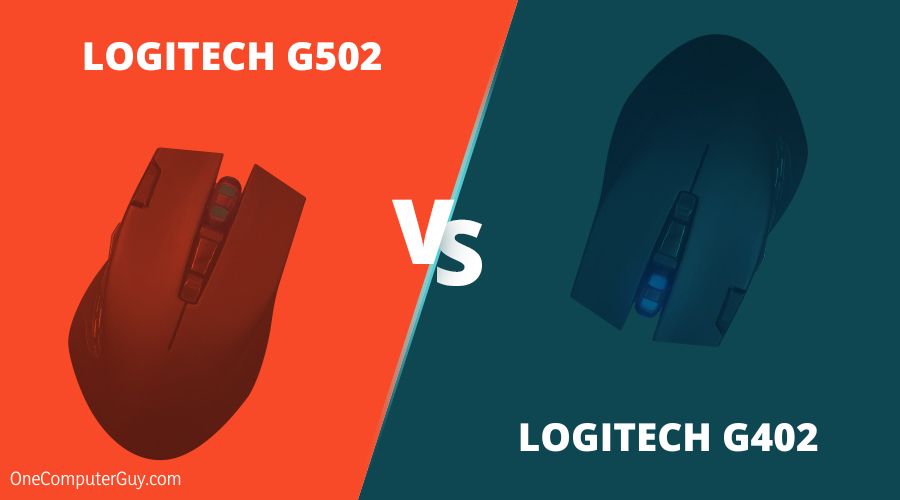 | | | | | | |
| --- | --- | --- | --- | --- | --- |
| Product | Wireless | Hand Orientation | Adjustable Weight | Programmable Buttons | DPI |
| Logitech G502 | Yes | Right-handed | Yes | 11 | 25,600 |
| Logitech G402 | No | Ambidextrous | No | 8 | 4,000 |
Pros:
● Plenty of extra buttons
● Top of the line sensor
● Adjustable weights
Cons:
● Only right-handed
● Little pricey
This mouse is probably one of Logitech's best. Its high price is well worth it. This mouse is packed with features, perfect for nearly any gamer. This feature list will be a long one, and there are almost too many to mention.
Firstly, the Logitech G502 has eleven programmable buttons. These buttons are probably more than most users would ever need, but the more, the merrier. You can assign the buttons to almost any macro, in-game, and out. They are especially great for MOBA gamers.
Out of the box, the Logitech G502 weighs only 114 grams. The weight might not seem very much, but thankfully, Logitech allows owners to change their mouse's weight. You can add 16 grams more to the mouse, giving it some nice weight, making it comfortable to use.
The HERO 25K sensor is unrivaled in gaming. The Logitech G502's sensor eliminates skipping and lag during gameplay. The HERO 25K is easily one of the most accurate sensors to date. This sensor alone is worth the price.

The sensor allows for the high max DPI of 25,600. The sensor is adjustable through the two buttons near the scroll wheel. Changing your DPI to your needs has never been easier.
Finally, this mouse features RGB lighting support that lets you change the color through the G HUB platform. Here, you can set the color profiles and save them to the mouse's on-board memory. G HUB is pretty lightweight compared to other platforms as well.
Pros:
● Wired
● Ambidextrous
● Heavy
Cons:
● Can't change weight
● Lower top DPI
The Logitech G402 is one of the best mice for its price. While priced pretty low, it packs in a ton of excellent features. The mouse also comes with a mousepad, which is a perfect little addition.
Wired vs. wireless has typically been up to personal preference. Wired does have its advantages, though. With this wired mouse, you will never experience lag or skipping. The transmission to your computer is always 100%.
For the price, this mouse is pretty hefty. At almost 200 grams, the Logitech G402's weight is pretty high. The weight isn't adjustable, but having a sturdy mouse is always a plus.
Eight programmable buttons are a significant plus. You usually don't see that many in this price range. Through G HUB, users can assign desktop wide macros or game-specific bindings on the fly. No matter what kind of gamer you are, this is extremely helpful.

The Logitech G402's sensor is the Fusion Engine hybrid sensor. This sensor is top of the line, offering super-fast response and absolutely no skipping. It supports up to 4,000 DPI, which can be toggled on the mouse. The Logitech G402 is fast and extremely precise in intense situations.
Comparisons
The main difference between Logitech G402 and G502 is, Logitech G502 has eleven total programmable buttons and offers up to 25,600 DPI and over 400 IPS, while Logitech G402 is pretty affordable and has many of the features the G502 does.
Now that you've seen the specs, you're probably wondering how they compare. Both mice are great purchases, but one is better than the other. Here we will compare some of their features to determine which one is better.
– Customization
Many gamers want their peripherals to match color schemes. Online pictures of gaming setups will include matching gear. This isn't the most important thing when buying mice, but it's a nice touch.
The Logitech G402 includes eight programmable buttons. After the essential mouse functions, there are plenty of extra buttons. These can be assigned macros pretty quickly through G HUB, as said earlier.
And this is as far as customization of the Logitech G402 goes. There is no RGB lighting and no modular weights. This may not be a dealbreaker for many, though.
On the other hand, the Logitech G502 is one of the most personalizable mice Logitech has ever released. Every part of this mouse can be customized. The weight, lights, and buttons are all in the user's hands.
The lights and buttons are programmed easily from the G HUB dashboard. The dashboard is lighter than Razer Synapse programs, while the color profiles are built within this dashboard. You can even save profiles can even to the Logitech G502's on-board memory.
There are eleven total programmable buttons on the Logitech G502. These are a considerable amount of buttons, and most mice don't have that many. Just like the RGB lights, you can program them as well. Whether this is in-game or with desktop macros, it makes using your computer streamlined.
Finally, the Logitech G502's weight is entirely modular. The mouse only weighs about 114 grams on its own. You can upgrade them with the included weights. You can insert these weights at the bottom of the mouse and make the mouse feel sturdy.
While customization may not be a priority for everyone, it is a nice touch. The Logitech G502 easily wins this category. It provides a ton of customization options for gamers who want to personalize their gear.
– Value
These mice vary in price. The Logitech G502 is a higher-end gaming mouse, while the Logitech G402 is a bit cheaper. They both have earned their worth, but the G402 has a little bit of an edge.
The Logitech G502 is feature-packed, but its price is a little higher. It's higher than most popular gaming mice. But this doesn't mean it's not priced right. If you are looking to spend a fair bit of money, this mouse is a fantastic choice.
On the other hand, the Logitech G402 is pretty cheap and has many of the features the G502 does. For the price, it's a fantastic mouse: accurate sensors, programmable buttons, and a sturdy build for a pretty low price.
Because of this, the Logitech G402 wins this category. It features many of the things gamers are looking for in a mouse and cheaper. If you are looking for a great budget mouse, the Logitech G402 is a fantastic choice.
– Sensor
Both of these sensors are fantastic, but you get what you pay for. Each offers some upgrades compared to the competition, though.
The Logitech G402's features the Fusion Engine hybrid sensor. This sensor offers 240-4000 DPI and over 500 IPS. While being super fast, the sensor is incredibly accurate. It's a lot more than you'd expect from a mouse of this price.
When a mouse is this high-end, you better expect the sensor to be top of the line. That is precisely what Logitech's G502 sensor is. The HERO 25K offers up to 25,600 DPI and over 400 IPS. You can change the DPI, so you're not always playing at full speed.
The Logitech G502's sensor easily beats the Logitech G402. For a wireless mouse, it provides super-fast movement while still being incredibly smooth and accurate. The Logitech G402 is always fantastic and better if you are on a budget.
– Wired or Wireless?
This section is close because this is mostly up to preference. The Logitech G502 has the edge over the G402 because of a couple of features.
Wired is always a safe option for desktop gamers. It would be best if you never charged batteries, find a dongle, or experience lag. The G402 provides these benefits and at a reasonable price. The cable is 2.1 meters long, which is enough for many.
Wireless is outstanding for those who game on laptops or are always on the move. The Logitech G502 wireless mouse is the best of the best. With its insane sensor, no lag, and small dongle, it is a perfect choice.
The battery can last, with lights on, for about 48 hours. Lights off the mouse can last as long as 60 hours. On top of that, Logitech includes an ultra-fast USB-C charger. This can give 2 hours of game time in only a 5-minute charge.
Between the battery life and the USB-C charging cable, the G502 wins this category. It was close since it isn't quite a wired mouse. The USB-C charger gives the G502 an edge since it charges so fast.
– Handling
How your mouse handles is extremely important. You want something comfortable to use for extended periods. Thankfully, both of these mice are incredibly comfortable and ergonomic.
The Logitech G502 is right-handed only, which eliminates a portion of gamers. It is also pretty lightweight, which makes it feel a little flimsy compared to the G402. The Logitech G502's dimensions are 5.17 x 2.96 x 1.62, which is excellent for medium-sized hands.
The more accessible of the two, the Logitech G402 is ambidextrous. It also weighs a little bit more than the G502, making it feel sturdy. The Logitech G402's dimensions are pretty similar at 5.35 x 2.83 x 1.61.
While being of similar size, the Logitech G402 feels better overall. It's sturdy weight and ergonomic design makes it extremely comfortable to use. Supporting both left and right-handed gamers is a great plus as well.
Conclusion
Logitech makes fantastic mice, and these are no exception. However, the G502 wins over the G402, but barely. The G502 is pricey but delivers a lot of value. Jam-packed with features, the Logitech G502 is a must-have mouse for PC gamers.
Even though it didn't win, the G402 is a fantastic mouse. It is better if you are on a budget and still want a gaming mouse. Its sturdy, ambidextrous design and programmable buttons make this mouse worth buying.