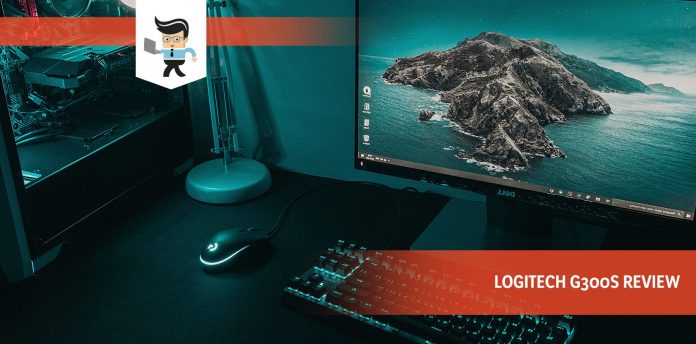 Our Logitech G300s review is proof that many gamers and regular mouse users have come to understand the power of a customizable mouse.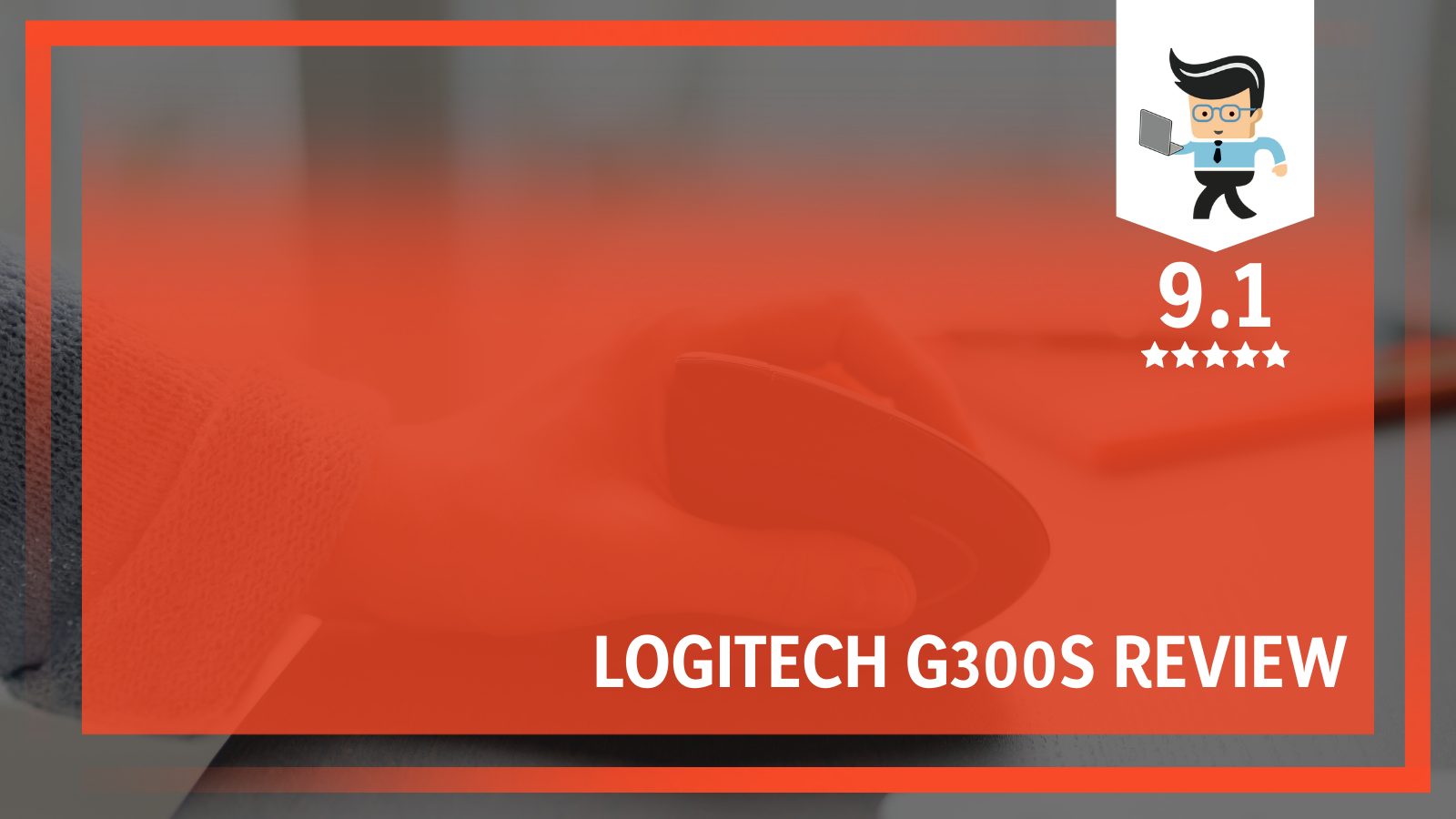 Also, this device from Logitech shows that you don't have to break the bank for a classy and ergonomic gaming mouse. 
Our review points out the top qualities of the G300s, how beneficial they're to you, some drawbacks, and why it's worth getting. Please read our review to learn more.
Key Specifications at a Glance
Product 
Key Specifications 
Logitech G300s

Brand: Logitech G

Connectivity: Wired, USB 

Buttons: 11

Weight: 82g 

RGB: Eight colors

DPI: 250 – 2500 
Logitech G300s: Comfortable Gaming Mouse for Budget Users
If you're looking for quality gaming mice, the G300s has to make your list. It's an ambidextrous designed mouse from Logitech, so it's comfortable. Some might argue that it favors the claw grippers most. 
However, if your hand is the right fit, you can have fun with it. It doesn't have the number of buttons to be a true MMO gaming mouse, but it will deliver a good performance. 
The Logitech software provides enough customization options coupled with onboard storage that allows you to save your settings when you move to another computer. Overall, it's a mouse worth getting but let our comprehensive review below tell you more about it. 
Logitech G300s Key Criteria
Lightning and Customizations
9
PROS
Fun RGB lighting
Onboard profiles
Customizable with Logitech software
Comfortable with rubber grips
CONS
Built for small hands
Not enough onboard storage
The G300s optical gaming mouse will catch the eye with its decent components and capabilities. It blends enough functionality with top-level features, coupled with a bargain price many players will find attractive. It's from the lineup of Logitech, the famous brand with a lot of devices.
– Design: Elegant and Functional Build Quality
The G300s is an elegant mouse with a matte black finish and blue highlights. You get a smooth surface and nice touch, so you don't have to worry about smudges and fingerprints. 
Also, this mouse has a compact design that fits any hand, but it's designed to fit smaller hands. If your hands are big, there's no point using them. 
We also like that you can use the mouse with any hand orientation – right or left. That's because it's ambidextrous, features a solid build, and will take several hits. We also observed how it reacts to fast clicking and rapid movement, and the G300s worked well. 
Like other top brands, Logitech created this mouse to be durable. That's why it included buttons designed to last for up to ten million clicks. You can play many shooting games and still not cover that total. 
Also, the mouse's cord is quite long and can interfere with your enjoyment when you're using a laptop or sometimes on your PC. 
There's a nice blue color for the belly of this device that combines well with the design. You'll also find the optical sensor there, which gives you about 250 to 2500 DPI accuracy. That means it can successfully track slow and fast movements regardless of the surface involved. 
As a result, this feature increases your gaming precision and speed, which will be more evident playing FPS games. 
Further, on the design construction, this affordable gaming mouse gets support from the PU feat, limiting any friction and allowing the mouse to be accurate on various surfaces. The sides are not left out. 
They're covered with a rubbery compound with small bumps to boost your grip. If you're the sweaty type, you would appreciate such a feature if you play games for long. 
– Logitech G300s: Different Levels of Customization

 
There's no top mouse without the ability to customize and make changes to suit your preference. To that end, this budget gaming mouse can allow various levels of personalization. Gamers can change the controls to have better chances of conquering opponents.
The G300s makes that possible with nine programmable controls, enough for different games, including FPS games. 
We also like that the controls are easy to reach without lifting your hand off the mouse. That enables you to have more control over push-to-talk in-game communications and editing DPI settings while playing. It also means you can move your keyboard commands on one of the buttons. 
– Onboard Memory: Store Your Profile Settings
You can store some profiles and other settings you'd want to have on any PC you wish to use. However, this mouse can only remember three gaming profiles, but most entry-level gaming models don't need more than this. 
If you want to know which profile is active, you can assign different lights, such as blue, gray, or red. The difference will be clear on the Logitech logo on top of the mouse and the stripes at the sides.
The configuration software interface is intuitive, and you can drag and drop commands on the buttons on your screen. There's nothing complicated about the process. 
Also, there's automatic game detection, so your profiles can change automatically according to the game you're playing. Thanks to the high level of customization for gaming activities, it's a feature that gamers will find useful. 
– Response: Down to the Seconds
This mouse has more technical details, such as the support for a 1-millisecond report rate. That represents the speed of the data sent to the computer, which helps to ensure that you don't experience lags in fast games, bottlenecks, and tearing on any game. 
– Setup: Super Easy

 
The Logitech G300s specs all come together after a super easy setup process. Download the Logitech Mouse App, which will let you customize the RGB lighting and set up three profiles. Further, we noticed that the G300s is plug and play, even if there's no option to change the lighting or button layouts without the app.
When you're in the app, it's easy to personalize the DPI points, update the mouse polling rates, and customize what the nine programmable buttons do. It's super easy, and gamers can customize and then switch between on the fly using the buttons behind the scroll wheel. 
– Connectivity: Wired or Wireless?
Many pro players will immediately suggest that you pick up a wired gaming mouse over a wireless one. Just like the G300s, wired mice offer better responsiveness and consistency, but you'll get more bang for your buck as well. 
Wireless mice are good, no doubt. But you can't get them on a budget like the G300s and other similar options. To put it into perspective, some elite wired gaming mice can cost a lot, but the wireless versions will put a dent in your pocket. What's more, wired mice give you the benefit of not having so much dependence on batteries and recharging. 
– Surface: Quality and Accurate Tracking
Tracking on this device is fast and accurate with the number of DPI settings you can choose from. That's why it can glide on several surfaces. 
With the red optical Logitech G300s sensor, you can use the mouse on wood, fabrics, and mouse mat. However, we can't vouch for glass surfaces. It will give off a good feeling on the other surfaces. 
Cursor accuracy on the G300s is further enhanced by the optical design of this mouse. You can change positions at breakneck speeds, read locations fast, and do a lot more than with a mechanical mouse. 
However, you can reduce the accuracy if you're comfortable playing certain games that way. Other than that, the G300s optical mouse is convenient for use on the go and on many surfaces. 
Also, you need a significantly lower amount of energy to move this optical gaming mouse. That's much better than you'd get on mechanical mice. 
– Grip: Fit for Fingers

 
The mouse comes with a low profile, which means a lot of things – it's going to be ideal for fingertips and, to an extent, claw grip (provided your hands aren't too big) and only suitable for palm grippers with smaller hands. If you love playing FPS games, you'll love this ambidextrous design. 
Logitech G300s: Frequently Asked Questions
How much DPI do I need in my mouse? 
With many gaming mice out there, you'd forgive gamers for wanting features to always be on the high side. That's why for the most part, the size or number of DPI shouldn't matter. Competitive online gamers can benefit from a DPI range between 800 to 3000+. 
If your DPI is too high, get ready to have your cursor slide across the screen with the slightest twitch of your hand. In the same way, a gaming mouse with about 16000 DPI settings will provide super speed. The main thing has customizable buttons to change the DPI for different functions. 
Are side buttons on the G300s mouse necessary?
Side buttons add a nice touch to any mouse, and the G300s is no different. However, these buttons make giving commands to your computer a tad bit easier without you reaching for your keyboard. Also, side buttons are essential for online competitive team-based gaming. 
Games that have a large number of inputs can take advantage of them. Besides, games like Overwatch will need your side buttons. 
Think about it this way; it's not ideal for pressing two buttons at once on your keyboard with your left hand and using the right for another action. It's much easier when you can use the thumb on your right hand and have the other fingers busy on the side buttons. 
What are the best surfaces for the G300s?
Whatever you do, note that the G300s is not suitable for use on a glass surface. You'd end up wasting your time if you want to achieve anything meaningful. A mousepad is worth the investment, and wood surfaces aren't bad for other surfaces. 
We also think books and tables are much better than gals any day. Since a mousepad is ideal, it's worth getting since it offers a more portable surface, smooth gliding, and more traction. 
Logitech G300s: Final Thoughts
Overall, we are okay with the level of performance this mouse guarantees. Gamers also ought to be happy with the quality and how comfortable it is in their grasp. There's no hand-ache even after a prolonged time playing. 
Another big positive is customizing the buttons and DPI on three different profiles before switching them as fast as you can.
Overall, it's a fantastic mouse with just the right features and buttons you need to keep going. It's a wired mouse you can trust, especially if you're making use of a desktop computer with it. That's because the cable is long and can be a bore-off. The G300s is a cheap gaming mouse many users will grasp with both hands.