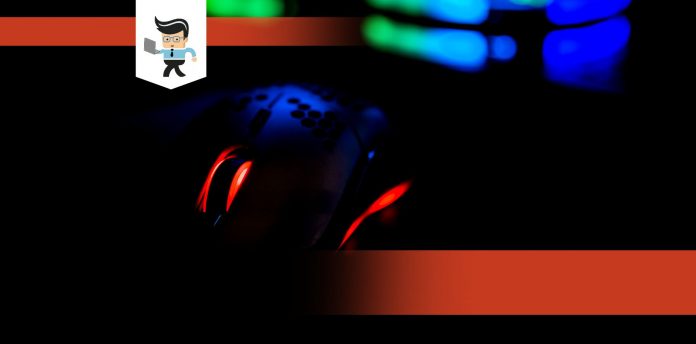 Deciding on which gaming mouse to purchase will ultimately lead most people to the same choices: the G703 vs G Pro Wireless.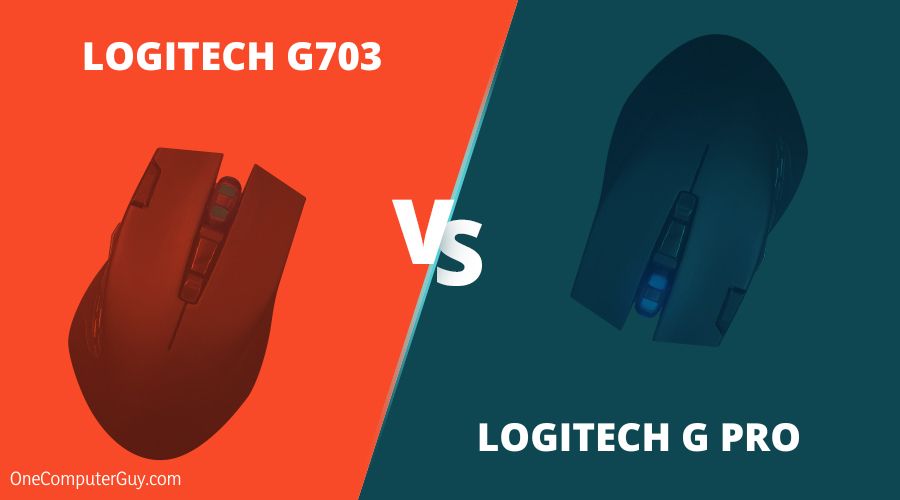 In our Logitech mice comparison, we will look at each gaming mouse and compare which one is truly the better option.
Keep in mind that there isn't usually the same "better" option for everyone, and that includes this comparison.
We've found that one mouse is a better "catch all" option and one is better for people with particular needs. Read on to see which one suits your needs and preferences more.
G Pro Wireless vs G703 at a Glance
Product
Key Specifications
G Pro Wireless Mouse

Battery life of 20 hours with the GRB lights
Standard-looking design
Four customizable buttons
Optical LED sensor

Logitech G703

Battery life 22 hours with the RGB on
Ergonomically designed for right-handed people
Five buttons
PMW3366 sensor
In this quick comparison, we will look at these two different gaming mice and check out how they stand on their own.
To see how they compare to each other, keep reading.
The Logitech G Pro Wireless is a gaming mouse that seems more like a "catch all" than almost any other gaming mouse on the market right now. It has great performance, and it is completely customizable. In addition, it is suitable for almost every hand and grip, regardless of whether your fingers or palm is bigger.
It's important to note that this is a review of the wireless version, as the wired version has some problems of its own and isn't recommended for competitive gamers.
– Battery Life
The battery life is fairly standard, coming in at about 20 hours with the GRB lights on and 25 with them off. It takes 3.5 hours for a full charge. Users have reported that battery life does degrade over time, particularly if you keep it charging for extended amounts of time.
– Size
This mouse is a standard size in comparison to other gaming mice. It doesn't stand out as too small or too big. The height isn't as extreme as other gaming mice.
The Logitech G Pro weight has been talked about a lot because it is so light and has good portability. It takes a while for people to get used to the lightness, so don't expect for it to feel comfortable right away when gaming. Some people use weights on it to give it a sturdier feel, but it does not come with weights.
– Overall Design
This mouse has a standard-looking design, including the lights. There is a single RGB zone with a logo on the back. The matte plastic looks good and feels nice under your hands, though it does show some fingerprints and smears.
– Buttons & Scroll Wheel
There are four buttons on this mouse. You need to program them in a specific order, which can be annoying, but you get to program all of them. There is a profile switching option, CPI changing button, and a G-shift button, all providing customization.
You also get an extra side button that is flush with the mouse and helpful in specific games. The scroll wheel isn't anything special, and it gives a nice scrolling feel, but it won't give any gaming advantages.
– Mouse Sensor
The mouse sensor is an optical LED (the HERO 25K) which is a good sensor. It has a wide CPI range that adjusts by increments of 50 in the software.
– Build Quality
The build quality for the Logitech G Pro is excellent, on the higher end of the spectrum. While it is all plastic, it feels dense and sturdy without any wobbling or cracking. The feet slide nicely and don't catch. All of the buttons are sturdy, and there's no rattling.

– Issues
Cabled version drags; can lead to hand fatigue
Other Things to Pay Attention To
Very comfortable to use
Low click latency
Excellent quality and build
Lightweight versatility
Ambidextrous
The G703 from Logitech is a beautiful mouse. It has a "G" logo on the top arch with an RGB strip inside the scroll wheel that you can customize to your needs. Using the simplistic software, you can get rainbow cycling, a breathing pattern, or a fixed color of your choice (there are millions of options).
The wireless version also has an RGB strip in the scroll wheel that acts as a power meter so you can tell with a single glance what level your mouse is at (or you can use a monitor on the screen).
Our overall review looks at the lagless wireless because this is clearly the better option of the two. The braided cable version is good for anyone who needs a wired mouse, but there are a few options you need to consider (including the fact that the wire is very stiff for a few weeks).
– Battery Life
The battery life of this particular mouse is good, coming in at 30 hours without the RGB lights; 22 hours with the RGB on; and if you have the speciality G703 Hero, 60 hours.
There is some degradation of battery life after using the mouse for a few years, but it isn't any more noticeable than other gaming mice. It takes two hours for the mouse to recharge, and there is a wireless charging option.
– Size
The Logitech G703 dimensions are fairly standard and will work for different hand sizes. It falls nicely in the middle, so people who are used to traditional mice won't have any issues with the size.
It is a little on the heavy side, but most people won't notice it if they are used to gaming mice. It is on the taller side, so people who have bigger palms will get a great fit with this mouse. Anyone who has shorter fingers will experience hand fatigue quickly. The Hero edition is even lighter.
– Overall Design
The G 703 is ergonomically designed for right-handed people, and it trains the grip to reduce hand fatigue and stress on the joints. The design is consistent throughout the entire mouse, which helps keep the grip strong while gaming or designing when hands tend to sweat and lose their grip.
The mouse is coated with a matte finish that helps to reduce the appearance of fingerprints. The rubber grips are subtle but help you keep a grip on the mouse. They are made out of high-quality rubber that doesn't get sticky as some other mice get.
You can tell they took their time with the scroll mouse because it is firmly in the case of the mouse itself and doesn't wiggle when playing.
– Buttons & Scroll Wheel
The G703 has five buttons with two primary clicks, two side buttons, and a scroll click. There's a DPI button on the top of the mouse (under the scroll wheel), and the wireless version has a power switch on the bottom.
– Mouse Sensor
A lot of gamers love the sensor in this mouse because it is a PMW3366. This sensor provides an excellent gaming experience with little spinning out, no acceleration, and it allows for a 1:1 input with a range of DPI tracking. The lift-off distance is low. Finally, you can adjust the settings with the easy-to-use software.
– Build Quality
The G703 uses Omron switches, which have been rated for over 50 million clicks. As a result, it doesn't feel like you will break your mouse when you click, even during the roughest gaming sessions.
The click isn't too loud but it is audible. As you use the mouse, the clicks will become softer. The side buttons have good, loud clicks as well that feel satisfying.

– Issues
There are some issues to be aware of here, particularly if you will use the wired version of the mouse. The wired version has a stiff braid that takes a few weeks to soften. It's difficult to get the bends and folds out of the wire, but you can help it by laying the wire flat before you use it.
– Other Things to Pay Attention To
The lighting is great
DPI stepping is good
Surface tuning great for serious gamers
Options for saved profiles if multiple people use the mouse
Button remapping is easy with software
Input analysis helps performance
In general, we think the wireless version of this mouse will be a better option universally than the wired version. The wire drags and slows down overall speed, resulting in more hand fatigue, slower gameplay, and increased lag. So if you can, avoid wireless.
G Pro Wireless vs G703: How They Compare
The main difference between G703 vs G Pro Wireless is, G703 offers longer battery life and has the PMW3366 sensor, while G Pro has a better design. 
As you can see, both of these gaming mice are great options.
If you are still stuck for which one is better for you, let's compare them a bit more closely:
Battery Life
Battery life is easy to compare because it all comes down to numbers. One offers longer battery life, less charging time, and less degradation.
Size
Neither the G703 nor the G Pro stands out in terms of width or length. However, the G Pro is a better fit for most hands because it isn't as tall in the middle with as extreme of an angle. For people who have bigger hands, the G703 is great, but most people will prefer the G Pro.
Overall Design
A lot of the design elements are the same between these two mice, but the G703 comes across as higher quality. It feels better within the hand, and it doesn't show as many smears and scratches. The buttons also feel a lot more expensive and sturdy.
Mouse Sensor
If there is one place where these two mice have a distinct difference, it is in the sensor. G Pro's Hero sensor is a good one, but G703's PMW3366 is incomparable.
Conclusion: Which Is the Better Mouse for Gamers?
Both of these gaming mice are great options in themselves.
We think that the G Pro Wireless is a good choice for almost anyone who is a serious gamer but isn't necessarily looking to go professional. The G703 wireless is a better mouse if you have big hands and palms. If you have small hands, you will experience a lot of fatigue.
Both of these Logitech mice are better in their wireless versions than in the wired versions. In fact, we can't recommend either wired version for most people.