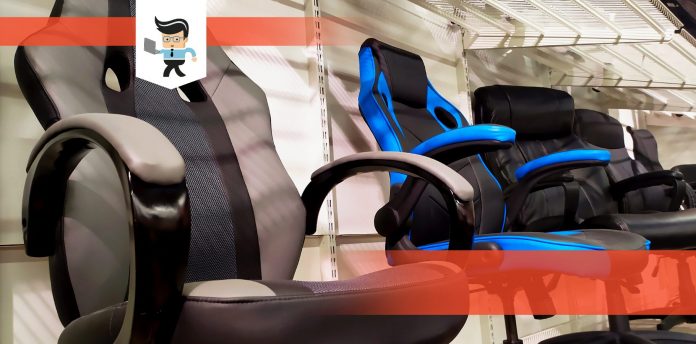 If you want an AutoFull gaming chair for gaming, basic office applications, or standard browsing needs, you still have to learn more about them. The ideal computer chair should give you an outstanding level of comfort while protecting your back, neck, and arms from pains that distract you.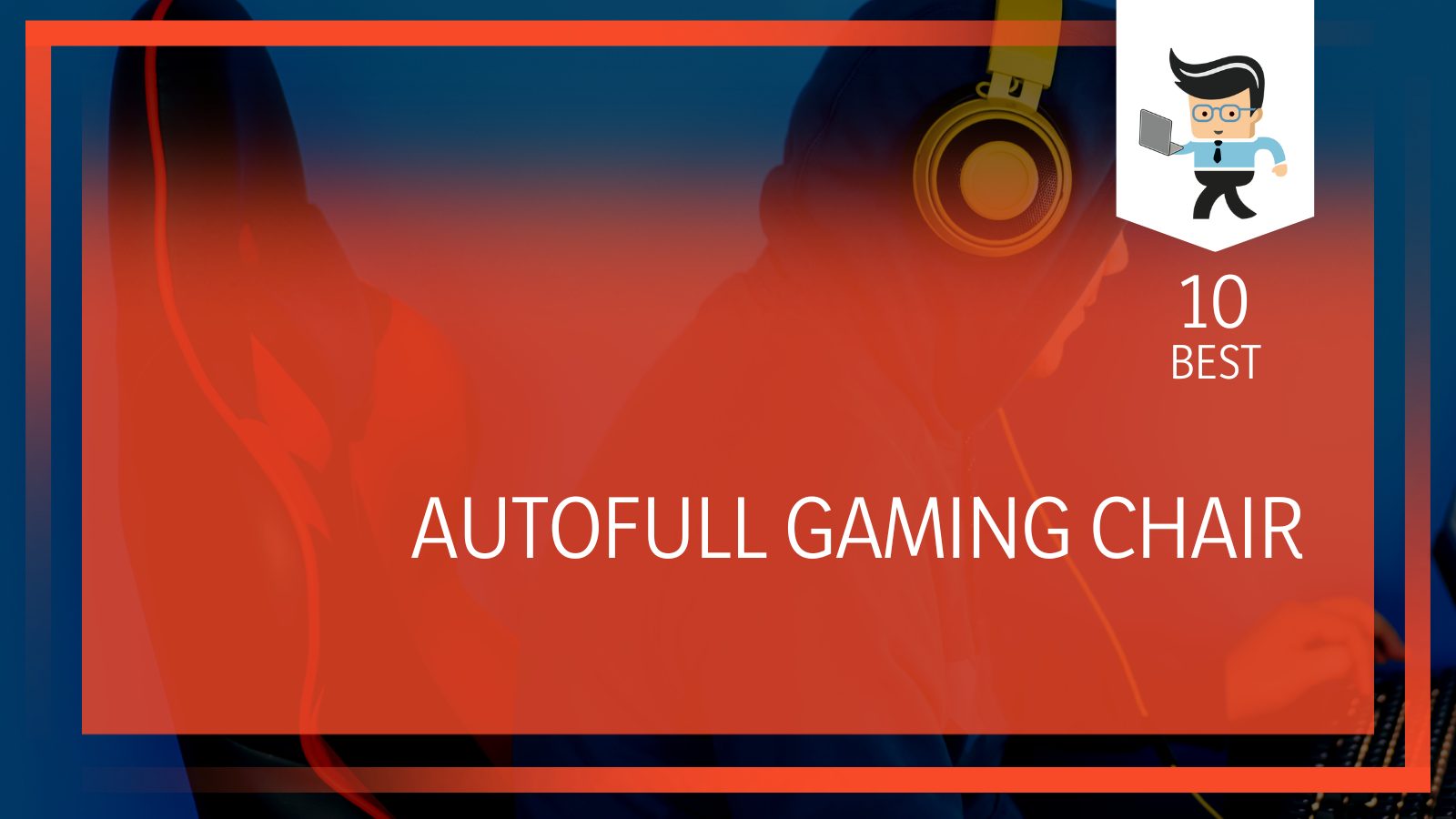 Thanks to their ergonomic support, the AutoFull models on review pack the features to keep you comfortable for extended periods.
Our review team has put together this article to give you a closer look at the pros, cons, and components of the best four AutoFull chairs. Discover more below!
AutoFull Chairs for Gaming: Key Specifications at a Glance
Product 
Key Specifications 
AutoFull Gaming Racing-style Chair

Material: Leather
Frame: Metal, nylon base
Max Weight: 350 pounds
Max Recline: 155 degrees
Ergonomics: Backrest, lumbar, arms

AutoFull Racing-style High Back

Material: Leather
Frame: Metal, nylon base
Max Weight: 350 pounds
Max Recline: 155 degrees
Ergonomics:  Headrest, backrest

AutoFull Pink Gaming Chair

Material: PU leather, memory foam
Frame: Metal
Max Weight: 330 pounds
Max Recline: 155 degrees
Ergonomics: lumbar, head pillows

AutoFull Ergonomic High Back

Material: Leather
Frame: Metal
Max Weight: 330 pounds
Max Recline: 155 degrees
Ergonomics: Seat, height, pillows
A Comprehensive AutoFull Gaming Chair Review for All Gamers
If you're a fan of professional esports gaming, then it's safe to say that you've come across AutoFull chairs. Many users and pro gamers consider chairs from this brand to be some of the best gaming chairs.
An excellent example of its popularity is reflected in its Master Gaming Chair used by many entry-level professionals. That's surprising because AutoFull sponsors several pro leagues, including LDL, MDI, and WCA.
Other than the chairs most of us are quick to tag "for pro gamers," there are other more affordable pro models packing top-notch features. That's not to say that the company's chairs aren't right up there with the best. However, a couple of these chairs on review won't hurt your pocket.
When you're looking for the ideal gaming chair to fit your existing rig, you'd have to be careful about the features you want. Whether that's seat height, size, pillows, ergonomics, and much more, you should identify what you are looking for
The same thing applies to AutoFull chairs because they sport features you'll find on other brands, so you must be specific about features. That brings us to the reviews you're about to read of the best chairs in the lineup. We have selected four different but competent options to keep you comfortable and attentive for many hours.
Pros
It offers unique value with top ergonomics
Premium feel with frame and material
Durable classy design for gaming
Easy to put together
Cons
Armrests adjustment could be better
When you're searching for the best chairs for your rig, comfort is almost always the priority. Nobody wants a chair that won't offer many features and, at the same time, gives you a worrying performance at the business end of gaming.
Also, you'd want an option that lets you keep going for more hours. AutoFull gaming chairs like this racing-style ergonomic high back model give you precisely that and more.
The chair comes with a thick backrest and an even more comfortable seat cushion to give you the complete package, and the leather glosses over the chair and offers a smooth and comfortable reprieve for as long as you're seated on it.
The chair is designed with features that let you make adjustments to find the perfect shape for you, and the weight capacity suggests it's a big chair and more suited to bigger adults measuring about 350 pounds.
You don't have to worry about the chair being solid as well. The combination of a metal frame and nylon base makes the chair durable for the long run.
– Multi-use Chair: Suitable for Gaming and Working
You don't need to get two AutoFull chairs for different uses in your home. That's because this model suffices. What AutoFull has done is make the chair suitable for gaming and working.
It provides the perfect gaming experience for gamers, thanks to the worthwhile sitting dimensions. Now, you can allocate time for playing your games and work without swapping your chair.
– Ergonomics: Improved Comfort
Ergonomics is a watchword for serious individuals who want the best gaming chairs. More than sitting for extended periods, it's essential that you're comfortable doing so. To that end, you get a thick backrest on this chair coupled with a 13-centimeter seat cushion for comfortable seating.
AutoFull also adds an adjustable headrest and lumbar pillow to further protect your lower back, neck, and head area. As a result, you'll hardly experience pain or fatigue in your back and neck areas for as long as you're sitting.
For more relaxation and ease of use, you have the 360-degree swivel that helps you turn to round, especially if you're using two monitors or want to reach a close item. The chair also has a height-adjustable seat and a two-direction armrest.
You can also recline between 90 to 155 degrees for a comfortable gaming position or to take a short rest.
– Material: High-Quality Components
When you think of racing-style chairs from AutoFull, the best materials are in your mind. Here, you get a solid integrated metal frame, heavy-duty nylon base that can handle up to 350 pounds, and smooth PU leather material.
Along with the carbon fiber, they all combine to provide you with a better touch feeling, while the SGS certified 4-level cylinder offers more protection for you.

– Overview
This chair is an excellent option for users who spend long hours sitting down – even if you're just working at home. The ergonomics provide ample comfort to complete this solid and durable racing-style gaming chair.
Pros
Quality racing-style build and design
Ergonomic and customizable parts
Recline and adjustable seat
Easy to maintain leather surface
Cons
Only 2D armrests adjustments
Big and heavy chair
A gaming chair is the only companion you have all through those long hours of playing or working. That's why you must be safe and comfortable through any experience. To that extent, this AutoFull ergonomic gaming chair sets the standard for a gaming chair.
We already know how good the AutoFull company is with high-quality models for gamers. Well, this one is an affordable pro chair that offers an ergonomic and stylish racing-style inspired finish.
When you think about the appeal and structure of a race car, it's easy to see why this model is like it. As a result, you get lumbar support for your waist and a headrest.
It's all about improving your gaming experience with this chair. That's why all the supporting casts and components add up to deliver a chair you can sit on for prolonged hours. Besides, it helps you make adjustments to specific mechanisms on the chair to boost your comfort levels.
– Multifunctional Chair: Suitable for Gaming and Work-Related Activities
It's okay to play your favorite computer games on your AutoFull chair. However, that's not all you can do with this particular model.
One of AutoFull's models was made to give you the best gaming chair that can be put to other uses. Gamers and regular workers alike get the perfect experience with suitable dimensions for their bodies.
– Ergonomic Design: Stay Comfortable
The word 'ergonomic' gets thrown about a lot for different types of chairs. But that word is appropriate here because of certain features that contribute to your comfortable experience. For example, there's a thick backrest and about 13-centimeter seat cushion to relax on.
Following that is an adjustable headrest and lumbar pillow, which gives you solid support for neck and waist areas. That way, you don't get fatigued doing what you love most.
Movement is also easy with a 360-degree swivel on a solid base. It's easy to reach out to items close by without getting up from the chair.
In addition, you can recline between 90 to 155 degrees to find a suitable angle for your body.
There's also a height-adjustable seat and 2D armrest. We feel AutoFull would have made the arms 3D adjustable, but the two directions are enough for most users. To cap off the ergonomic capabilities of this chair, you'll enjoy the adjustable headrest and lumbar pillow.
– Quality Materials: A Mix of Strength and Style
It's no use having a superb-looking chair that won't last for years. AutoFull provided you with a bunch of high-quality materials, starting with the integrated solid metal frame and followed by a heavy-duty nylon base.
These can withstand up to 350 pounds. The carbon fiber and PU leather material provide you with a better touch feeling and keep you cool throughout your activities. For additional protection, AutoFull includes an SGS certified 4-level cylinder.

– Overview
This chair is an excellent option for users who want a big chair with a high back. Bigger gamers will appreciate the wide seat, tough ergonomics, and reliable materials.
Pros
Top-notch pink design
Premium construction with sturdy materials
Quality combination of PU leather and memory foam
It maintains the natural shape of your spine
Cons
The pink color can be a turnoff
There's a gaming chair for everyone out there, and if aesthetics is your favorite feature, you'll like this pink gaming chair from AutoFull. It's a distinctive look and design many gamers would fall in love with.
While the color is pink and bold, anyone can use it, thanks to the regular standard features on the chair. It's also a high-back ergonomic gaming model sporting relevant components to keep you safe and comfortable.
Having a cute chair is an advantage for gamers that want the complete package for their rig. Pink also enhances the gaming ambiance and atmosphere of your game room. That's because beauty makes gamers more inclined to relax and enjoy their experiences.
The cuteness of a gaming chair might add little to its overall performance, but AutoFull makes this chair with parts to keep you comfortable for prolonged periods. Whether playing Call of Duty or some other game, sitting on this chair is a plus.
– Multifunctional Chair: Enjoy More Features
The 360-degree swivel isn't the only thing you get to enjoy on this chair. You can lock the chair back at an angle between 90 to 155 degrees, and it's also height-adjustable. Place the seat at a height that's comfortable for you while gaming.
Besides, you can use this chair at the office and at home. The adjustable lumbar and head pillow will help you find your most comfortable position during any activity.
– Material: Notable Features
Premium construction with high-quality materials is a must for the best gaming chairs in the business, and this one follows that line. AutoFull uses PU leather wrapped around the chair and is easy to maintain when you spill your drink or just want to give it a dust down.
There's a memory foam that helps you enjoy the chair for many years to complement this leather.
The frame and base of a chair are only as good as the weight they can carry. That's why you get an integrated metal frame and the best explosion-proof gas spring for support.
Also, a heavy-duty metal base with smooth-rolling caster wheels provides a solid foundation to the chair. As a result, this cute gaming chair can carry up to 330 pounds of weight. It's the ideal choice for working, gaming, and relaxing.
– Ergonomics: Boost Your Gaming Experience
The chair wouldn't offer much if it didn't have wonderful ergonomics for more support and comfort. That's why AutoFull provides an ergonomic body-hugging design for the natural curvature of your back.
That way, there's no compromise to your posture even after many years of use. What's more, the extra-high backrest with a detachable lumbar cushion does a lot to protect your lower back and waist. Say goodbye to back pain and fatigue after working or gaming.

– Overview
With this chair's features and components, we have no doubt that it was made for serious gamers. Even if that's not on a competitive level, you can take advantage of its ergonomic features and protective parts to play your favorite games for extended hours.
The high-density foam and body-hugging form of the chair will keep you comfortable.
Pros
Top-notch ergonomic parts
High-quality material and multicolor design
Customizable features
Durable
Cons
The AutoFull Racing Office Ergonomic Chair is one of those gaming chairs that will appeal to many gamers. It ticks the boxes that the best gaming chairs do like a comfortable chair, including high-quality PU leather, lumbar support, fully adjustable features, and more.
You don't have to be a professional player to enjoy it, though. The chair is built to improve your gaming experience and response time throughout Intense gaming sessions. That's why it has a superior design and various customization options you can work with.
The AutoFull gaming chair warranty is one of the draws of this chair and often exceeds 12 months on its parts. You can always use the chair as much as you want without worrying about it getting broken.
It's a nice move from the brand to reassure users of their commitment to world-class chairs and superb components.
– Build and Design: Fun Multicolor Chair
The chair is one of those PU leather chairs used by professional gamers. AutoFull incorporates a multicolor design featuring blue, black, and pink to this gaming chair. That's because the brand believes that part of the perfect gaming experience includes having fun colors along its already exciting dimensions.
– Ergonomic Design: Fit for Many Users
A couple of users will find this chair exciting and comfortable at the same time. To that end, there's a thicker backrest, unlike on other chairs, and a 4.3 inches seat cushion to support your behind after prolonged sitting hours.
Also, the ergonomics include an adjustable headrest and lumbar pillow that can give you more robust support, especially to your neck and waist areas. You won't experience pain, fatigue, or soreness after working or playing games.
There's a 360-degree swivel capacity on this chair, and you can also recline it to any angle between 90 to 155 degrees. We like that it's also a height-adjustable seat, which means some average-sized users can have a go sitting on it.
However, we feel the 2D armrests could have offered more than AutoFull enabled it to. The adjustable headrest and lumbar pillow make up for that lapse with smooth-rolling wheels, and a recline feature helps you find your most comfortable position.
– Quality Material: Solid Frame and Cover
High-quality materials set the tone for the kind of performances you get from a gaming chair. That's why AutoFull uses a solid integrated metal frame here and a heavy-duty nylon base, both of which combine to withstand up to 350 pounds.
You get carbon fiber and PU leather material for the cover that gives you a better touch feeling. The SGS certified 4-level cylinder provides further safety.

– Overview
This gaming chair from AutoFull is the ideal companion for you if you enjoy comfortable ergonomics and the base material that follows. It's supportive with a nice wide cushioned seat and high back to ensure faster responses while gaming.
Frequently Asked Questions
1. What are the main features of an AutoFull gaming chair?
When you want to buy an AutoFull gaming chair, certain features are unmistakable and part of the brand's unique identity as a foremost gaming chair manufacturer.
Some of them include:
Ergonomics: No AutoFull gaming model doesn't boast features to support your body and keep you comfortable for long periods. Adjustable arms, lumbar and headrest pillows, recliner, and more are some of the top ergonomics you get to enjoy. You can also customize seat height and swivel around at a 360-degree angle.
Top-notch Materials: The materials give you that classy feel and enable you to deal with fatigue. AutoFull uses a solid base, metal frame, and PU leather. The frame is a decisive factor because many of the brand's chairs have a weight capacity going above 300 pounds. That's why a durable chair is all the more essential.
Fine Build and Design: With a Nice-looking design and build, AutoFull chairs stand out. Their build also suggests that you can use them at various locations, such as your gaming space and office. Whatever the case, the designs mean the chairs will blend in with your rig.
2. Who should invest in a gaming chair?
That's a great question because many people think gaming chairs are reserved for professional gamers alone. That's not the case. The fact is that if you spend a long time gaming, working, or sitting at a desk, a good gaming chair with ergonomic support and comfortable parts is a necessity.
Whether you want a girl gaming chair or something with bold components, invest in a brand and model that fits your body and other needs. Investing in a gaming chair from AutoFull will save you a lot of stress.
AutoFull Gaming Chairs: Final Thoughts
It's not an easy proposition trying to get a gaming chair that's suited to your body and other needs. The fact is personal choices differ from person to person. For this reason, a review like the one you just read is essential.
AutoFull chairs are exceptional choices, and there are more similarities among them than differences. That said, you get basic features across all models, such as a beautiful design, superior ergonomics, and supporting materials.
The AutoFull Pink Gaming Chair here sticks out as an excellent option for pro gamers, even though its color suggests ladies would prefer it more. On the other hand, the racing-style ergonomic chair makes sense with its large weight capacity and ergonomic high back design.