The question, is Acer a good brand is often heard in the tech communities. Of course, a computer's CPU, GPU, RAM, processor, and storage are important aspects.
However, a computer brand (the name it carries) specifies its quality. Therefore, to clear all of your confusions, we have come up with this comprehensive guide that covers everything about acer.
Is Acer a Good Brand? Discussing Its History
Yes, Acer is a good brand if you talk about the majority. Acer products are considered average by some PC users. However, to a large extent, they are considered under-appreciated but not a very good option. Typically, Acer products represent pocket-friendly alternatives for individuals needing pocket-friendly devices.
Nevertheless, the Acer brand offers various products, from basic to high-end models. Each product from this brand has a perfect price-performance ratio.
– Acer Brand 101 – Origin, Products, and Sales
Acer is a Taiwanese brand that specializes in electronics and hardware. Its headquarters is in Taipei City in Taiwan. The brand was established in 1976 by Stan Shih, his wife (Carolyn Yeh), and five other people, and it was focused on Microprocessor trading and promoting its applications.
With 11 employees and a seed capital of $25,000, the company served as a technology distributor and consultant in using microprocessor technologies.
It developed the Micro-Professor MPF-I training kit, and two Apple II clones, the Microprofessor II and III. Later it joined the emerging IBM PC-compatible market and became a significant PC manufacturer. It was renamed Acer in 1987.
Acer has several products – Laptops, Desktops, Tablets, Smartphones, etc. Additionally, it produces and sells gaming computers under its predator brand.
In 2012, Acer became the fourth-largest PC manufacturer in the world. Today the company has diversified its range of products to include low-cost desktops, laptops, servers, storage devices, peripherals, and the latest smartphones, tablets, etc.
In September 2018, Acer started its smart gadget unit GadgeTek Inc., which manufactures Leap Beads, smart prayer beads that track mantras and footsteps. In 2019, Acer announced the esports social platform PLANET9.gg, which provides game analytics, community-organized competitions, and social experiences.
In 2021, Acer had $11.5 billion in revenue with more than 7,500 employees.
Acer Products – A Focus on Laptops
Acer develops a whole range of laptops, which you can put to different uses based on applications you intend to run. Typically, these laptops are suitable for people needing affordable systems with powerful features.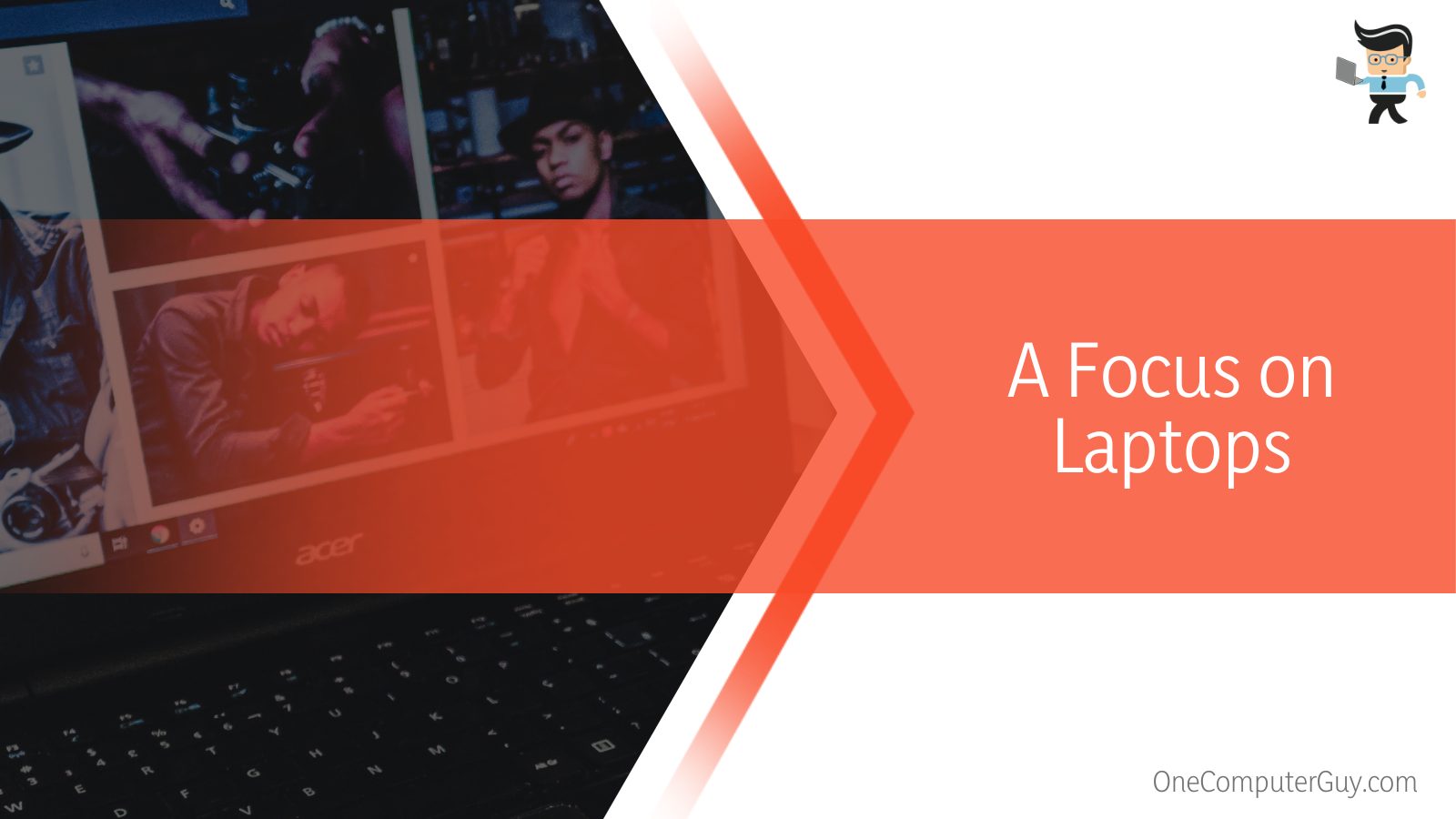 The standout feature of Acer is its powerful battery life. So you can use them on the go without worrying. Here are why you should buy Acer laptops:
– Affordability
Acer laptops are comparatively cheaper than other laptop brands, such as Lenovo or HP. While some PC users don't mind spending a lot on computers, others are always on a tight budget but still want quality laptops. The latter category of users might find the Acer computers ideal for their use.
The laptops are cheap for many reasons. The Acer brand value/market is low, unlike other brands like Dell, Lenovo, and HP. Typically, Acer laptops and desktops represent only a minority of office computers. As a result, their model is not only different but cheaper also and is directed toward consumers, not businesses.
The good news is that they are on the right track to earning their value in the market as they manufacture quality products at a competitive price based on laptop specifications.
– A Wide Range of Laptops
Acer manufactures a whole range of laptops. Ideally, the company churns out something every season to remain relevant in the market. You can shop a wide range of laptops, from Windows Convertibles to lightweight Chromebooks. Furthermore, the brand offers gaming laptops with its predator brand.
Some users complain of weak hardware due to a less tight Quality Control system. However, you can get top-quality laptops – these laptops stand out from the rest and perform similarly to top brands. Again, Acer allows you to test their laptops; if you find them being a lemon, return them.
– Gaming Compatibility
Acer is no stranger to the gaming scene. Besides manufacturing gaming-ready laptops, the company developed the esports social platform PLANET9.gg. This is a social platform for esport gamers. That implies that the brand is geared towards ensuring gamers have their place.
The company has a unique part-sharing strategy in its gaming laptop market where almost its entire Gaming Line Up is similar; for instance, models such as the 300 and Triton 300 share a motherboard. This strategy allows them to mass produce with minor changes to appeal to the larger market.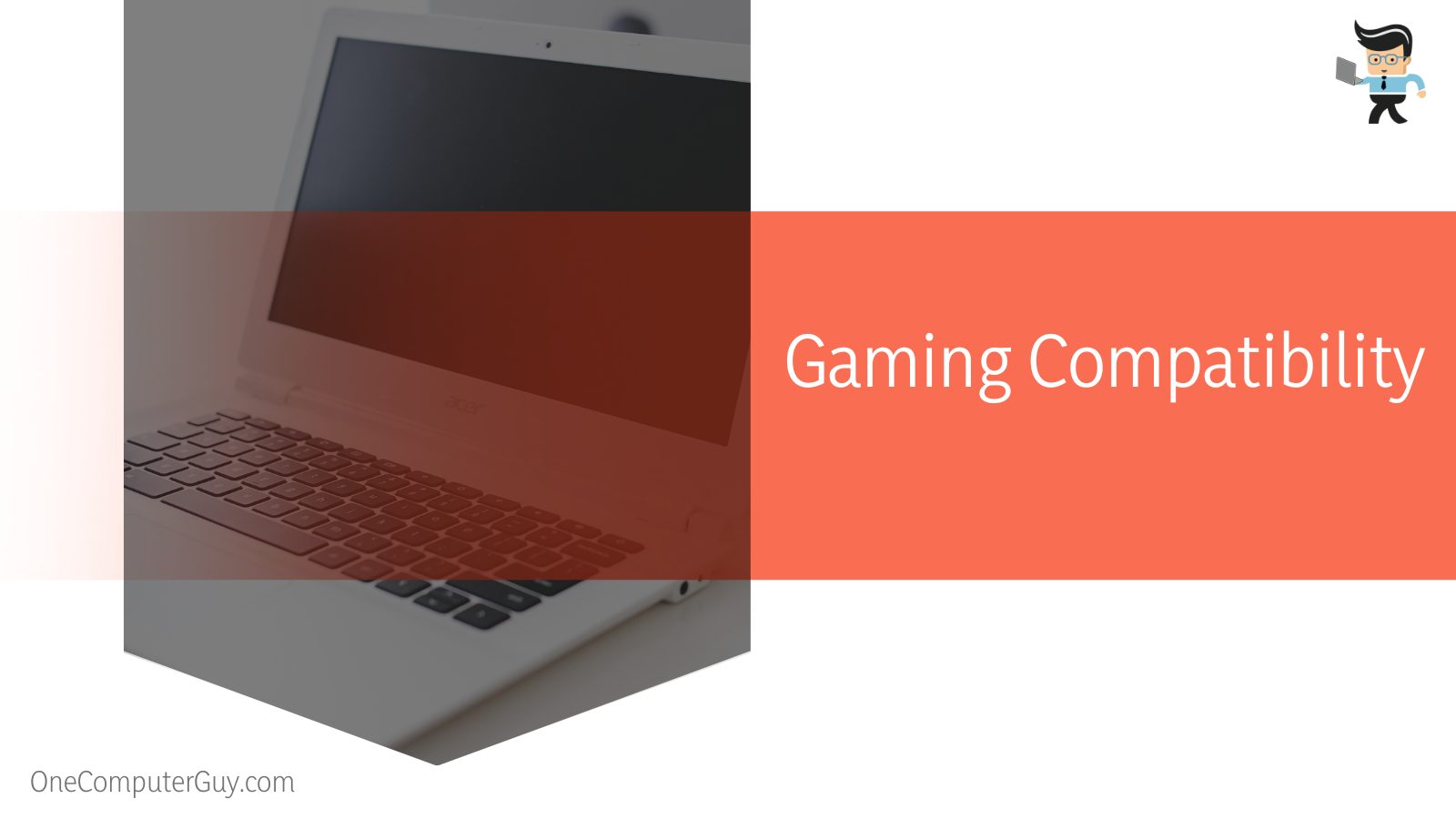 Today, most manufacturers tilt towards laptops with high gaming compatibility, courtesy of the high competition among PC developers. Acer has been trying to set the pace in the gaming laptop scene with the Nitro Spin 5 and Nitro 5. 
In 2008, the company unveiled Acer gaming laptops, predator tribe, to compete with the HP Omen and the Dell G series. These are good gaming laptops considering their features. 
Under the Predator line, you can choose between the Triton range, e.g., Acer Predator Triton 500 gaming laptop, and the Helios, e.g., predator Helios 300.
– Innovative Approach
Laptop manufacturers always include modern features to make them relevant to modern-day applications. Although a compelling brand, Acer is not relenting in terms of innovation. Typically, they have carved a niche in the realm of ultra-portable designs.
The company manufactures one of the slimmest laptops in the world – Swift 7. The laptop is only 0.39 inches thick and weighs a paltry 890 grams (1.96 lbs.). This weight is a full third of a pound lighter than an iPad Pro with AppleApple'st Keyboard attached.
Regarding gaming, Acer presents the mighty Triton 900 with its massive 17-inch screen. If you are wondering, "is Acer a good brand for gaming," the answer is yes. 
Triton 900 screen can move backward and forward thanks to its Ezel Aero hinge. Additionally, the brand offers an innovative keyboard on the Acer Helios. The HyperDrift keyboard can slide forward for improved performance and cooling.
– Tech Support
Acer has knowledgeable and helpful customer support agents behind their emails and phone numbers. These agents are prompt and helpful, and you can reach them worldwide.
Regardless of your issues, the customer service department ensures you get the right help within the correct time frame. This solid knowledge about the products they represent is a guaranteed win for both the brand and the customers.
Keep in mind that Acer has a very easy-to-navigate website. This allows you to easily search for laptops or products – you only need to input the SNID number. But you can also interact with them via social media.
– Replaceable Parts
With Acer, you can easily change your laptop hardware as the laptops come with easy-to-replace parts. The reason for having replaceable parts is to set up a system suitable for your needs or keep your system working for a long time.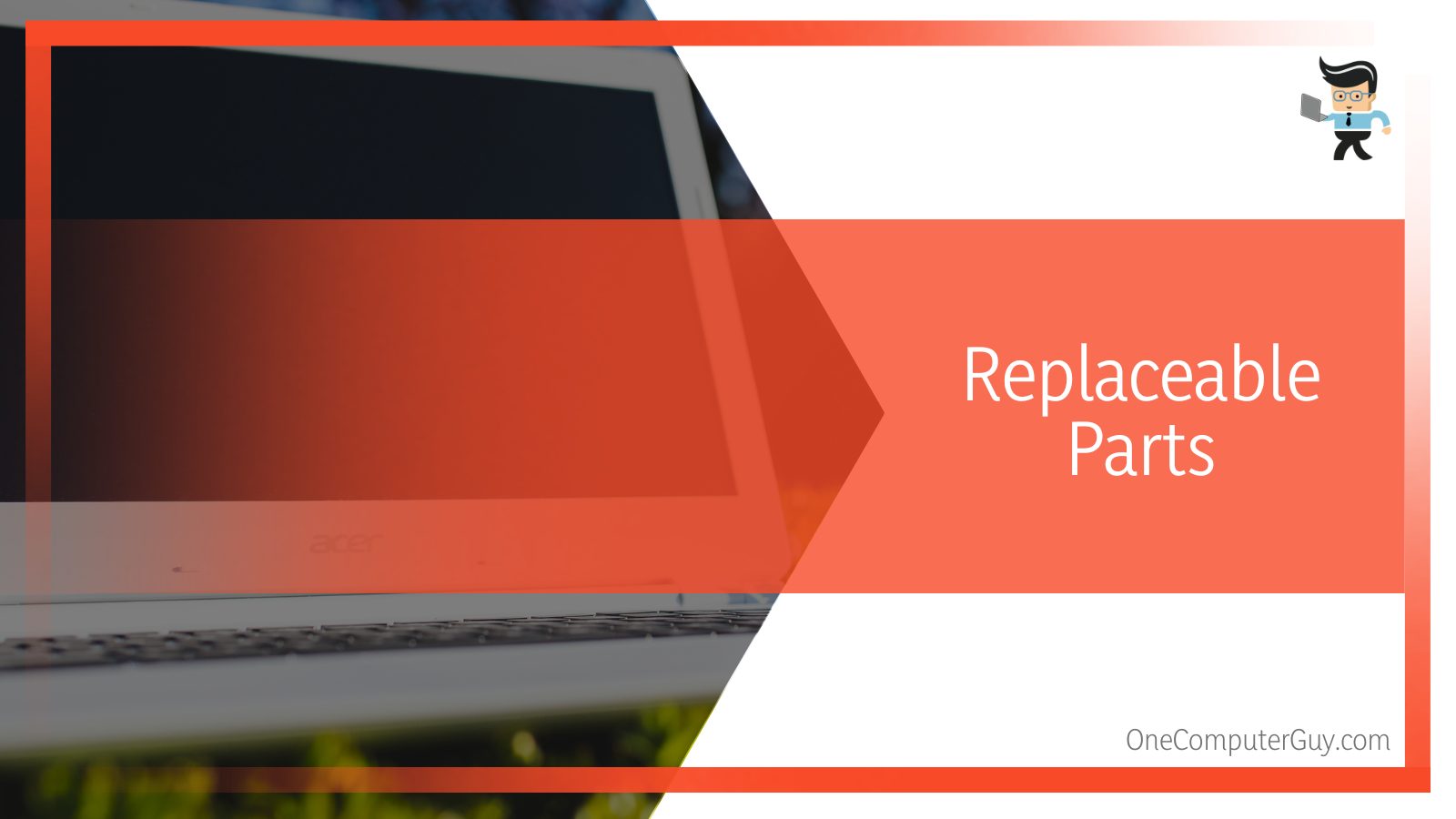 Remember, some laptops are less durable. This means that some components might fail while others still work correctly. So, being able to replace these parts can give your PC a new lease on life. For this reason, the company offers a lot of spare replacements.
– Other Features
Here are other features that make Acer laptops suitable:
Unmatched Portability:

These laptops are highly portable, as most models weigh less than 5 pounds. So, consider Acer your to-go laptop brand if you move around a lot. Some high-performing models, such as the Swift 7, weigh less than two pounds.

Excellent battery life:

The laptops are built with powerful batteries, giving them an excellent battery life. You can use these laptops for hours without needing to recharge them frequently.

Preloaded software:

When you purchase a laptop from the Acer brand, it is already preloaded with the basic software for home and office use. So, in most cases, they are ready to use laptops. But you may need to add extra software for other advanced applications.
Acer Laptops – The Ugly Side
While Acer is a good laptop brand, it has some glaring shortcomings. This could be why they do not command a massive following despite being in the market for decades. However, this only applies to specific Acer models as some of the models perform at par with top brands such as Dell and Asus laptops.
Nevertheless, here is the ugly side of these laptops.
– Inconsistent Quality Products
Starting in the 2000s, some users started complaining about the quality of its products from Acer. This was blamed on poor quality control systems at the company, which allowed some defective products to reach the market. The brighter side of this is that Acer allows its users to test the laptops, and if they find defects, they can return them.
However, not everyone can test to spot issues within a system. So, this hassle can be a massive inconvenience to most PC users. Keep in mind that inconsistencies within a laptop can lead to poor performance.
– Wanting Durability
The general build of most Acer models is weak. The laptops generally have a plasticky design and are low-quality built.
So the laptops are not built to withstand shocks from daily use. This is especially so with the low-budget models. So, when you buy a low-budget model from Acer, the chances of the laptop breaking down much sooner are high.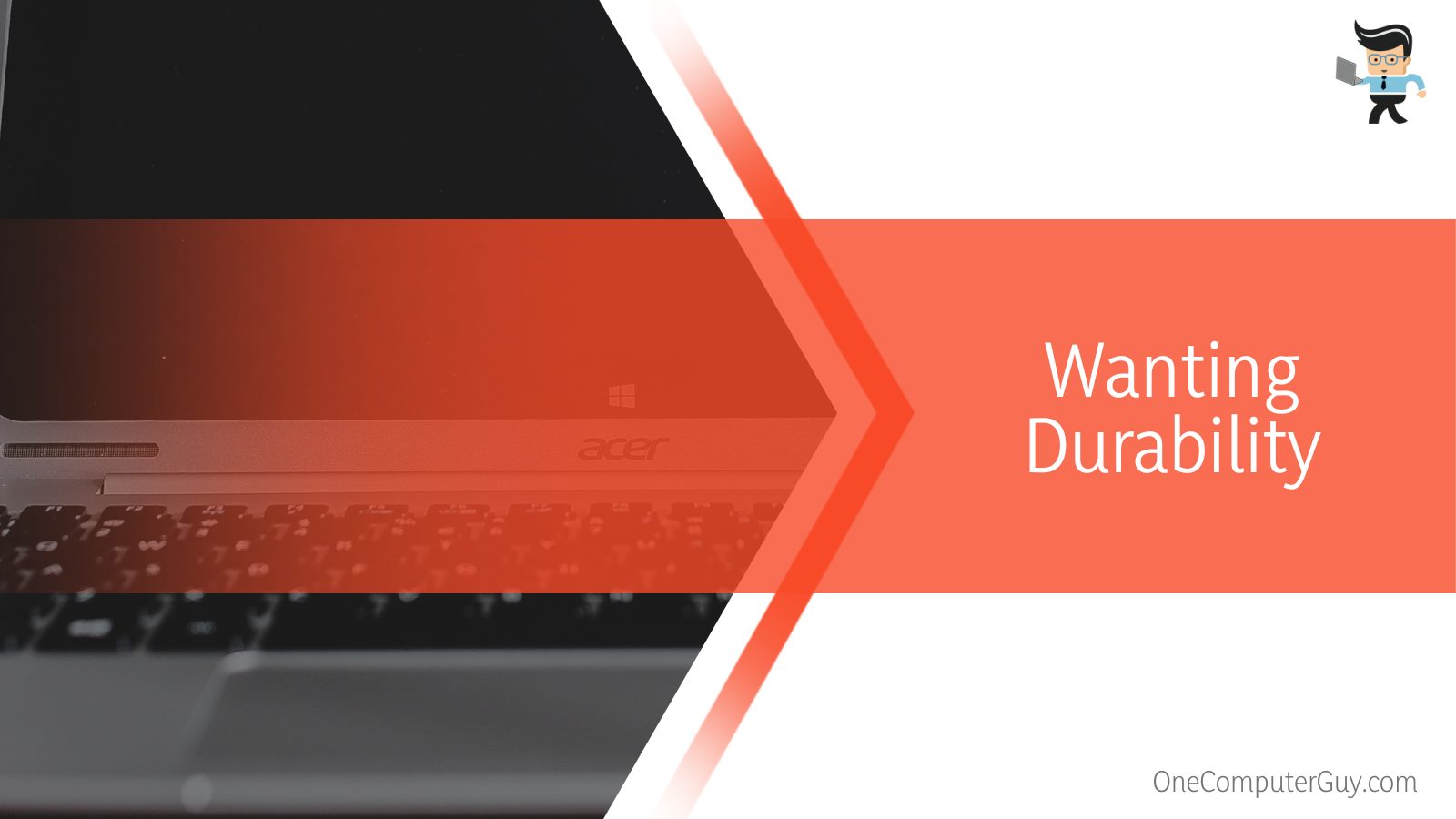 Acer offers a remedy for this by providing replacement parts. However, getting a decent repair can be a hassle in the long run. So, consider digging deeper into your pocket to get a high-end laptop.
– Not Optimized for Stressful Situations
Acer laptops are not designed to handle stressful situations. For instance, if you travel a lot, you may subject these laptops to falls and shocks, drastically limiting their life.
Additionally, their internal hardware is not designed to handle situations outside gaming. For instance, the laptops may only last for a while if you do AutoCAD, run multiple virtual machines simultaneously or perform web hosting.
Yes, the laptop will run, but the performance will be lackluster, i.e., it will not be at par with laptops from Dell or ThinkPad. These laptops have more rigid, solid, and shockproof components than Acer. The manufacturers make some models specifically for Computing, Architecture, and Graphics Design.
So, is Acer the worst laptop? That will depend on your use. However, for daily use, such as browsing, it is okay. 
Acer Products – The Top Laptop Series
Acer products are laced in different product series, and each product series features a wide range of models. Here are the top series:
– Acer Aspire
This series packs laptops ranging from entry-level categories, Acer Aspire 3 series to middle-class Aspire 5, and robust laptops such as the Aspire 7 series. Aspire laptops are suitable for everyday use, such as browsing the internet and editing videos with demanding applications such as Adobe Premiere Pro.
– Acer Swift
The Acer Swift series has a metal casing, which gives them a sleek design. Furthermore, the laptops are thin and lightweight, making them highly portable. All the laptops in this series are 15-inch or smaller. Also, you can buy entry-level or advanced-level laptops for your 3-D tasks in this series.
– Acer Nitro Gaming PC
The Acer Nitro series is suitable for gaming and creative projects. The laptops have a powerful video card that lets you play games and quickly render videos. So, you can also use them for demanding graphics tasks. Additionally, it is sleek thanks to its black casing and the red backlit keys.
– Acer Predator
The Acer Predator series might be the right option for individuals looking for serious gaming PCs. These laptops have at least one NVIDIA GeForce GTX 1050 video card, thus, allowing them to play games on high settings.
In addition, they have highlighted WASD keys ensuring that you always send your character in the right direction. Both an HDD and SSD ensure a short start-up time and sufficient storage space for all your files. And with the cooler boost, you get efficient cooling.
– Acer Travelmate
The Acer Travelmate targets business people. So, the Acer Travelmate series makes the right business laptop if you need a laptop for your office work or traveling to see customers.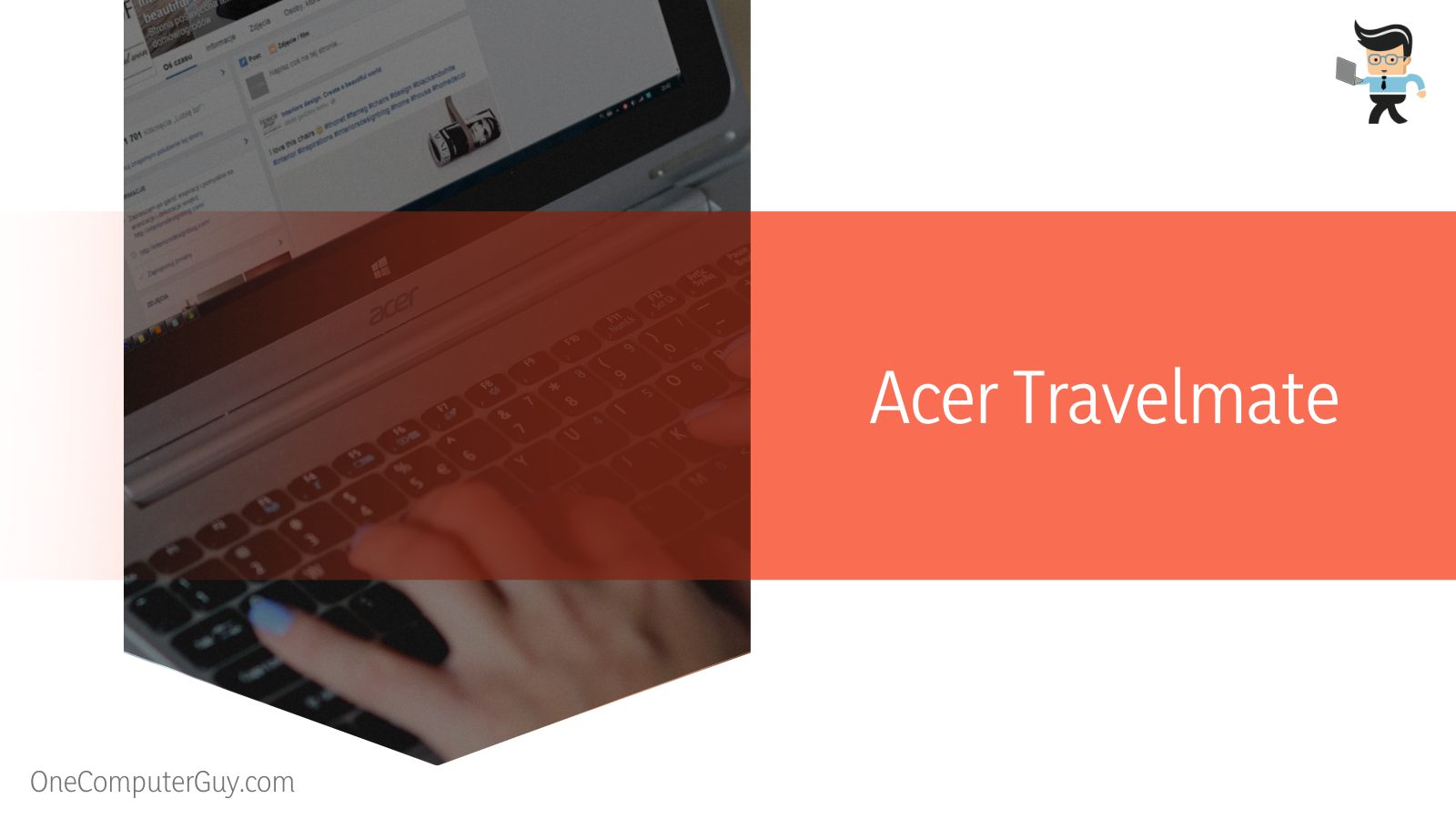 To secure your files, the laptop boasts top security features, such as a fingerprint scanner or a TPM chip. Also, the RAM and storage are expandable through the laptop's bottom covers.
– ConceptD
A ConceptD laptop might be the right option if you are a graphic designer. This laptop is designed to bring your idea and creation to life in a more powerful way. The minimalist design and the orange glow are some features you can use to distinguish these laptops.
– Acer Chromebook
Chromebooks are an energy-saving option. The laptops are powerful enough to work in the cloud and safely store your files. Remember, you can use your Google account to log into the Chrome OS to access your files from anywhere. A good example is the Acer Chromebook spin 311. 
– Acer Spin
This series features 2-in-1 laptops; therefore, you can use the laptops as tablets. The laptop lets you spin the screen in different directions per your needs. Since it is a touchscreen, you can use your finger or the optional touch pen to navigate.
The laptop has different models ranging from entry-level to high-end laptops capable of video editing.
Latest Acer Laptops: Best Options
We have a lineup for those looking for the latest laptops from Acer. These are some of the sleekest and most powerful options in the market today.
– Acer Swift X 2022
The Swift X is a choice laptop for creatives. It is lightweight and thin but packed with 12th-generation Intel Core processors with up to 14 cores – six performance cores and eight efficiency cores.
Shop it as a 14-inch or 16-inch. The 14-inch has either the Nvidia GeForce 3050 or 3050 Ti graphics card, while the 16-inch variation has an Intel Arc graphics card. Both have 16GB of memory and 1TB of storage.
– Acer Aspire Vero National Geographic Edition
The Vero Nat Geo laptop bag and keyboard sheet are made from recycled polyester. The laptop features up to an 11th gen Intel Core processor and an Intel Iris Xe graphics card. Additionally, it comes with Windows 11, giving you the latest operating system.
The main point of this laptop is the use of sustainable materials.
– Acer Nitro 5
The Nitro 5 is the new powerful gaming laptop with an AMD Ryzen 6000 series processor and Nvidia GeForce GPU. These components should provide high-speed performance and give way for next-gen features such as ray tracing.
You can upgrade the RAM to 32GB of DDR5 4800Mhz. Additionally, it has two slots for an M.2 SS2 and SATA HDD 1. The laptop comes in two variations – a 15.6-inch screen and a 17.3-inch screen, with a refresh rate of 144Hz/QHD.
Conclusion
We have given an in-depth review of Acer products, so you have a clear answer: Is Acer a good brand?
Nevertheless, here are our highlights:
Acer makes a wide range of products, including laptops, servers, desktops, and smartphones

Products from this company stand out for their affordability and innovative designs

Although Acer manufactures different laptop models, most low-end laptops have a plasticky design and a low build quality.

Even most high-end Acer laptops do not perform well outside gaming. For instance, their performance in graphic design, VMs, and AutoCAD are significantly lower than other brands like Dell.
Hopefully, this information should help you make a sound choice when dealing with Acer products.
Ref:
https://www.acer.com/kh-en/laptops/swift

https://www.statista.com/topics/9363/acer/

 

https://www.statista.com/statistics/298980/pc-shipments-worldwide-acer-group-market-share/

https://www.forbes.com/sites/ralphjennings/2022/07/05/acer-looks-to-eco-friendly-laptops-made-from-recycled-materials-as-pc-sales-slow/?sh=27c2f2d6424d

https://www.acer-group.com/sustainability/en/Vero.html