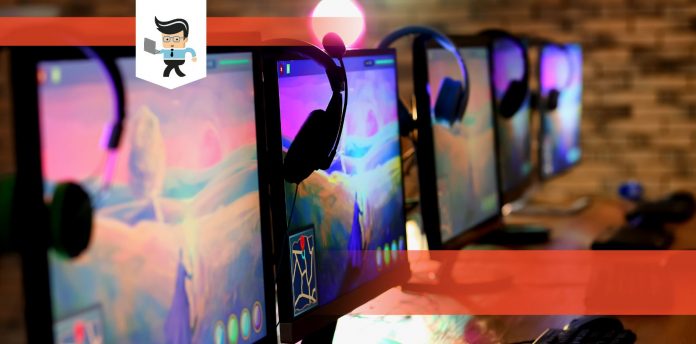 We designed our comparison of the Predator XB271HU vs. XB270HU to help you. Whether you're looking for an ultra-gaming experience or a streaming monitor, read on. When it comes to monitors, these two are true behemoths.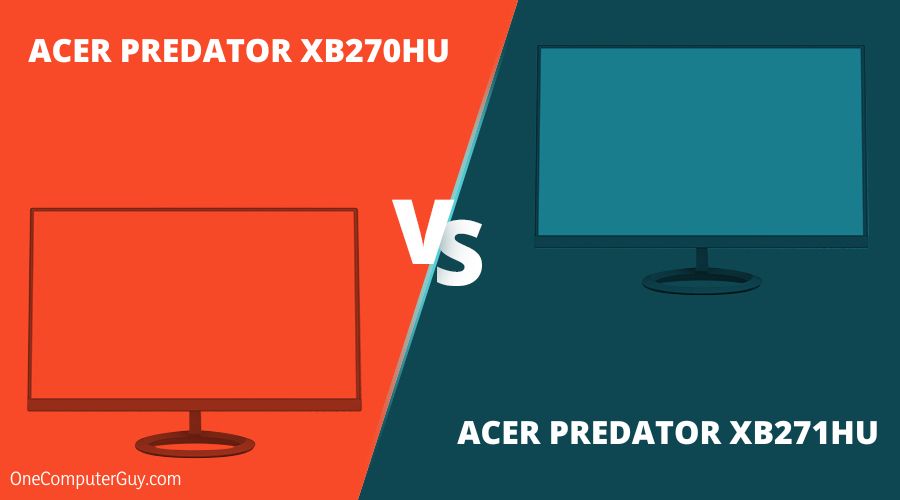 People often end up buying monitors without having any knowledge about them. Here we'll tell you about two of the best Acer monitors on the market. We'll look at their specs and their uses.
You can make sure your hard-earned money goes to the right place. Acer provides one of the best monitor experiences that you can get.
You might be wondering what makes the XB270HU and XB271HU so unique. Well, it's special for a lot of reasons. Let's talk about each of them in turn. Then we will compare these exquisite monitor choices.
Pros
• Low input lag time
• IPS panel ensures brilliant color reproduction
• G-Sync applies to most Nvidia GPUs
Cons
• Low response time
• Expensive
• Poor stand design
A smart, sleek yet modern and beautiful 27″ IPS display is what defines the XB270HU. With over 16.7 million colors supported, you're going to experience the best 2k streaming. You'll also love gaming on the Acer XB270HU.
– Features
When it comes to the features that Acer XB270HU holds within, here's a list that you need to read before you buy.
The XB270HU offers a 2K resolution of 2560x1440p. It's ideal for high-quality streaming and even Ultra-quality gaming experiences.
The screen features an IPS display with the best viewing angles and color support. You get a vibrant and fresh array of vivid imagery.
The screen supports 16.7 million colors. This feature is superb and found only in new-gen monitors.
The Acer XB270HU has a quick response rate of 4ms GTG. It also has fast pixel-shifting technology. Gaming is going to become dreamy for all enthusiastic gamers.
At 144Hz refresh rate, get the maximum FPS from all your games and streamed videos.
– Reviewing the body of XB270HU
The Acer XB270HU has a rectangular, smooth, and sleek body design, with a 27″ inch display size. Its design makes it one of the best-looking monitors in the market. This monitor has a rounded stand base making it very stylish. You can modify this monitor's height, tilt, and swivel, whether you're a gamer or a streamer.

– Benefits of Acer XB270HU
How will this monitor change your life? How will it affect your everyday work experiences? Well, here's a list of benefits that the Acer XB270HU comes with.
• Playing games with V-sync turned on might feel sluggish or unpleasant. That's why XB270HU comes with Nvidia G-sync. This unique technology makes your everyday gaming experience tear-free and smooth.
• The Acer XB270HU has 178 degree horizontal and vertical viewing angles. Thus, you won't have to sit with your face right on the screen. You're going to be able to stream or play from far and away.
• It comes with a short 4ms GTG response time. It makes competitive gaming easy and exciting for gamers.
This monitor is fantastic. It's expensive, but the price is comparative to other 2k IPS models. You definitely need to consider it as one of your buying options.
Pros
• 165Hz IPS panel is fantastic for gaming
• Nvidia G-Sync Anti-Tearing technology
Cons
• Only two inputs
Built for gaming, stylish, with a display of 27″, this beast of a gaming monitor makes you a PC gaming master. Read this Acer Predator XB271HU review to see why.
– Features
The Predator XB271HU is super feature-packed. These might excite you for the XB271HU:
The resolution on this gaming monitor is 2k or 2560x1440p. It is the ideal setting for monitors in this era of gaming.
This behemoth also has adopted the IPS (In-plane switching) display. IPS gives you high-quality color production as well as vivid viewing angles.
The screen on the XB271HU also supports 16.7 million colors.
For stutter-free, fluid gameplay, the response time of this monitor is low. It's around 4ms GTG.
The XB271HU offers 2k streaming and gaming at 144Hz. But the overclock-ability increases the refresh rate by quite a percentage.
– Reviewing the body of XB271HU
The bezels of this screen, along with the rounded edges, make it a piece of art. It will increase the beauty of any room in which you place it. Especially if you're looking to make a gaming setup, this boy right here is what you need to choose. The stand is a bi-pod with red footings, which give the monitor a real-nice gaming feel.

– Benefits of Acer XB271HU
Here are some of the fantastic ups of XB271HU, which make it better than other monitors when gaming.
• One of the monitor's best features is its fantastic look. Its distinctive look is enough reason for any gamer to get it for their setup.
• This monitor comes with a built-in 2x2w speaker. Manufacturers do not include speakers with most modern monitors.
• Like the XB270HU, this monitor also supports Nvidia's G-sync. It's one of the best monitors to go for if you're looking for a tear-free smooth and swift gameplay.
There are too many features in the XB271HU that you can't ignore. That is why, for its price, it is one of the best gaming monitors. You should keep it as a top priority in your list of potential monitors for your setup.
Comparison
The main difference between XB270HU and XB271HU is, Acer Predator XB271HU offers better refresh rates and design, while XB270HU is a lot more lightweight.
We've talked about the monitors on their own, but which one should we choose? Which one's the better choice? To answer that question, here's a list of factors to compare both the monitors.
– Screen Size
Both the XB270HU and the XB271HU support a 27 inch IPS screen, but there's still a difference. The difference is the bezel.
If you look at the bezel to screen ratio of the XB270HU, it seems generic and doesn't offer a bezel-less feel. But, when you take a look at the screen size of the XB271HU, there's a lot less bezel to screen ratio. It also has a bezel-less feel, making it look amazing.
Winner: Acer Predator XB271HU
– Screen Panel
If you're going to look at both the Acer models, you will see a pattern of similarities. For example, when it comes to the screen panel, both the monitors are IPS displays.
Since there's not much difference in the screen panel, we'll call this one a tie between both the monitors.
– Refresh Rate
Here's where the real difference shows between both the XB270HU and the XB271HU – the refresh rate. The XB270HU offers a 2k display at a refresh rate of 144Hz, which is impressive. But when you weigh it against the superb XB271HU, you'll see that the latter has an excellent refresh rate.
The improvement is the overclock-ability of the XB271HU, which lets you tweak it to over 165Hz with a 2k display. It makes your gaming experience intense and fascinating.
Winner: Acer Predator XB271HU
– Power Consumption
Monitors usually take a lot of power nowadays. Acer takes advantage of this and brings us two monitors that are low in power consumption. They help us keep the wallet heavy. But there's a difference. When it comes to power consumption, the XB270HU uses only 35w. The XB271HU, improving on even this, consumes only 32.02w with power on. So we know what to choose here.
Winner: Acer Predator XB271HU
– Built-In Speakers
When it comes to built-in speakers, few gaming monitors in the world offer this service. This is one of the things that are add-ons that nobody expects from gaming monitors.
But Acer knows the value of good-quality speakers on a monitor. That is why they introduced 2x2w speakers on the XB271HU. They also offer high-quality audio playability on their gaming monitor. The XB270HU doesn't come with this feature.
Winner: Acer Predator XB271HU
– Weight
Weight is not a deciding factor when it comes to comparing high-end monitors. Let's still talk about it. The XB270HU weighs about 5kgs, whereas the Predator XB271HU weighs around 7kgs. Thus, the XB270HU a lighter and sleeker option in monitors.
Conclusion
Choose between both options if you're looking to get a stylish, impressive 27″ IPS display. Both will give you a fantastic 2k gaming or streaming experience. Acer Predator game mode is an excellent place to be.
But, when you're ready to choose, go for the XB271HU calibration, because it's better. The XB271HU also offers better refresh rates and design. We hope that you're going to make the right buying decision. Make your gaming setup pop with the right gaming monitor.