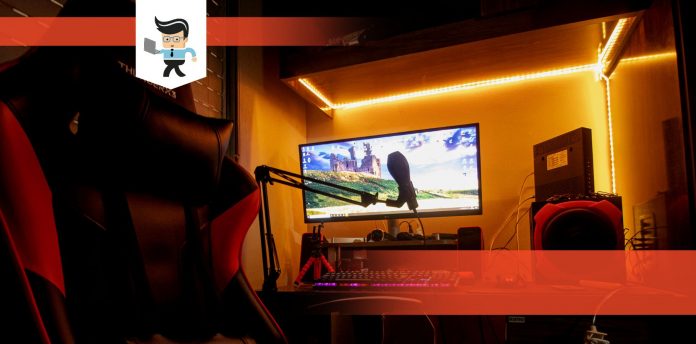 As a top gamer, the chances are high that you would have come across the GTracing vs. DXRacer debate while searching for the perfect gaming chair online.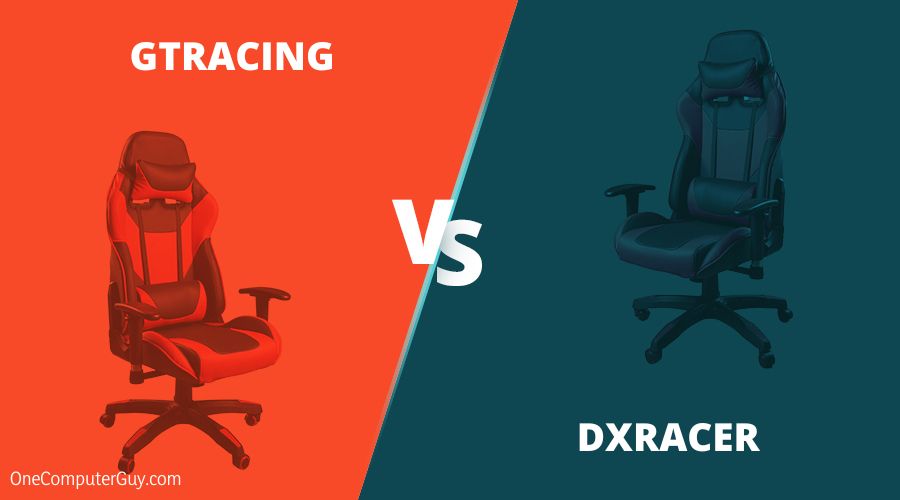 This is because both brands offer the best chairs and stand out as the preferred choice for many top gamers and streamers. However, how exactly do they perform in real life when put to the tests? Find out in our comprehensive review and analysis below.
A GTracing vs DXRacer Comparison Table at a Glance
| | | | | |
| --- | --- | --- | --- | --- |
| Specifications | | | | GTracing Ergonomic Office Chair |
| Materials | Metal, Breathable mesh, PVC | Metal, PU leather | Metal | Metal frame, mesh material |
| Max load | 330kg | – | 200lbs | 200lbs |
| Recline/Tilt | 90-170-degrees | Yes | 135-degrees max | 135-degrees |
| Headrest | Yes | Yes | Yes | Yes |
| Armrests | Adjustable | Adjustable | Adjustable | Adjustable |
| 360-degree swivel | Yes | Yes | Yes | Full mobility |
| Base | 5 point | Metal | Metal | Sturdy metal |
| Others | Extra pillows | Extra cushions | Sturdy materials | Smooth casters |
| | Adjustable height | Thick padding and adjustable height | Adjustable seat height | Adjustable height |
DXRacer vs. GTracing: The Battle of the Best Gaming Chairs
It's not uncommon to come across many gamers devoted to peripherals and hardware to boost gaming rigs. However, it's not easy selecting a chair as a gamer, streamer, or worker.
Of course, there are many chairs on the market, but only a few brands supply comfort and adequate support. If you're planning on getting a chair for gaming, the GTracing and DXRacer brands as some of the best brands in the market today.
Both of the brands are fabulous in the gaming community, especially for prolonged sitting. Since they're both top-quality options, choosing between them is often a difficult decision. Apart from their apparent logos, they share some visible similarities and critical differences.
On the one side, GTracing chairs are the best option in the high mid-range budget gaming chairs. Also, they're best suited to providing supporting functionalities you need from a gaming chair. To that end, you will get supportive features like a headrest, lumbar pillow, and overall ergonomic design.
Features like the armrests are adjustable, which is an excellent thing for any gamer. For leg support or footrests, not every GTracing comes with that, but you can use the recline to relax at intervals.
For a little DXRacer review, we know that the chairs are more popular. That's because they have a lineup featuring high-end budget gaming chairs, especially for formula gamers and racers. Also, these chairs have a higher backrest than many of its competitors, including GTracing.
As such, they're a regular part of game rigs tall gamers use. There's also a heavy-duty metal frame associated with this brand, a regular fixture among the DXRacer lineup.
DXRacer also has ergonomic and sleek design concepts to attract willing buyers. They are comfortable and have adjustable components from many angles. There's also ideal weight support, and a footrest is present in more of their chairs.
A further look at two great products from each brand will help us understand how they work. Read on!
GTRacing Gaming Chairs
Pros
• Comfortable and breathable material
• Strong mesh
• Extra support
Cons
• Needs more features
This GTracing chair is capable of many things. As a gamer, a perfect base to work with helps you retain some focus. As a result, this chair comes with a significant metal frame. Also, you get to enjoy the comfortable and breathable material.
You need such material so that you don't gather irritation from sitting for so long. The material is also a strong mesh along with colorful PVC around this racing chair.
A gtracing review also shows that this chair rocks back and forth. The backrest is adjustable at a 90-170-degree angle, while users can customize the armrest and seat height. You might want to pick something across your desk. All you have to do is swivel around since the base is fitted with sturdy and smooth-rolling wheels.

Other support you get includes an extra neck and lumbar support cushion for optimum comfort. Other than that, we think it lacks more ergonomic features.
This gaming chair high back has coo dimensions and is perfect for users who want a large seat.
2. GTracing Gaming Chair Racing Office Ergonomic Video Game Chair
Pros
• Perfect for gaming
• Multifunction
• High-quality material and leather
• Thick comfortable padding
Cons
• Padding appears too strong.
If you want a chair dubbed "perfect for gaming," this is it. As one of the best GTracing chairs available right now, it can help transform your overall sitting experience and make all your marathon gaming sessions exciting and enjoyable at the same time.
What's more, the ergonomic design includes a strong metal frame to promote a comfortable seating position. The chair stands up to your weight and provides you with real-time relaxation and comfort at all times.
Multifunction is vital for all chairs. That's why on this chair, you have adjustable armrests and seat height. There's also a sizeable reclining angle and 360-degree swivel. If you love shuffling around on the spot, you'll love the mobility here.

The covering is another brilliant part, with quality leather added to the seat cushions. Other soft and supporting features include a headrest pillow. It's a chair known for broad applications and ideal for work, studying, and gaming. The high-level PU Leather and added seat cushion and lumbar pillow will help you remain comfortable.
If all you want in a gaming chair is comfort and convenience, then this is the gaming chair for you. It constitutes an important part of a gaming set up and will complement a modern office setting.
DXRacer Gaming Chairs
Pros
• Premium seating experience
• Quality mold shaping foam
• Full-metal frames
• Safe and durable
Cons
• It fits only smaller users.
Dxracer gaming chairs are superb additions to the gaming world. The fact is it is an original brand or the modern gaming chair. The chairs in its lineup are premium built and available for a wide range of audiences and applications. It's a brand fit for top pros, enthusiasts, large Esports events, and tournaments.
This office style chair is more convenient for slim users. Besides, the chair is a popular choice for Esports players. It can hold a max weight of up to 200lbs and a full-height reaching 5 feet, 8-inches.
If you want a quality and comfortable covering for your seat, this chair gives you high-quality leather that's friendly on your skin and easy to clean.
Moreover, there's a higher-density mold shaping foam and full-metal frames for maximum stability and sturdiness. Other components like the powerful class 4 gas lifts are certified for extra safety and durability.

There's a working tilt mechanism and recline reaching a 135-degree max backrest. It's beneficial for resting after prolonged hours of gaming or streaming content. You will also enjoy full mobility on many applications you put the chair.
If you're after a simple but effective gaming chair that will fit snuggly with your slim body structure and help you perform optimally, this chair is for you.
4. DXRacer Gaming Chair Ergonomic Office Affordable PC Console Racing Seat
Pros
• Excellent ergonomics
• Solid frame
• Strong mesh and PU materials
• Back and neck support.
Cons
• Can squeak
This model from DXRacer is one of the most affordable PC chairs from the original range of DXRacer. It comes equipped with a conventional tilt mechanism with two-inch PU casters, a metal frame, and strong mesh material for starters. It's exquisite and can take a beating for years.
When you're making a gaming chairs comparison, you'll realize that it's much suited to small to medium-sized users.
The materials used are of high-grade quality. For example, the frame is made from full-metal and provides maximum stability and sturdiness. All other components work in sync to give you a performance worthy of a unique chair.
Ergonomics is a regular feature across all DXRacer chairs, and it's a perfect chair for gamers, streamers, and office users. The recline is excellent to give your back a rest. You could also use this feature to nod off after a long day doing at work.

Users also get a full range of mobility no matter the application they put this chair to. Proper bottom support is also here, along with side armrests you can adjust to your keep your arms and elbow comfortable.
This chair is the best option if you want to keep strain and other aches away. It's built totally with comfort in mind and can help make your gaming sessions exciting and worthwhile.
GTracing vs. DXRacer: Head to Head Comparison
The main difference between GTracing and DXRacer is, DXRacer is more durable and stable with thicker padding, while GTracing chairs are more adjustable.
Adjustability
You can adjust the seat height of the GTracing chair by using a button dedicated to that purpose.
The armrests are also adjustable to comfortably contain your arms. There's a proficient feature that allows you to rock back and forth, while you can use the backrest to recline between 90 and 170-degrees.
For DXRacer, you can adjust the back angle and recline to a max angle of 135-degrees. While this comes short of what GTracing offers, it takes nothing away from the great comfort and convenience you will enjoy when you relax
Durability and Stability
Durability is an important feature to consider when getting a gaming chair. To that end, GTracing has an ergonomic metal frame to make you feel comfortable and relaxed after a long day.
The same vein tends to promote a high-end comfort level even when you maintain a sitting position for longer hours.
The metal frame structure also enhances durability and helps maintain a stable position even when you make some rapid moves while gaming.
Similarly, DXRaxer incorporates high-quality components that make for extended durability and ease of use.
You also get strong caster wheels and durable PU leather covering for the seat along with the metal base.
Padding
GTracing gaming chairs have seats that come with thick padding, lumbar pillows, and a headrest pillow.
The foamed backrest, seat, and thigh support are thick and cushion your body by providing long hours of support. You won't feel pains, and there are stripes to adjust the pillows.
DXRacer, on the other hand, is famed for having two nylon stripes you can use to customize the lumbar and headrest pillow.
You can also attach the headrest pillow to the holes on the back of the chair. Besides, the chairs come with water-resistant PU leather construction on the exterior.
Base
Both the DXRacer and GTracing chairs offer strong bases to support almost any weight capacity. Sure, they both have a great look, and you often get a 5-point base on them, but that's not all. Both brands provide users with heavy-duty nylon base casters for smooth-rolling mobility.
These casters are scratch-resistant and will not succumb to pressure from foreign objects and debris.
Ergonomic and Supportive Design
GTracing has a high-level chair thanks to a fantastic ergonomic system.
As we all know, a high-back design fits a wide range of body types. When you add the removable lumbar cushion and headrest pillow, it makes a lot of sense to get one.
Also, the ergonomics are pretty much the same as DXRacer. The brand provides a proper headrest and lumbar cushions.
They also have a high-density shaping mold that takes a lot of pressure and makes you feel comfortable even when you sit for prolonged hours.
Design
A critical difference between dxracer and gtracing is in the design. GTracing chairs fall into a generic design category. As such, every other gaming chair offers most of the features the brand has.
What makes them different is the low profile design and customizable parts like the lumbar and head pillows.
For DXRacer, we have mentioned that the brand makes gaming chairs that are more suitable for high-end users and pro gamers. Overall, they have a greater weight capacity and higher backrests.
Features
When it comes to top features and functionalities, both brands come packed with a bunch of useful, functional, and excellent features.
GTracing offers excellent value for money and has a model with a 330lbs weight capacity. They also feature adjustable armrests, seat, rocking mechanisms, and reclines.
The same can be said for DXRacer. It offers more convenience and will accommodate people with a height of over six feet. You will also get a molded 4D adjustable armrests and highly flexible tilt levels.
Conclusion
Should you choose a GTRacing or DXRacer? They both have their advantages and disadvantages. However, many top gamers and enthusiasts consider comfort and support before anything else.
Modern gaming chairs like these two brands are built with health and wellness in mind. They are very similar even if they sport some little differences, especially in the area of aesthetics and design. That makes choosing either brand pretty straightforward.
While it all depends on your preferences, we think that DXRacer provides more edge over GTracing.
If you want a brand and model that sets the pace, you will have no issues settling for a DXRacer. Moreover, it offers more premium quality and a heavy-duty metal frame that will support your weight and make your marathon gaming sessions enjoyable.
On the whole, they both give you supreme comfort, plush support, and critical features ideal for different both types.2