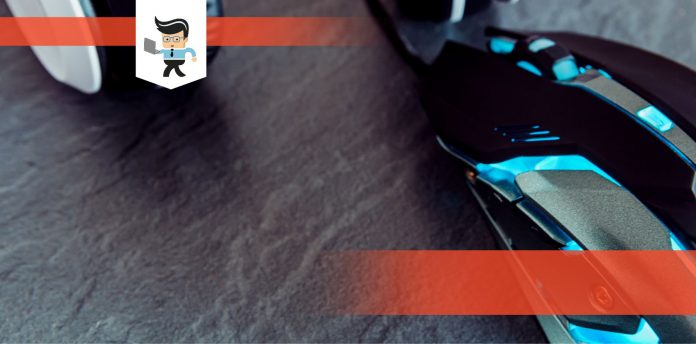 Our G303 vs. G Pro article takes you through the best features of these two products from a famous manufacturer. A mouse that makes you unbeatable during engaging games is a must-have for avid gamers.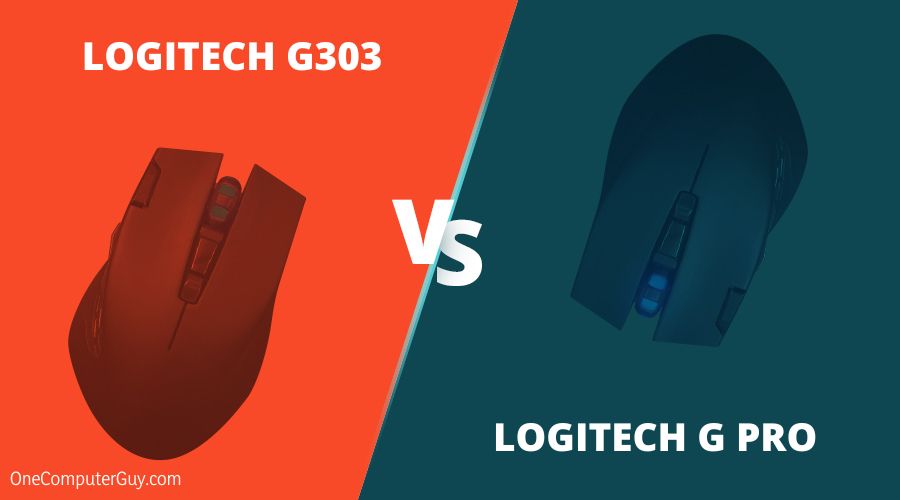 Logitech is the name you want to be associated with for top-quality mice. To that end, our review team has put together this review to help you make the best decision after reading through what we think.
However, which mouse sits up top?
That's what this review is all about, so read on to find out!
Key Specifications at a Glance
Products 
Key Specifications 
G303

DPI: 12,000
Buttons: Six
Sensor: Delta Zero
Software: Logitech Software
Connectivity: Wireless

G Pro

DPI: 25,600
Buttons: Eight
Sensor: Hero 25K
Software: Logitech Software
Connectivity: Wireless
Logitech G303 and Logitech G Pro: Which Mouse Makes the Cut?
When faced with two quality mouse options, it's rather difficult to pick one, especially if you're a gamer. However, a review sets things straight with an objective review of both devices and what they offer to users.
These two options are excellent for gaming and don't cost as much. Speed, programmable buttons, and fast response times characterize these products.
For the G303, you gave a mouse that's well-built and designed to offer responsive capabilities. It's great for those keen on gaming and who need a mouse to get going on the competitive front.
On the flip side, you have the G Pro, which is just as wireless and forms part of the rigs of many gamers and serious users.
Overall, you get two products from the same brand you can trust.
However, which model boosts your performances between the G303 vs. G Pro?
Our review team gets into the details, though, for an in-depth comparison.
Pros
Compact and lightweight design
Quality auto surface adjustment
Full lighting customization
Cons
More suited to right-handers
No matter the kind of gamer you are, the G303 mouse is bound to impress you with some awesome features. We like that it's affordable and comes with an excellent shape streamlined for multiplayer online battle arena (MOBA) titles.
It has a smooth sensor and customizable features, changing light patterns, colors, and speed. Overall, you get construction and responsive capabilities you can count on.
– Design: Nice-looking Shape
We all know how much Logitech puts into their products, and this mouse is no different. It follows a lineup of previous quality versions because it is identical to the G302 in design.
However, the G303 comes with a tapered palm rest carrying the Logitech G-Series logo. Further, you get a diamond shape coupled with two programmable buttons on the left side and another under the scroll wheel. These buttons can swap between DPI profiles on the fly by default, but you can program them to perform any other mouse function.
While many users refer to this mouse as ambidextrous, we feel that it's more suited to right-handers. There are more buttons on the left side of the mouse. What's more, the Logitech G303 dimensions make it a compact mouse, much like the previous G302 design.
– Features: Smooth Capabilities
You get top features on this mouse you can enjoy after downloading the Logitech Gaming Software. With it, you can customize several functions, such as light color, pattern, or DPI settings.
The software also enables you to match up to the surface you're using the mouse. Whether that's glass or wood, the mouse's sensitivity adjusts to your preferences.
The G303 has a metal-spring and button-tensioning system for precisely positioning the buttons on the right. When you do that, the pre-travel and backlash of the mouse get reduced.
The features include responsive buttons with left and right buttons rated for twenty-million clicks. The sensor adds a shooter-centric precision, thanks to the 12,000 DPI, which is a clear upgrade on the G302.
– Performance: Fast and Efficient
A combination of its top-quality feature provides the performance you get on this mouse. It feels good in the palm and has enough auto-adjust for various surfaces, and a DPI ensures you get some measure of speed. With the press of the stop button, the sensitivity switches without delay.

– Overview
From our Logitech G303 review, it's evident that this mouse is an ideal fit for gamers. You get a better sensor and customizable capabilities to make the best out of its features.
Pros
Superior Hero 25K sensor
Lightweight build and design
Customizable features
Durable battery life
Cons
Might be too light for some user's grip
The Logitech G Pro specs make for good reading whether you play games competitively or not.
It's a mouse you get a lot from, thanks to quality features and an intuitive design. That makes it the ultimate gaming mouse for professionals and regular users intent on a device that packs so much potential.
You get several top-notch capabilities, from the smooth scroll wheel to LEDs used for the DPI. The toggle switch appears under the mouse, with four slick mouse feet to give you some balance.
– Build and Design: Set for Gaming
The build starts with the Logitech G Pro size, which is ultra-lightweight at about 80g featuring a unique casing coupled with a super-thin, solid, durable shape and design. It's ergonomic for the most part and developed to suit pro and regular gamers.
That's why it's billed for more than fifty million clicks. There's also advanced technology inside with about four removable side buttons geared towards premium customization.
– Speed and Accuracy: Responsive and Quick
It's a small mouse, but the speed and accuracy you get more than compensate for its size. As a result, gamers who want a device that can zip across any surface within seconds will appreciate its speed and responsiveness.
What's more, the G Pro offers performances free from the limitations of wireless latency, which affects many mice. Users will enjoy smooth connectivity and a super-fast one-millisecond report rate connection.
– Software: Enjoy the Latest Hero Technology
Software has some role in the best devices, and this one is no different. The G Pro uses the Hero 25K sensor via the update from the G HUB, which is free for all users.
You will find the sensor accurate to about 26,600 DPI coupled with ten times the power efficiency of previous generations. That means more than comfortable gaming for many users keen on accuracy and profound responsiveness.

– Overview
The G Pro is suited to gamers. It's a pure gaming mouse with the required speed, accuracy, and responsiveness to give you gamers an edge over any opponent.
Logitech G Pro vs. G303: A Detailed Comparison of Their Key Features
The main difference between Logitech G Pro and G303 is, G Pro Wireless comes with high DPI, mouse functions, the HERO 25K sensor and can read up to eight buttons while on Logitech G303 you get six.
Performance
In our Logitech mouse comparison, performance takes center stage. While the G303 gives users just enough, the G Pro takes it to another level with its high DPI, mouse functions, and the HERO 25K sensor. Across every activity, you get a competitive mouse and fun to grip.
DPI ( Dots Per Inch)
The Dots Per Inch in a mouse measures how sensitive a mouse is. The higher the DPI on a model, the more reaction and accurate movements you're bound to get.
To that end, the G303 only offers about 12,000 DPI, while the G Pro wins the day with up to 25,600.
You will get more out of the G Pro with the DPI referred to as the best in the gaming mouse industry.
Build and Connectivity
The Logitech G303 weight and that of its counterpart offer similar figures. However, the G Pro is often described as ultra-lightweight for a reason. It's small, offers a wireless connection, and isn't dependent on a wired connection for power regeneration.
Moreover, the lightweight shape of these two mouse options makes them easy to move, carry, and play engaging games.
Both the grip and other parts of the design are suitable for right-handers. Depending on the functions, you can rest your right palm and slide up or down. Also, the ergonomics help you stay more comfortable.
Buttons
Both mice feature different button counts. You get six on the G303, while the G Pro can read up to eight buttons. Note that these buttons are programmable and customizable, with each mouse carrying its benefit for users.
It helps you assign specific functions to buttons or assign macros so that things are more accessible for you.
Logitech G303 vs. G Pro Wireless: Final Thoughts
When you want a Logitech gaming mouse for obvious reasons, you have to choose the best one that fits your needs and requirements. If it boils down to these two devices, our review team will urge you to pick the G Pro Wireless Gaming Mouse. It's that simple.
We have observed the features and specifications of both devices on review and have concluded that the G Pro offers more premium capabilities.
Examples of this are longer battery life, the famed Hero 25K sensor, and an even higher DPI than a standard mouse.
If you're on a tight, low budget, the G303 will suffice, but the G Pro is the ultimate gaming mouse here.