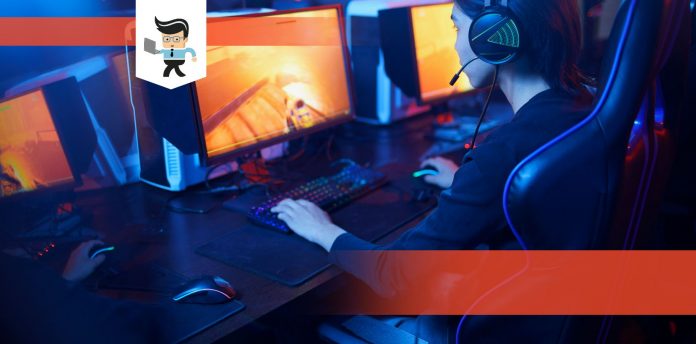 Considering a DXRacer tank series review is a good idea when you want to buy the product. It's a brand that has taken the world of gaming chairs by storm. As such, it's not uncommon to learn more about how it works.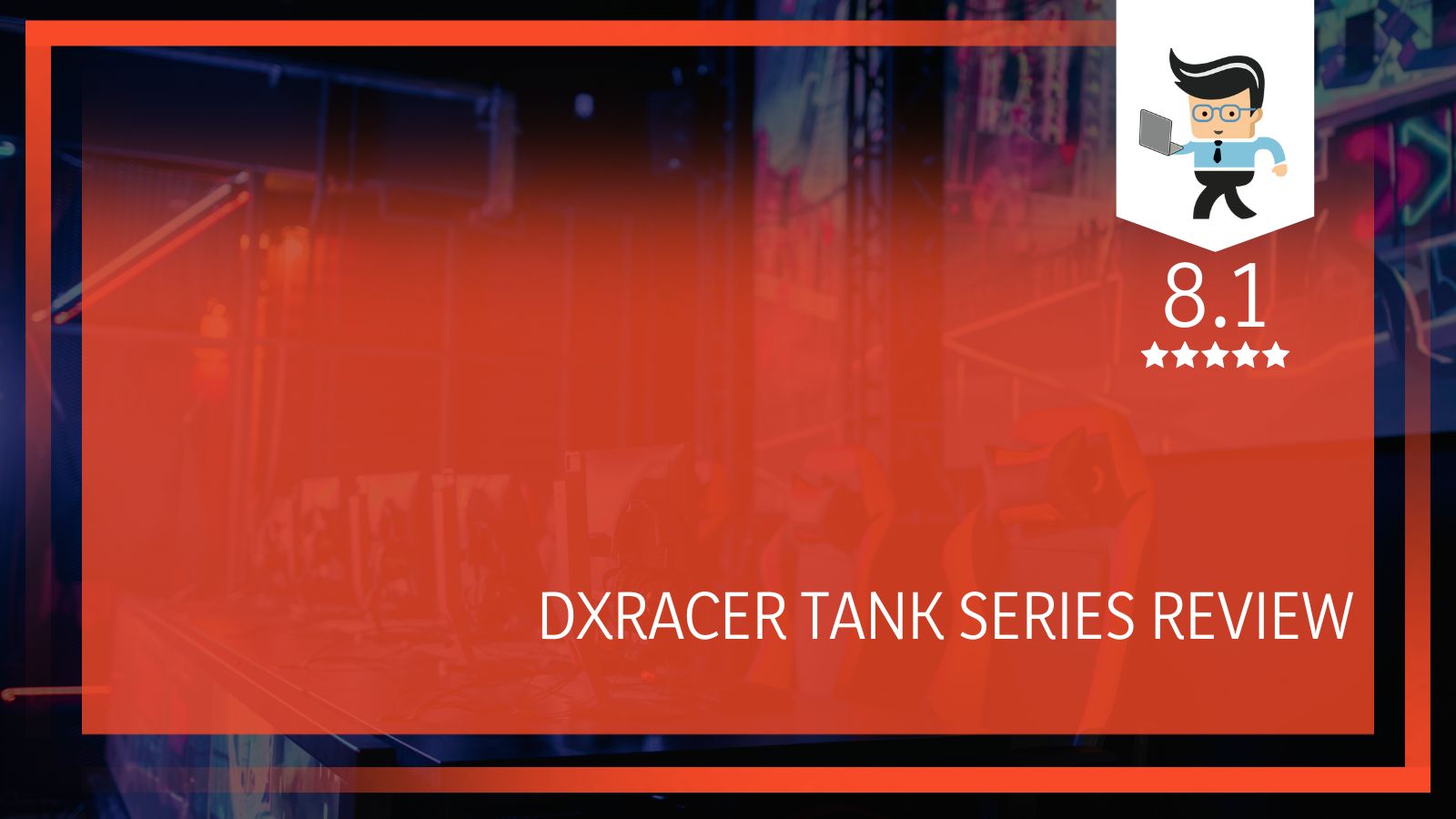 The Tank Series has benefits and drawbacks we've taken the time to explain below.
DXRacer Tank Series Review: Top Specs at a Glance
| | |
| --- | --- |
| Specs | Tank Series |
| Brand | DXRacer |
| Color | Black |
| Frame/base | Aluminum/metal |
| Material | Mesh |
| Armrests | 4D |
| Extra ergonomics | Headrest, lumbar |
| Recline | 120-150-degrees |
DXRacer Tank Review: A Top Gamer's Delight
DXRacer Tank Series Key Criteria
PROS
Latest designs
Robust and breathable mesh material
Protects neck, head, and spine
Extra head and lumbar cushion
CONS
Extra-heavy
Built with bigger persons in mind
Whatever you're doing or getting, it's never great to buy into the hype. However, some products go beyond the hype to showcase their beautiful features. This Tank Series from DXRacer is no different. It's a model built to take more weight right from the beginning. To that end, that's the first point to start, especially if you want a gaming chair this big.
This chair comes weighing about 65 pounds. Now you understand why it's referred to as the Tank Series. When you get it, you'd have to get someone to help you move it because it's that heavy. What's more, you can expect the overall frame to be at least your whole body height or thereabout.
For this chair, it's not just about joining the best chairs at the top. It's built to have functionality the manufacturers understand gamers will need for extended sessions while sitting. Part of that includes the Tank Series having a robust frame.
Includes in the package, you get a backrest, seat, wheels, tools, extra pillows, arms, etc. You'll get some instructions, too, but it's best to use help when you don't understand. Another thing DXRacer includes is some plastic covers for the bottom. That way, you don't get to see too much "skeleton."
It's also nice that you can use the recline feature. While this chair won't represent your bed, you can tilt it anything from 120-degrees. After long hours of activity, pull the lever to tilt backward for a much-deserved rest.
More on protection, your neck, back (spine), and head need safe components to guide them. This DXRacer chair review noticed that you get extra pillows and lumbar cushions. With them, it's easier to set the tone to protect your posture.
If you're after the biggest DXRacer chair with an array of features that will complement your gaming style, this Tank Series is the best choice for you.
– Build and Design
There are unique chairs out there for gaming purposes. Some of them come fit for multi-use. That's the case with this Tank Series. It represents the biggest, highest, and widest chair in the DXRacer lineup. As such, it will fit a vast range of users on the big and tall side of things.
DXRacer sits with other brands at the top of the food chain and has this design to show. For starters, this chair comes packaged in a black and bold color. Other colors are present, but black is the most dominant. The chair covering envelopes an immense and solid frame. It's more like a gaming throne built like a tank for someone to sit on.
The contours on this chair don't depart from the norm on other DXRacer chairs. Every part of it, including the original leather, logo placement, and other features, are present. The chair comes big, but we must state that it is incredibly flexible. Overall, the design promises a sturdy feeling that spreads all through the chair.
– Comfortability
Like the DXRacer brand, if you're a gaming chair enthusiast, you'll notice that the Tank Series doesn't feel all too new. It comes across as the re-imagined version of the classic DXRacer chair. Also, it's very much like the Formula, or like the Racing Series. What you have is an extension of a proven pattern of well-designed chairs.
To enhance the comfort of users, this charge comes with a racing flair and side wings. It also carries seat ridges on the sides, while the high back has a cutout in the top portion. In line with that, the most important thing to consider when buying the Tank gaming chair is how big of a chair you want. It's the ideal fit for the biggest guys around.
On this chair, you also get two gas cylinders which you can change out. With both, the chair will go up much higher than any other DXRacer gaming chair. To get better results out of this chair, we recommend a height range between 6'1″ to 6′" coupled with a weight capacity of 450 lbs.
If you're on the big side or want to get this chair for someone overweight, it makes sense to get this chair. The straight back is substantial, along with that of the seat. As a result, you get an experience like that on a car seat.
From a distance, the base and wheels of the chair look smaller. However, on closer inspection, the reverse is the case. The base comes in at a sizable 31.5-inches wide. Further, the brand claims that the base is 20 percent larger than their other bases. The base comes constructed with the strongest aluminum.
– High Backrest
When you look at the backrest and the seat bottom, you can immediately tell that they're made from cold-formed high-density foam. According to some sources, they're 20 percent thicker. For the covering, there a leather fabric along with a layer of polyurethane. That way, you get to enjoy the best of both worlds.
The leather comes across as nice and soft to the touch. It's always great to immerse your shape into a comforting gaming chair. Moreover, the fabric here comes easy to clean with just a soft wet cloth to clean anything you get on it.
The stitching that holds the fabric together is barely noticeable but has a nice tight stitch covering many areas. Also, the piping down along the edges has nice blue stitch lines. You also get a sprinkle of other colors, including green, red, white, and black on black. The DXRacer logo forms a bold stitch at the top of the high back.
– Height Adjustment
Height-adjustable chairs come in handy, especially when you want the perfect angle to help you dominate. Here, you can adjust the height of the chair to suit your needs. When you've settled on what you want, you can put the cushion or pillows for support. Thankfully, the headrest cushion connects with a velcro strap. That gives you more options to customize how you want it to appear.
– Armrests
Don't we love armrests? Without them, you'd have dropping shoulders, sore elbows, and troubled arms. Also, some arms on chairs don't come with enough quality. Not here, though. The Tank Series lets you adjust the arms to a higher or lower level.
These arms also move in several positions, including movements forward and backward. Besides that, it's possible to angle them. Inwards or outwards. On the whole, you can turn them in any position that gives you comfort. Whatever the case, it's best you have a space ready for this chair. We've mentioned how larger it is and how it wilt take up space.
– Recline
While this chair comes with instructions on how you can set it up and make adjustments, the recline feature comes as an essential requirement for a DXRacer tank chair. To that end, you can use the backrest to lay down at an angle of 1 20-degrees. You can have a nap at that angle or take a break from a gaming session. Either way, you can take things further past the stated degrees for reclines. That's because the strong base will give you assurances.
– Performance
It takes some time and considerations to measure the performance of any chair. Sometimes, all you have to do is consider how long you can sit on the chair. It would be best if you also thought about how comfortable it feels during the sessions' duration. If you can sit in a spot for a pretty long time or over 8 hours without hassles, the chair has significantly performed.
We know much about this Tank Series to bring you this honest review. As a result, the performances on this chair on all levels are worthy of its name. DXRacer went all out to provide a sturdy and extremely comfortable chair you can work with. Even though adjusting to its specifications can take a while, you'll love how it works in the long run.
Those who have a more oversized frame will also enjoy the wide seat, high back, and extra pieces. They're all there to keep your posterior and other parts of your body comfortable. Again, the material on the Tank Series represents the best out there. Nothing is stopping you from getting similar performances from this chair.
Lastly, for performances, we noticed the chair won't change shape and doesn't sag. Other adjustable parts make you feel better when you make every part of it suit your taste.
Is the DXRacer Tank Series gaming chair worth it?
The simple answer here? Yes! We recognize that gaming chair users, pro gamers, and enthusiasts have their preferences. Some prefer to buy a chair from a known brand. Others want one in a proven lineup of well-built chairs. Yet again, some persons will pay for a chair with adequate comfort, strong parts, and durability. It is okay to say that the DXRacer Tank Series has it all.
The quality of a DXRacer chair seldom suffers or drops in value. They're that durable, comfortable, and boasts all the ergonomics to keep you playing for long hours. DXRacer gaming chairs are worth it. For the Tank Series, it's a notable racing chair like others under the DXRacer lineup. They're specialized for gaming, and the tall neck and high back support the head and back areas.
They're worth getting!
Conclusion
Make no mistake. This chair is featured as one of the best gaming chairs out there that can probably fit into a raft of uses. The games you play, the office's work, and other activities can occur with this chair. It's that comfortable and promises significant parts to give you stability and adequate support.
The Tank Series also represents a solid piece of engineering from top to bottom. It's the biggest chair in the lineup and has the features and components to show for it. A combination of steel, aluminum, leather, fabric, and other accessories makes it a perfect choice for any chair.
You'll thoroughly enjoy it if you are on the bigger side. With it, it's always a good time to be a gamer knowing you can count on the Tank Series for support and comfort.