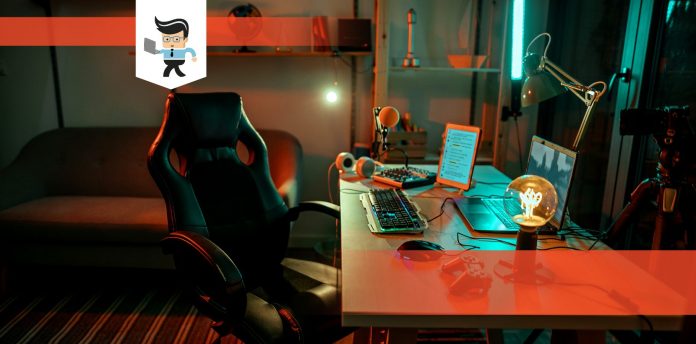 We have carefully prepared this DXRacer Iron series review to bring you all you need to know about this gaming chair before making the purchase.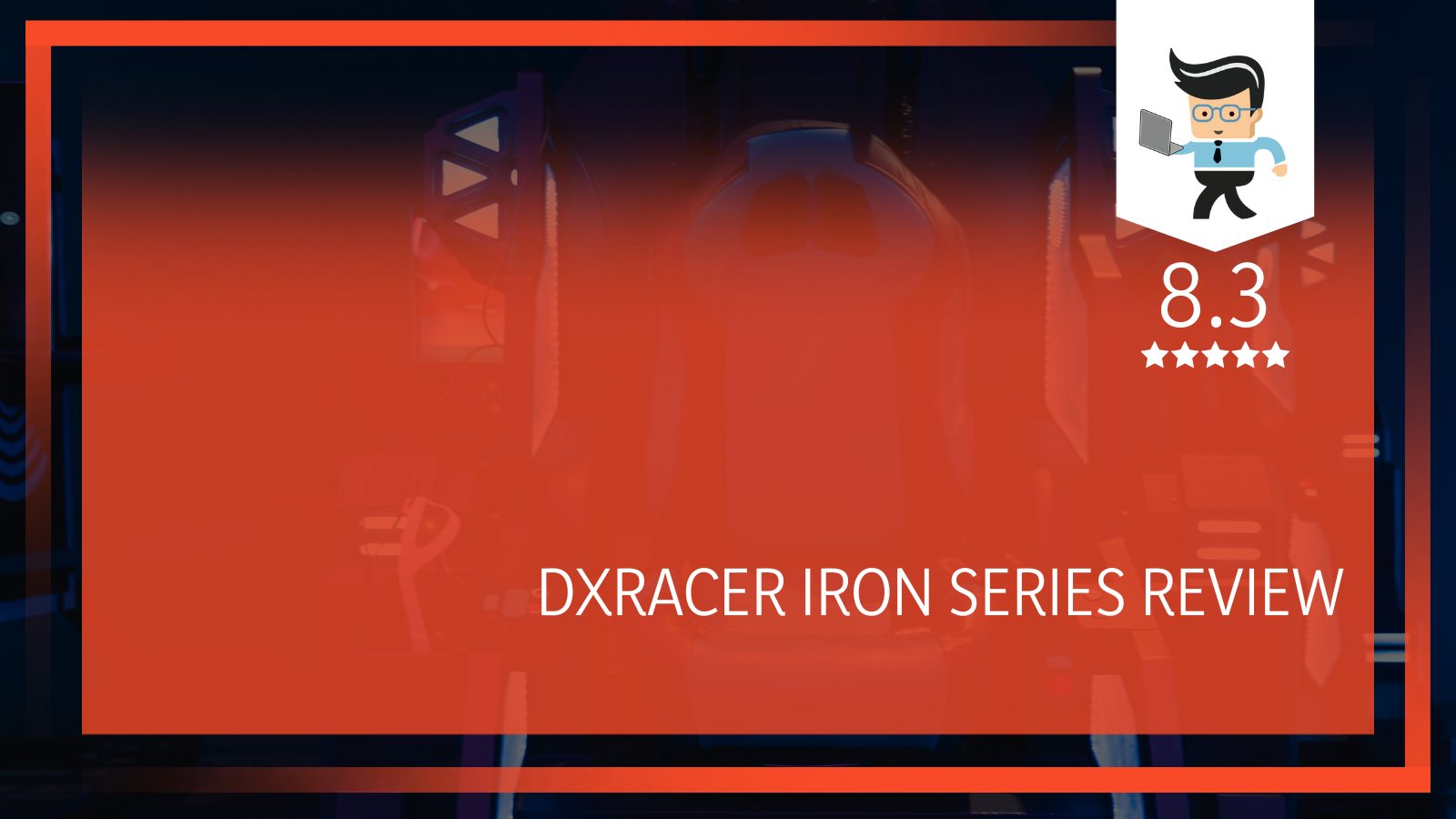 For every gamer, the best chair must come equipped with a lot of user-oriented features that will ensure a comfortable experience while gaming.
But how exactly do you think the iron series will meet your demands and expectations, especially when compared with other top-quality gaming chairs we have today? We have tested this chair to assess its features and other capabilities. Read on to find out!
DXRacer Iron Series Review: Key Specifications
Product
Key Specifications
DXRacer Iron Chair

Frame material: Metal
Covers: Strong mesh
Max weight capacity: 250 pounds
Armrests: 4D adjustable
Max recline: 135 degrees
Base type: 5-star wide aluminum
Foam: High-density mold
Gas lift class: Class 4
Tilt lock: Tilt and angle lock
DXRacer Iron Series: Get Your Gaming on in Style and Comfort
Selecting the perfect gaming chair from the numerous options available in the market today is quite tricky. It requires a lot of know-how, particularly if you're looking to enjoy optimal comfort and convenience while gaming.
You spend extended periods sitting in one spot. That is why it is essential to have a gaming chair that keeps you comfortable while enjoying your favorite games. Many users have resorted to top, reliable brands with these factors in mind. We believe you are reading this review for this exact reason, and we have painstakingly put one of the top chairs from DXRacer to the test to help you make the most suitable choice.
DXRacer is a popular brand and the regular choice for pro gamers and enthusiasts, with their chairs manufactured under strict quality standards so that users get the ultimate level of luxury and comfort. Even though the Iron Series was designed to boost gaming experiences, it is sure to become your favorite seat for relaxing and working, too.
Below is a complete review of the Iron Series chair. Keep reading to get an in-depth view of the kind of quality it offers, including its pros and cons.
DXRacer Iron Series Key Criteria
PROS
Quality ergonomic build
A lumbar and back support
4D adjustable armrests
Multi-function mechanism
CONS
Low max weight
Expensive
The Iron Series is designed with a higher backrest, a vital feature needed for resting your neck while you work or play games. We observed that many computer chairs have a lower backrest. That won't give adequate support to your upper back and neck. However, the Iron Series chair has a reasonable degree of flexibility, which allows for horizontal adjustment.
The frame and covers are made with the best materials on the market. Since it's going to handle some weight, the Iron Series has a robust metal skeleton holding a high-density mold foam. The foam padding is tough enough to get back in shape after you sit for long.
The DXRacer Iron series gaming chair also has a breathable fabric material that won't trap heat after prolonged usage. For gamers, that's an advantage because heat can cause irritations or lead to discomfort. You wouldn't want that when playing an engaging game.
Beneath everything else on the chair, there's a solid base to hold the structure up. Now, let us focus on the key specifications below.
– Stunning Look and Appearance
The Iron Series is an exquisite-looking chair. It comes in about six different colors, so you can pick one that fits your gaming rig or setup. A part of the seat base will have the same color as the chair. That will give you a matching look so you can play games or work in style.
This model has a full-sized metal frame, which provides a significant level of durability. That's important to keep the maximum weight stable. Also, DXRacer ensures this chair has every quality control feature for the ultimate gaming experience.
– Feel the Comfort
With DXRacer, you can always expect comfort at the forefront. Their chairs are designed to give you the relaxation you need. This Iron Series chair is no different; it's made with high-quality Pleather. Such leather is of the synthetic variety made out of solid plastic.
The material is flexible and gives off fewer restrictions than actual leather. Cleaning it is straightforward because you only need to wipe it with a cloth dipped in a bit of solution. The vinyl on this chair also enhances its looks and ensures a longer life span for the material cover.
For added comfort, it comes with a headrest and a lumbar pillow. You can always adjust both of them to suit your desired fit. Besides, the support on offer from both is imperative to have for extended gaming times. It doesn't matter whether you're a professional gamer, office worker, or regular user; lumbar support will prevent future complications to your back.
– A Comfortable High Backrest
Another critical factor for comfort on the DXRacer Iron Series chair is the high backrest area. With it, you get excellent neck and shoulder support. However, we must state that this chair is not designed to cater to much taller individuals. For example, if your height is above 6'2″, you'll most likely get uncomfortable. Always check out the dimensions of any chair you're getting to make sure it matches your height.

– Adequate Weight Limit
One of the strong suits of this chair is its max weight limit. All chairs, irrespective of type and design, have a weight limit, and the Iron Series supports about 250 pounds. That can stretch to 300 pounds under some circumstances, but the max weight boosts the Iron Series. If you weigh less than that, you'll love this chair.
– Take the Height Up or Down a Notch
The Iron Series allows you to modify the different parts of your gaming chair. That's a remarkable aspect the Iron Series boasts because you can make changes to your preferred taste. For example, you can adjust this model so that you're lying down. That way, you can take short naps in between gaming or working sessions.
You also get to make adjustments to the arms. The armrests are 90 degrees 4D Arms which means you can adjust them to four different directions.
– Maneuvering Across Your Space
Every user of a gaming and office chair deserves some measure of mobility. If you love gaming and move a lot, perhaps to get some milk or glass of water or make some game changes, maneuvering is crucial. It's a quality you need to watch out for and which the Iron Series has.
If you're playing an engaging game, you might find yourself moving towards your PC or gaming screen. To cater to this need, the Iron Series from DXRacer offers high-quality chairs with smooth-moving casters. The wheels will let you move around with ease and speed.
What's more, the wheels can roll on any floor surface without causing damage. It helps you move closer to your screen or from side to side without a problem.
Along with the rolling casters, the swivel feature enables you to rotate 360 degrees. When you have a genuine workstation or play games around different screens, the rotation helps you switch from one monitor to another freely. You won't have to stand up to get things done.
– Durable and Long-Lasting
With the DXRacer gaming chair, you have a stable and durable item. DXRacer is a brand known to produce chairs that are built to last. Depending on how you use them, the chairs will also last for longer. As such, you have to take care of the chair by cleaning and doing other routine maintenance.
The high-quality PU leather and vinyl covers add to the Iron Series' durable quality.
The Iron Series model is also solid and safe to use. You get all the accessories that have passed strict quality tests coupled with an imported hydraulic unit. All the international safety standards for style and strength are met.
The Drawbacks of the Iron Series
This chair indeed has a lot of features to stand out as one of the best. However, there are some drawbacks and weaknesses. If you're going to get this chair, consider the following:
Height: the first thing is that the height of the chair sits just above six feet tall. As a result, many tall users skip it. You might still fit into the chair if you're big and tall, but the neck and shoulder support won't help you much.
Cost: The second thing to take note of is the price tag. Unlike some other DXRacer products, the Iron Series chairs cost more. While it's a great piece of furniture for gaming and office use, look elsewhere for alternatives if you're on a tight budget.
Weight: The Iron Series is an excellent choice for many applications, but it is heavy. It weighs about 66 pounds and will take some effort to move around. If you move a lot, beware not to run the casters over your feet.
A DXRacer chairs comparison also shows that the Master Series, Iron Series, and Racing Series mention a few sport 4D armrests and recline angles between 90-155 degrees. The padding is also cold-cured molds or high-density foams, and you get more lumbar, back, and neck support.
DXRacer chairs also have similar bases and frames made from the best steel and aluminum materials. With them, the weight capacity is no fluke since you get a sturdy and durable material to count on.
DXRacer Iron Series: Frequently Asked Questions
1. Is the DXRacer Iron series best suited for you?
Gaming chairs, no matter the model, aren't suitable for everybody. However, we feel that a good number of people can use this chair for several activities. It has an authentic plush look and is designed to guarantee the best levels of comfort. That means an avid gamer, office worker, or regular user will have fun sitting down on the Iron Series. It has everything you need, including adjustable parts.
The high backrest and other ergonomic parts are worth it. We must mention, though, this chair comes at a price. If you have a tight budget, it's not for you.
2. How does the chair even compare to others?
DXRacer first made gaming chairs way back in the early 2000s, so it's a brand that commands some respect in the industry. Back then, all the chairs under the lineup had minimal differences to tell them apart. That's because, under the hood, they all had the same capabilities and features. What often set them apart was their size and fit for different weight categories of users.
A lot has changed since. Now, gaming chairs from DXRacer are more modular and accommodate extra features. For example, the extra mesh fabric on some top-end chairs in the lineup is the go-to material.
3. How durable is the Iron Series?
With gaming chairs, the fact is that each person's experience will differ from the next. When you don't alter your chair, puncture it, or cause other damages, expect the chair to last for at least five years. The DXRacer brand says this particular Iron Series product will last for more than five years at the minimum.
4. What role does ergonomics play in the Iron Series?
A huge one. Comfort is the most critical aspect you need to consider. To that end, the Iron Series goes a long way to provide an ergonomic seat, lumbar, and high backrest. The breathable fabric also helps control the temperature and keeps you comfortable while you work or play.

Conclusion
You're going to love this DXRacer chair, thanks to its standout features and capabilities. It has a wide enough seat to hold any weight that could reach up to 250 pounds, and we find the levels of comfort intriguing with the ergonomic parts on display.
Comfort is paramount if you're going to spend a lot of time sitting on your chair. Back problems could arise and affect you in the future, and the DXRacer Iron series is built to protect you from lower back complications later in life.
The whole experience is where you can relax and have fun while on this racing-style inspired gaming chair.