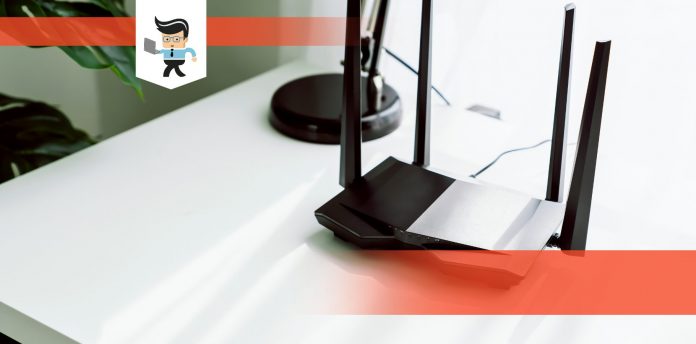 The D-link DIR-813 is built to offer varying degrees of speed via different means and over a dual-band frequency. You get ports you can connect cables to and a dual-band frequency to alternate between tasks.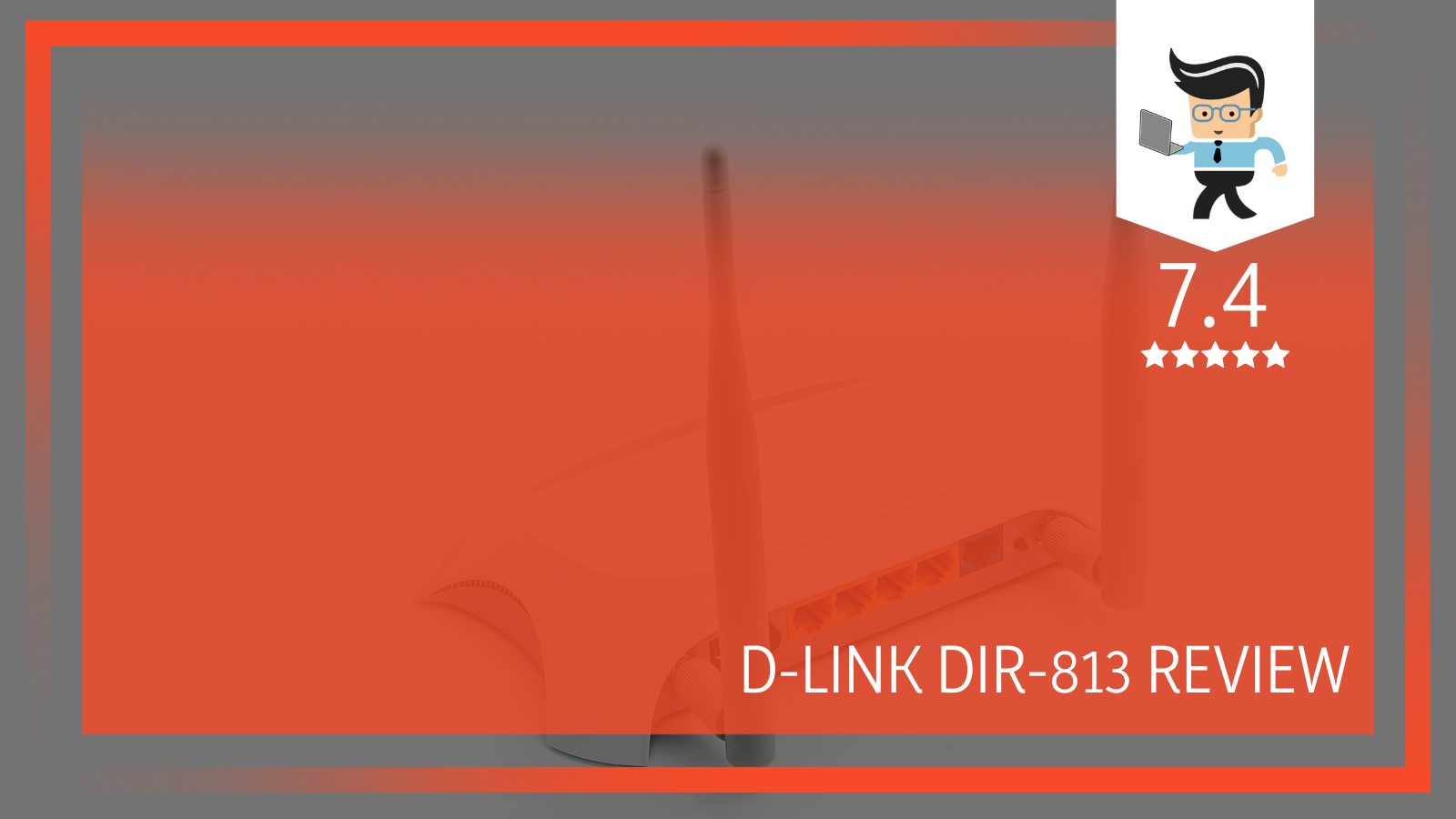 Our team has put the device to the test to help you decide whether it's all you need or you should continue your search for the perfect router. Read on!
Key Specifications at a Glance
A strong and reliable connection is vital if you run heavy traffic on tasks like HD streaming, big downloads, and playing online games. But does this router tick this box? How about the features – are they solid enough to see you through your demanding internet activities? Let's look at the specifics.
Product
Key Specifications
D-link DIR-813

Frequency band: Dual-Band
Data rate: 750 Mbps
Antenna: 3
Security: WPA-PSK, WPS, WPA2
Form: Wireless/Wired
Quality Service Delivery for Power Users
Whether you want to connect to the 2.4GHz or 5GHz frequencies, the DIR-813 Wireless-AC750 Fast-Ethernet Router from D-Link gives you a good performance. With the dual-band connection, the device allows you to have allocated bandwidth based on the task.
For example, you can connect bandwidth-consuming devices to the less congested 5GHz frequency for faster downloads, streaming HD content, and more. 
For regular tasks like browsing or checking your emails, the 2.4GHz will deliver on little bandwidth without issues. Moreover, this router supports the 802.11ac networking standards. That's why it provides data transfer rates reaching up to 750 Mbps. In addition to that, you get a reliable wired Ethernet connection, thanks to four fast Ethernet ports.
If using it as a router doesn't deliver many results, the DIR-813 works well as a repeater. That means you can extend the reach of the current wireless network. It's pretty much a feature that helps you connect more devices irrespective of the distance. 
As we proceed, we will look at the key features and specifications of the router to show the extent of its capabilities.
D-Link DIR-813 Key Criteria
PROS
High-speed connectivity
Backward compatibility and repeater mode
Top-quality high-gain antennas
Wireless AC750 for optimized performance
The Dlink DIR 813 is an affordable yet powerful router that offers an excellent wireless networking solution that comes in handy for a wide variety of online applications, thanks to a combination of the high-speed 802.11ac Wi-Fi specification and dual-band technology. What's more, the router comes equipped with fast Ethernet ports that deliver a seamless networking experience.
If there's one feature that consistently delivers outstanding performance throughout the duration of the test, it's the wireless AC technology's increased range and reliable connection, which reaches far into your home or small office to keep you connected to your favorite programs online without going through stress. There are advanced security features to keep your network and data safe from unauthorized access.
In addition to that, the Dlink DIR-813 router comes with three high-gain antennas. That way, you can establish strong and stable Wi-Fi coverage in your home or chosen space. Thanks to data sapping tasks and applications online, the speed it delivers is of particular interest to many users. However, other features like the Ethernet ports are just as useful.
Now, let's take a look at the router's core features one after the other and give our expert's verdict.
– Internet Network: High-Speed Connectivity
With a wireless type of 802.11ac, it's easy to see why this router is faster than some other devices because it's a wireless specification that gives you enhanced connectivity, range, and a reliable connection.
You can gain more speeds when using the Ethernet WAN and four Fast Ethernet LAN ports for more high-speed wired connections. As a result, you have a better data transfer rate reaching 750 Megabits per second. If you play online games over your router connection, this speed will suffice.
The next-generation tech in the form of wireless AC750 is designed for optimized performance and reliable coverage. To that extent, you can be assured of smooth HD video streaming, faster file transfers, and lag-free entertainment.
– Dual-Band Advantage: Perform Many Functions
Top among the list of D-link DIR-813 specs bundled into the router includes a dual-band network connection feature that helps you benefit from the high data transfer rates. 
When you use both the 5GHz and 2.4GHz frequency bands, you get to enjoy a cumulative data rate of 750 Mbps, with either one giving you good numbers. As expected, using the 5GHz band implies a faster, stronger connection for movie streaming and playing online games. 
For the 2.4GHz band, you can enjoy some basic internet activities, including surfing through the internet, checking your emails and social media, and doing some searches online.
With the dual-band performance, you also get to enjoy fast wireless speeds on the 5GHz band. One vital advantage of this is less interference for maximum throughput on the 5GHz frequency band.
– Setup and Security: The Protection You Need
The setup process of this D-link Wi-Fi router doesn't take a lot. You get all the instructions and prompts to get going in the package. There's a Wi-Fi Protected Setup (WPS) coupled with a Web browser-based configuration for an easy setup for a secure time over any network.
You can use the WPA-PSK and WPA2-PSK to ensure your network is off the hands of hackers.
– Antenna: More Antennas for More Coverage
Antennas go a long way to determining strong your connection is and the range it covers. On the DIR-813, you get a device equipped with three high-gain antennas that deliver optimal coverage. What's more, the DIR-813 firmware includes a smart technology that allows this router to choose the best antenna for you. As a result, you'll have a quality wireless experience doing different tasks.
If you're using this router in your home, expect the maximum range because of the antennas in place.
– Repeater Mode: Extend Your Wireless Network
Most times, all you need is a little bit more network signal to get the best out of your tasks. That could be in the farthest part of your home or small office trying to catch up with some videos. Whatever the case, the DIR-813 AC750 is a device that also works as a repeater. That way, you can extend the range of your wireless network across more expansive areas.
– Backward Compatibility: Connect to More Devices Without Stress
While the DIR-813 router offers a wired and wireless capability, it's also backward compatible. Devices that come with a/b/g/n tags can be connected to this router. That saves you a lot of stress and money if you have old devices.

– Overview
The D-Link Dir-813 will come in handy if you want a wireless/wired AC750 router built for optimized performance and reliable coverage. You can stream a lot on the 5GHz band because it delivers smooth and strong connections or uses the 2.4GHz for basic Internet applications.
Frequently Asked Questions
1. Is the D-link DIR-813 worth buying?
If you're looking for a pocket-friendly option for a router, we think you should get this DIR-813 device. The features are good enough and give you some control over the kind of connections you want.
Depending on your applications, the 5GHz and 2.4GHz frequency bands will help you get the most out of your connections. As for performance, the router is primed to do well, including over wide ranges.
The antennas sure help when you want to use them as a repeater to increase the range. Also, you get ports you can use for more wired connections. With Ethernet cables, you get better connections reaching farther areas. However, the drawbacks include some network issues coupled with the router not having enough quality.

Conclusion
With a solid design overall and can feature on different platforms and an impressive dual-band capability known to many top-notch routers out there, it's hard to go wrong with the DIR-813. You can use either band depending on the level of internet connection and signal needed and enjoy a smooth and seamless experience at all times.
Another reason to love this router is that you can use it as a repeater. Sometimes that's all you need for a much stronger connection over tasks such as heavy downloads and playing games online.
What's more, all your activities are secured with different protocols with the advanced level of security that keeps intruders at bay. The three antennas also serve to boost the range within your preferred area of use.
In the end, we think the D-Link DIR-813 is a good buy, as it opens you up to many benefits, including an easy setup process and a WPS function to make connections easy.