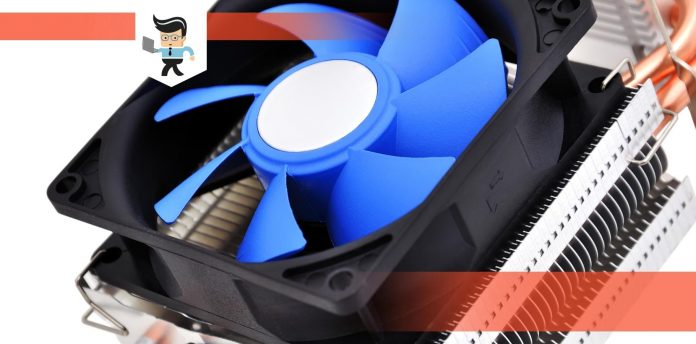 Noctua NH-D15 vs Hyper 212 Evo covers two cooler products from proven brands capable of fending off the heat from your computer. They're rigged with unique capabilities and features to protect your CPU and other components from the effects of heat.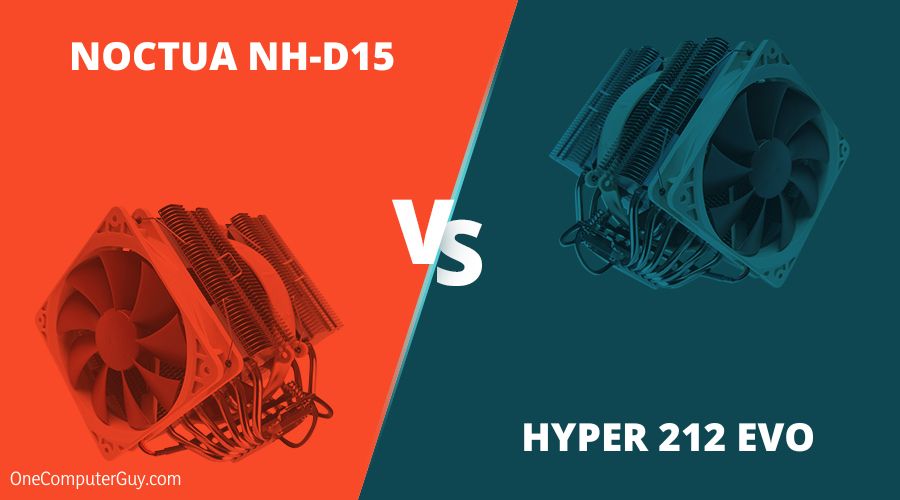 It's always crucial that computers run well, especially when playing games or running intensive applications. For this reason, we'll be reviewing and comparing these two coolers based on noise levels, fan effects, benefits, and other relevant features.
Comparison Table
| | | |
| --- | --- | --- |
| Features | | |
| Noise Level | 19.2 dB | 36 dB |
| Fan Speed | 1500 RPM | 2000 RPM |
| Cooler Type | Fan | Fan |
| Power Connector Type | 4-Pin | 4-Pin |
| Voltage | 12 Volts | 12 Volts |
Hyper 212 Evo vs Noctua NH-D15 Comaparison
The main difference between the 212 Evo and the NH-D15 is that the latter has better noise levels and delivers near-silent operations than the Evo 212. But both NH-D15 and 212 Evo consume less power as they both operate on 12 Volts.
– Cooling performance
Winner: Noctua NH-D15
If your system is always greeting hot and affecting how different programs are run, you need a cooling device to combat the heat. There are tons of coolers to choose from, including liquid and air coolers. The Noctua NH-D15 and Evo 212 are two such devices with capabilities to help your computer function efficiently.
When every component of your PC is functioning correctly, the chances of damage to your hardware is limited. These coolers will work to keep the temperature down for expensive parts like the motherboard, processor, and graphics card.
How do the features stack up against each other?
With the two coolers having fans as part of their cooling methods, it's easy to think they have the same cooling capacity and performance. That's not the case, though.
On close observation, the NH-D15 has two more heat pipes than its rival here and more cooling fin surface area. Also, the NH-D15 has more thermal mass than the Evo 212. This Noctua has better heat removal capacity, which is what you want from a cooling device.
The 212 Evo is a budget cooler and has average stock speeds but falls short of the levels set by the NH-D15. The latter promises great and quiet performance.
– Noise level
Winner: Noctua NH-D15
The noise level further adds to the quality and overall performance of the NH-D15 cooler. You'll get a fan speed reaching up to 1500 RPM to provide a maximum cooling effect to your CPU. However, that figure is boosted by the silent noise level of under 20 dB, thus ensuring effective cooling. That means you can go through many activities and not get worried about the temperature of your computer.
In this Cooler Master Hyper 212 Evo vs Noctua NH-D15 comparison, the Hyper 212 has a noise level of over 35 dB. That's quite high for a cooling system and won't let you enjoy your activities without some noise.
– Overclocking
Winner: Noctua NH-D15
The Evo 212 is a good option for light overclocks and does its bit to keep temperatures low. However, the Noctua NH-D15 is a monster and can handle cooling more than many AIO water coolers. That included heavy overclocks and exceptional performances on heavy applications.
– Power Consumption
Winner: Both
You get the same power consumption for the NH-D15 and Evo 212 CPU coolers since they both operate on 12 Volts. That's more than enough to generate power to improve cooling effects over different applications.
We'll be doing more than just a comparison of the features above. Below is an outline of their features, pros, and negatives. Read on as we discuss both coolers in detail.
– Pros
Effective CPU cooling
It has overclocking abilities
Easy to install and run
Impressive design
– Cons
You'll need a large system case for its huge size
The Noctua NH-D15 specs make it a premium cooler from the Noctua brand based in Austria. We like the impressive design and dual-tower make of this cooler.
Also, you should know that it is a flagship design from the company and has the highest demand. It packs a design that puts it ahead of its predecessors, thanks to its improved efficiency and automatic speed control.
– Overview
Our Noctua NH-D15 review is all you need to convince yourself about the capabilities of this cooler. It's compatible with a wide range of cores and devices and has a six-year-long warranty. It's ideal for users who want a cooler for their heavy usage.

– Build and Design: Huge and Feature-filled
As a successor of the classic NH-D14, this cooler is powerful enough and comes with a profound dual-tower design with six heat pipes and two fans. These pipes and fans combine to provide class-leading cooling performances for overclocking or near-silent systems.
Also, the NH-D15 is one of the most popular and recommended hardware with an expanded layout. As a result, it's all set to perform well and better than some liquid coolers.
– Speed: Exceptional Cooling Machine
At 1500 RPM, the rotational speed is excellent for any cooler, and this one doesn't disappoint. There are twin highly-optimized NF-A15 140 mm fans with PWM support. They also have low-noise adaptors for automatic speed control and ultra-quiet operations.
However, the overall build and size will consume some space, but the speed and efficient noise control are worth it.
– Performance: Keeping the Temperature Down
A cooler will have challenges keeping your computer and other components cool during prolonged and heavy use. But it should be able to do that most of the time. With this cooler, you have such a device, thanks to its near-silent system, which provides efficient cooling more than half the time.
Further, the two NF-A5 140 mm fans contribute to cooler performances and are optimized highly to serve you with effective speed control.
Installation is smart and easy, and Noctua included the high-quality NT- H1 thermal paste for good measure. You might not need a second fan with regular loads. The materials of this cooler contribute to its reliability, including a copper base, aluminum cooling, and nickel plating.
The noise level of the NH-D15 stands at 19.2 dB, but the cooling method and maximum airflow mean you can work for extended periods.
– Pros
Effective dealing with high temperatures
Quiet efficiency
Wide-range PWM fan
Balanced operations
– Cons
Our Cooler Master Hyper 212 Evo review reveals a cooler built to provide a significant draw for many enthusiasts and system builders. There's no need for another cooler when you get features designed to produce quality cooling and a firm factor to match.
It feels like the best option if you have a tight budget and want to maintain a competitive streak across all games and applications.
– Overview
The Cooler Master Hyper 212 Evo specs present a solid cooler option for those who want balanced cooling performance. While the large size is a sticking point for many users, the Evo 212 is worth considering for heavy-duty applications.

– Build and Features
The Hyper 212 Evo is a cooler equipped with one 120 mm fan supporting PWM. As a result, it can connect to a four-pin connector, while the motherboard can regulate the speed depending on load, thermal activity, and the application being run.
A fan splitter isn't part of this device, even if the Evo 212 allows for a simple connection to a second fan. If you want to add to the setup, you'll need to get more fan headers. What's more, there's no RGB LED on this device but a primary cooling system. It was made to provide a balance between high and low-speed operations.
The blades are wave-shaped so that there's improved airflow to support the four direct contact heat pipes for accelerated surface thermal transfer.
– Performance: Good Cooling Quality
We have to state that the Hyper 212 Evo performs exceptionally to keep the temperature down. It does so through quiet operations built around a noise level of 36 dB, which is closer to the benchmark expected of coolers. However, the considerable size means you need enough space to fit it in.
Other than the high level it operates on, its sheer size can block other slots because the large width dominates spaces. Perhaps it compensates for that with support for modern sockets coupled with its excellent OEM replacement.
The fan also gives off a mild overclocking experience. Setup is easy and doesn't take many minutes to perform, and the cooler will support modern Intel LGA 1151 and AMD4 sockets. You shouldn't have problems dropping it in on top of your top-notch processors.
FAQ
1. Can I Overclock Using the Hyper 212 cooler?
Yes, you can. However, it would help if you didn't count on it delivering the best performances on applications you want to overclock on. On the contrary, it's more suitable for light overclocks not requiring so much power.
2. Can You Use a Noctua NH-D15 for Gaming?
Yes, you can. As with many peripherals and components, users want to know if they can use their coolers for engaging games played for extended periods. The NH-D15 is capable of helping you limit and dissipate heat to keep your system running without stress. It also allows you to overclock using this device to make the most out of your experiences.
3. How Big is Noctua NH-D15?
Noctua NH-D15 is one of the biggest and heaviest coolers on the market. The total height of the cooler is approximately 6.5 inches (165 mm), including fans, and the total height of is approximately 2.5 inches (64 mm), including a single center fan. When buying, be aware of its sizes and weight to not harm the motherboard.
Conclusion
Several features and capabilities come into play when you need to choose between Noctua or Cooler Master cooling devices. Our comparison and review of the two shows they perform well to keep temperatures down and systems running efficiently.
The Hyper 212 cooling device is more of a budget option considering its specifications, while the NH-D15 offers more.
Overall, the NH-D15 from Noctua is an excellent cooling system boasting great effectiveness and being easy to install and use. It has a reputation for being near-silent and has some of the best mounting hardware around.