If you are building your own computer for gaming, it is essential that you at least look into the best CPU cooler for i7 9700k. The cooler not only helps to keep your PC running currently, but it will extend the life of your PC and keep the parts in working order. CPU coolers are designed to dissipate some of the heat that is produced by the processor.
Most computers will have heatsinks and a fan installed by the manufacturer, but if you are building your own and game frequently, you need to have some support for those existing systems. There are many, many CPU coolers on the market but each one is slightly different. It can be difficult to make up your mind, so we decided to break down some of the best options that you will have.
Selecting The Best Cooler For i7 9700k
We looked at different cooling systems and were able to select these four as the best coolers for i7 9700k.
The best cooler for someone who needs amazing thermal performance with minimal noise.
The Corsair Hydro Series H150i Pro RGB is one of the larger models on the market, which makes it a premiere choice for gamers and those who use their PCs for overclocking. Don't let the large size fool you, this cooler is extremely quiet and the operating noises were barely perceptible. The cooler isn't as advanced as some  liquid coolers, but it does perform extremely well right out of the box. It is a simple install, making it a great choice for first time builders.
The cooler itself is made out of good quality materials, so you don't have to worry about degraded performance for some time. Another great feature is that the cooler will stop automatically when it is not needed. As the sound is so low this may not matter, but it can help to preserve power when necessary. This feature alone can extend the lifetime of the fan.
The biggest drawback of the Corsair Hydro Series H150i PRO RG is that it is on the pricey side. Even so, it is cheaper than most of the other coolers that it can be compared to.

Pros: Simple to install out of the box; lasts for a long time; automatic fan shut off
Cons: On the larger side; at the higher end of most budgets
A great combination of function and beauty – it looks great on any CPU.
The Cryorig H5 Ultimate CR-H5B is an air cooling CPU, which has some positives and negatives from the start. This is unique to the air coolers in that it can compete with some liquid coolers. The innovative design makes it appealing to users, and the low price tag doesn't hurt.
The design shines in the Hive Fin and Jet Fin Acceleration technology- it helps to get the best performance from the fan and increases the dissipation of heat. It will take you less than ten minutes to install this and when installed, you can basically just forget about it. The materials used are high quality and you don't have to worry about the cooler starting to break down.
One of the main problems with this cooler is that it may take up a PCI-e slot due to its size.

Pros: Simple to install out of the box; made of high quality materials; great technology; cheap price
Cons: Performs middle of the road to actually eliminate heat; can take up the first PCI-e slot for some
Probably the best all around cooler on the market today- just make sure you can fit its tanklike size.
If you are a marathon gamer, you need to overclock regularly, or you just take your cooling seriously, look no further than the Noctua NH-D15, Premium CPU Cooler. Made of high quality materials, extremely quiet, easy to install, and not bad to look at, this one ticks all of the boxes.
Of course, there is one issue that we need to address: the size. This one's a bit bigger than nearly every other cooler out there. It has a height of 165 millimeters, which most cases will allow. However, some will not so it is best to look at your own measurements before you fall in love with this CPU cooler.
The hardware is structurally sound, easy to install, and won't degrade for a long time. There aren't as many customization options, but that's fine because it will work just as well, if not better, than the customized coolers.

Pros: Superb function; high quality materials; easy to install; whisper quiet
Cons: Extremely large and won't fit for some PCs, it can also limit some other options
Perfect for those who need medium cooling and maximum style.
For those looking for the easiest installation, the MSI Core Frozr L is as easy as it gets. It takes very little time (less than five minutes for most people). It looks really great and has some of the most beautiful shapes and curves- and if you use other MSI parts, you will see that it matches them perfectly.
There is some noise from the fan when it is running, but it isn't too loud. It is made out of high quality materials and it feels like something that will stay running for a long time. At this price, it is hard to find something that feels so high quality and well made.
The only downside we noted is that the fins of the fan are a bit thick and it may have trouble fitting behind the memory in some cases. You may need to make some adjustments that will lengthen the installation process and may decrease some of the effectiveness.

Pros: Best looking CPU cooler; made of high quality materials
Cons: Not the best for marathoners or those that need serious control; can be a bit noisy
How To Choose The Best CPU Cooler
Picking the right CPU cooler is difficult because there are so many little parts that you need to pay attention to in order to make the best choice. When looking to choose a CPU cooler for i7 9700k you will need to make a few basic choices before you can even look at your options. Once you make those choices, you will need to determine the fan size that you want, the noises it may make, and the speed it will work.
For newbies, you will also want to think about the amount of work it will take to assemble and use the cooler. Some coolers come with certain parts already put together where others are completely separated- there are hundreds of parts, so it can be difficult. You will also need to determine whether the CPU cooler you want works with Intel or not. Sometimes, coolers will support both Intel and AMD, but many will not.
Air CPU Coolers for i7 9700k
Air coolers are the most popular option because they are expensive and can be used as replacements on PCs that you didn't build. They are what comes standard on most PCs and work well for the general user. They use heating fins designed to dissipate the hot air that builds up, sending it out through the fins of the PC case.
Some people don't like to use air coolers because they can be quite large, especially when compared to some of the other cooler options. In fact, some of them won't fit into every PC case. For gamers, air coolers aren't enough to sufficiently cool down your system, especially if you are a marathoner. Another reason why gamers don't always pick air coolers is because they are much louder than the stock units and the water-based coolers.
If you are interested in an air cooler because of the low price point and ease of install, you need to think about the design and the type of air cooler you want.
U-Type Air Coolers are the most common design. They have a vertical stack of fins that are arranged parallel to the heat source. This is the design you will see in most standard computers and computer towers. With U-Type or tower type coolers, the heat is dissipated through the heating base.
C-Type Air Coolers have heat pipes that curve from the heat fin stacks. These stacks are connected to one end of the heating base. Fans can be applied to either the bottom or the top of the heat fans (most people prefer bottom) or, if you are a marathoner, you can install them on both sides. C-Type coolers are a little more difficult to buy because you do need to pay attention to the size of the fan and the blades to ensure that it will fit into the PC case.
Low-Profile Air Coolers are the simplest type of air cooler. They don't take up a lot of space and can help to cool down a system. They aren't as effective as some of the other types, but they will work if you don't have space.
Water CPU Coolers for i7 9700k
Water CPU coolers tend to be the most popular option for those who need serious cooling. They are more effective, work faster, and are more reliable than air coolers. However, they are also more difficult to build and aren't really recommended for the general user. While they won't hurt anything, they are overkill for a standard user.
Liquid coolers are much quieter than air coolers because the heat is actually absorbed into a liquid that doesn't leave the unit. You may still be able to hear other fans, if you have them installed, but you won't hear much of anything from these. Builders prefer these because they are so versatile, come in different sizes, and there are more options all the time.
Now, there are some things to consider with water CPU coolers. Namely, there is liquid involved and it is a potential hazard if you aren't careful. If there is a leak, the entire processing system could short circuit. Many units will try to prevent leakage by keeping all processes centralized and creating only a few seams.
Closed Loop Water Coolers don't require much work at all. They are made to be installed right out of the box, helping to eliminate the risk of short circuiting anything with liquid. For those up to the challenge, there are also DIY Water Coolers that allow for some personalization and customization. If you have very specific needs, this is the route to take.
What Is In A CPU Cooler?
When we said that there are hundreds of parts in a CPU cooler, we aren't exaggerating. There are so many different elements that you may need to research before you make a purchase. We have created a bit of a glossary here so that you can know what the most important parts do.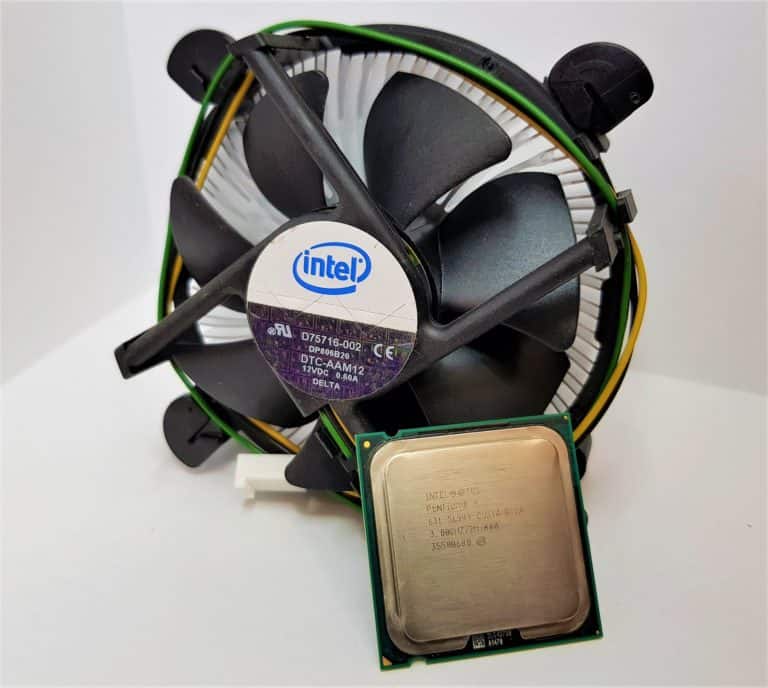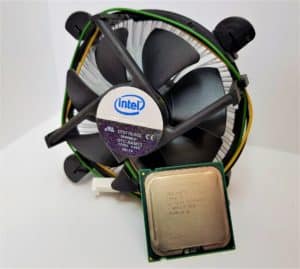 Heat Base: The heat base connects the IHS to the heatsink. It is made out of aluminum or copper. It is typically a flat surface that provides a lot of support. Some models will have a direct contact, which is a bundle of coils that touch the heat pipes.
Heat Fins: The heat fins are a major part of any CPU cooler. Made of aluminum, they are designed to help eliminate heat from the CPU. Everything is meticulously designed, from the spacing and placement of the heating fins to the shape and quantity.
Heat Pipes: These are copper or aluminum pipes that contain the liquid that allows for the transfer of heat energy. The heat is converted into a vapor that is reverted back into a liquid as it cools. The heat pipes determine the effectiveness of the unit.
Heat Sinks: Heat sinks are made out of metal; they absorb and disperse all of the heat from the CPU. Many pieces will have heat sinks built into their design.
Integrated Heat Spreader (IHS): This part of the CPU cooler system is the silver cover space that is on the CPU. This is a protection element that also helps to distribute heat from the processor and push it to other regions of the radiator. The IHS is an important element and needs to stay in place. The best CPU coolers will solder it into place, but many value models will use adhesive.
Thermal Interface Material (TIM): The TIM is a bridge within the cooler that connects the IHS with the CPU cooler heat base. It is smooth so that it can conduct between those two elements. However, manufacturers have some trouble getting it completely smooth so they may use pastes to help them. A carbon based thermal paste is a good option because it is equal parts conductive and non-conductive. Only a part of this paste has high heat transferability.
On the other hand, metal based paint is extremely conductive. If the manufacturing process gets the application of the paste incorrect (which does happen), it can short circuit the CPU. Diamond based pastes are costlier and their effectiveness directly depends on your use. Often, diamond based pastes are marketed as a good thing but most people do not need them. Silicone based pastes are fine, but aren't ideal for conductivity.
If you are looking for the best of the best, you want to get a ceramic based paste as it has one of the most extensive lifespans.
What Else To Think About When Choosing The Best CPU Cooler For i7 9700k
There are some other factors to consider when you want to choose the right CPU cooler for i7 9700k. You need to think about how much you are going to use your computer. If you only use it for standard gaming or work, the stock CPU cooler may be enough.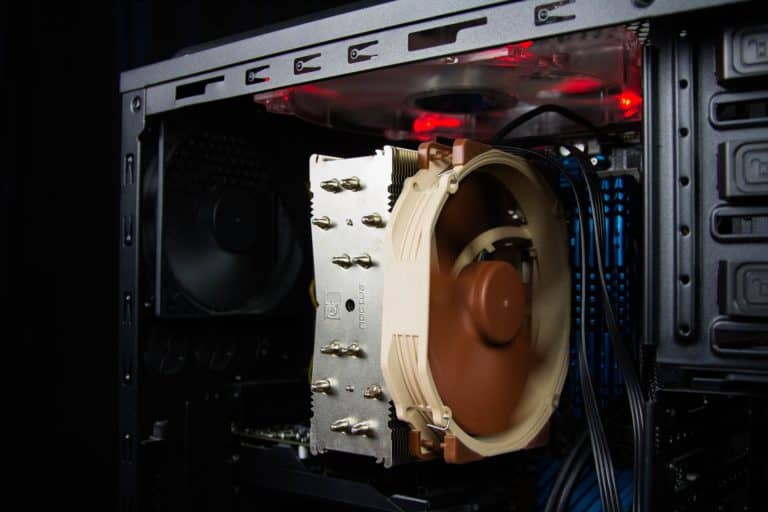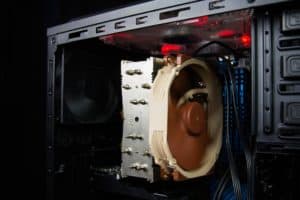 If you game a few hours every day or you marathon game, then you need an additional CPU cooler.  Of course, it will also depend on your CPU. If you have a high-powered CPU that you will overclock regularly, you will need to choose a cooler that will keep up with you. Almost always, that means a liquid cooling system.
You'll need to think about whether you want to get an out of the box model or if you can handle building the CPU cooler by yourself. This is probably the most difficult thing you can do when building your own PC, so tread lightly. If this is your first time, don't try it.
At the end of the day, you need to do what feels right for you. You will need to pick a CPU cooler that matches your needs, budget, and future plans.