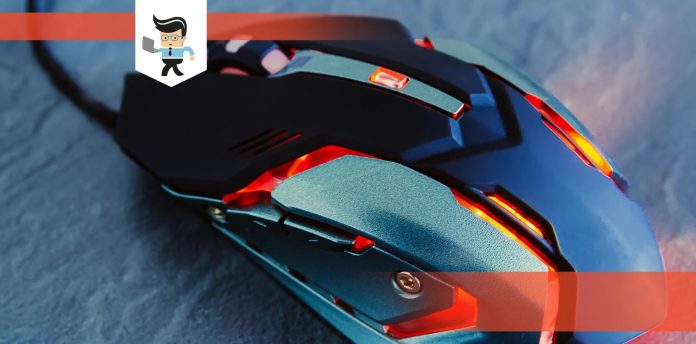 It is hard to choose between Corsair M65 vs Logitech G502, thanks to a slew of awesome features and capabilities built and designed for gaming. They're the go-to mice for rapid movements and precision when you need to get tough on your opponents.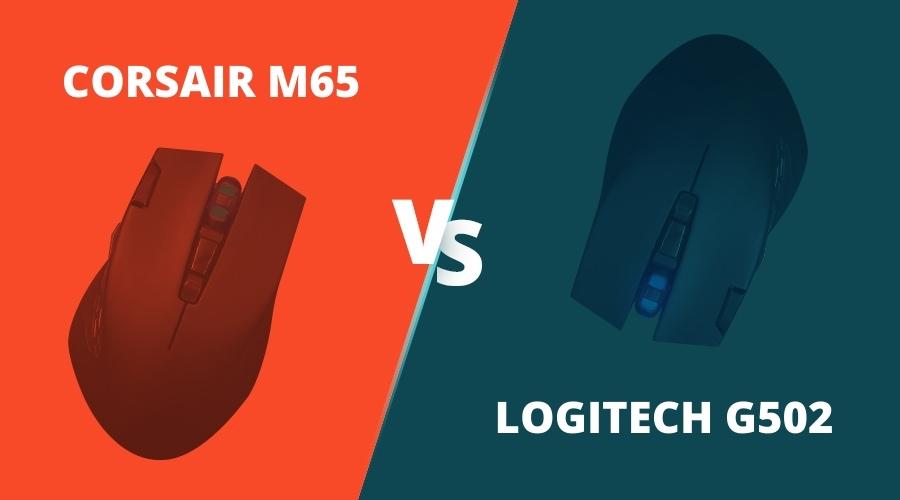 You can expect other qualities to come into play in either peripheral, whether that's in your office or your game room.
So how do these two mice from renowned brands stack up against each other?
Let's find out!
Top Specs at a Glance
Product 
Key Specifications 
Logitech G502

Connectivity Technology: USB
Sensor: Hero 25K
DPI: 200 – 25,600
RGB: LED Lights
Buttons: 12

Corsair M65

Connectivity Technology: Wired
Sensor: Optical
DPI: 100 – 12,000
RGB: LED Lights
Buttons: 8 Programmable
Logitech G502 vs Corsair M65: Choosing the Ultimate Winner
The main difference between Logitech G502 and Corsair M65 is Logitech G502 comes equipped with more buttons that allow users to set up program commands and macros as well as a higher DPI range that peaks at 25,600 for optimal tracking accuracy, unlike its Corsair M65 counterpart that is capped at 12,000 DPI.
When you think about the Logitech and Corsair lineup of mice, there's a wide range of devices to select from. You'll get a nice delivery of design and features for gaming from these brands, thanks to their unique build materials.
Our review team has placed these two mice side-by-side to decide which one outperforms the other with regard to performances and general output.
Pros
Quality flawless sensor
Responsive buttons for gaming
Adjustable weights
Smart LED placement
Cons
A bit narrow for large hands
If you're wondering why the G502 keeps getting reviewed, you're not alone. The best answer to that will be the mouse being so good that the Logitech brand decided to keep it around.
The Logitech G502 specs offer a classic design and an upgrade on the wireless and Lightspeed models. It also comes with a new sensor to compete with the best out there.
Like many users, you might fall in love with the sharp, angular look and design, making it odd-looking among other gaming mice. However, unlike a typical mouse, you'll get more buttons and won't fit several grip styles.
Design: Odd and Functional Build
The previous G502 models might have come with elegant designs, but this Hero steps away from that with a dark, angular shape and design. That immediately puts it at odds with any office environment and other gaming mice out there.
Also, the build is a combination of matte black plastic for the primary buttons and grips and glossy plastic between the mouse's different sections. The same applies to the extra buttons.
With the matte plastic, the mouse does a good job of hiding hand grease. You get a shiny look for the scroll wheel that's well notched on the mouse, and behind it, there's a button to toggle the notched scrolling. It gives off pronounced clicks even with the wheel going into overdrive when viewing many documents or pages.
The build quality of this G502 feels durable with hard angles making it difficult for the mouse to compromise. There are buttons on the left of the primary click over the edge of the mouse. These buttons won't snap off, though.
The button placement is good overall. You get three thumb buttons that are easy to distinguish by feel and are well within reach but hard to misclick. Go ahead to set them to DPI switches to make things easier and faster for you.
There's a compartment at the bottom that pops open, adding up to five 3.6-gram weights that can give the G502 Hero a nice heft.
RGB Lighting: Let Your Mouse Glow the Way You Want It
The G502 Hero comes with customizable RGB lighting for the DPI indicators and the Logitech G logo. The two lighting zones are well-placed, so they're visible between your thumb and index finger when gripping the mouse. However, by default, the DPI indicators don't stay lit.
We noticed that this isn't as comfortable for larger hands as for small to medium-sized hands. It's pretty thin, and the side grips don't have enough traction.
A claw grip is more suitable than a standard Logitech G502 palm grip. But both work, and with deeper grooves and a soft rubber finish, you'll trust the grip more.
Performance: The Proper Gaming Mouse
The Logitech G502 Hero offers a 1,000Hz polling rate and 1ms response time. That's expected from a proper gaming mouse like this one, and you won't find many shortcomings in this department. What makes this possible is the Hero sensor within.
With it, gamers can brace up for flawless tracking and support for DPI ranging from 100 to 25,600. Even with this large figure, the main thing is how the mouse responds to hand movements. We like its consistency and offer genuine fast tracking speeds with max accelerations surpassing 40Gs.
Under the buttons, feel great with nice switches that produce a responsive click on minimal actuation force. And the resistance is such that you won't misclick while resting your fingers on the buttons.
We must also mention the customization software from Logitech, which is easy to use and perfect to tweak the multiple buttons on this mouse.

Overview
From our Logitech G502 review, this mouse offers a brilliant performance that makes it the best fit for gamers. You can customize many buttons and make slight adjustments to the mouse's weight. The Hero sensor is the best part with its super high DPI, speed, and tracking speed.
Pros
Comfortable grip
Excellent gaming performance
Smart button placement
Fancy RGB
Cons
There are many positives to note about this mouse. It started with the first installment of a comfortable and innovative M65 mouse with a sniper button. What followed is four years of refinement leading to the Corsair M65 PRO RGB – an FPS-centric gaming mouse with super lights.
You can also tune the weights and use the rich software suite. With the Corsair M65 specs, this mouse should be right up there with mice you consider the best for gaming.
If you're looking for a fast and responsive mouse, this is it.
Design: Quality and Elegant Build
The M65 PRO comes with a fun and beautiful design with additional angles and surfaces that come in handy. It features plastic and a short thumb rest on the left, while an elevated palm rest is in the middle.
That's an excellent feature for claw grippers, but there's nothing much on the right. If you're a dedicated FPS player, you'll appreciate the lack of extra material that might have contributed to dragging.
It's comfortable to hold and comes with intelligent button placement. To that end, you get left and right-click buttons, a clickable, textured scroll wheel, and buttons to adjust DPI sensitivity. Among others, a "sniper" button rounds up the layout.
The sniper button might be an odd fit for some, but it's worth the addition here and will help you aim more carefully for shots with low margins of error. If you don't want this feature for the button, you can always reprogram it.
Tunable weight is part of the design, much like its counterpart above. You can take out screws on the bottom of the mouse, dislodge between one and three 6-gram weights, and give the mouse an overall mass between 97g and 115g.
The weights are great to use but can also be a pain, especially when dealing with the screws leading to multiple adjustments.
Features: Latest Components
You get top-quality features here, including the modern Corsair Utility Engine, a robust program that gives experienced users endless room to play. Corsair also enables users and newbies to set colors or reprogram a button.
With the Engine, you can create profiles for the M65 and link those profiles with specific games or programs. Also, reprogram buttons, set DPI levels, and tweak the RGB lights. Syncing the mouse with a Corsair keyboard will present more custom features to you.
Performance: Quality FPS Gaming Mouse
Want to measure how an FPS mouse works?
Try it out with FPS games. We found that this mouse is impressive with how fluid the whole experience is. The thumb grip made it easy to tweak the mouse for perfect aims, while the sniper button increased the precision.
It's easy to maintain your grip with the chassis present. Besides being an FPS mouse, it will perform well in other genres of games.

Overview
Our Corsair M65 review showcases a mouse that's perfect for FPS gamers. If you like bright RGB lights and customizable features, the M65 has features to make your experience doing any activity worthwhile. It's as functional as it is elegant.
Which Is Better?
DPI
Winner: Logitech G502 HERO
The Corsair M65 has a native 12,000 DPI optical sensor, adjustable in one DPI resolution step. You'll get total sensitivity customization and accurate tracking with it.
However, the G502 Hero features an advanced optical sensor for maximum tracking accuracy. That's why you get a DPI from 200 to 25,600.
Customization
Winner: Both 
The two mice offer several customizable features and functions that make them more alike than different. For example, you get tunable weight on both custom RGB lights, button configurations and reprogramming, and custom profiles.
Depending on what you want your chosen mouse to achieve, you can make viable changes via their software and other components.
Buttons
Winner: Logitech G502 HERO
The G502 Hero from Logitech stands tall with more buttons in this gaming mice comparison. It has eleven, and you can use the Logitech G HUB to program commands and macros to each of the eleven buttons.
Final Thoughts
If you're searching for a gaming mouse for your rig, you'll struggle to come across options better than these two. Corsair and Logitech went all out to create monster peripherals with excellent features and functions designed even for the best of gamers. They also offer tunable weights and other customizations.
However, the Logitech G502 HERO takes things further with more buttons and DPI sensitivity that will appeal to many gamers. That's why we think it sits slightly above the M65.