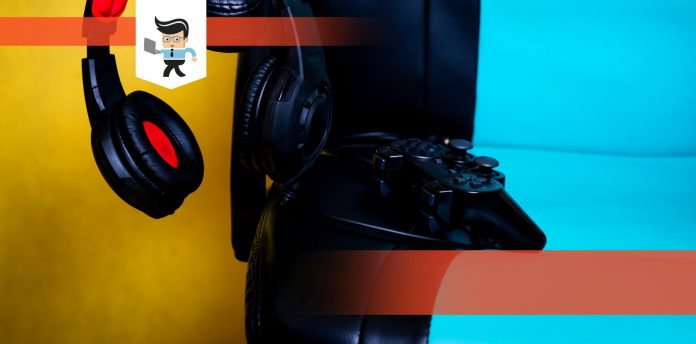 If you want the best console gaming chair to complement your whole rig, you're in the right place. That's because choosing the console is only half the job done; you'd want a chair that maximizes your experience.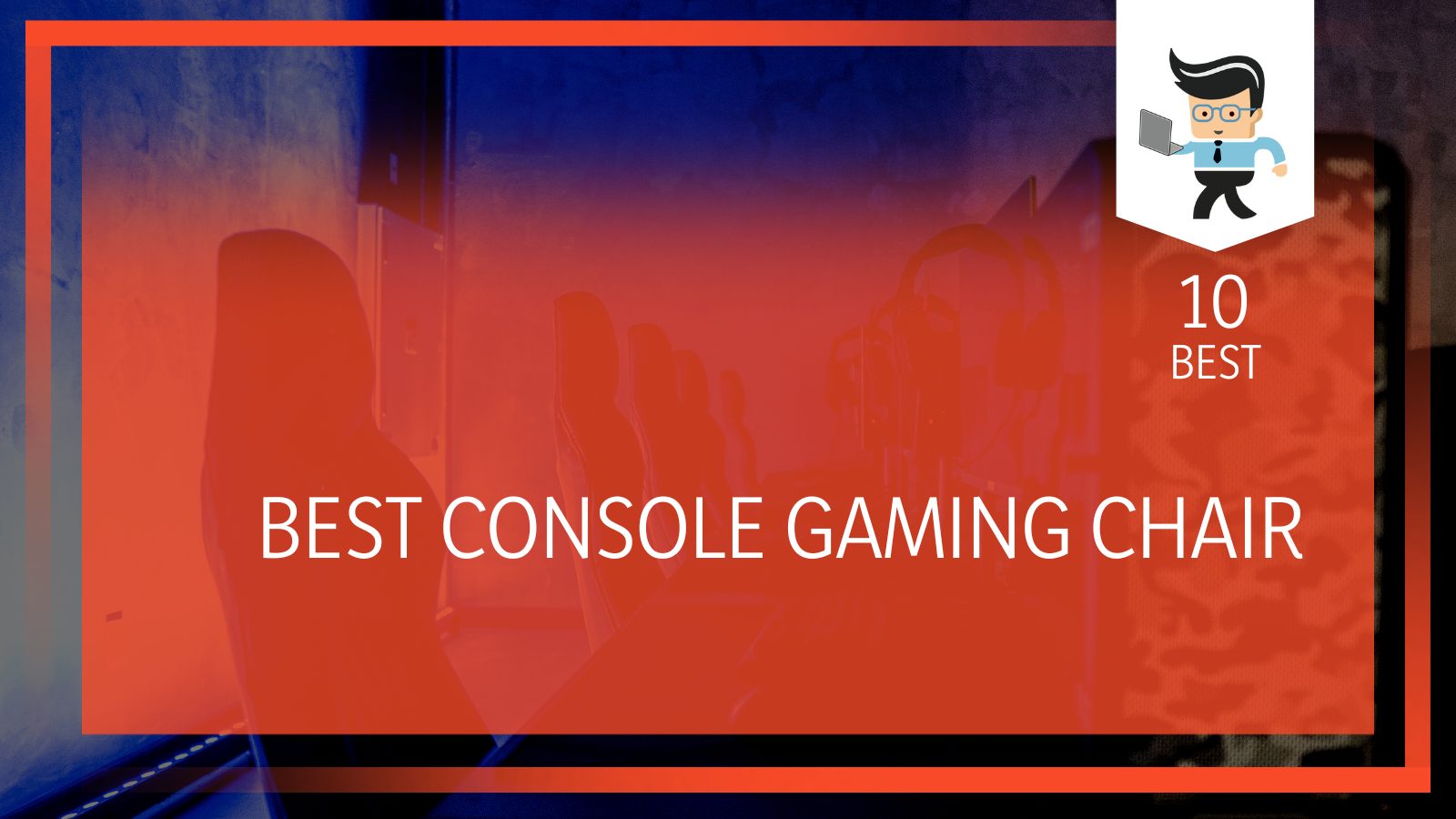 Many people have little knowledge about the kind of chair setup and features they want.
So which model would you call the best console gaming chair?
With our review team doing the hard yards for you, there's no reason why you can't find the best match for rig from these ten models. Read on!
Top Specifications at a Glance
Product 
Key Specifications
X Rocker, 5127401, SE 2.1

Form factor: Foldable
Material: Synthetic
Max weight: 240 pounds
Ergonomics: Adjustable, comfort

X Rocker Pro Series H3

Form factor: Foldable
Material: Leather, padded vinyl
Max weight: 275 Pounds
Ergonomics: Vibration, comfort

Hotmail Gaming Chair

Form factor: Recliner
Material: PU leather
Max weight: 265 Pounds
Ergonomics: Waist manager

VON Racer Rocking Chair

Form factor: Foldable
Material: Leather
Max weight: 200 pounds
Ergonomics: Padding

RESPAWN RSP-900 Racing Chair

Form factor: Swivel
Material: Leather
Max weight: 275 pounds
Ergonomics: headrest, footrest

VITESSE VIT


Form factor: Recliner
Material: Leather
Max weight: 200 pounds
Ergonomics: Tilt

JUMMICO Gaming Recliner Chair

Form factor: Recliner
Material: Leather
Max weight: 285 pounds
Ergonomics: Backrest, recline

X Rocker Pro Series Pedestal 2.1

Form factor: Foldable
Material: Vinyl, Leather
Max weight: 275 pounds
Ergonomics: Lounge

X Rocker Vibe 2.1 Bluetooth

Form factor: Foldable
Material: Faux leather, textile
Max weight: 275 pounds
Ergonomics: Tilt, vibration

Best Choice Products Chair

Form factor: Foldable
Material: Polyester fiber
Max weight: 300 pounds
Ergonomics: Arm support, lumbar
Best Console Gaming Chairs: Top 10 Quality Options That Make the Grade
When you come across the best list for any product, it's time to sit up and take note, especially if it concerns gaming chairs and the console they're an absolute match for.
Gaming chairs are an excellent addition for those looking for the ideal fit – easy setup, comfortable, versatile, adjustable, and boasting quality ergonomics. With these features and other specifications, you get an interactive entertainment center right in your comfort zone!
On our list and subsequent review, you get up to ten options ranging from pedestals and sofas to racing-style chairs and from synthetic fabric to faux-leather seats. As a result, there's something to suit every age group and gamer out there.
Like all products, don't expect to find some of these chairs just after reading this review because some of them are so good they go out of stock fast.
At least if one of them is out of stock, you get another shot at the nine options left. The main thing is finding what fits your rig and lets you have an effective time at whatever use you put it to.
Whatever your choice of model, there's a comfortable console gaming chair you can be proud of. Not to mention the renowned manufacturers that make up this impressive list.
Pros
It has a modern build and design
Comfortable
Wireless capabilities
Multi-purpose chair
Cons
Thanks to its sleek and eye-catching design, the X Rocker 5127401 chair is more than a gaming spectacle.
When you step into a room with it, you can't help but keep your eyes glued to it. A lot of that is because of the smooth black leather exterior and awesome sound system. It has enough quality and features to keep you comfortable and playing for long periods.
The base, spine, and control panels make this chair worth it, and with 240 pounds of maximum weight allowed, it can hold some big players.
– Construction: Comfortable and Adjustable
Being comfortable on any gaming chair is non-negotiable. To that end, X-Rocker makes each chair with extra comfort, and this one is no different. The proprietary design will adjust to your body rather than you having to fit in.
The chair also has inbuilt batteries that make it portable so that you can put it to different uses. Its all-purpose construction comes with faux leather for comfortable gaming, lounging, and movie watching.
– Media: Immersive and Innovative
The chair incorporates a wireless audio transmission with two speakers near the headrest and a subwoofer positioned at your back. That way, you feel the bass-heavy sounds that intensify your game, movie, or music. It's a complete media hub you can use to hook your wireless devices.
– Link Up to Other Chairs
The control panel of this chair includes separate volume and bass controls for such purposes. You also get input and output jacks to help you connect to your audio source and have other X-Rocker chairs join in multi-game mode.

– Overview
There's more to this chair than its striking and sturdy look. It's built for comfort and enhanced relaxation. That's why it will appeal to gamers who want a chair for all seasons. Whether you want to play games with immersive audio or listen to music, you'll find this X-Rocker a good match.
Pros
Top-notch easy-to-clean vinyl fabric
Added head and neck support
It comes with a wireless receiver
Durable and comfortable
Cons
It doesn't suit taller gamers
When you get this X-Rocker Pro Series H3 gaming chair, you'll appreciate the modern style and multimedia buzz it comes with. X-Rocker does its best to make it more comfortable with the addition of an immersive audio experience.
Further, the chair has couch-like comfort gamers will love because they spend more hours seated. The inbuilt 4.1 surround system takes your experiences to the next level, coupled with its all-purpose foldable design.
The fabric leather is just as smooth and comfortable for different activities and spaces, and with the recommended weight of 275 pounds, many users can sit on it.
– Media: Supreme Audio Experience
The X-Rocker Pro Series H3 is a gaming chair compatible with ps4, but that's half the description. You get ports for media connectivity on the right-side panel of the chair containing controls for volume, vibration, and bass. The ports give you a standard 3.5mm input for compatible devices like your smartphone.
It's the complete media experience, and the four forward-facing speakers and audio force modulation tech contribute to it. What you get is absolute immersion, whether you're playing games or relaxing with a movie. Moreover, the subwoofers combine with the synced vibration motors to utilize open space inside the chair.
– Compatibility: Fits the Top Consoles
Whether you own an Xbox, PlayStation, Nintendo Wii, or more, you can enjoy playing these games since this chair is compatible with them. You can also lounge on this chair to watch movies, TV and just relax.
– Connect to X-Rocker Chairs: Link-up
Connecting to other chairs increases the fun and versatility of this gaming chair. The panel comes with input and output jacks for connecting to your audio source so other X-Rocker chairs can link up.

– Overview
This chair can't be too far from perfection, thanks to the capabilities X-Rocker infuses it with. It's a console fit for gamers that sit for a long stretch and want the ultimate in comfort.
Pros
Comfortable for gaming
Stylish with racing-style design
Durable and easy to assemble
Top-notch material
Cons
A bit expensive
Heavy chair
As one of the gaming chairs for ps4, it's a chair that you'll appreciate searing on. A reason for that is its recliner design and top-notch materials. It's the gaming setup every gamer can get used to when they add it to their rig.
– Comfortable: Play for Prolonged Hours
Like we said up there, this is a recliner chair you might want to spend more than a fair bit of hours on. It's so comfortable, even if it feels a bit small for a lot of users.
That's why taller and bigger individuals might find it hard to meet the weight recommendation of 265 pounds.
– Durable Material: Thick Padding for You
It's not enough that you have a material that's durable to last several years. You'll like the other acts that come with it, such as a fully reclinable backrest and a vibrating waist pillow for your lumbar. Every part of you will relax into this chair and make it a good option for all applications.
The PU leather is skin-friendly and covers the thick sponge underneath it. Taking a recline at the shape from 90 to 180 degrees gives you much-needed rest before going on with your activities.
It's easy to put together, and the vibrating feature means you can stay in your seat for long periods.

– Overview
This gaming chair is the perfect companion for gamers who have issues sitting down for long. With the built-in waist massager, you can get some relief after sitting for prolonged hours.
Pros
Comfortable
Foldable for easy storage
Solid build and design
Cons
A chair with a strong base is an excellent place to start from, and thus VON Racer Rocking Video Gaming Chair doesn't disappoint. Thanks to its fantastic features and overall quality, it's the ideal fit for a game recreation room. The racing-style build gives you so much to look forward to with an excellent finish.
– Durable Materials: Enjoy a Lasting Chair
It's a chair built to last with a robust metal frame covered by lush foam and PU you leather covers. It's smooth and easy on the skin and won't let you get uncomfortable after prolonged sitting hours.
The base is just as strong and offers a 360-degree swivel, so you can face any angle you want.
– Rocking: Keep Your Body Free
The rocking feature is a winner here because it adds to your comfort levels. Just when you're about to call it a day and quit your game, you can use this feature to gain back some verve. Even when you're not gaming, you can sit down to enjoy this feature or take a nap.

– Overview
The chair does appear small for many gamers, but it packs some nice features. It's ideal for gamers who appreciate a fancy and sturdy combination packed into one chair. The rocking feature comes up top for increased comfort levels.
Pros
Quality build and aesthetics
Durable frame and PU material
Generous padding includes a plush headrest
It comes with a recliner
Cons
If you're searching for a living room gaming chair, look no further than this racing-style reclining gaming chair.
Of course, it will fit other spaces, and it has attractive colors and mechanisms to make gamers comfortable. It also has a genuine leather exterior covering layers of plush foam for more comfort. There's no level you can't reach sitting on this chair for as long as you want.
– Build and Style: Console Gaming Comfort
There are many gaming chair models in the market, but this one takes your comfort to the next level. Respawn adds a plush, removable headrest pillow to the segmented padding that comes with the seat and backrest. That leads to the ultimate experience, coupled with a fully functional recliner to lay further back.
– Side Pouch and Continuous Spaces: Stay on Your Seat
As gamers, you'll eventually need some beverage or water to quench your thirst. Respawn saw this need and included a removable side pouch that hangs off the left arm.
Gamers can use it to keep game controllers close while there's a cup holder built into the left arm—no need for you to pause the gaming action to refuel.
In addition, you get a continuous surface and independent controls because the chair and footrest flow into each other. With that, there are no open spaces to get wires caught, but you get total control over your gaming chair experience.
– Ergonomics: Relax With Confidence
The max weight capacity of this exciting chair is 275 pounds, so. If you're under that figure, you can recline up to 135 degrees and feel secure.
The 360-degree swivel base provides robust support for both the extendable footrest and reclining back, which lets you focus on your task rather than your balance.

– Overview
This Respawn chair is designed for users that enjoy gaming with all their handy needs within reach. You can place items in the pouch, and you still have a cup holder for your favorite beverages.
Pros
Quick and comfortable recline
It comes with a lumbar and headrest
Stylish with a variety of stunning color options
Fine leather finish
Cons
Clicking recline sound
A bit narrow for some users
The Vitesse brand is a clever manufacturer of exciting gaming chairs. As a racing-style sofa gaming chair, the comfort and support come in handy during prolonged gaming sessions. What's more, you get the ideal combination of ergonomics and style.
– Durable and Smooth: Relax While You Play
Thanks to a sleek seat that boasts premium PU leather and sponge construction, there is no need to be on the edge when playing your favorite games. Take advantage of various positions and angles to reach higher heights when you watch movies or play games.
It's the best fit for gamers who love to use the living area as their gaming spot. Its sofa build and overall design boost your performance.
– Recliner: Take a Nap or Keep Playing
Want to bend back several degrees?
You can do that on this chair with impressive backrests to keep you comfortable. When you get tired of any task, you don't need to get up. Change the angle of the chair to suit your needs, and nap away!

– Overview
This gaming chair is perfect for users who want a combination of comfort and functionality. It has comfort when you want to recline on the well-padded seat and functionality for any application you want.
Pros
Comfortable and adjustable
Quality ergonomics
Top-notch materials and durable frame
It comes with a footrest
Cons
It takes some concentration to set up
If you want a chair for console gaming, this JUMMICO recliner sofa chair should come in handy. As a recliner chair, it's perfect to have in your living room, while the leather finish is just as smooth and covers the thick paddings inside.
– Ergonomic Design: Comfortable for Gaming
The ergonomic appeal of this chair is further enhanced with a backrest designed with some curves on it. That way, you get to have a chair that fits the perfect human body shape.
It's supported by the headrest and lumbar pillow, coupled with a recliner should you decide to lean further back. Also, the chair is much larger and softer than typical racing-style gaming chairs. You can stay on it for prolonged hours.
More ergonomics come by way of the footrest. Just like the backrest working with the recliner, the footrest will function to keep your legs up. It's one of the most suitable relaxation methods for gamers at all levels.
What's more, you can do other things apart from playing games, including watching TV and relaxing after a long day.
– Materials: High-Quality Components
With many chairs out there, quality becomes a big deal. However, this chair has a high-strength steel frame for a maximum load of 285 pounds.
The sofa's surface is fully covered with skin-friendly leather, which is smooth, waterproof, and easy to maintain. You also get more seat space on this chair.

– Overview
If you want a modern-day console chair, this one is capable of meeting all your needs. It's packed with quality features and materials to keep you comfortable and functional at the same time.
Pros
Comfortable seating
Vibration and massage capabilities
Improved audio and speakers
Easy-to-clean vinyl
Cons
It is heavy and takes time to set up
This is one of the gaming chairs with pedestals gamers can take absolute advantage of. There are excellent features that make seating on it a worthwhile experience, much like an entertainment center.
Whether you have a score to settle with your games or choose to lounge on it, you'll find the comfort levels high enough.
It's a typical game recreation room chair with a foldable form factor and the best materials to boot.
It includes a touch of vinyl and leather finish. The foams, audio, and metal frame are part of XRocker's effusive effort at style and comfort.
– Media and Wireless Receiver: Boosted Sound System
There's nothing quite like gaming and receiving that loud and awesome audio feedback. It's the total media experience with two forward-facing speakers, audio force modulation technology, and ported power subwoofers into the open space. It's the same feeling whether you're playing games or watching a movie.
For the wireless radio receiver, you get a built-in feature that includes a wireless transmitter to work with any systems that have RCA stereo outputs.
What's more, X-Rocker includes optional RCA cables.
– Vibration: The Motors Keep You Attentive
The Pro Series H3 makes it easy to play for even more hours, thanks to the inclusion of vibration motors by X-Rocker.
The motors can also sync with your audio's bass tones to create an even more powerful full-body sensation. That keeps your body comfortable and entertained for hours. It also helps that the chair is compatible with Xbox PlayStation and all other gaming systems.

– Overview
Do you want an immersive experience when playing games or watching movies?
The vibration motors and media features combine to give you that experience on this pedestal chair.
Pros
Quality media and connections
Durable material and frame
Additional syncing vibration motors
Ergonomic and adjustable
Cons
Swiveling around on this pedestal gaming chair is all the more comfortable with the kind of features it packs. The foldable form factor, faux leather, and textile also add to that when you consider how stylish and reliable it looks.
– Quality-based Chair: Suitable for All Purposes
It's a chair fitted with speakers and ready for all kinds of uses.
There's a faux leather exterior coupled with a stylish and breathable fabric on the back and seat. The high back tilt means you can play games or perform other tasks while seated comfortably. Also, the foldable build of the chair means it's easy to store when not in use.
– Media: Immersive Experience
When playing games, you don't have to sit around pressing all those buttons and not feel or hear anything. X-Rocker changes them with this pedestal chair, thanks to a wireless audio transmission, two speakers near the headset, and a subwoofer in the outer part of the backrest. All these combine to give you a low rumble that intensifies your gaming or movie experience.
– Vibration Motors: Feel the Movements
It's not enough to have sounds; you need that extra vibe this chair provides. Along with the Bluetooth feature, X-Rocker includes additional vibration motors that go on to sync with your audio's bass tones.
With that, you get an even more powerful full-body sensation keeping you comfortable and entertained for hours. It also helps that this chair is compatible with gaming systems, smart devices, MP3 players, and a whole lot more.
You can connect to other X-Rocker chairs with the input and output jacks included by the brand.

– Overview
This 275-pound weight capacity gaming chair is a fantastic fit for gamers who are on the heavier side. The features make for an interesting setup with sound abilities and vibration motors to keep you entertained.
Pros
Wide seating space
Foldable with multiple adjustable positions
Solid frame with soft materials
Useful for gaming and other applications
Cons
Gets uncomfortable in a short time
There's a lot to love about this foldable design and the high-quality steel frame it has. The cushioned foam padding also makes it a gamers' dream to put it on. Besides, the chair is convenient for tight spaces.
The Best Choice Gaming Chair comes with a swivel base, so users can spin around while playing games or watching shows. It's the ideal chair for releasing energy and living your best life.
– Customizable: Adjust Your Positions As You Deem Fit
Changing from multiple positions makes things much easier, and there's far less fatigue when you're gaming or watching a movie. That's why this chair enhances your experiences with six different positions to help you sit, relax and recline. There's ample support for your back and lumbar region.
If you're done gaming, you can control your entertainment space. Simply adjust the back cushion folds onto the padded set for low-hassle storage.
– Durable Design: Quality Materials
The overall design quality of this chair includes a soft, removable polyester cover and armrests wrapped around plush and firm foam. Underneath, you get a durable steel frame and a machine-washable base to protect your floors from scratches.

– Overview
If you enjoy having a portable chair to play games with, you'll love this Best Choice swivel chair. It has steel ball-bearing that makes it move on the solid circular base. You don't even need to assemble it as all that's done for you.
Buyer's Guide for the Best Console Gaming Chair in 2021
Whether you want a gaming chair for Xbox One or PlayStation, knowing what you want is essential. First of all, a gaming chair is unique because of the purpose it's built for. However, it's still like other chairs because of certain features attached to it. That includes a faux leather cover, high-back, colorful patterns, and a racing-style seat.
– Top Benefits of a Console Gaming Chair
Buying a quality console gaming chair can go a long way to transform your overall gaming experience and provide stellar lumbar support.
Here are some other top benefits you stand to gain with a console gaming chair:
If you go through our list and reviews, you'll notice that many of these chairs come with amazing sound capabilities. Some of them come equipped with surround sound speakers built into them.
These speakers saturate the atmosphere with gaming sounds so that you're immersed in your game or current activity. A bonus is a subwoofer to make the sound even more appealing.
Unlike everybody else, gamers spend a long time sitting in one spot. That's why they need all the comfort they can get. Now, gaming chairs feature high-quality, smooth materials built with comfort in mind.
Even when you're tired, you can keep going, especially with the tilt, rocking, and recline feature. What's more, you can have your items and beverages near you with accessories like pouches and cup holders.
– Buying a Console Gaming Chair: What Should You Consider First?
Without mincing words, here are the top factors to consider when buying a game chair compatible with Xbox One or any other console gaming chair.
When you hear about ergonomics, it deals with anything connected to comfort and adequate support for your body during any gaming session.
With an ergonomic gaming chair, you have every part of the seat optimized to keep you safe, healthy, and comfortable. That way, your level of productivity and efficiency is increased. There's also less incidence of fatigue when you're sitting in a comfortable chair.
Further, an ergonomic console chair helps you maintain proper posture, support your movements, minimize back pain, and improve your gaming reaction time.
Here are some pointers to help you identify the best ergonomic gaming chairs:
Adjustable and customizable features
Recline and tilt mechanisms
Curved backrest
Additional pillows like back, neck, and lumbar
Breathable materials to keep fresh at all times

Build Quality
The build quality is an important aspect of any gaming chair. You wouldn't want a situation where your chair is compromised and caves in after prolonged use. Further, getting a chair is an investment, so if it's going to break easily or get uncomfortable, you should know.
The build quality is mostly reflected in the price; however, not all expensive gaming chairs have the best build quality.
A good indicator of build quality is the frame, usually made of metal and durable steel. When you have wood or plastic, don't expect the chair to last for a long time. Part of the whole build of a chair includes the base. The ideal one to look for is a broad aluminum base and an equally wide caster because nylon bases are less durable.
In addition, the cushioning or filling says a lot about the components underneath them.
Weight Capacity and Recommended Height
It's okay if you forget to look at these aspects the first time you ask. However, they're vital considerations you must study before you purchase any console gaming chair. That's because each gaming chair has its weight capacity and recommended height.
Ensure the one you want matches your height and weight. It's not ideal buying one that's way bigger than you or too small for your size.
Also, if your height overshoots the chair, you could have issues with your legs in the long run. Your legs will serve as a support system rather than being in a restive state.
Compatibility with Consoles
Compatibility with consoles is essential.
What's the use of a console gaming chair if it can't support the games you want to play?
To that end, many brands like X-Rocker, Respawn, and VON Racer do their bit to include components that make gaming worthwhile.
For example, USB ports, media connections, vibrators, and much more help users have a more immersive experience.
Many chairs have speakers inserted into their headrest and subwoofers inside the empty spaces of the chair. That way, the sounds surround you for more entertainment. Further, you'll get motion compatibility features on some chairs so that they rock, turn, rock, and tilt in different ways.
Reviews are essential for a wide range of products, so a console gaming chair is no different. The fact is that it's even more important to know what you're buying before forking out considerable sums to get a chair.
Reviews like this one help you learn the features and specifications of any chair. Also, if you're buying online, go through reviews of current owners of the chair and how it has served them or gotten terrible quickly!
Final Thoughts
Console gaming chairs aren't your typical gaming chairs you place behind gaming desktops. They're much more than that with the kind of features they pack.
You don't have to be an esports professional to enjoy an improved performance a gaming chair can bring. The sound, comfy build, and other components contribute to an entertaining experience.
Console chairs like the ones up there present more solutions than problems. You can lounge on them, watch videos, or simply relax. Before you choose anyone, know your weight capacity and that of the chair itself. Also, the materials used, base and frame, and ergonomics count.
In all, it's our opinion that the X-Rocker Pro H3 here gives more features and comfort than the others. With a powerful surround system that delivers a truly immersive gaming experience, you will find yourself breezing through every gaming session without sacrificing comfort and convenience.