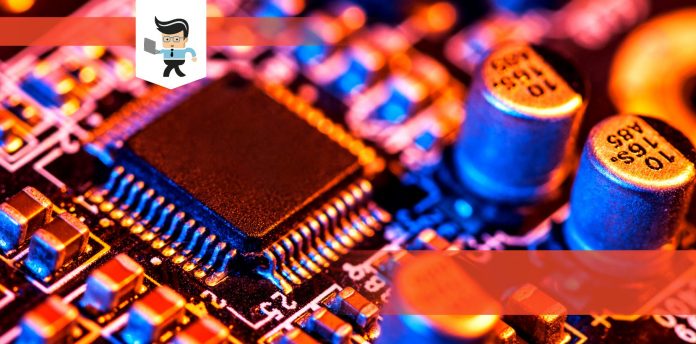 Choosing the best motherboard for Ryzen 9 3950x will make a HUGE difference in how your custom build runs and operates.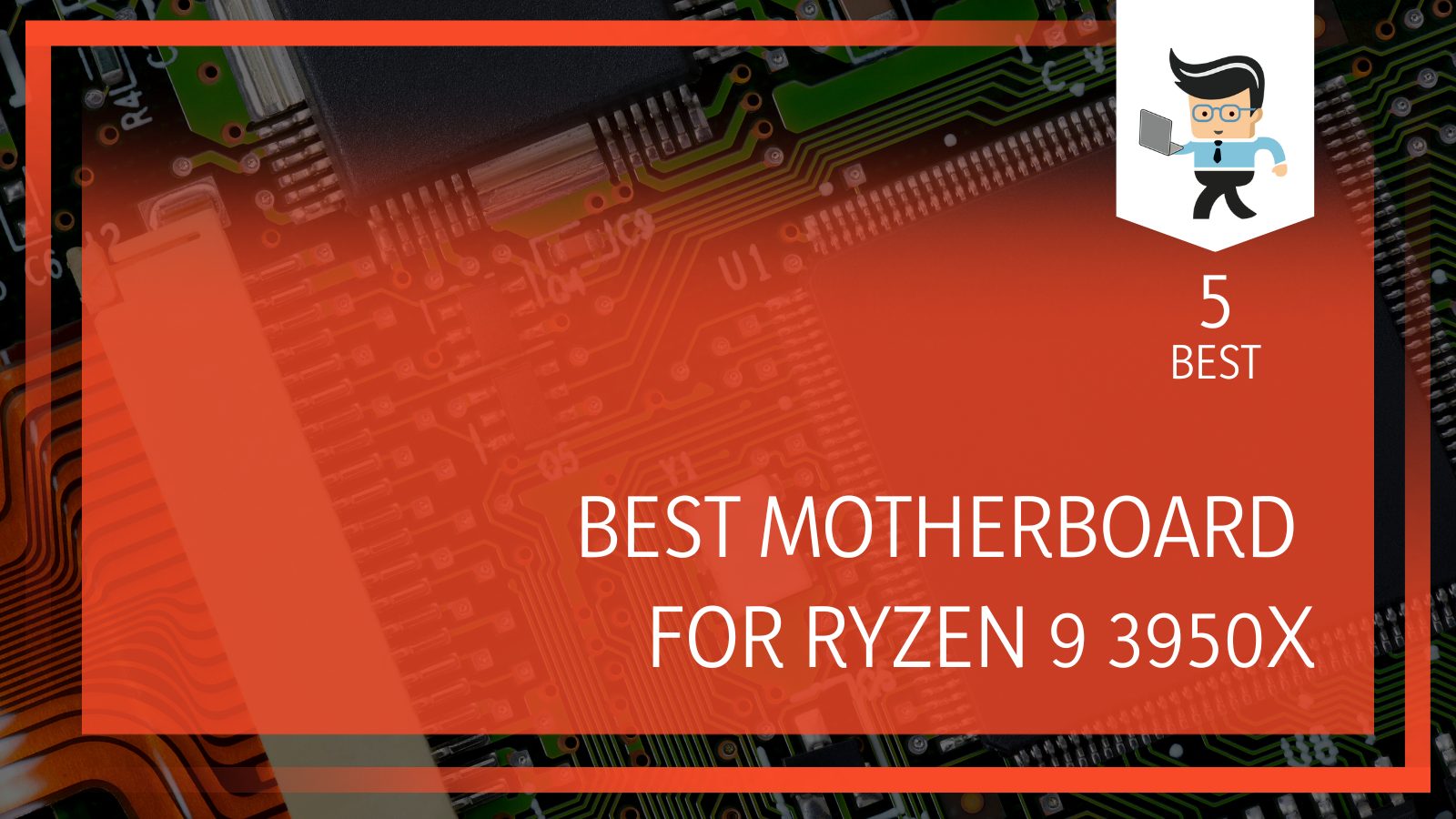 In this article, we will break down exactly which motherboard is the best option for your rig and what you need to do on it.
How do we know? We tested each motherboard AND researched customer reviews to get the full scoop.
Keep reading to see our results!
5 Best Motherboards For Ryzen 9 3950x
| | | | | | |
| --- | --- | --- | --- | --- | --- |
|   | MSI MEG X570 ACE | Asus Prime X570-Pro | ASUS ROG Crosshair VIII Hero X570 | GIGABYTE X570 AORUS Elite Wifi | MSI Meg X570 Unify |
| CPU Support | Socket AM4 | Socket AM4 | Socket AM4 | Socket AM4 | 2nd / 3rd Gen AMD Ryzen |
| DDR4 Memory Support | 4 x DIMM; Max. 128GB; 4533MHz | 4 x DIMM; Max. 128GB; 4533MHz | 4 x DIMM; Max. 128GB; 4533MHz | Unbuffered DDR4, 4 DIMMs | 4 x DIMM; Max. 128GB; 4600MHz |
| PCIe x16 Slots | 3 x PCIe 4.0 x16 slots | PCIe Gen 4 support | 3 x PCIe 4.0 x16 slots | PCIe 4.0/3.0 x4 | 3 x PCIe 4.0 x16 slots |
| Audio | Audio Boost HD | Audio Boost | SupremeFX Audio | High Quality Audio | Audio Boost |
| 32GB/s M.2 | 3 x M.2 connectors | Dual M. 2 support, USB 3. 2 Gen 2 | Dual PCIe 4.0 M.2 Slot support up to 22110 | M.2 with Single Thermal Guards | 3 x M.2 connectors |
| Ethernet LAN | 2.5G LAN & Gigabit LAN | NA | 2.5 Gaps Ethernet and Gigabit Ethernet, both with ASUS LANGuard protection | Intel Gigabit LAN with cFosSpeed Internet Accelerator | REALTEK 2.5G LAN |
| Wireless | Wi-Fi 6 & Bluetooth | Bluetooth | Bluetooth | Intel Dual Band 802.11ac WIFI & BT 4.2 | Wi-Fi 6 & Bluetooth |
● Has quite a few USB ports
● Good performance overall
● Great RGB lighting choices for a showy build
● Reinforced PCIe slots
● BIOS set up personalized
Many people who have used this motherboard for a long time now have said that they are impressed with just how smooth everything about this board is. The installation process is easy (especially for those just starting out) and simple.
Others are impressed with the build of this model as well as its durability. The features are reinforced and the ports strong. You won't have to worry about lessening connectivity with this one.
The RGB lights get a lot of attention, as they should. They are quite beautiful here and you can pretty much choose whatever options you want. Overall, this may be the most stylish of the boards on our list. While the lights are beautiful, they are still stylish enough to meet the needs of a serious gamer.

In particular, this has been called a motherboard that is great for Ryzen 9 3950x, and all Ryzen CPUs in fact. It is compatible with the virtualization/hypervisor server, which will help those looking to save a little bit of money on the professional versions. Additionally, it is capable of overclocking, so gamers will get some great use out of it.
Overall, this unit is a pretty great performer that will be easy for everyone to use, especially those just starting out in building their own rigs. It has some of the fastest data transfer speeds on the list for those who make their own content or transfer bulky large files.
● Extremely easy to install into your rig
● Great value for the price
● Can withstand movement and roughness
● Has an integrated I/O plate
● Extremely easy to use and understand BIOS
If you are in college or you move apartments frequently, you need a motherboard for Ryzen 9 3950x that is hardy enough to withstand multiple trips, and this one is the one. It is extremely heavy duty and can be reworked often, if need be.
You should know that this is a heavier motherboard than most people are used to, so you may need to consider that in your build. The weight comes from the extremely high-quality materials that make it so durable.
The BIOS has some mixed reviews right out of the box from some users, but with some tweaking, it is really great. You will have to check on the screen resolutions to start, as that is where most of the problems fall. Even so, the BIOS is updated and good.
If you are looking for a motherboard within this price range, this is a great one to choose. It has almost everything that you need and you won't miss for the few ports that could be added.
It has a more simplistic appearance than most of the other boards on this list, which is a good thing for many people. It doesn't have many flashy RGB lights or design, but it is beautiful in its simplicity.
As far as overclocking goes, this one will suffice. You will have to pay attention to the temperature and you cannot push it as far as you can with some of the other boards, but it is still certainly capable of overclocking.
The Gigabyte X570 Aorus Elite is the most cost-effective motherboard on the list. It is extremely easy to install, especially for those who haven't done so before now. You will have great support for overclocking.

This board is going to be great for those who are looking for a cheaper motherboard for Ryzen 9 3950x, especially those who want to have something durable. Some people don't like the more simplistic appearance of the board, while others will love it. If this is your first time building a rig, the hardy build may be a great choice.
● Exceptionally strong VRM for the price range
● A bit more expensive, but still a great value
● Many overclocking features and micro buttons to help gamers
● Good connectivity options and personalization choices
It has to be said that when you buy any motherboard for Ryzen 9 3960x, you want to pick something that is a brand you know. Asus is one of the leading board manufacturers, and with good reason. The customer support that you get is unprecedented.
When you buy an Asus motherboard in this price range, you are going to get one of the best of the best. It has a ton of connectivity and plenty of options to personalize it. In fact, it has some of the best connectivity available on the market today.
From a design perspective, this is a stunning board that has some interesting elements here and there. In particular, many people have fallen in love with the metallic heatsinks. They steal attention and make this a great choice for windowed cases. Another nice piece of the design is the metal over the rear I/O, which is beautiful. The orange accents help this one to stand out.
If you are filming yourself gaming, people will be able to identify your motherboard right away.
Another great thing about this 3950x motherboard is that you get some nice accessories with it standard. The swag is pretty cool and some of it you can even display. You will get a wireless dongle, an Nvidia high-bandwidth SLI bridge, a sheet of stickers and a coaster.
For gamers, you will be able to handle many different types of games, including those that are more on the graphics heavy side. The FPS is fast, and while not at the top of the pack, it was still good enough for many Middle-Earth style games.
If you like to overclock, you will be able to do so when you personalize the BIOS of this board. You will have to make some tweaks to get the absolute best performance, but it is certainly there. Some people have said it took them a bit longer to perfect the settings with this one.

Based on the sheer number of opportunities for personalization within this motherboard for Ryzen 9 3950x, the connectivity offered, the performance capabilities, and the price range, this board is going to be for gaming enthusiasts, including professional gamers.
● Requires some time to set it up properly
● Versatile, can be used by many different types of people
● Absolutely gorgeous board
● Falls at the higher end of the price scale
To start, this motherboard is going to be one of the most expensive motherboards for Ryzen 9 3950x on the list. However, what you get for that price is astonishing. It has some amazing connectivity options and personalization to help make it more versatile than almost any other choice.
Appearances wise, this is a pretty middle of the road board. It isn't going to steal attention, but it is still a pretty board that has nice, smaller details. You won't get them to show up on a camera. Even so, the black and silver detailing is unique.The white finishing of this board doesn't scratch or peel, which is rare!
From a performance standpoint, the tech on this board is absolutely stunning. Not only does it have a ton of features, it is largely future-proofed as well. It doesn't have a wide range of "extra" features that you won't find on other boards. However, what it does have, it does much better than every other board.
If you need connections, you will get plenty of choices, including: PS/2 port, two USB 3.2 gen 1 ports, DisplayPort, HDMI, four USB 3.2 gen 2 ports (3x type-A, 1x Type-C), two more USB 3.2 gen 1 ports, Gigabit Ethernet, and the audio connections.
Everything is reinforced and extremely strong. It is made out of high quality materials that won't corrode. You can even connect and disconnect certain things to make it fit your needs and change up how it works. With these materials being so hardy, you won't have any issues.
For those just starting out in building their own rigs, this is an easy choice. Everything is color coded so that you will be able to match and the explanations within the manuals are backed up by videos and other explanations.

Finally, the customer support for this board is great across the different channels. Whether you have questions while you are setting it up or even questions about purchasing other components, they always seem to answer their questions extremely quickly.
The ASUS PRIME X570-PRO is packed full of features that everyone from gamers to professionals will absolutely adore, including a dual M.2 PCIe 4.0 slots, USB 3.2 connectivity, a 6-layer PCB, dual metal-shielded PCIe 4.0 slots, an attached I/O shield, RGB lighting, and more. It is packed to the gills with features.
● Has a great experience for users new and old
● Some of the best styling on the list – perfect for open window cases
● Best quality build on the list
● Features a beautiful OLED screen
● Can withstand serious overclocking
● Higher price point
If you want a motherboard for Ryzen 9 3950x that is built for serious overclocking, this one is going to be the best option for you. The performance of this beast of a board is something many users marvel at. Sometimes, people will shy away from it because of the price, but it is worth it.
Anyone who wants to push gaming to the forefront, this is a great option. People who build their own computers will benefit from the easy-to-use instructions and guidelines. MSI provides some support that you will need, though you may need to take to the online platforms for some external support.
If you do go to MSI for support, you should know that they do sometimes take a long time to get back to you. However, the community around this board is supportive enough that you probably don't need to go to them all that much.
If you are a video editor, you will benefit from the diverse array of features on this one, and it will help you to edit faster than ever before. It has an upgraded PCIe slot that supports better GPUs.
Another thing to consider is that the build quality on this is superb. If you are trying to build the best rig you can, this is an essential part of it. The premium quality ensures that you will get a long life out of it and that overclocking or changing something up won't mess up the board.
The advanced cooling system helps to keep everything at a manageable temperature while you are overclocking. If you want to supplement the cooling system, you will be able to get even more. Most people report not even having to pay attention to temperatures with this one.
Of course, the overall aesthetics of this board are quite good as well. It is a gorgeous build that looks expensive, perfect for showcases and for those who want to record themselves gaming. You can add your own lighting to really set it off, but you will get plenty of flash and shine with it. There are different color accents and RGB lighting. Most people keep it at the standard setting because it is so iconic, but you have some personalization choices as well.
Who Is This For?
This motherboard is completely amazing and stands out on our list as one of the best choices. For those who need something with serious overclocking potential, want something that is made out of high quality materials, and looks great, this is the board for you. Simply put, you cannot go wrong with this one.
Conclusion: What Is The Best Motherboard For Ryzen 9 3950x?
Finding the best motherboard for Ryzen 9 3950x is a difficult proposition. If you don't have the right motherboard, you won't be able to get all of the usage out of your rig that you'd like, and you may feel like it was all just a waste of time.
Trust our experts and choose one of the products on this list and get the highest possible performance from your hardware. If you're going for the best of the best, we can't recommend the MSI MEG X570 ACE
Motherboard highly enough. If you're not a serious overclocker or you're on a budget, the Asus Prime X570-Pro Ryzen 3 will do just fine.
Really, you cannot wrong with any of the boards on our list.