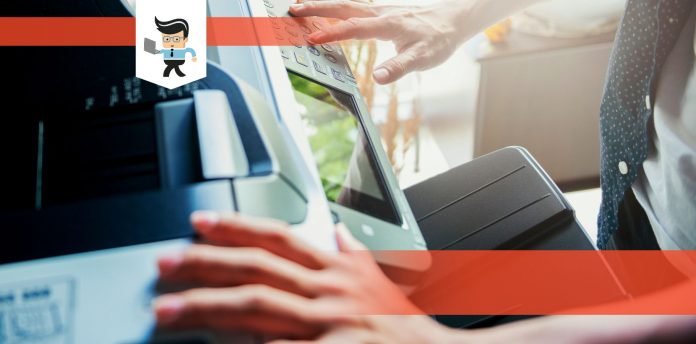 We have chosen to compare the HP 8740 vs 8720 so that your decision will be easy. HP Officejet Pro 8720 and HP Officejet Pro 8740 are both well-equipped with all the modern features.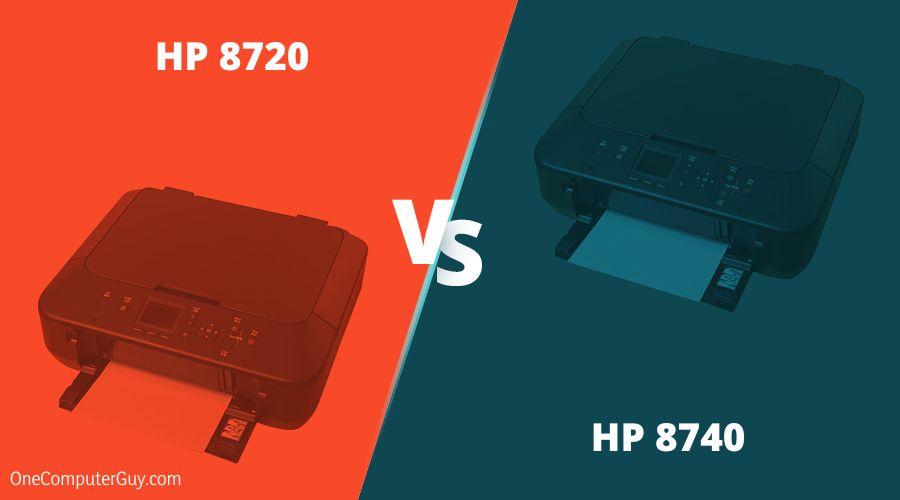 These features make them both great printers. Continue reading while we examine the specifics of both printers. Let us help you decide on the best printer for you.
– Overview
Pros
Nice interface and good graphics quality
Combines with an Alexa device to add voice control
Large touchscreen control
Cons
Poor text quality
No bypass feed
Large in size and takes up significant space
The HP Officejet Pro 8720 is one of the best 2019 all-in-one color inkjet printers. It combines as a photo printer, scanner, fax machine and, copier. But, the size of this printer dominates any space it occupies. It is one of the biggest inkjet printers among its peers. The HP 8720 dimensions are 19.7 x 17.7 x 13.4.
Generally, it performs well with a large touch screen control panel. This feature is a favorite of most users. The screen is simple and makes toggling through the functions and apps very easy. The instructions guide you through the setup steps with much ease. You can calibrate the settings to suit you.
There is an automatic document feeder, but no bypass tray. The printer offers two-sided duplex printing. Its HP e-Print app allows you to print documents from your phone or tablet. No wireless network necessary. The paper tray capacity is 250 sheets. You can install a tray that holds more paper if you choose.
It produces high-quality graphics at low color printing costs. Graphics printed are full-bodied, with rich popping colors and crisp edges. It is the right choice for you if you do lots of color printing and infographics.
The printing speed is reasonable at 24 pages per minute (ppm) for black and 20ppm for color. It has a better pace when printing double-sided documents. This double-sided printing allows you to reduce the amount of paper that you will use. As it prints, this machine does not slow down—photos print at high resolution in approximately 62 seconds.
A main weak point for this printer is its text quality. The text appears dark and full-bodied, and the edges look blotchy. The quality is low with noticeable inconsistencies.
This printer's Instant Ink replenishment plan ensures that you never run out of ink. HP delivers ink to your doorstep right on time.

This printer will work well as a business graphics machine and for anyone with lots of desk space to spare. It supports paper sizes like Letter, Legal, and Government Legal. Experience superb performance.
– HP 8720 Specs
Functions: Print, scan, copy, and fax
Maximum Resolution: Black – 1200 x 1200 dpi
Color – 4800 x 1200 dpi
Printing Technology: Thermal Inkjet
– Overview
Pros
Prints through the cloud, and from your mobile devices
Prints from and scans to a USB key
Excellent print quality
Cons
Text can smudge if it gets wet
The ink will not survive more than 300 pages per month
Unimpressive envelope print options
The HP Officejet Pro 8740 is one of the best printers on the market, and it rates as an elite inkjet multifunction performer. This printer bridges the gap between business laser printers and home inkjet printers. Its high level of speed and paper handling makes it most comparable to color laser printers.
The printer's multifunctional features allow it to print, fax, and scan using a PC. The HP 8740 also works as a standalone copier and fax machine. Printing from and scanning to a USB memory key is also possible. It scans documents and makes them editable, using its OCR software.
Its 4.3-inch display screen with touch screen display capabilities makes control easy. You can move through its menu and controls for customization and giving commands. It measures 19.7 x 20.9 x 16.2 inches in dimension and weighs 40.6 pounds. Its size makes it hard to fit on an ordinary office or home desk.
The printer connects to a network using either Ethernet or Wi-Fi, and printing occurs via the cloud. HP Print Apps allows you to print from various cloud sites. Printing and scanning are also done via the printer's Wi-Fi Direct using your phone or tablet.
The HP 8740 allows duplex scanning and printing. Duplex scanning means that it can scan on both sides. Duplex printing allows the printer to expel printed paper up onto a catch-tray. This setup gives fast results. The printout is not released until printing is complete, and it flips inside the machine to print on both sides.

A single-pass duplex auto-document feeder allows each two-sided page to only run through the scanner, and the printer connects to a network via its Ethernet port. These features make it an excellent choice for small office or workgroup usage.
– HP 8740 Specs
Functions: Print, scan, copy, and fax
Maximum Resolution: Black – 1200 x 1200 dpi
Color – 2400 x 1200 dpi
Printing Technology: Thermal Inkjet
Let's Compare HP Officejet Pro 8720 and 8740
The main difference between HP 8720 and 8740 is, HP 8740 has dual paper trays and scans documents in one pass, while HP 8720 is smaller and lighter.
It should be clear by now that these inkjet printers are two of the best HP has to offer. They are both desirable based on their specs and capabilities. We knew that this would be a difficult choice to make, so we sought to compare HP Officejet Pro 8720 and 8740.
Let's now look at the specifics of the HP 8720 vs. 8740 side by side. We aim to help you select the best printer based on your personal preference. Note, first of all, that they both have a few things in common.
Whether you chose the HP 8720 or the HP 8740, you will be able to print, copy, scan, and fax. A 4.3-inch touchscreen controls the options setting options. Here you can specify the unique settings for your print results.
Wireless features make them compatible with WI-Fi direct and other connectivity options. Both can be voice-controlled using Alexa and are compatible with Windows, Mac, and Linux. Printing is possible from your mobile devices, PCs, and laptops.
Common in both printers is an automatic document feeder. This prints with a 50-sheet capacity to create double-sided copies and scans. Both printers are compatible with HP's high-yield cartridges. They are also both linked with Amazon Dash Replenishment.
It's easy to see that the HP Officejet Pro 8720 and HP Officejet Pro 8740 are very similar. Yet, they are unique in their differences. These differences are present in their appearance, paper trays, and scanning abilities.
– Appearance:
One difference between HP 8720 and 8740 is in their appearance. The HP 8720 weighs 33 lbs and is 13.4 inches in height. This printer is smaller and lighter than the HP 8740, which packs 40.6 pounds in weight, and 19.7 inches in height.
Thus, the HP 8720 is not difficult to move if it becomes necessary and gives you more space than the HP 8740.
– Paper Trays:
The HP 8720 has a paper tray capacity of 250 pages. The HP 8740 has dual paper trays that can hold 500 sheets. The trays of the HP 8740 will not need refilling as often as the HP 8720.
The 8740 can print with twice the paper and in less time than the 8720. These features should be music to your ears if your main goal is to be efficient as you produce your copies and scans.
– Scanning:
Both printers can scan double-sided. The difference is that the HP 8740 printer scans documents in one pass. The HP 8720 scans with the usual two passes. This function is quicker as the printer does one action and does not release the paper until the job is complete—less time is used in printing as you strive to meet your deadlines.
Both Hp All-in-One printers are fantastic. We are comparing two printers with similar attributes. The bottom line is which one gives value for money? Either one, with their range of functions, will suit the needs of most people. Their speeds are above average, and their double-sided printing saves lots of time.
Conclusion (The Verdict)
Are you in search of a printer that can multi-task and give you value for money? With its ability to fax, scan, and copy, and its dual paper trays, the HP Officejet Pro 8740 is the best choice. But, if you need a less bulky printer that occupies less space, then the HP Officejet Pro 8720 is best for your needs.
We thought that since the HP 8740 has a larger paper capacity, it would be more expensive than the 8720. We were wrong. It is cheaper than the HP 8720. Makes your decision much easier right?