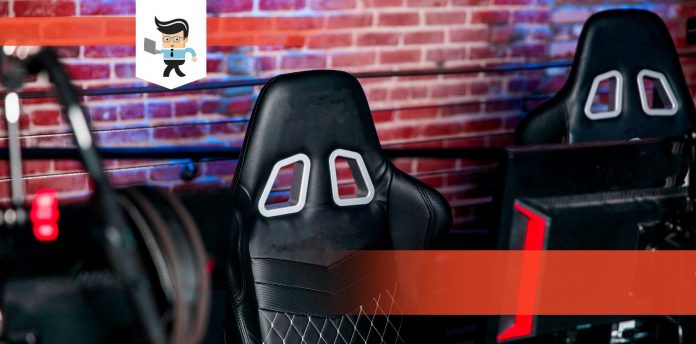 With the best gaming chair with speakers, you've got a model that's evolved to contain modern-day features. Speakers are an excellent addition to such chairs and mean that you can always have a healthy combination of sound and comfort.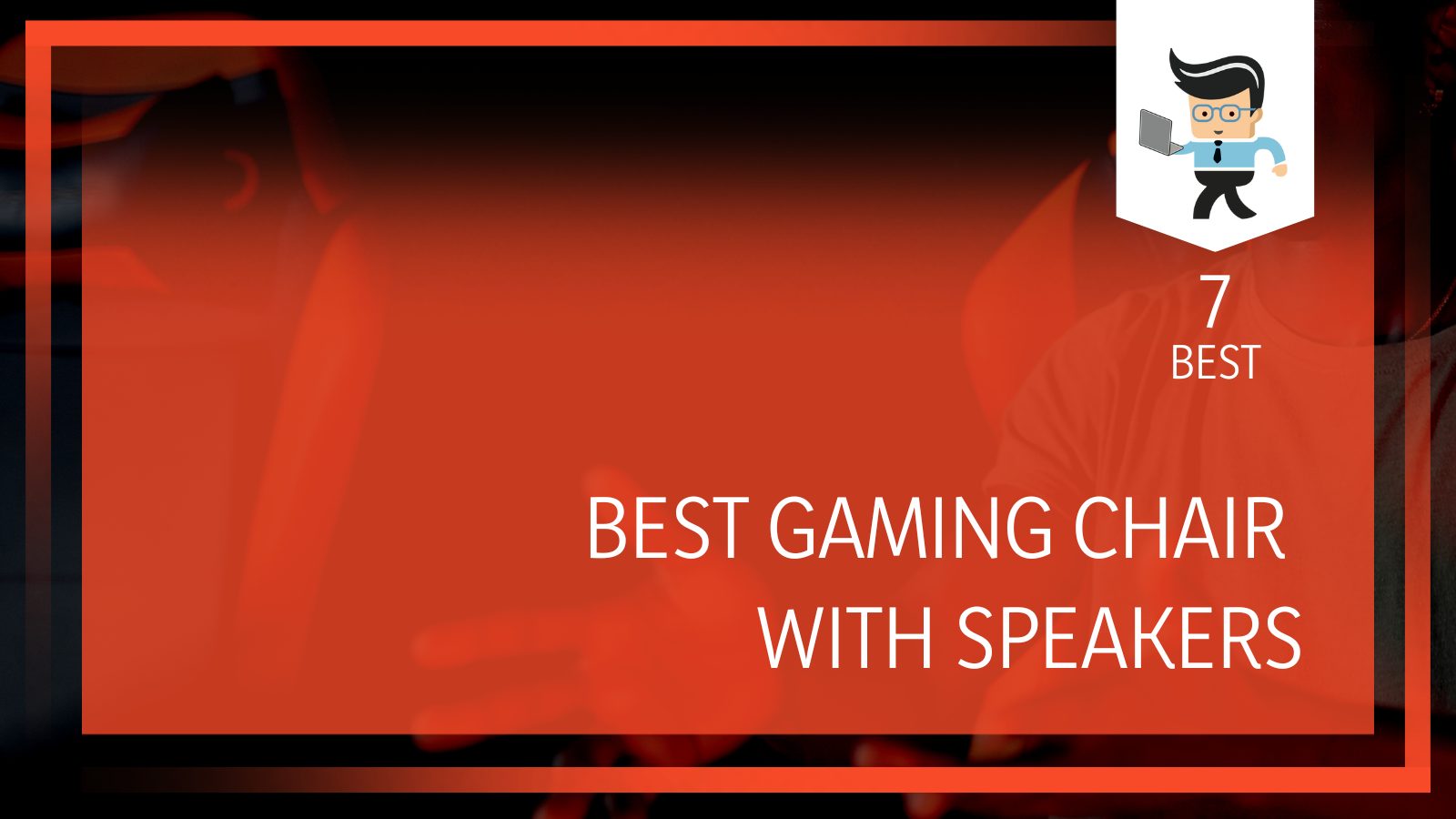 You can also play in-game audio sounds or enjoy the background score of your favorite movies. Whatever the case, our team of experts has done a bit of research on the best models available today to shed more light on their top specifications and features and help you determine the top option for your gaming style. Read on!
Best Gaming Chair With Speakers: Key Specifications
Products
Key Specifications
GTRACING Gaming Chair

Brand: GTRACING

Material: Faux leather

Frame: Steel/metal

Bluetooth: Two Speakers

Max Weight: 300 pounds

YOUTHUP Gaming Chair

Brand: YOUTHUP

Material: PU leather

Frame: Metal

Bluetooth: Two Speakers, audio

Max Weight: 330 pounds

X Rocker Pro Series 2.1

Brand: X Rocker

Material: Leather

Frame: Metal

Bluetooth: Two Speakers, audio

Max Weight: 250 pounds

VON Racer Rocking Chair

Brand: FANTASYLAB

Material: Leather

Frame: Metal

Bluetooth: Two Speakers, Surround

Max Weight: 270 pounds

SOUTHERN WOLF Rocking Chair

Brand: SOUTHERN WOLF

Material: Leather

Frame: Metal

Bluetooth: Two Speakers, Surround

Max Weight: 330 pounds

X Rocker Trident Pedestal Chair 4.1

Brand: X Rocker

Material: Leather

Frame: Metal

Bluetooth: Speakers, Audio

Max Weight: 275 pounds

Modern-Depo Video Chair

Brand: Modern-Depo

Material: PU Sponge leather

Frame: Iron/metal

Bluetooth: Speakers

Max Weight: 264.5 pounds
Best Gaming Chairs With Speakers: Our Top Picks
Whether you're a professional gamer, casual user, or regular enthusiast, you'd find a chair useful, and your preferences for audio content will depend on two options. Those options are speakers and headsets. 
For speakers, they're best suited in situations where you're not the only player on the gaming display. The sound from the speakers will give you a terrific in-game audio experience as it echoes through the room.
On the flip side, Bluetooth headsets are more personal since you're the only one getting entertained with the sounds blaring from the sets. As a result, you're stuck between picking out either a headset for your rig or buying a chair with an encased Bluetooth speaker.
This article is centered on the latter – chairs with Bluetooth speakers. We have found that such gaming chairs with a built-in speaker offer more. You get a more engaging and immersive audio experience. Also, many chairs with Bluetooth connectivity come equipped with Surround Sound capabilities.
The speakers won't get in your way, either. You'll find many of them placed around or close to the chair's headrests. What's more, you have a good range of control over them and the sound they permeate. That way, you get to personalize how you want to experience the sound.
If you're looking for a gaming chair that offers Bluetooth capabilities or connections, you're in luck. Keep in mind that having speakers doesn't rid them of other qualities or features. They still have the odd recline, adjustable parts, additional cushions, quality materials, and much more.
We have done our homework on seven of the best models with Bluetooth speakers. These chairs are worth considering by any user out there, as you get regular and exotic features coupled with speakers that add a unique dimension to your experience. In this article, we have narrowed down your choices to the best and the features they sport.
Here's a review of the best seven we came up with. 
Pros
     

Seamless passing with compatible devices

     

Lumbar and headrest support for more comfort

     

Adjustable height and armrests

     

Recline to rest and 360-degree swivel
Cons
     

Lacks an input and output jack

     

A limited number of speakers
We will be frank and state that only a few chairs can match this Bluetooth gaming chair. It has a fantastic Bluetooth connection thanks to two Bluetooth speakers coupled with a surround sound that gives off rich sounds. Don't be surprised to hear the solid bass, too.
Thanks to the Bluetooth connection, you can connect many devices, including your smartphones or tablets, to your chair. If you have gaming consoles, they're not left out of the cinema-like connections and playing experience. However, the consoles you want to connect must be compatible with the Bluetooth device.
This GTRACING model has a solid metal frame, a high backrest, and lumbar support like all top-level gaming chairs. What you get is a fantastic combination of durability and comfort for a host of functions. 
The metal frame also promotes a neutral, balanced posture and limits the pressure and pain to your joints. That way, you can play games for long extended periods or get some work done.
– Ergonomic Design: Personalize Your Chair
An ergonomic design is a minimum requirement these days. Well, this chair and the seat don't disappoint. For example, the seat height and armrests are adjustable. That gives you the ability to determine what's comfortable for you. Besides, the removable headrest pillow and lumbar cushion let you find your favorite spot.
– Recline: Take a Break From Any Activity
For seasoned gamers and some enthusiasts, getting up from a gaming chair is quite the ordeal. You don't have to do that because you have an excellent recline function between 90 to 170 degrees. You can recline and rock or take a nap in between jobs or gaming sessions with this angle.
The 5-point base built with heavy-duty metal will give you the background to operate. For more movement, the 360-degree swivel and smooth-rolling casters will provide you with an upper and to grab stuff with a simple spin.
– Connectivity: Link Your Favorite Devices
We all have favorite devices, but the key here is making sure they're compatible with the Bluetooth speaker. That's the case here, even if you have to obtain a Bluetooth adapter from GTRACING since it's not included on this chair. 
You can connect to your laptop, PC, and gaming consoles such as PS4 and Nintendo Switch with it. Also, the Bluetooth speakers will give you six hours of music play.
– Big Chair: High Weight Capacity
It's not just a gaming chair with built-in speakers, but one that can support a lot of weight. The listed maximum weight capacity of 300 pounds makes it quite the big chair, and when you add the vibrations to it, it feels a lot heavier. In addition to this, you can't fold it for effective and convenient storage.
At least, there's compensation for this heavy set chair thanks to its very mobile design.
– Materials: The Best Covering and Paddings
It makes sense that a big chair like this one sports high-quality materials across the frame. You get smooth PU leather upholstery and a thick padded seat cushion made from high-density foam. The foam gives off good resistance and gets back to its original shape after use.

– Overview
This chair is for you if you love combining oversized frames, a wide seat, and a high back. Heavy individuals will appreciate its rigid material and durable structure. 
Pros
     

Quality surround system

     

Multiple customizable parts

     

Premium material and breathable cover

     

Durable chair
Cons
A gaming chair with audio is an advantage to have. It shifts away from the archaic way of having different components working separately. 
Now, you have everything fitted into one chair to give you the best experience. To that end, this model from YOUTHUP gives you a wide range of features to make your time sitting worthwhile. Whether that's on the arms of the chair, the high back, recline, or material, there's something on it for every function.
– Capable Speakers: Two Bluetooth Speakers
It's a flashing chair that holds two speakers, both located on the back of the chair. At the edge of the seat and backrest, you get colorful flashing lights you can control via remote.
Things get more exciting with the surround sound system, which brings out the best in entertainment and voice-activated mode. Both of them combine to deliver more passion and sparkle to the games and overall atmosphere.
– Enhanced Mobility: All-Round Swivel and Recline Feature
A chair that gives you the ability to swivel 360-degree is worth considering. You can always turn around to grab a coffee or make use of multiple monitors. Also, the headrest, backrest, and armrests combine to keep you comfortable with the chair built for human-oriented ergonomic construction.
All the parts are adjustable, and the most crucial part is locking in any position when you recline. That way, you can have a safe angle at 90-180 degrees.
– Premium Material: Quality Covering and Safe Paddings
On this chair, you'll notice the cushion comes filled with about 530 grams of premium setting cotton. With that, users are guaranteed a full and super elastic recovery even after extended periods of sitting.
The chair also feathers a covering made with PU leather which provides excellent scratch-resistance and breathable capabilities.
Additionally, there's a 5-star sturdy Nylon base with a Class 3 gas lift verified by SGS. That's the basis of this chair holding a maximum weight capacity reaching up to 330 pounds. That's the biggest on our review and makes the chair durable and reliable.
– Fast and Easy Setup Process: Get It All Done in Minutes
Well, not in record time, but fast enough to get going right after you're done. However, the setup process is somewhat simple with the manual for a guide. Moreover, all the parts of this gaming chair are numbered with detailed assembly steps for reference. According to the manufacturer, you can get it up and running within thirty minutes.

– Overview
This gaming chair with Bluetooth speakers features a comfortable high back. It's a suitable chair for all kinds of users, including slim and fat and men and women.
Pros
     

Two front-facing speakers and subwoofers

     

Wireless and wired capabilities

     

It comes with added vibration motors

     

Compatible with gaming consoles
Cons
     

Slightly expensive

     

Questionable build quality
The X Rocker is a brand that has existed for many years, thanks to the models of quality gaming chairs it churns out. The Pro Series 2.1 Pedestal is one of such models, and you'd struggle to see a handful of better options in the market. Why? The X Rocker brand is one of the few manufacturers with a chair boasting the features you're about to read about.
There are multiple ergonomic comfort features across this chair with impressive cushions to help you maintain the proper body posture. The metal pedestal goes a complete cycle on 360 degrees enabling you to turn hitch-free.
– All-Purpose Chair: Put the Pedestal To Many Uses
If a gaming chair with a subwoofer is described as all-purpose, you've got a gem in four hands. That means you can use it for different functions thanks to its lounging leather and general quality. For example, you can study, play video games, watch some movies, listen to music, and relax.
We feel it's a chair best suited for consoles such as Xbox or PS4, so don't expect much seating height from it. If you're more than 6 foot tall, you might struggle with the features while the armrests give your elbows a good base.
– Powerful Audio Setup: Enjoy Complete Media Experience
You get a fantastic media experience because the audio setup is powerful to provide you with wonderful sounds. It's a Bluetooth-enabled 2.1 speaker that incorporates two forward-facing speakers, audio force modulation technology, and ported power subwoofers. 
These woofers point out into the open space inside the chair for total immersion in your game, movie, or music. That's because they're well-placed to produce vibrations from bass-heavy or loud sounds.
– Vibration Motors: Energetic Atmosphere for Avid Gamers
The added vibration motors sync with your audio capabilities so that you have a more powerful full-body sensation. That way, comfort levels are increased, and you're entertained for long hours.
The control panel takes the shape of all X Rocker chairs. It's set on the left side of the chair.
Other capabilities include the RCA functions. The cables here are bundled in, and you can use them to connect via HDMI and RCA ports for direct audio inputs. You can connect your Xbox, PS, and your PC for better audio clarity and depth in line with that.
– Wireless Receiver: More Connectivity Options for Everybody
This X Rocker comes with a built-in radio wireless receiver and a wireless transmitter to function with any source with RCA stereo outputs mentioned above.

– Overview
This is one Bluetooth chair with speakers that has excellent audio outputs and comfortable features. It's a fantastic choice for gamers who want a chair compatible with Xbox, PlayStation, and all other gaming systems. 
Pros
     

Immersive media experience

     

Robust construction and quality materials

     

Designed for console gaming

     

Extra headrest for relaxation
Cons
This unique audio gaming chair comes with a lot of promise to keep you comfortable. It's a model from the FANTASYLAB lineup you can count on to boost your entertainment levels. All the components add up to give you a smooth ride, whether gaming or doing something else.
Thanks to quality Bluetooth speakers and subwoofers to carry heavy sounds, the media experience can rival those of other chairs in this list.
– Gaming Experience: Get Ahead in Comfort and Style
Recall that this is a gaming chair with all the trappings of a modern-day seat. However, a rocker adds to the build and design, making it exciting for console gamers out there. The sessions are no longer dull or repetitive because the old-school rockers will give you superior movement. You'll need that if you just want to lounge on the chair or mix things up while you play games.
– Media and Sound: An Enjoyable Immersive Experience
That's the point of having a Bluetooth-enabled chair at your disposal. To that end, the high back chair presents a built-in speaker designed to give you an immersive experience when playing video games, watching movies, or relaxing to some songs.
FANTASYLAB made this chair to incorporate wireless audio transmission, two speakers near the headrest, and a four-inch subwoofer in the outer part of the backrest. As a result, you're provided with a low rumble intensifying your game, movie, or music.
– Designed for Comfort: Efficient and Safe
With comfort in mind, you're getting a chair set up to keep you safe and in excellent shape. The 360-degree round metal base with a swivel function on the seat stands at a comfortable angle. 
In addition, the extra headrest can be fixed on the back with the Velcro strap when not in use. You also get padded armrests to add extra comfort. The armrests will also flip out of the way when needed. The overall dimensions mean the chair is suited to bigger users.
– Solid Construction: Quality and Highly Durable Metal Frame
A robust construction sets up the chair to give you the perfect blend of style, quality, and strength. For that, there's an integrated metal frame that sits inside the high back padding done with a high-density sponge. The sponge offers excellent support and comfort for the head, waist, and hips of those who sit long hours in front of the TV or computer.

– Overview
If you're big and prefer a high-back chair with quality padding over a robust frame, this VON Racer rocking model will suit your needs.
Pros
     

Bluetooth and surround system

     

Racing-style seat and components

     

High-density foam with massage capabilities

     

Reliable and safe to use
Cons
     

It takes time to assemble
Southern Wolf doesn't sound like your regular gaming chair brand, but you can count on this chair to deliver the goods. All the parts add up to produce a masterpiece designed to keep you relaxed while gaming or working.
This computer gaming chair with speakers is all you need indoors for an engaging time. The sound gives you a boost to go on to higher levels while ergonomic components maintain the proper posture of the user.
– Ergonomic Build: Safe and Relaxing
We like the shape of the Southern Wolf video game chair because of its racing-style seat. That's not all, though. It comes with a high-straight backrest design that meets the recognized right-angle sitting posture in the medical field. 
As a result, you're safe at all times sitting on this chair. In many scenarios, safety is underrated. However, it helps if you can retain the proper posture at all times.
This gaming chair also has a firm seat back and cushion so that you get to feel wrapped while sitting. It's a humanized fit designed with maximum ergonomics. What's more, there's a massage function to help you deal with fatigue, pains, and stress from prolonged use.
– Durable: It's Going To Last a While
The level of thought and work put into this chair gives it an enduring appeal. It's a chair that won't deform in a short time and gives you a soft sitting feeling, thanks to the high-density memory foam on the chairs.
On the insides, you get a well-structured frame that provides ample support for the paddings and cover. For that, the brand uses a high-strength all-steel frame, which is reliable and stable. As such, it's safe to use and gives off a strong performance. Your body won't sway while sitting on this gaming chair.
– Speakers: Palpable Bluetooth and Sound System
You can almost touch the quality sound emanating from the Bluetooth speakers with surround sound capabilities. It brings out the best entertainment experience with clear and full audio.
If you watch movies, you'll enjoy the rich and surreal stereo effects that bring you cinematic enjoyment during gaming sessions.
– Assembly: Simple Instructions
For assembly time, the manufacturer puts the time at a maximum of thirty minutes. While that's not bad, it does seem long for a gaming chair. However, you can avoid any form of confusion with the detailed instructions available in the package. Also, the tools necessary to set it up come with the box.

– Overview
Consider this Southern Wolf chair if you love an excellent high-back chair with massage qualities and Bluetooth-enabled speakers. 
Pros
     

Compatible with many gaming systems

     

Versatile for different functions

     

Integrated 4.1 wireless audio

     

Surround and subwoofers
Cons
The X Rocker has another model on our review list, which shows it's a brand you can count on. This particular chair is a trident pedestal and has the dimensions to keep users safe and comfortable. Also, the style and design are casual with a black/gold color to enhance your gaming experience.
It brings sounds and audio to the fore thanks to the incorporated Bluetooth speakers as an ergonomic chair. The speakers are yours to control depending on the functions you need them for.
– High-Tech: Adding Functionality to Your Gaming Chair
This X Rocker comes with the integrated 4.1 Wireless Audio System. You can find the mounted speakers on the headrest while the backrest provides the subwoofer. As a result, users are provided with high-quality audio and real-time vibration to boost their video game experience. It's an immersive time whenever you use this gaming chair with speakers and vibration.
– Compatibility: Connect Your Favorite Devices Without Any Hassle
If you have many gaming systems, you can have fun with them. Connect the systems or wireless-enabled devices to set things up. Imagine playing some games while listening to some music or feeling every bit of sound filtering through the Bluetooth speakers.
– Pedestal Swivel Base: Robust Support
With the max weight it packs, this chair will give you better support. The frame and base provide you with a robust pedestal swivel base that provides enough mobility during prolonged gaming periods. That way, you can have a relaxing time all through sessions.
– Multiple Applications: Versatile
The X Rocker Trident Pedestal 4.1 chair is a versatile one and will fit a variety of spades. For example, you can use it in the office, game room, living space, bedroom, and much more. Besides that, it's the ideal size for you to package and store. That's because it folds down when not in use, is easy to move around.

– Overview
If you want a high-level audio connection to boost your gaming atmosphere and experience, you'll appreciate the features of this chair. 
Pros
     

Recline and massage function

     

Long hours Bluetooth playtime

     

Pouch to store small items

     

Quality material and easy to clean
Cons
     

Not compatible with all Bluetooth devices
Whether you select the black or white color of this chair, you're getting a good deal. All over, you can tell it sports some excellent features, including a modern style and sponge padding.
– Recliner: Lean Back and Enjoy a Massage
Not all chairs with Bluetooth capabilities come with a massage function. You've fit that here with two massage spots on the lumbar region to help you relax your body and waist muscles. Also, you can select from six massage modes or adjust the massage strength and positions depending on what you want per time. That's an innovative way to remain fresh all through your activities.
– Bluetooth Speakers: Pair Your Favorite Devices With Ease
Having this gaming recliner with speakers isn't the only premium feature you enjoy. The Bluetooth speakers designed SNR 60 dB have two hours of charging time and up to four hours of playing time. It's compatible with smartphones and computers that have a Bluetooth function.
Gaming consoles like Xbox or other Bluetooth-enabled devices will work well here. However, it's not compatible with PlayStation.
– Office Chair: Comfortable for Workspaces
Working can be fun and productive while sitting on this chair. When you're tired, the recliner helps you take a break and observe some relaxing time. Besides, you can keep some of your favorite items, such as phones and notebooks, inside the side pouch. 
Again, you don't need to leave to get a coffee or some drink; there's a cup holder at both sides for your convenience.
For the recline,  you can adjust between 90 to 140 degrees before settling on your preferred angle. Also, there's a 360-degree rotating design, so a change of direction is smooth and swift. In line with that, the chair is a fantastic addition to your entertainment room and living area.
– Quality Covers: Soft Yet Resilient
It is only normal that a premium multifunction chair like this Modern-Depo model packs the best materials. To that end, the chair comes covered with PU leather coupled with a high-density sponge and solid construction.
For the frame, it's made with solid iron that further enhances its durable and stable appeal for long-term use. That's crucial considering that the maximum weight capacity is pegged at 264.5 pounds, which is suitable for most people.

– Overview
This chair is the perfect choice for users who want a comfortable seat, massage features, and speakers for the best gaming experience.
Best Gaming Chair With Speakers: Buying Guide
Factors To Look Out for in the Best Gaming Chair With Bluetooth-Enabled Speakers
Here are some things you'd have to consider before buying a gaming chair with incorporated speakers:
1. Speakers and Audio Quality
Well, this is a review about chairs you can play games with and also hear immersive sounds. However, you have to consider the quality of the audio and speakers that transmit them. If it's not good enough, you can't buy it. Another thing is whether the chair comes with a subwoofer, where the speakers are placed, and the devices they connect to. Get these right, and you get the best.
2. Maximum Weight Capacity
The speakers, audio, subwoofers, and surround sound capabilities contribute to making the chair what it is. But you can't overlook the weight capacity. You've got to check the specs to ensure it fits your body type and needs.
If you measure more than 250 pounds in weight and over six feet in height, a smaller chair will look ridiculous. A giant chair with a broader seat will suffice.
3. Comfort
If you're not comfortable, it makes no sense to buy the chair. Since you'll spend extended hours on your chosen gaming chair, make sure the specs keep you comfortable.
Avoid chairs that give you the feeling of sitting on the frame itself! That's a problem for your posture and body in general. Also, the paddings and coverings matter. Take note of how thick the padding is on the seat, armrests, and extra lumbar and pillows.
4. Ergonomics
Ergonomics is often the watchword irrespective of the kind of chair you want to buy. With any model, check if it allows unrestricted movement. Do the armrests rotate well or stay in a static position? How about the back and lumbar area? Do they offer adequate support and protection for your spine and posture?
5. Materials
What kind of cover or framework is involved in the chair you want to buy? Sure, the connection and audio give you a fantastic vibe and atmosphere. However, things could spill on your chair, or the material gets so hot and uncomfortable.
Check how dense the foam is and if the covering is breathable enough to allow cool periods. You don't want to sweat when sitting for long hours.
6. Vibration and Massage Functions
Even if these features aren't very crucial, they provide additional perks and benefits. For example, the massage function will keep your blood flowing, while vibrations give you an even more engaging time playing games. They both give you more comfort, though.
Frequently Asked Questions
1. What benefits do gaming chairs with speakers have?
A gaming chair that gives you audio sounds right off the games or movies you watch is worth having. That way, the visual appeal combines well with sounds to provide you with a terrific and immersive experience. Also, the speakers can connect to your devices, including your phones and some consoles.
2. Do Incorporated Bluetooth speakers get in the way of other features?
No. The speakers are placed at strategic places where they can't interfere with other components. Some brands place them on the side of the headrest for high backs. On a shorter chair, the headrest carries the speaker.
3. Can I control the sound and audio output?
You sure can. Some gaming chair brands give you remotes, while others place them on the armrests for easy access. As a result, it's easier for you to settle on the volume you want or the type of sound. With some speakers, you get an additional vibration in your chair for better experiences.   
Conclusion
A gaming chair carrying Bluetooth speakers is an excellent and exciting touch. Such a chair will bring out the best for all your audio needs. That way, you have the best experiences doing any function while connected to your favorite devices. Whether that's a gaming console or mobile device, you'll have a good time.
Along with other ergonomic components, these chairs are designed to keep you safe and comfortable. Great thought is put into your posture with more concern for your back and spine. That's why we think the best gaming chairs are in this review. It's up to you to settle for one depending on your needs and preferences.
For our review team, we feel the GTRACING model here carries more promise. The features are ergonomic enough, while the Bluetooth speakers and surround sound keep you entertained without sacrificing comfort and convenience while gaming.