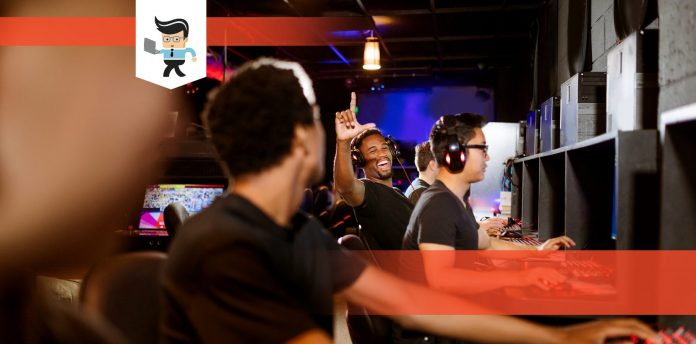 The X Rocker 51259 pro H3 is like many top-notch models with qualities people look out for in the perfect gaming chairs.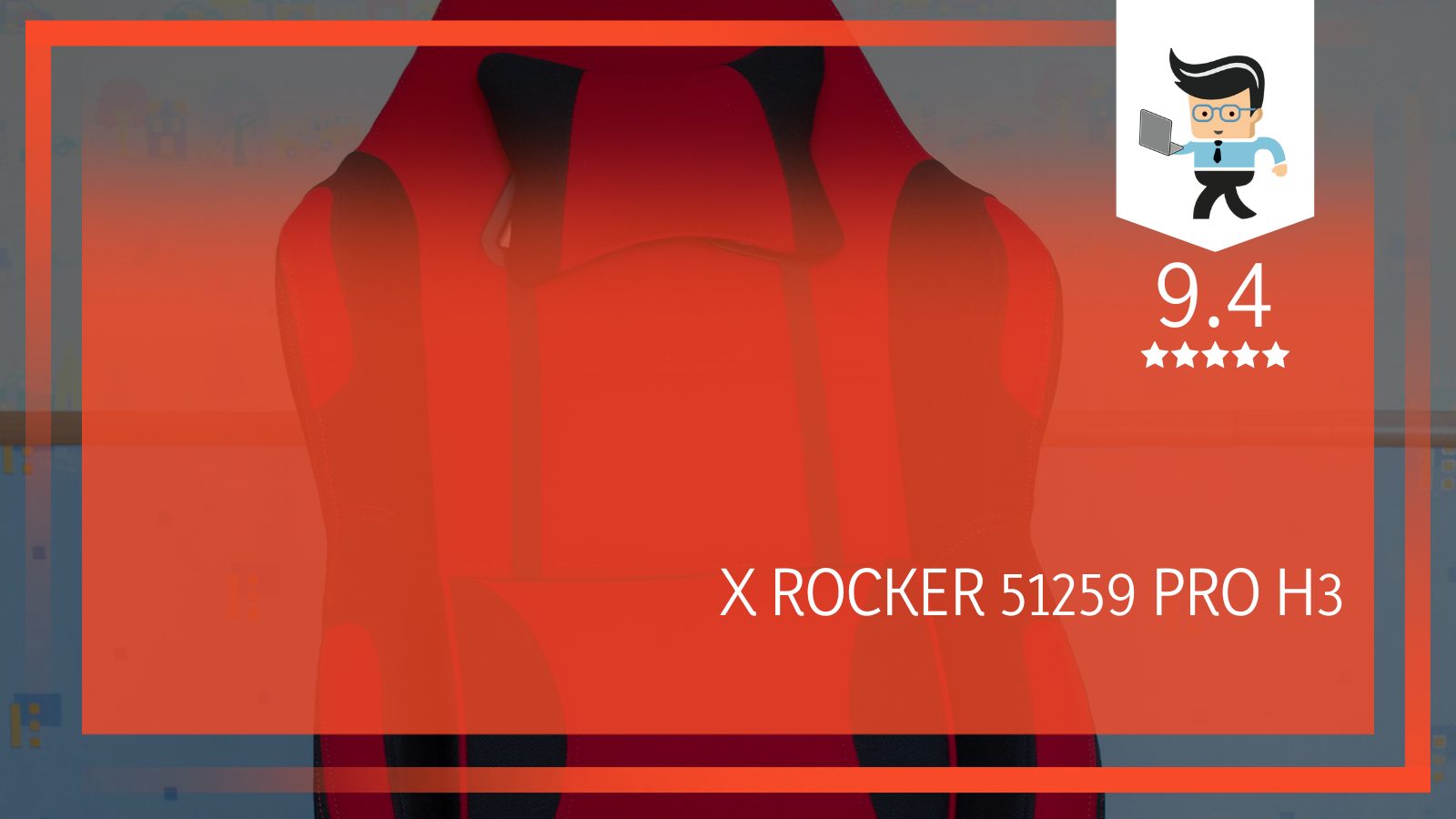 For starters, the chair offers premium comfort and versatility. It incorporates speakers that offer more explosive gaming experiences for every top gamer looking to unlock a new level of immersive gaming experience.
Whether you're in the market for one or want to change your current chair, this model has got features you can count on. But how exactly does the chair perform that makes it the delight of top gamers? Is the sound quality that exceptional?
We have taken the time to put the chair to the test, focusing on the build, design, and material components to help you decide whether it's the right fit or not. Read on!
X Rocker 51259 Pro H3: Key Specifications
Product
Key Specifications

Material: Padded Vinyl
Frame: Wood and Metal
Connectivity: 4.1 Wireless Audio
Max Weight: 275 pounds
X Rocker 51259 Pro H3 Review: Plush and Super Comfortable Out of the Box
X Rocker and gaming chairs are like Spalding and basketball. It's a company focused on making the best chairs in the business. To that end, their models or lineup always feature materials of the highest quality.
Notably, most X Rocker's top-tier models come equipped with proprietary and patented tech fed into their design to allow users to experience any application without sacrificing comfort, convenience, and great performance.
The enhanced experience the X Rocker brand gives includes the exclusive AFM technology, which consists of a set of speakers coupled with a subwoofer incorporated into the chair. These speakers make good use of the space within the chair to magnify the sound quality.
What you get is an X Rocker model rated as one of the most immersive sound providers. You get a crisp and clear sound when you need it, and intense vibrations follow deep booms and bass.
When you use a gaming chair hooked to an audio system, you're not doing anything new. However, only one of the best brands can give you a 4.1 wireless audio connection. The speakers feature on both sides of the headrest. As a result, you get to enjoy the surround sound regardless of the direction you turn.
X Rocker 51259 Pro H3 Key Criteria
PROS
Padded headrest for additional neck support
Compatible with many devices means fewer cables
Immersive sound system for many functions
Easy storage and fit for long hours
CONS
A bit heavy to move
Stays on the ground
The packaging of the X Rocker gaming chair only says one thing; get to gaming from the get-go without any hassle at all. The chair comes folded in standard cardboard with just a few screws for the armrests, which require little or no setup at all before you can get them up and running.
When you're done with the straightforward assembly, there's an intuitive control panel just beneath where the right leg rests, which allows you to connect the X Rocker to any audio device so that it plays through the chair's built-in speakers.
In addition, the panel features allow you to regulate the volume of the speakers, adjust vibration settings, and toggle on/off the wireless receiver to suit your mood when gaming or relaxing.
After all that, then comes the real stuff; you've got to sit in it. You'll notice the chair sits pretty on the floor with an inviting and comfortable seat designed to match your gaming space and support your lumbar area.
It's almost perfect for a man cave or behind a low desk. However, we must state that it's not the best for work environments unless that's in your bike. Again, it's not all that comfortable for taller individuals over 6 feet 2 inches tall. That's because the headrest will feel too low for the neck of such an individual.
The chair can also tip backward if too much weight is placed on the backrest. That's because there's no recline feature to adjust the back to your favorite angles.
– Nice Build and Design: Upright and Comfy
When you're trying so hard to enjoy your game, the seat you're on needs changing. Comfort is everything, and you shouldn't compromise yours to sit on the next available option. If you do so, back pain and threat to your spine will ruin your chances of having the best gaming experience. Regular office chairs and beds won't do the trick; neither will they improve your gaming abilities.
The X Rocker pro series chair is the answer when you want to enjoy some game time, and at the same time, be comfortable.
The chair takes support and comfort to the next level, coupled with the style and solid build to show for it. That's because the backrest and headrest come padded with unique foam, both of which let you game for extended hours. As a result, back pain is restricted to the barest minimum.
In addition to that, the chair sports an ergonomic design for some customizable adjustments you can relax with. Resting on the floor has never been better. You can twist and turn your seat at will.
By way of more support, gunstock arms are included. These are fixed-position arms so that you don't have to maintain raised arms at all times. In contrast, it's possible to settle down into a relaxed position with padded armrests that give you more support to thrive on.
– Frame and Weight: Sturdy Enough To Withstand Your Weight
This chair weighs quite a lot and contributes to a problematic movement. It weighs about 50 pounds consisting of wood, steel, and metal. That gives you a max weight limit of 275 pounds with suitable physical dimensions. It's bulkier than many models, and you'd need some help to move around if you've got a bad back.
– Storage Time: Foldable To Help Conserve Space
One of the benefits of owning a foldable gaming chair like the X Rocker Pro series is enhanced portability and easy storage. This is because a lot of gaming and office chairs rarely give you the option to store them with ease.
Moreover, a chair as big as this one could take some space, which is why it is fantastic that you can fold this chair down and stash it away.
Having a snack or two while gaming is a life skill. No kidding; sometimes, you're all caught up trying to get to the next level. Not to worry, this X Rocker chair is covered with a thick and durable vinyl material for easy cleaning. It is wear-resistant and waterproof, which means that you can wipe it down even between gaming sessions.
It is the ultimate plug-and-go design to get the best while playing games.
– Immersive Audio Control: Feel the Sound While Enjoying Your Games
We have done many chair reviews, and we can always say that audio or sound capabilities change the gaming chair landscape. It's the 21st-century craze for brands to have audio enhancements, making a chair a little bit more than ordinary.
For the X Rocker, you get an even better deal for your audio – the 4.1 connection. As a result, more users take delight in how interactive this chair gets, whether that's through a plugged-in connection or wireless audio.
Going on, you won't just hear the music but feel the pulse thanks to four built-in speakers and a subwoofer to match. Also, X Rocker makes available the AFM technology that transfers sounds into the open space within your X Rocker chair. Unlike other chairs that five you that support the frame of your chair, this one does so for the whole support structure.
– Vibration Motors: Catch the Vibe
One of the game changes on this chair is the inclusion of vibration motors. The X Rocker 5129 Pro H3's vibration feature is linked to volume, so you've got to increase the volume up to obtain the most feedback.
Although this might be hard to do if you have people around, it delivers excellent results to complement your immersive gaming experience any time you try it out. That way, you can enjoy a fantastic gaming experience that you will relish for a long time. For example, if you're playing an engaging action game and there's a loud thud on either side of the chair, that side will vibrate. That gives you an exciting controller with a vibration feature.
In addition, the synced-up sound and vibration system combine to give you a full-body sensation hardcore gamers are familiar with.
– Compatibility: Connect Seamlessly With Your Favorite Devices
The X Rocker stands tall as a superb 4.1 audio gaming chair that is compatible with many devices many users have among their rigs. Whether a large part of peripherals or otherwise for both wireless and plugged-in options, connect them.
Some devices you can connect this X Rocker model to include:
Xbox 360 and Xbox One
Nintendo 3DS
iPod and iPad
Wii U
Headphones
Television
Smartphones
PSP Vita
Mp3 Players
PS2 and PS3
You can use the control panel to customize your personal gaming experience. Besides, you can use the input and output jacks to invite friends over to connect for the ultimate multiplayer gaming experience.
– All-Purpose Chair: You Will Love Lounging
The chair never gets off the ground, so why shouldn't you take advantage of it? It's much like a giant pad that you can use for soaking in some movies and TV shows. You can also play music and relax.

– Overview
The intuitive 4.1 audio connection makes this chair the best bet for gamers who depend on the thrills sounds provide when gaming.
Frequently Asked Questions
1. Can I make the 51259 chairs any higher off the ground?
The only way you can do that? Place it on a higher surface. Other than that, it's a great piece of furniture that sits on the ground. Also, it doesn't come with any height adjustment feature to manipulate. That's why it's a bit awkward when placed behind an office desk.
2. Will the chair still vibrate with a headset inserted?
No. The essence of having your speakers is to have a real surround feel, which happens without a headset. Also, using a headset means you want a personal feel to the audio. That nullifies the vibration function at the sides of the chair.
3. Does the X Rocker 51259 Pro H3 chair come with visible drawbacks?
This X Rocker model has many good sides to it. However, here are some drawbacks we found. The weight of the chair can be a stumbling block if you already have back problems. Also, moving it around to different locations could be challenging to do without expending some energy.
Some users might also be disappointed with the fact that the chair's height and armrests are not adjustable, and they can only make do with the gunstock arms instead, where you can only place your arms and get to playing games.
Conclusion
Is the 51259 Pro H3 the best audio gaming chair your money can buy? If you are looking to get an immersive gaming experience in a tight space, then it is absolutely one of the best models out there. If you are on the tall side, then it might probably not be the best option for you.
Nonetheless, it uniquely blends superior audio quality with comfort and convenience that will appeal to anybody, thanks to an excellent sound system with more speakers than other chairs.
Also, the form factor will suit your posture and sitting position so that you can enjoy extended periods playing games. That's what makes it suited to hardcore gamers.
The sound generated by this chair will give you a real-life feeling when playing your favorite games and movies. You'll feel more involved, especially with the vibrations of gives off. Other parts of the chair include a simple-to-clean cover, a firm backrest, and a neck rest.
Overall, we recommend the X Rocker 51259 Pro H3 chair to anyone looking to get a decent gaming chair with integrated speakers and a wireless receiver for smooth and seamless connectivity with other compatible devices.