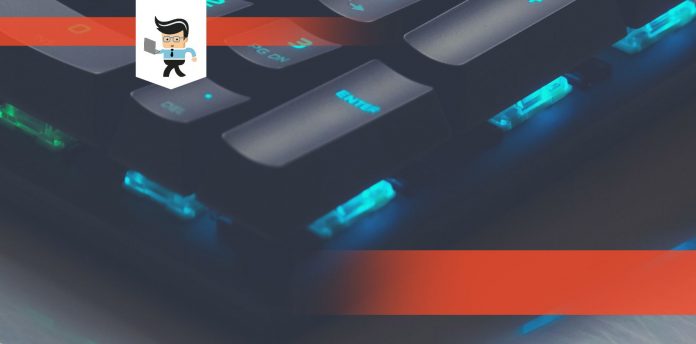 These days, you can hardly find any list of the best gaming keyboard without a Ducky keyboard, and the reasons are crystal clear.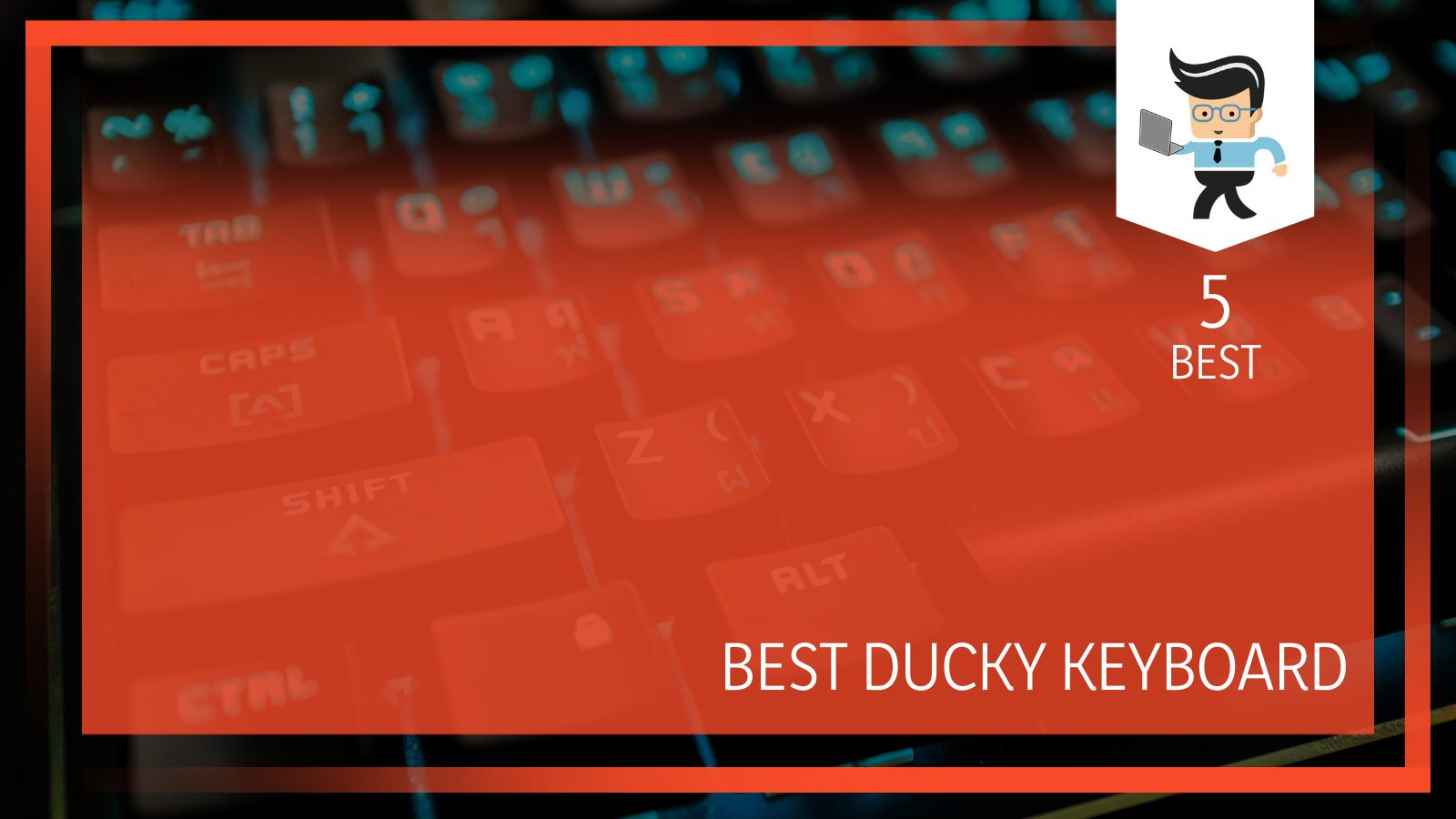 The Ducky brand ranks among the best makers of versatile and highly innovative mechanical keyboards available today. If you are looking to get a premium gaming experience without sacrificing quality build and design, you will hardly find a better brand.
Listed below are some of the best Ducky Keyboard models, with special focus on their design, top features, pros, and cons. Enjoy!
Best Ducky Keyboard Comparison Table at a Glance
Ducky Keyboard Review: Our Top Five Picks
It is very hard to dislike a top-rated Ducky keyboard. However, the keyboards are available in different types, sizes, and designs. If you want to select the most suitable model for your needs, you may need to get familiar with their individual features, functions, and design.
Taking these into consideration, we have made a list of some of the best keyboards from Ducky. We are sure they will help influence your decision making whenever you need a reliable Ducky keyboard. Read on.
Ducky keyboards are renowned for their quality packaging. This is once again exemplified in the arrangement and organization of the device in its box.
Straight out of the box, the keyboard comes with a few accessories, including:
A detachable USB-C cable
A spare spacebar
A keycap puller
A user manual
Design-wise, the Ducky MIYA mechanical keyboard is strikingly beautiful, with a pastel pink color that will strike a chord with every user.
The keyboard comes equipped with double-shot PBT keycaps and stable keys which make for an overall durable and solid build.
Most gamers will find the device's high-profile design appealing, thanks to an evenly shaped 5mm bezel across the keys.
The keyboard sits comfortably on any surface, as there are up to five flat rubber feet underneath the board to ensure firm and stable grip at all times.
Genuine Cherry MX Switches
The keyboard features the top-of-the-line Cherry MX Brown switches to guarantee great durability and top performance. The switches are very receptive to touch and give a swift, clicky response anytime you press a button.
The tactile bump, which is a trademark feature of the Cherry MX Brownswitches, is evident in this keyboard. Also, the 2mm actuation point will count in favor of all gamers and programmers.
You don't have to exert much pressure to initiate any command, thanks to a super responsive tactile bump.
The Cherry MX Brown switches also keep the noise at a considerably low level, making the keyboard suitable for use in a library or an open office.
It is quite disappointing to learn that there are no dedicated media keys with theDucky MIYA keyboard. However, you can always rework the keys to serve that purpose, thanks to its programmable macroscapability.
If you are looking to prevent any form of disruption while gaming, you can activate the Windows lock function by pressing Fn+Windows Key on the Ducky MIYA.
Beautiful LED Pink Backlight
The Ducky MIYA mechanical keyboard comes with an awesome pink backlighting feature which gives off a cool magenta effect.
Sadly, the keyboard doesn't offer support for RGB backlighting, even though the software does. However, you can always customize the lights, using some special effects that are available in the software.
The Ducky MIYA Pro comes with a detachable USB Type C cable for easy and seamless connection with compatible Windows, Mac, and Linux devices. While the keyboard works on these operating systems, it offers limited software support for Mac OS and Linux.
The keyboard's manual sure requires some studying and getting used to. When you do, you can learn a great deal about additional commands and key combinations which can be very useful when typing or gaming.

The Ducky MIYA is a decent wired-only mechanical keyboard that comes with a durable build and outstanding Cherry MX Brown switches.
It misses out on some features like wireless support and full RGB backlighting. However, its double-shot PBT keycaps' design and stable keys will make your typing and gaming experience smooth, seamless, and fast.
Pros
Durable build and construction
High-performing Cherry MX Brown switches
Beautiful LED pink backlight
Sturdy double-shot PBT keycaps
Cons
Lacks wireless support
Limited software support for Mac and Linux OS
As one of the best 60% mechanical keyboards on the market, the Ducky One 2 mini comes equipped with an array of features that totally justify its premium price tag. It comes with a standard 60% design and a superb fn layer system which provides you with many functions.
Great Compact Build and Quality Design
In the area of design and ergonomics, it doesn't disappoint at all. This Ducky 60% keyboard has a durable plastic frame and backplate for a rigid structure that will help ensure great stability on any surface.
While it doesn't make any room for a wrist rest, you can count on its compact build to combat all sorts of wrist and finger fatigue that may occur during lengthy gaming and typing sessions. The keyboard's feet can also be adjusted to suit your posture and help maintain a steady balance on a smooth surface.
Durable Doubleshot PBT Keycaps
As usual, this Ducky keyboard also comes with double-shot PBT keycaps that are accented with laser-engraved side labels. If there is one thing you need to know about PBT keycaps, it is the fact that they have a high-end feel and great prospect for durability and top performance.
If you want more, the keyboard comes equipped with a keycap puller and some special keycaps in the box. You can easily swap out faulty keycaps or replace them with some specially designed models included in the package.
The full RGB backlighting feature here is amazing and eye-catching. While the feature is highly customizable, it doesn't have a dedicated software. Regardless, you can easily customize and control the RGB settings as well as adjust the brightness level directly on the keyboard.
Genuine Cherry MX Switches
The Ducky One 2 Mini features top-rated Cherry MX mechanical switches straight out of the box. You can opt for whatever variant is most suitable for your typing or gaming activities, and they will beat your expectations. Cherry MX Red comes in handy for gamers, specifically. Also, other variants like the Brown, Blue, Silver, and Silent Red switches can strike a balance between top performance and durability as well.
No doubt, the Ducky One Mini comes with a wide range of customizable features and functions. However, it doesn't have any dedicated software, which may be a big letdown for anybody looking for that feature.
Also, the keyboard does not have a wireless connectivity option, so you are stuck with the USB Type C wired-only connection.

It is difficult not to notice the few shortcomings of the Ducky One 2 Mini. However, you cannot really tell from the performance and great customization options available directly on the keyboard.
The compact design is space-saving, and the presence of genuine Cherry MX switches will make your typing and gaming experience buttery smooth and fast. If you are looking to build a custom Ducky keyboard, the One Mini is a perfect inspiration.
Pros
Compact design
Highly customizable
Genuine Cherry MX switches
Beautiful RGB backlighting
Cons
Lacks wireless support
No dedicated software
Next on our list of the best Ducky mechanical keyboards is the Ducky Shine 7 Gunmetal. Even though it comes third on our list, it is by no means a pushover.
The keyboard's overall build and construction are superb and of great quality. Underneath, we have a sturdy plastic base, which is complemented by a super-strong zinc alloy top plate for an overall premium and durable build.
The keyboard sits firmly on any surface and comes with a fantastic set of PBT double-shot keycaps that deliver solid and outstanding performance at all times.
The keys are spacious enough to make for a decent ergonomic design. There is even a wrist rest to help combat wrist fatigue during those marathon gaming and typing sessions.
Beautiful RGB Backlighting
The Ducky Shine 7 Gunmetal comes with a full RGB backlighting feature that is very eye-catching and appealing. Whenever the backlight comes on, each key lights up individually to give your keyboard a distinct yet noticeable look in the dark.
You can always set up the keyboard's RGB backlight to suit your mood and adjust the brightness level as you see fit. The keyboard allows you to initiate all customization options without having to refer to the included software at all.
Superfast Cherry MX Silver switches
The keyboard features the famous Cherry MX Silver switches, arguably the fastest of all the Cherry MX switches which will delight every gamer and avid programmer.
Sure, it might take some time to master the switches. However, once you do, it is going to be all smooth and fast from there. The switches are incredibly fast and responsive, with quiet and very satisfying tactile feedback.
Great Customization Options
When it comes to customizations, including programmable macros, you can do it all right on the keyboard itself.
For users who would like to go the extra mile and tinker with the keyboard's backlight settings, the Ducky RGB software gives access to a lot of great RGB backlighting customization options.
If you are big on wireless or Bluetooth connectivity, you may want to look elsewhere at this point. As a wired-only keyboard, the Ducky Shine 7 Gunmetal keyboard misses out wireless and Bluetooth connectivity options, and that is its major downside.
Otherwise, it offers full support for devices that run on Windows OS but offers limited support for Mac and Linux devices.

The Ducky Shine 7 Gunmetal keyboard is a solid option for every gamer and top programmer. Its Cherry MX Silver switches rank as the fastest, so you can count on it to deliver a smooth gaming experience with excellent feedback at all times.
What's more, it has a delightful and highly customizable RGB backlighting feature which shines pretty brightly in the dark.
The keyboard has macro-programmable keys throughout, and you can customize its features and functions as you like.
Pros
Durable build
Incredibly fast Cherry MX Silver switches
Customizable RGB backlighting
Programmable macros
Cons
Limited support for Mac and Linux devices
Lacks wireless/Bluetooth connectivity option
If you desire a full-size keyboard that delivers optimal performance without cluttering your desk space, then the Ducky One 2keyboard is a solid option.
Excellent Design and Build Quality
Once again, the superb build quality that characterizes all Ducky-made keyboards is evident in this model. Speaking of which, it comes with a solid plastic body and PBT double-shot keycaps that are built to last.
Although it provides no space for the much-needed wrist rest during a long gaming or typing session, its dual incline settings ensure you don't have to deal too much with wrist fatigue while typing.
Highly-Responsive Cherry MX Blue Switches
Ducky has a thing for the best-in-class Cherry MX switches, and the Ducky One 2 model is no exception. Specifically, it comes with the Cherry MX Blue switches, which explains the keyboard's impressive tactile and audible feedback.
The switches' 2mm actuation point also implies that you don't have to exert excessive pressure before getting the keys to perform a specific function. This is a feature that will appeal to most gamers and programmers as well.
As with all Cherry MX Blue switches, it can be a little noisy at times. However, that doesn't take anything away from its top performance at all times.
Great Customization Options
The Ducky One 2 full-size keyboard does not have dedicated software. Nonetheless, it allows you to perform several customization functions without any hassle. You can program the macros and remap the keys as you seem fit, right on the keyboard. All it takes is just a few presses of the buttons, and you are good to go.
You can also set up the recorded macros to repeat, stop, or delay as you wish.
Premium PBT Doubleshot Keycaps
One area where Ducky outshines the competition is the keycaps aspect. The brand has shown remarkable consistency in making top-quality keycaps that will not only function well but also stand the test of time.
Speaking of which, the Ducky One 2 keyboard comes with premium PBT double-shot keycaps that make your overall typing and gaming experience enjoyable.
Super Bright LED White Backlight
On the area of backlighting, the keyboard ditches RGB for a pretty bright LED white backlight, which isn't that bad if you consider the different lighting patterns.
Whenever the backlight comes on in the dark, it spreads evenly across the buttons to accentuate the keyboard's dual-tone bezels and give an adorable outlook.
The Ducky One 2 mechanical keyboard is fully compatible with Windows OS. However, the same cannot be said for Mac and Linux operating systems, as it is only partially compatible with either of those.
The keyboard doesn't offer support for wireless connectivity, which implies you can only connect with external devices via the USB Type C cable.

In a nutshell, the Ducky One 2 full-size keyboard is a great performer, either for a gamer or a programmer.
It has a quality build and design, and its Cherry MX Blue switches will not let you down at all. The keyboard compensates for its lack of dedicated software by offering great customization options directly on the keyboard.
Wireless connectivity is conspicuously missing here. However, if you are willing to overlook that, you have a great option here.
Pros
High-quality build
Macro-programmable keys
Strong PBT keycaps
Reliable Cherry MX switches
Cons
No dedicated software
Lacks wireless connectivity option
Last but not the least of the best Ducky keyboards in our list is the Ducky One 2 Skyline.
Just like the previously reviewed Ducky keyboards, the Ducky One 2 Skyline also showcases the brand's insistence on quality, durability, and great performance.
Great Design and Long-Lasting Keycaps
Starting with the design, the keyboard has a durable build. It has a nice-looking gray frame and two adjustable feet that allow you to raise or lower the keyboard's height to suit your posture or sitting position.
You should, however, keep in mind that there is no wrist rest here. Luckily for you, its form factor and adjustable height leave little or no room for wrist fatigue. This implies that you can go about your long gaming sessions without any hassle.
The frame neatly complements the colors of the board's keycaps. Available in shades of gray, blue, and black, respectively, the keycaps are crafted from sturdy polybutylene terephthalate, otherwise known as PBT.
They have maintained their fine record of impressive performance and great durability over the years. That is one major area where they outshine their ABS counterparts.
You can rest assured that the sturdy PBT double-shot keycaps featured on this keyboard will deliver great performance and stand the test of time.
High-Performing Cherry MX Red Mechanical Switches
This Ducky One 2 Skyline keyboard employs high-quality Cherry MX Red switches with low spring force and soft actuation for the best gaming experience.
While the switches are not up to par with their counterparts when it comes to tactile feedback, it offers great speed, and it is smoother and quieter.
There is a USB-N-key rollover feature, which implies that you can press multiple buttons at the same time without any hassle.
Just like the previously reviewed Ducky keyboards, the Skyline also offers support for programmable macros, even without a dedicated software. You can set up some popular commands directly on the keyboardto control your media and open some tabs on your PC.
High-Speed USB Type C-Enabled Connection
You can connect seamlessly with your Windows and Mac OS devices via the high-speed USB Type C connector provided with the keyboard.

Overall, the Ducky One 2 Skyline is, by no means, a perfect keyboard, but it offers great value that justifies its price tag.
We find the lack of backlighting feature very disappointing, as it becomes almost unusable in the dark. Aside from that, there is no other major compromise. The PBT keycaps work fine, and the mechanical switches are incredibly great for an ideal Ducky gaming keyboard.
Pros
Durable build and design
Premium Cherry MX Red switches
Sturdy double-shot PBT keycaps
N-key rollover feature
Cons
No dedicated software
No LED/RGB backlighting
FAQ
What makes Ducky keyboards stand out in the mechanical keyboard market?
Ducky is renowned for its high-quality build, attention to detail, and unique aesthetics. They often collaborate with other brands to produce limited edition designs. Additionally, Ducky keyboards are known for their reliability, durability, and the use of Cherry MX switches, which are considered among the best mechanical switches in the industry.
Which Ducky keyboard is best suited for gaming?
The Ducky One 2 Mini is a popular choice among gamers. Its compact 60% layout frees up desk space for mouse movement, which is crucial for FPS and MOBA gamers. The keyboard's RGB lighting and macro capabilities further enhance the gaming experience.
Are Ducky keyboards customizable?
Yes, Ducky keyboards are highly customizable. Many models come with additional colored keycaps to allow users to personalize their keyboard's look. The keyboards also offer comprehensive macro programming and various backlighting options, depending on the model.
How do Ducky keyboards compare to other top-tier mechanical keyboard brands?
Ducky keyboards are often compared favorably to other top-tier mechanical keyboard brands due to their build quality, design, and typing experience. While the choice between brands often boils down to personal preference, many mechanical keyboard enthusiasts hold Ducky in high regard, especially for their consistency and innovative designs.
Conclusion
By now, you should have eliminated all doubts (if you had any) about the plethora of top gaming keyboards from Ducky.
Apart from their beautiful design and quality construction, they all feature the best-in-class Cherry MX switches that will make your typing and gaming experiences smooth and enjoyable.
If you are big on gaming and ready to do without the backlighting feature, the Ducky One 2 Skyline keyboard is your best bet. You can count on its high-quality Cherry MX Red switches to give you the best gaming experience at all times.
The Ducky One 2 Mini will appeal to lovers of a compact and portable keyboard while other models also deliver big in terms of performance and great durability.
Just be particular about the model that best fits your demands, and you will have no regrets with any of these Ducky keyboards.