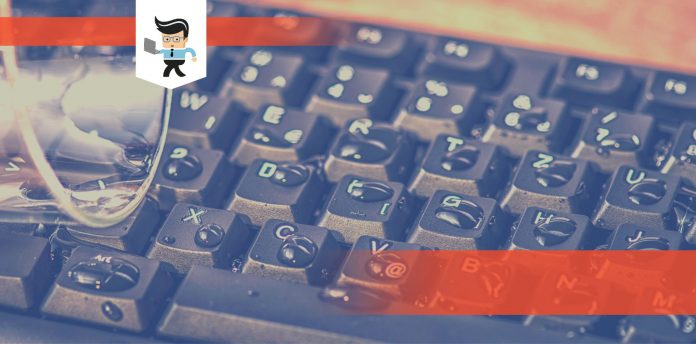 If you're big on gaming or typing with a beverage by your side, a water-resistant mechanical keyboard is a necessity.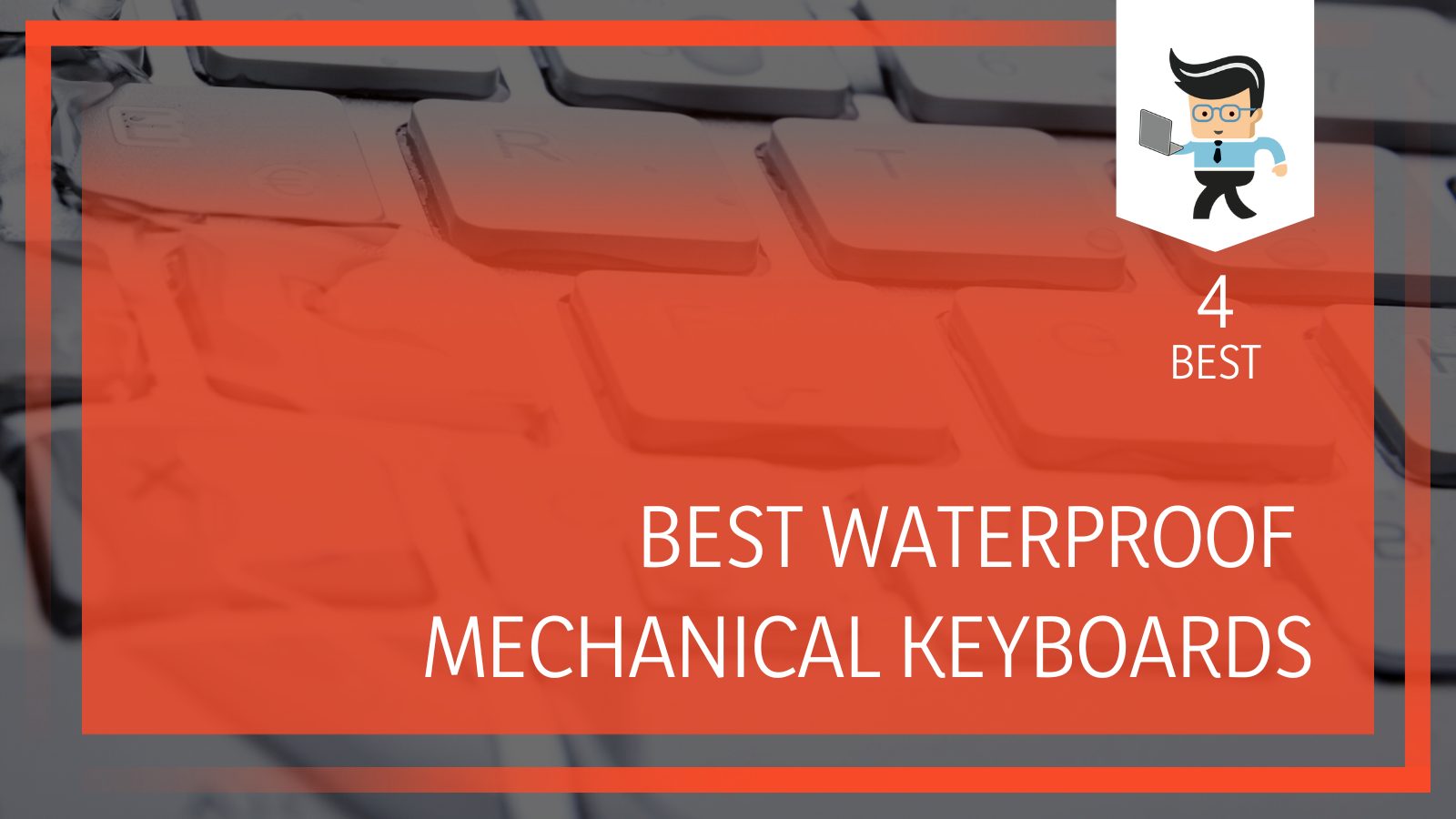 It is never a bad idea to take a sip from your favorite drink while typing or gaming on your PC. At the same time, you don't want a situation where spills affect your progress, or worse, damage your keyboard.
This article will help you decide on the topmost anti-spill keyboards out there. With this knowledge, you're never far from the right decision.
Keyboard
Switch
Key Specifications
GK61

Gateron

 Water-resistant
 RGB Backlight
 Doubleshot keycaps
 Macro recording

Epomaker SK61

Gateron

 RGB Backlit
 Hotswap
 Waterproof

DIERYA DK61E

Gateron

 Waterproof circuit board
 Doubleshot

E-Element Z-88

Outemu

Backlight and color flashing
Waterproof
N-key rollover
Best Waterproof Mechanical Keyboard: Our Top Picks
Pros
RGB Backlit with colors
Hot-swappable
Spill-proof
Cons
A mechanical keyboard that keeps spills out is a great item to have, especially if you enjoy taking your meal at your desk while gaming.
Sure enough, the GK61 mechanical keyboard will complement your computer and offer you some unique blend of build, design, and beauty. It comes with an RGB Backlit mode where you can select from different color combinations without needing any drivers.
Featuring Gatron Optical switches, you can hot-swap them at any point in time. This is perfect for users who might want to change switches at a future date. It sure helps that you don't have to solder them.
There are ABS Doubleshot keycaps and macro recording you can use with the software. This helps you customize features and personalize function keys. What's more? The keyboard's anti-ghosting mode is present with each keypress to deliver accurate signals at all times.

This keyboard is perfect for those who are on a budget. Although it still lacks some quality features, it does an effective job of keeping spills out and protecting your keyboard from water damage.
Pros
Dust and waterproof
Sublimation keycaps
Great value
Fast switches
Cons
Sporting the popular Gateron optical switches, the Epomaker SK61 61 mechanical keyboard also comes with the hot-swappable feature that will appeal to both newbies and pro users.
If you are a gamer, you'll love the fact that you can have more fun customizing your keyboard. Of course, you can also replace the switches without soldering issues.
The keyboard's dust- and water-resistant capability mean you can get back to your task within a few minutes after spills. All you have to do is wipe the liquid off with a washcloth and get back to business in no time.
The device's thermal sublimation keycaps will prevent oil and other liquids from damaging your keyboard.
You can also make use of the driver to set keyboard functions for the three layers of programmable modes. The SK16 is also great for users who love the N-key rollover feature to avoid conflict while pressing multiple keycaps.
The device's RGB Backlit will come in handy for all users when typing or gaming. Hence the SK16 has more than 16 million lights ready and allows you to download a wide range of lighting effects online.

If you're a student looking to cut costs or just a gamer, this water-resistant keyboard with the hot-swappable switches is affordable and will suit you to a tee!
Pros
Excellent build
Great size
Personalization and editing software
Waterproof
Cons
Keycaps lacking in quality
The DK61E features a classic compact design and an excellent size suitable for use at home or in the office. Also, like most modern mechanical keyboards, it comes without a Numpad. This means you can go straight to typing or gaming, thanks to the added space it creates.
The keyboard comes with some powerful software editing features and other functions to help you personalize the feel of your keyboard. Whether that's offline macros or using the magic FNX key, you can get creative with these cool effects to meet your needs.
Notably, this waterproof mechanical gaming keyboard helps users enjoy their foods and drinks without worrying about spills. With Doubleshot keycaps resistant to water and oil spills, you can have a great time gaming or typing and enjoy your meal in between.
Also, it is very easy to clean even though the interface isn't waterproof.

Apart from its impressive design and great customization features, the DK61E mechanical keyboard has a layout that will help conserve space.
What's more? If you love having a meal or a drink while working or gaming, oils, water, and food won't harm your keyboard.
Pros
Non-slip ergonomic anti-spill design
Space-saving
Detachable USB
Keycap and switch puller
Cons
Difficult customizing color
Issues RGB lighting
The E-Element Z-88 RGB 60% Mechanical Gaming Keyboard features the Outemu switches that have a knack for being durable and long-lasting.
It comes with keycaps that have medium resistance, an audible clicking sound, and great tactile feedback. With each key having its independent switch, you'll achieve great speeds gaming with this keyboard.
Anti-ghosting is possible with the N-key rollover while the preset 10-mode RGB backlighting adds style along with other color-flashing features.
This keyboard also has an ergonomic design to add to its strong makeup. Also, there's the Windows Key lock for gaming and other applications. This way, you won't lose out on progress made while gaming or creating media content.

The overall build of this keyword is great. At least you won't have to worry about spills. What's more, if you love sounds when pressing keycaps, choose this keyboard.
Buying Guide
It is an open secret that most electronics just don't mix with water. The same doesn't apply to mechanical keyboards that are waterproof, although you'd want to keep it safe.
An ordinary mechanical keyboard would need replacing immediately, but not so for the products mentioned above. In what ways are they beneficial to users? What should you look out for when buying one? Let's find out!
– Advantages of Waterproof Mechanical Keyboards
Long-Lasting Appeal
Let's face it. Even though many of the waterproof options available as keyboards are somewhat cheap, forking out money in the short-term doesn't make sense. These keyboards have the added value of being ready for the long run. As a result, you save some money and don't have to worry about changing the whole thing. Even if you do, you must have received value.
Easy to Clean
This is a great advantage, especially when you consider that some of them come with keycap pullers. This makes cleaning then easy even if you have to use a damp cloth. What's more, it's okay to immerse some of them in water for a light scrub. If you love on-the-spot cleaning, a waterproof keyboard is a must-have.
Keep Liquids Out
This is the main attraction for these mechanical keyboards. For instance, the E-Element mentioned in this article has an ergonomic build that's strong and keeps water out. This is important mostly for users who eat and drink while typing or gaming.
More Space to Operate
Some waterproof keyboards are also of the low-profile mechanical variety. This means they won't take up much space while you angle for that combo or want to hit the right typing speed. This is particularly useful for those who want to have other items on their desk or enough room for comfort.
Who Would Love Waterproof Keyboards?
– Medical Professionals
A hospital or area concerned with medical activities could do with waterproof keyboards. When germs settle on such keyboards, cleaning them won't pose many problems. Also, the dynamic nature of the professionals suggests they can have meals or take beverages while working.
– Gamers
You've reached that all-important level and wouldn't want to get up for anything. Using a waterproof keyboard is perfect for such situations, particularly if you have Windows Keylock enabled. This way, you won't miss a thing!
– Students
Waterproof keyboards don't cost as much. What's more, their parts are easily replaceable. Students will enjoy having them because they last longer. Also, they provide great value for the money spent getting them.
Important Features to Consider in a Waterproof Keyboard
The last thing you want is water on your mechanical keyboard. There's no need to fret with a keyboard that's built to keep water out. Here are some important features to consider when buying a waterproof keyboard.
– Key Switches
Key switches are mechanisms beneath the keys that play a role in typing and gaming experience. They enhance speeds, too.
Further, most of them help with the clicking sounds you hear and add to the durability and efficiency of the keyboard. When you are looking to buy a waterproof keyboard, make sure the switch is up to snuff.
– Spill-Resistance
This is one feature you want since it's often stated with most mechanical keyboards. It's no use buying one when it won't keep water and other liquids out.
Observe the material used for the casing and the mechanism put in place to avoid issues caused by spills.
– Programmable
A keyboard with programmable macros and other similar features is worth having. The Epomaker is a good example of such a keyboard. They're useful for individuals who want to save time and achieve faster speeds.
All you have to do is set up some keys so that, when you game or type, things move along quickly.
– Cable Ports
The USB cable linked to your computer is important. As such, it should suit your needs, especially if you like to work on the go.
Some waterproof keyboards have detachable cables you can take out while others are wired with the keyboard. You can plug other items into the USB ports.
– Lighting
RGB lights and full customization options can make a difference when using your keyboard. The illumination will help you see in the dark and provide flair during typing or gaming.
– N-Key Anti-Ghosting
This feature is now a crucial part of mechanical keyboards. If you love gaming, there's a tendency to press multiple keys at once. With anti-ghosting capabilities, you can get away with that.
The instructions you intended will still reflect very quickly. The E-Element is a great keyboard with such capabilities.
Frequently Asked Questions
1. Is every aspect of my waterproof keyboard protected from spills?
Not all mechanical keyboards have all their parts protected from spills. For example, the DIERYA DK61E's interface isn't waterproof. At the same time, many keyboards have USB cables and ports that can be affected by liquids.
However, they also have protective caps you can attach when cleaning or washing your keyboard.
2. What makes a mechanical keyboard waterproof?
If a mechanical keyboard has a water-resistant mechanism, it means there are far fewer chances of liquids entering it. To that extent, a spill-proof mechanical keyboard will have a water-drainage system to help guide the water away from important components within the keyboard.
The GK61 uses a good technique to keep the water out. Evidence of this is its IP64 rating. Even if it falls into water, you can still have all its parts working well. Either way, the keyboards reviewed here are built to help you keep water out, with some even being dustproof.
3. Should I wash my waterproof keyboard frequently?
That depends on what you use your keyboard for. If you're medical personnel or use one in a hospital, washing it is important.
Dangerous chemicals and bacteria may be present, so it helps to wash or thoroughly clean your keyboard regularly. For instance, a GK61 can be immersed in water and cleaned.
4. Will my waterproof keyboard also be safe from food crumbs and dust?
What you should do here is check with the manufacturer. While it seems okay to eat and leave crumbs or allow dust to gather, you could potentially damage your keyboard. If you use one that's dust-resistant, you won't have anything to worry about.
As for food crumbs getting stuck, the keyboards reviewed here have switches and keycaps that can be easily removed. This helps you clean underneath the keycaps.
5. Is there a specific cleaning product that works well for cleaning?
Again, it's important to follow the manufacturer's instructions. This way, you won't get ahead of yourself trying to keep your keyboard clean. You'll notice some are better cleaned with water, while for others, a bit of alcohol will do the trick.
Also, some prefer a little dampened cloth you can use to wipe them. Whatever the case, read the manual.
Conclusion
Who says you cannot enjoy gaming on your PC with your favorite drink by your side? With these four options, you can get the best of both worlds.
The GK61 Hot-Swappable Mechanical Keyboard stands tall as our top pick, thanks to its nice features and water-resistant capability. It is very easy to clean, and you won't have to worry about complications whenever your beverage spills.