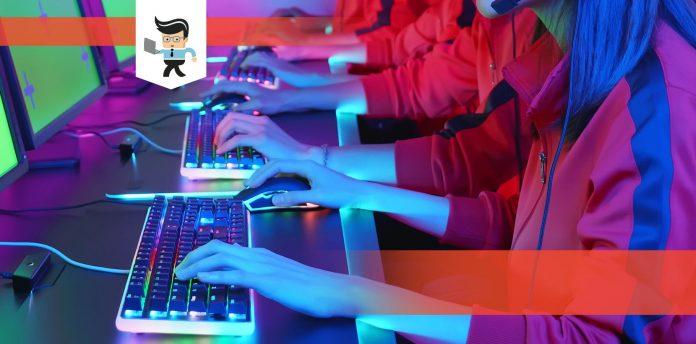 If you are looking for a 60% keyboard, we can assume a few things about you. The first is that you know what a 60% keyboard is (if you don't, we will explain in a bit). Mechanical keyboards have very specific requirements and benefits. They are portability, versatile, convenient to use, and longer lasting for certain activities.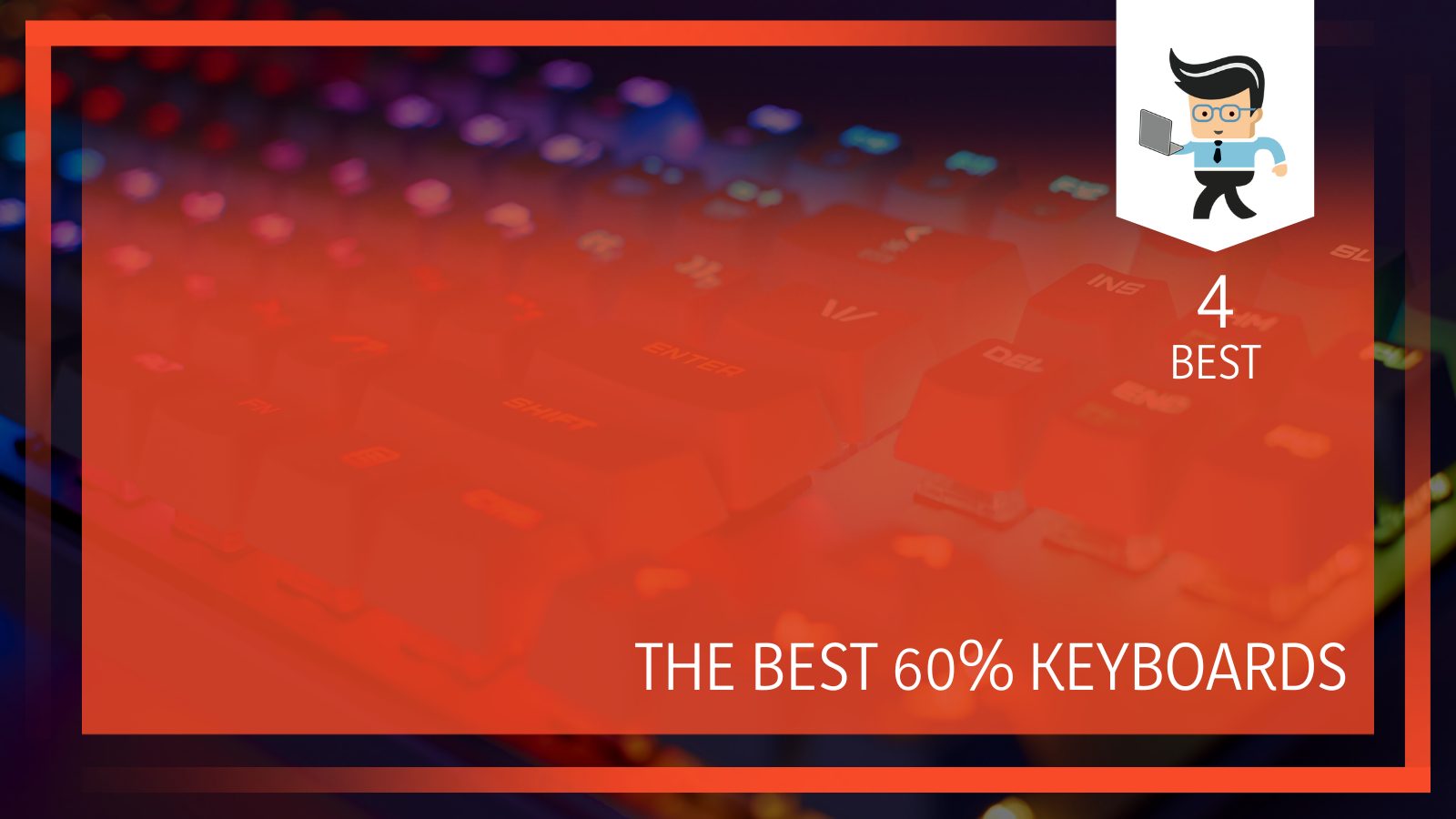 Traditional keyboards just aren't destined for certain things, particularly gaming. While you can use a traditional keyboard that you'd get with a computer or a laptop, a 60% keyboard just offers you more.
Traditional keyboards have somewhere between 87 to 104 keys. A 60% keyboard generally has about 60% of that, or somewhere around 60 keys. They do not scale down and get smaller, but instead, they eliminate some nonessential keys.
What those keys are differs, but you can usually expect to lose the rectangular keypad on the right side of a keyboard and a few of the keys at the top of the keyboard. You will almost always still have access to the alphanumeric area of the keyboard (meaning all of the letters and the numbers that run along the top of the keyboard).
There are plenty of different 60% keyboards for gaming out there, so you may need to do some research to find which ones are the best for you. We've started that process for you here.
What are 60% Keyboards?
As mentioned above, 60% keyboards are about 60% smaller than the average keyboard size of 87 to 104 keys. The keyboards don't lose any of their sizes in the size of the keys, but they lose the number of keys. This helps to make certain activities more intuitive and easier to reach. It will also make the keyboard easy to transport.
While it isn't uniform across all options on the market today, 60% mechanical keyboards traditionally lack the number pad on the righthand side of the keyboard and keys that are not frequently used by the average person when gaming or even just operating the computer normally, such as the Home, Page Up, and Scroll Lock options.
Certain ones will stay, including all of the letters, the enter key, space, key, shift keys, and more. Sometimes, you will miss one of the shift options as both aren't necessary. Most of these compact keyboards also lack arrow keys, though some will have them.
Note that just because the keys are missing, that doesn't mean you cannot get the same functionality. You will have to learn them, but the missing keys can be accessed by pressing a combination of keys, usually using the Fn key. Some keyboards will have those functioned denoted on the keys and others will not.
What Is The Best 60 Percent Keyboard?
When trying to find the best 60 percent keyboard, you will have to take stock in what you want to use your keyboard for. Most people will get a 60% gaming keyboard and then have another wireless keyboard for work or writing. It is up to you, you may not need to get two. In that case, you may want to spend a little bit more on your keyboard.
If you use your keyboard a lot, you want to think about how it feels. Keyboards are all designed slightly differently and you should have a pretty good idea about what you like and what you don't.
Do you like the inset keys that don't have a lot of space around them? Do you prefer the keys that do have a lot of space and are clearly defined? What you use your keyboard for will determine what options are best for you. Never fear that you won't get what you want, as there are plenty of options available.
Let's break down some of our favorites:
| | |
| --- | --- |
| Pros | Cons |
| Wired & Wireless | Wireless battery-life somewhat short |
| Compatible With Most Systems | |
| Up To 3 Bluetooth Connections | |
If you are looking for the most cost-effective option, the Dierya comes in at under $ and still functional. It makes for a good typing keyboard, thanks to the ergonomic design that reduces hand fatigue and overuse. One huge benefit that many other keyboards in this price range do not have is the fact that you can use it wired or wirelessly. This means you easily transport it, share it, or switch it out with another keyboard.
It is the perfect option for someone who needs to connect other devices to it, as there are three Bluetooth connections available. If you have more than that, you can switch them out fairly easily. Of course, the lighting is beautiful as well, with seven different lights and a few lighting modes. It comes standard with a 1-year warranty but you can extend it at a cost.

It is important to note that this one is a bit different than other 60 percent mechanical keyboards. It has the arrow keys in the bottom right corner, which can be helpful for people who do not want to switch out keyboards when they need to use arrows.
| | |
| --- | --- |
| Pros | Cons |
| Cost Effective | No Bluetooth |
| Best For Customization | |
| | |
If you need a keyboard
that you can hot swap, the GK61 is a fantastic choice for most people. It comes in at a good budget cost and still offers some great features. If you need to customize your keyboard to your different needs and don't want to switch keyboards and instead, what to switch keys, keep reading. You can easily remove the switches on this keyboard and change them out with other ones to take customization to the next level.
Unfortunately, the GK61 is a wired keyboard which means that there is no Bluetooth accessibility. You do get some of the best backlighting for the keyboard with so many different options. You can even record macros to completely customize the keyboard if you know how to do that. You will need to use some software, but it is worth your time.

Finally, this is a solid keyboard. As gaming can get pretty intense, you don't have to worry about this one breaking down. It comes with ABS double-shot keycaps, waterproofing, and a good warranty.
| | |
| --- | --- |
| Pros | Cons |
| Good Typing Quality | Software Isn't User-Friendly |
| Extremely Well Built | No Arrow Keys |
| Quiet Keystrokes | Wired Only |
If you are looking for something truly special, the Akko X Ducky One 2 is a fantastic choice. There are so many different facets to this mechanical keyboard that it can be difficult to even break it down in a few short sentences. This is one of the most colorful options, which makes it really popular but it does help with functionality as well. You can pick from different color tones or you can keep with the standard.
As far as typing quality goes, the Ducky is one of the best. The keys feel luxurious and don't require a hard touch, but you won't make keystroke mistakes either.

For gaming, you can't do much better. The force and pre-travel are low and you will be able to move quite quickly. It is well built so that if you tend to be a little rougher on your keyboards, you won't have to worry about breaking something. Note that there isn't any available interface. It is a wired keyboard so you won't have Bluetooth options. The cord is the only part of this keyboard that feels cheap- you should replace it.
| | |
| --- | --- |
| Pros | Cons |
| Compact | On The Pricey Side |
| Best Choice Of Colors | |
| | |
If you haven't heard of the Royal Kludge
RK61, you aren't alone. This isn't one of the most well known 60% mechanical keyboards, but it is one of the best portable mechanical keyboard options you will have. It is simple to use (seriously, it only comes with 2 parts: the cord and the keyboard) and beautiful. Everything is pretty compact and economical, which most people appreciate. The design reduces hand and wrist fatigue (even though there isn't a built in rest) and the rubber grips hold it in place on nearly every type of surface.
The keyboard comes with a built in battery so that you can use it wirelessly, and that battery is solid. It makes the entire keyboard feel more substantial, which is a good thing. The materials used are also high quality, so you won't feel like you will break it when gaming gets to be too intense. The Bluetooth is great so that you can get more out of your gaming.

One problem that we note is that the font used on the keyboard is really strange and, on certain keys, can even be really difficult to read. The keys also have some sharp edges, particularly toward the side of the keyboard.
How are 60% Keyboards Beneficial?
There are a lot of reasons why someone would need a 60% mechanical keyboard. With this specific keyboard ratio, you aren't losing the size of the keys, but rather the number of keys. You will have the same experience typing (so if you use your computer for work or school), and you won't have to sacrifice comfort. You should still have access to all of the numbers and letters that you need.
People who benefit from 60% mechanical keyboards are those who have smaller hands and need to do a lot of typing, those who game frequently, those with a small amount of space, or those who just don't need to use other keyboards. You can get the complete functionality in a small amount of space– you just may need to remember the different Fn keys and shortcuts.
That isn't to say there isn't an adjustment period. It can take you a few days to adjust to the sizing, especially the lack of arrow keys. Once you get used to it, however, you probably won't want to go back.
Another advantage is that you can change the colors and get a more beautiful setup than you can with standard keyboards.
The bottom line is that there are different reasons to buy a 60% mechanical keyboard. Your reasons will differ from someone else's, but you will be able to find benefits no matter what. The small size offers many advantages and some disadvantages. It won't be the perfect option for everyone, but if you are looking for one, you already have a suspicion that it will benefit you in the long run.
What to Look For When Buying
When you are looking to buy a 60% keyword, there are a few different things you want to consider. While they won't make or break the keyboard (in most cases) they are the things that you should keep in the back of your mind as you are shopping. Determine which ones are important to you and go from there.
– Wired or Wireless?
The primary question you will need to ask yourself is whether you want a wireless 60% mechanical keyboard. or a wired 60% mechani
cal keyboard. There are obvious benefits and problems with both of them. Wired keyboards require a USB port on your PC. Often, the cords that come with keyboards are cheap and will stop working, so you will need to replace them. Luckily, those chords aren't expensive.
Wireless keyboards, on the other hand, use either Bluetooth or 2.4 GHz to communicate. You obviously have more portability with a wireless model, but most 60% keyboards don't have good battery life. You can just connect using the USB cord or you can purchase extra batteries if the batteries are removable.
Most gamers will choose to use wired keyboards because they are more consistent and faster, which is necessary for MMO gaming. Wireless keyboards seem to be the choice for home office spaces.
Some models offer both choices, which will give you the best of both worlds. However, these models tend to have the lowest battery life for the wireless options. Another consideration is that most wired keyboards don't offer Bluetooth but some wireless keyboards will have multiple Bluetooth options.
– Do You Need Switches?
Switches are mechanical springs that are under each keycap and they allow you to customize your keyboard more easily. The switches from Cherry MX are considered to be the best in class, but there is a strong base that looks for Topre as well. While there are some smaller brands that offer switches for your keys, it is very much a premium feature for now.
Switches not only make for keyboards that are easy to customize, but it actually makes keyboards that are easier to clean. You can get under the keys that much easier. You will be able to remove crumbs, dust, hair, and other debris that can slow down your computer. Some people think that Switches cause a keyboard to break down much faster, especially for gamers, but that seems to be anecdotal evidence.
– Is It Ergonomic?
If you are gaming on a regular basis, or if you game for a long time every time you do play, you probably know that you can experience some pretty significant hand fatigue. A 60% keyboard aims to ease some of that hand stress, but some go further than others. You can get a wrist rest attached to your keyboard that will reduce fatigue, ensure that the keys aren't too difficult to press, and even look at the shape of the keys themselves.
Remember that, at least for the wrist rest, you can get this separately and just use it. Even so, it is worth spending a little extra money so that you don't do permanent nerve damage to your hands.
– What Does It Look Like?
Another main reason why people like to buy non-standard keyboards is because they look better. Many of the 60% keyboards on the market offer lighting, LEDs, different tones, unique fonts, light shows, settings, and more. You can program your keyboard to do what you want and match it to your mood, game, outfit, or whatever else you want to match it to. You don't typically get as many choices when it comes to shape, but there are some differences.
– Typing Quality
Keyboards were designed for typing, so you would think that they would all perform well in that aspect, but that isn't so. Some keyboards aren't all that great for typing. The keys can be too hard to press, too easy to strike, or just feel weird when you type them.
Many people have problems with the sounds that keys make when they are struck, so you want to think about that as well. This is especially true if you are a gamer and you live with other people who do not want to hear clicking at all times.
– Compatibility
For most people, compatibility will not be an issue. Most 60% keyboards will connect using USB ports. However, you want to be sure that you can use the software that comes with the keyboards. If you buy a wireless keyboard, you want to ensure that the BlueTooth setup is easy to use. Most newer computers won't have any problems with this.
However, if you are building your own PC, you need to ensure that you have what you need. If the keyboard does use Fn key codes, you may want to double check that you have compatibility with your operating system.
– Price
Of course, we all have to take price into consideration when we buy something. Usually when a piece of technology is smaller than the standard, the price will increase dramatically. This isn't untrue when it comes to keyboards, as you can expect to see keyboards that are much more expensive than standard keyboards.
However, you will also find keyboards that are around the same price. You won't find those dirt cheap keyboards that you can get, but no one wants to use those anyway. Even so, you shouldn't spend money where you don't need to spend it.
FAQ
Why would someone choose a 60% keyboard over a full-sized one?
There are several reasons: portability, aesthetics, and desk space optimization. A 60% keyboard is compact, making it easy to transport and ideal for travel or tight workspaces. Many users also prefer the clean, minimalist look of a 60% keyboard, especially when paired with a sleek monitor setup.
Can I still access the omitted keys on a 60% keyboard?
Yes, even though certain keys are physically removed from a 60% keyboard, their functions can still be accessed through key combinations using the Fn (Function) key. For instance, pressing the Fn key in combination with another key might activate the arrow keys, function row, or other missing features.
Which brands or models are popular when it comes to 60% keyboards?
Popular brands that offer 60% keyboards include Ducky, Anne Pro, Keychron, and Vortex. Models such as the Ducky One 2 Mini and Anne Pro 2 are especially well-received in the mechanical keyboard community for their build quality, customization options, and overall performance.
Conclusion
Buying a new keyboard can be stressful, especially if this is the first time you are buying a 60% keyboard. It can be complicated if the choice you make will impact your schoolwork, gaming, or income. You will want to think about your needs carefully and then move from there.
Most people want to start with the typing quality and the type of switches and then move on from there. The four keyboards mentioned above are some of the best 60% keyboards on the market today, so you can't go wrong there.