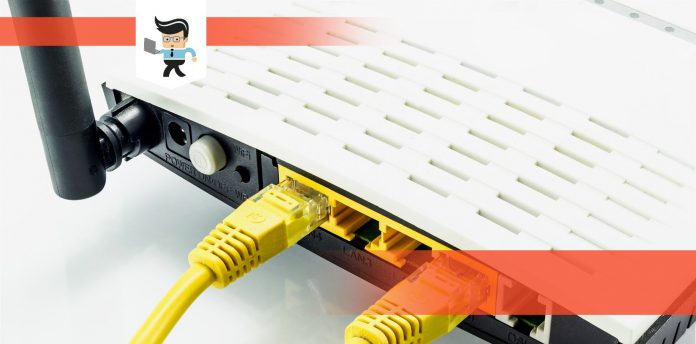 The MB7420 vs. SB6183 comparison is necessary if you're considering either modem to work with. Both modems are made to exude quality and excellent performance.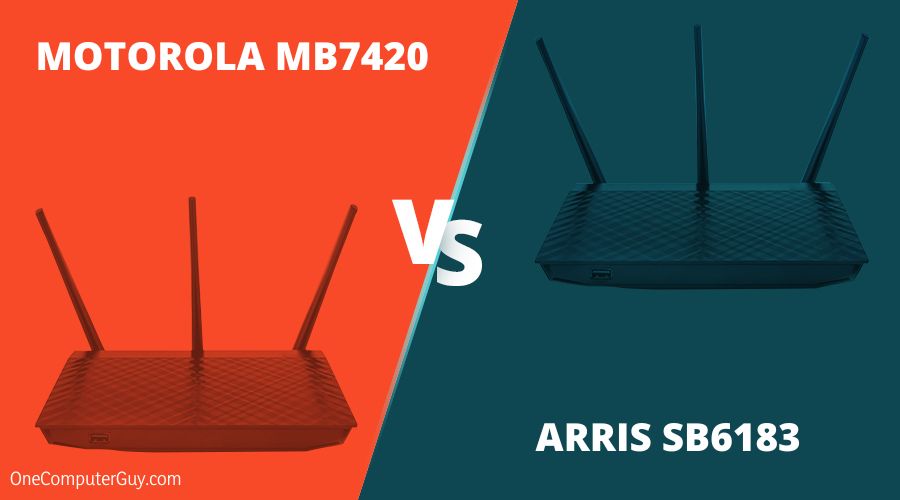 But, that doesn't make them the perfect solution for your internet needs.
How do we know this?
Our review team has pitted these two modems against each other to help you conclude which is best for your lifestyle.
A Breakdown of Key Specifications
The fact is that getting the right cable modems can go a long way to lower the amount your ISP charges each month, but that doesn't come easy at all! There are some important factors you need to consider in a modem before you buy.
Here are the key specifics:
Product
 Specifications
MB7420

Brand: Motorola
ISP Compatibility: Universal
Downstream data: 686 Mbps
Upstream data: 123 Mbps
Weight: 0.58 pounds
LAN ports: 1
Wired speed: 1000 Mbps
Download channels: 16
Upload channels: 4
DOCSIS certification: 3.0

SB6183

Brand: Arris
ISP Compatibility: Universal
Downstream data: 686 Mbps
Upstream data: 100 Mbps
Weight: 0.9 pounds
LAN ports: 1
Wired speed: 1000 Mbps
Download channels: 16
Upload channels: 4
DOCSIS certification: 3.0
SB6183 vs. MB7420: What Makes Them So Special?
Surfing the internet shouldn't be a chore, neither should you have to constantly look over your shoulder wondering how much your Internet Service Provider (ISP) will take from you. Whether you want to do some school assignment, take-home task from work, or heavy downloads, a cable modem can do the trick.
Another reason the Arris SB6183 and Motorola MB7420 modems are preferable, is that they are usually a lot faster than your ISP, so if you need to get some demanding tasks done in real-time, you might want to give these cable modems a consideration.
With a good internet connection combined with very fast speeds, you'll enjoy your time on the internet, and you even get to upgrade on the modems you have as soon as newer models are available.
Away from their selling points, let's get to the full scope of this comparison article that will help you understand the unique features of each modem, including their impressive specifications and other capabilities you'd like. As we go on, your preferred choice will get clearer.
Pros
  Compact and sleek design
  It has power surge circuits
  Fast speeds
  Compatible with major ISPs
Cons
  It lacks a built-in Wi-Fi router
  Can get unstable
The Motorola MB7420 modem is designed with your home or workspace in mind. It's powered by DOCSIS 3.0 and will give you fast speeds reaching up to 686 Mbps, which is pretty cool for a modem that combines a 16 X 4 channel bonding that supports high-speed internet surfing, HDTV, gaming stations, and downloading content.
The device also comes with a color-coded back panel with boldly labeled ports to avoid getting wires crossed and ensure minimal interruptions while working online.
Further, the MB7420's Ethernet port helps you connect to a computer, gaming station, HDTV, and wireless router with ease. As a result, it's the perfect device for internet plans of up to 300 Mbps.
However, it does not include a Wi-Fi router, and there's no support for digital voice service like its counterpart here.
– Speeds: Get the Best Out of Your Internet Connections
The Motorola MB7420 specs are okay for the price, delivering up to 686 Mbps, thanks to the DOCSIS 3.0 feature. DOCSIS is also sixteen times faster than the regular 2.0.
Imagine all the good things you can accomplish with such speeds. In addition to that, the modem features a capture digital tuner to ensure faster speeds over a reliable Internet connection.
– Ports: Get Some Wires In Without Stress
An Ethernet 10/100/1000 Gigabit port allows you to connect with HDTV, Computer, and gaming station. You can also connect it to a wireless router since there's no in-built router.
– Compatibility: Linking With Other Devices
There's no point getting a modem that's not compatible with some of the best devices and brands. To that extent, this MB7420 is compatible with major brands such as Comcast and Time Warner Cable Modem (Spectrum).
In addition to that, Comcast Xfinity gets you speeds of up to 300 Mbps for residential and 250 Mbps for business.
– Setup: Simple Steps to Connect
The setup process is fast and easy, along with the attractive and compact design that suits all interiors. You can set it out with a few simple steps, and Motorola also provides USA-based customer care support.
Heating is not an issue here, as the modem comes equipped with 1 Gigabit port and vents on either side to deal with overheating, like most top modems out there.
The modem also offers support for Cox, Time Warner Cable, Charter Spectrum, and Comcast Xfinity.

– Overview
Going by our Motorola MB7420 review, we find out that it's ideal for heavy internet users looking to connect other devices to their network. It's fast, reliable, and combines well with external routers.
Pros
  High downstream speeds
  Easy setup and web access
  Compatible with many ISPs
  Durable over long use
Cons
  LED Indicator lights are too bright
  No built-in Wi-Fi router
We begin our Arris SB6183 review by acknowledging what a solid performer it is. It's primed for home internet customers at home and in the workplace. You'll have to look harder for these ones because they're hard to find.
With a compact and discreet design, it's easy to tuck this device away or next to an active router. There's a coaxial cable connector near the power connector, as you'll notice when setting up the modem.
The SB6183 modem also comes with a simple row of vertical LED indicator lights. These can be annoying, with many users tagging them as too bright. Nonetheless, they help give you a heads up on some connections or whether the modem is on or off.
You'll get fast speeds on this modem if you add a new firmware and hardware package. That's because the new firmware improves on the previous model while the new hardware takes care of some issues.
– Speed: Fast and Reliable Over Connections
Going by the Arris SB6183 specs, the modem still ranks as one of the fastest around, thanks to its DOCSIS 3.0 feature, much like the MB7420 reviewed above. You can rest assured it will get the job done swiftly and efficiently and will not get deprecated for a few more years.
That means it's not too late to get one. You also get fast speeds for online gaming or movie streaming with multiple different users.
– Compatibility and Connectivity: More Approved Devices
This router works very well with newer routers. Although older routers also work fine with it, don't expect to get the best speed levels the modem can provide.
Like all modems in the market, you also need to ensure your router can handle the speeds before getting one, and the SB6183 is no different in that aspect.
The model offers support for the AC1750 series since it handles the speeds better coupled with its traffic-management features that optimize the modem's performance for demanding tasks such as online gaming.
– Setup: Smooth and Seamless
The setup process on this modem is quick and to the point. Linking it with compatible devices is way more straightforward, and the manufacturer provides everything else you need to know.

– Overview
Like the MB7420, this router is perfect if you do many heavy downloads, online games, and internet-intensive activities. You'll get a dual thread processor that serves to boost the modem's performance.
Motorola MB7420 vs Arris SB6183: Head to Head Comparison
The main difference between Motorola MB7420 and Arris SB6183 is, SB6183 has a sleek, minimalistic design and many bent holes and comes with the has a Broadcom BCM 33843D chipset, while MB7420 comes with a newer Broadcom 3384 chipset equipped with a Full Band Capture Digital Tuner.
Our Motorola MB7420 vs. Arris SB6183 comparison isn't complete without looking at their similarities and differences. They're both excellent options and offer fast speeds across linked devices.
Build and Design Features
If you take a good look, you'll notice that the two modems have identical dimensions, but they're not the same in every way. The Arris SB6183 is sleek in design and has many bent holes around it to combat overheating. It also comes with a white plastic case which makes it a space-saving device. You can also mount it on the wall.
As for the Motorola MB7420, its deep black color gives it a suave look, and it is slightly lighter than the SB6183, thanks to its compact and minimalistic build. While this could enhance portability and ease of use, it could also give rise to some stability issues, which isn't what you want for your modem.
As a result, the wall-mounting option, elegant design, and decent weight make the SB6183 a better choice.
Tech and Performance
If you're planning on getting the Motorola MB7420 or SB6183 router, then you have to be sure the tech and performance offered by each device will meet your needs and demands.
The SB6183 has a Broadcom BCM 33843D chipset which incorporates a 1GHz-capable tuner. With that, it can use the total downstream bandwidth to capture all the sixteen channels for bonding to help improve the modem's overall performance.
The Motorola MB7420, on the other hand, comes with a much newer Broadcom 3384 chipset equipped with a Full Band Capture Digital Tuner. With that, the modem ensures fast speeds consistently from your service provider.
Speed
In terms of speed, both of these modems have the same high download speeds. In upload speeds, the MB7420 has a slight advantage over the Arris SB6183.
However, it does not impact the overall performance because we download more than we upload when using the internet.
Frequently Asked Questions
1. Does the Arris SB6183 and Motorola MB7420 come with Wi-Fi?
No. Having no Wi-Fi is a stick used to beat these two devices.
They both come with a cable modem only. That means if you want wireless access, you'll need a wireless router to go along with either modem.
2. What is a 16 x 4 Modem?
The 16 x 4 modem refers to a cable modem equipped with the DOCSIS 3.0 protocol. It has sixteen downstream channels coupled with four upstream channels for data transmission.
These kinds of modems give off high speeds reaching 686 Mbps, capable of supporting computers, gaming stations, and much more. The SB6183 and MB7420 use this protocol.
Final Thoughts
Before you conclude on the right modem for your lifestyle, don't forget to weigh your needs and find out if the speed and overall performance will not be an issue at any point.
If you want a sleek, compact modem with a modern appeal compatible with major ISPs, go with the MB7420 from Motorola. But if you need a bold, reliable, and durable option that works fine with many ISPs as well, you can opt for the SB6183.
In the end, we think the SB6183 is slightly better than the MB7420, with a lower cost for those looking to save some money. Plus, Arris now produces Motorola cable modems, and by extension, the SB6183 does everything that Motorola does.