You can learn how to stop emails from amazon in a few steps. This post highlights the steps you need to follow to stop amazon emails from filling your inbox.
So carefully follow these steps to remain free of these emails. 
How to Stop Emails From Amazon? Simple 5 Steps
You can stop the marketing emails from reaching your inbox by altering the options under the communication preference.
Therefore, log into your Account, go to settings, and select Communication Preferences under Account. Go to Email Preferences>Promotional Emails and click "Do not send me any marketing emails for now."
Here is the detailed procedure for how to turn off amazon notifications:
– Step 1: Sign In to Amazon 
You can only access amazon email notification settings through a computer browser or by requesting a desktop site on your mobile browser. So launch your browser on a computer and type Amazon.com or the regional version for your region.
Click Sign In, enter your sign-in credentials and log in. 
– Step 2: Go To Your Account Page
Place your mouse's cursor on the Accounts & Lists button at the top right corner of your screen. If you've not signed in, this is the place to sign in; otherwise, when you place your cursor here, you will see a drop-down menu. 
Click on Account to open the "Your Account" menu. This section has all the necessary settings for your Account. 
– Step 3: Tweak Communication Preferences
You will need to configure different aspects, including stopping amazon send emails. To do so, scroll down to Communication and content, click on the Communication Preference link to select amazon email preferences, and go into the amazon communications preference center. 
Scroll down to Email Preferences and select the Promotional Emails option. It is the lowest part of the page. Click on the down-facing arrow to expand the options. 
– Step 4: Set Your Preferences 
The promotional Emails section has multiple categories, indicating that you want to receive promotional emails relating to that specific department when enabled.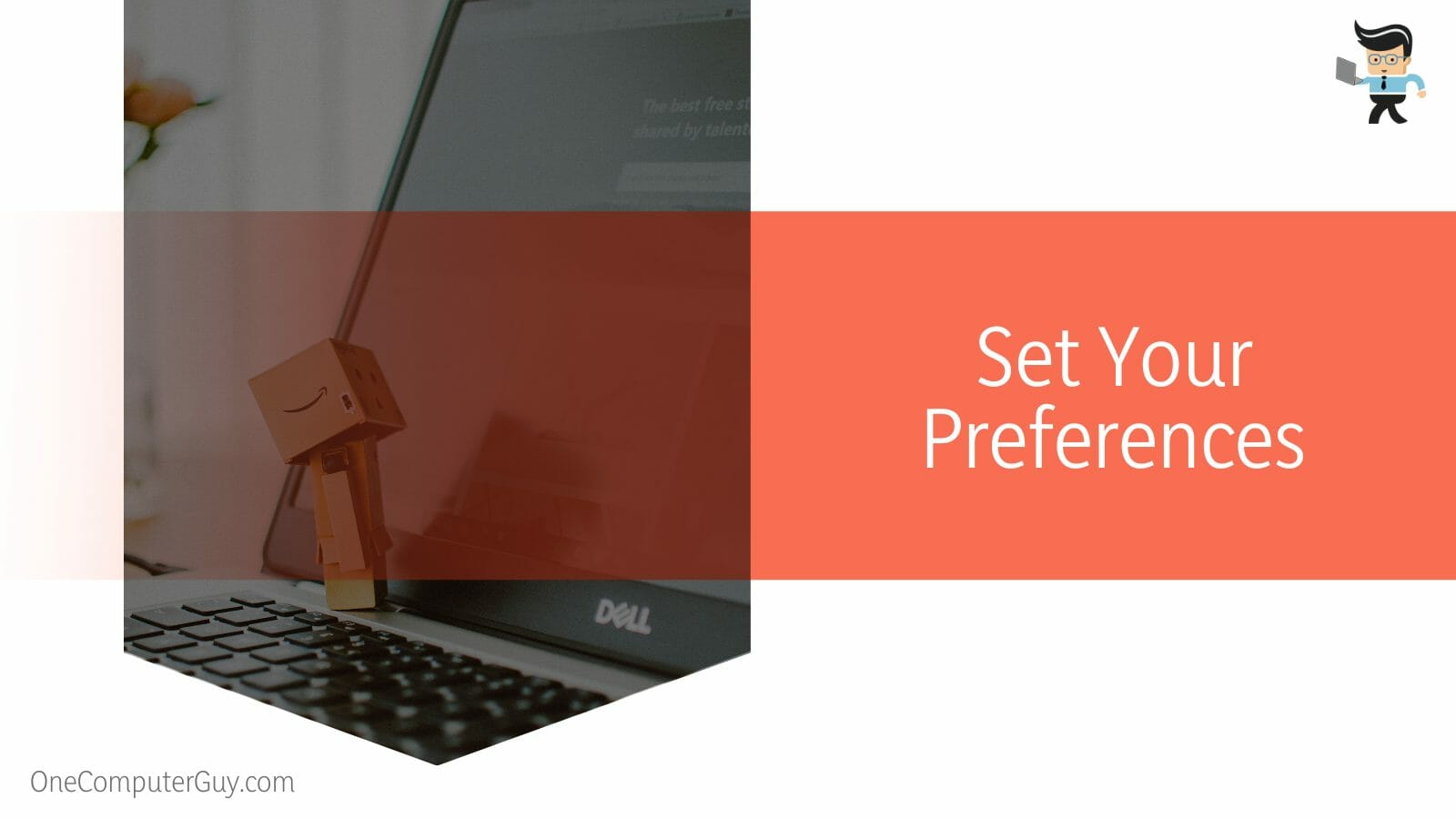 Since you do not want to receive the emails, scroll to the bottom of the page and check the box next to the "Don't send me any marketing emails for now" option. When you are satisfied with the changes, click on the Update button. 
– Step 5: Check your Email Subscriptions
You must also configure Amazon's email subscriptions separately from the promotional emails you tweaked in the previous section. Therefore, navigate to the "Your Account" page and scroll down to the Communication and content option. 
Click on the Email subscriptions option to display a list of email services you are currently subscribed to, i.e., Current Subscription.
To the far right of each subscription, there is a switch; turn off the switch for each subscription if you do not want to receive emails. 
Click on the Browse All Subscriptions tab to double-check your changes. Typically, this tab lists all email subscriptions. So, you can use it to turn off all the options you do not want. 
How to Use Your Email Service Provider to Stop Amazon Messages?
You can also stop amazon order emails or similar messages by stopping the message from the email provider. Note that amazon does not allow you to unsubscribe from certain emails like tracking emails or order confirmation emails, which otherwise would've been the best method for unsubscribing. 
The answer to how do I turn off amazon delivery emails 2022 lies below:
Log into your email account by entering your email

and password. 

Go to the inbox and search for the email you wish to delete, e.g., an

amazon order confirmation email

. All emails from amazon have @amazon.com.

Create a filter. To do so, go search options, enter your search criteria and click Create filter. 

Select your filter options – choose what you want the filter to do. For instance, you can archive or send it to a spam folder. 
You can add a manual filter by clicking the gear icon (top right corner) and selecting the Settings button. Once at the Settings page, select the Filters and blocked addresses option. 
Go to the Create a new filter link and type the amazon department into the field "Has the words." Do not use the From field, as it only searches for a full email address. Select the Create filter with this search link.
From here, you can choose the different options. For instance, if you don't want to see the emails, select Delete it. Otherwise, select Skip the Inbox (Archive it), Mark as read, Apply the label or combine all the options. 
The above steps might differ depending on your email service provider. Once you create a filter to forward your emails, only new messages will be affected. Also, a replied message can be filtered if it meets certain search criteria. 
How to Block Amazon Messages From Your Service Provider?
You can block amazon messages from your service provider by blocking the number from which the messages are being sent. For this, just tap on the three dots on your mobile phone's top right corner when the messages are open.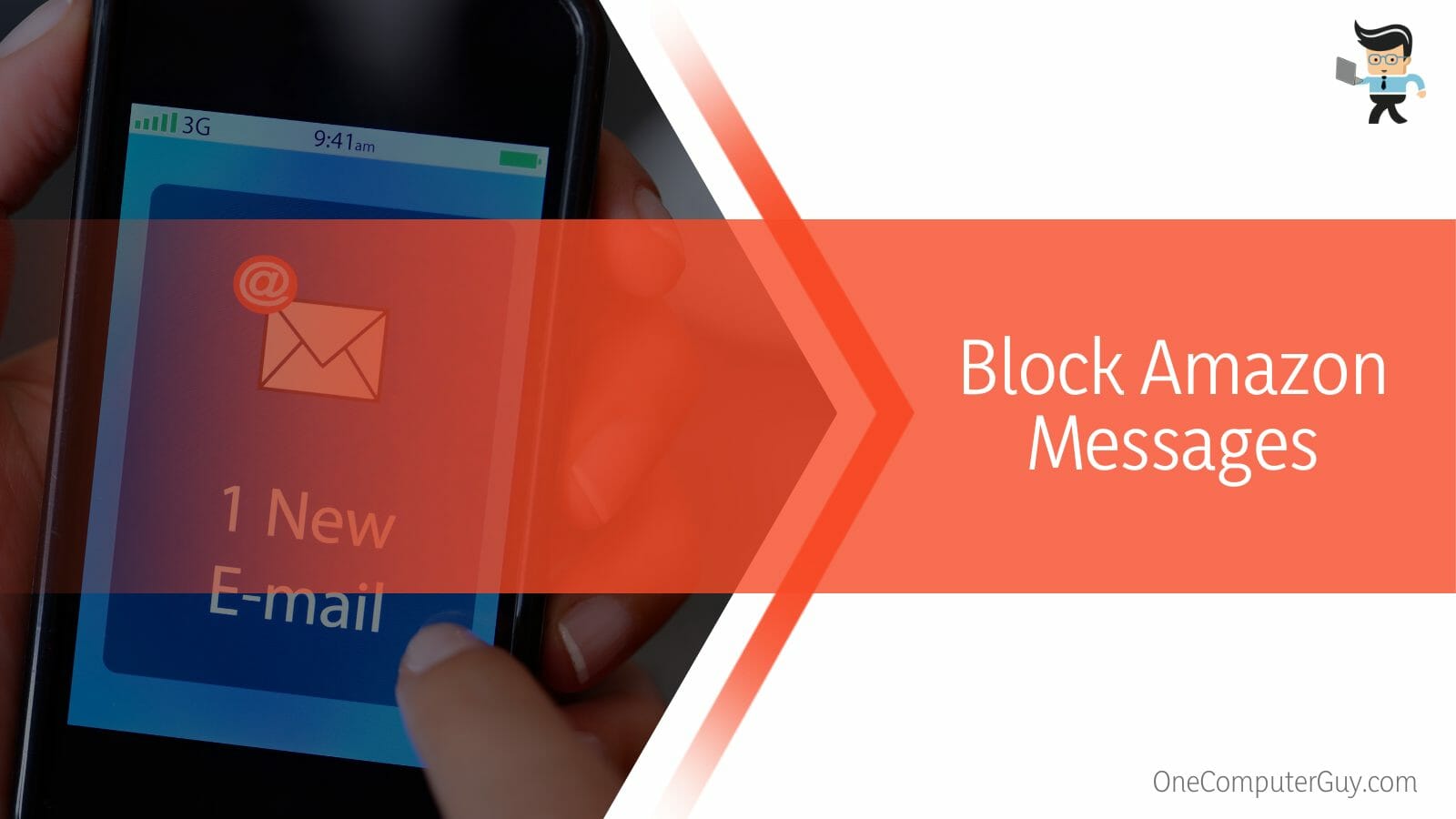 You will be able to block these messages from there.
Log into your email and open the message from amazon 

At the top right side of the email, you will see three vertical dots. Click on them to open a drop-down menu.

Scroll down the list to find Block amazon.com email subscription and click on it 

You'll receive a pop window with the information that future messages will be sent to the Spam folder. Click on the Block option. 
If you do not want to block the email, you simply unsubscribe from the promotional emails in a few steps.
Here are the steps:
Launch your email service provider, e.g., Gmail, and log in. 

Open one email from amazon. 

Go to the sender's name, i.e., the amazon department that sends the email; next to the name, you will see Unsubscribe. Click on it and select Unsubscribe on the pop-up window. 

Sometimes you will see the option Change preferences. Click on it and follow the onscreen prompts.
If you do not see either option, follow the above steps to block Amazon departments or mark the messages as spam. The above steps might differ depending on your email service provider. These are Gmail procedures.
How to Block Amazon Messages Using Clean Email?
You can block amazon messages via the clean email tool by using it to unsubscribe emails, as it has the Unsubscriber feature to automate unsubscribe requests, pause subscription emails, or block unwanted senders entirely. Besides, you can see all your subscriptions in one place and instantly unsubscribe with a click.
You can use Clean Email to organize and manage unread and unwanted emails more efficiently. This third-party application works for Gmail, Outlook, Yahoo, iCloud, AOL, and many others. 
Here is how to use the application:
Set the Auto Clean feature to remove unwanted Amazon messages automatically. You can apply selected rules and actions to emails in your inbox. For instance, you can "Mark as read" or "Archive" all promotional messages.
So with the Clean Email app, you can manage your inbox stress-free. However, you must be proficient at using it.
It's worth pointing out that when you search "turn off amazon email notifications Reddit," many Redditors give different methods of turning off the email notifications. Just select a method that works for you from this list. 
Conclusion 
If your amazon bombards your inbox with several messages, you can easily block them using the steps in this post.
Here are the highlights:
You can stop email notifications from amazon by selecting "Do not send me any marketing email for now" in your amazon account settings. 

Also, you can block or unsubscribe from emails from amazon departments from your email provider.

You can make the process much easier using third-party email organizers such as the Clean Email app.

In some cases, you might need to use all the above techniques to successfully block amazon messages from reaching your inbox.
You have the methods and procedures to block emails from amazon; use them when they appear in your inbox. 
References
https://support.google.com/mail/answer/8151?hl=en&co=GENIE.Platform%3DAndroid

 

https://www.amazon.com/gp/help/customer/display.html?nodeId=GJAW9SFGM8XTS89H