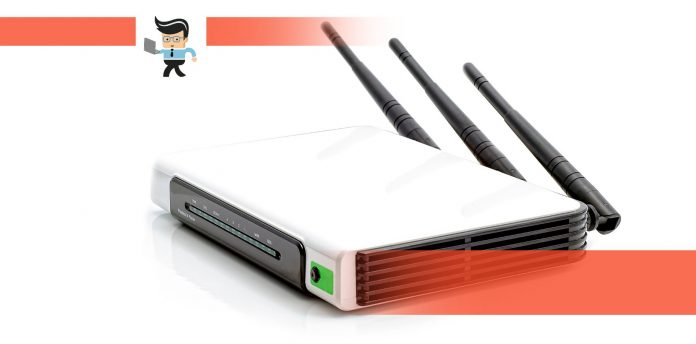 The Belkin N450 DB router offers an ultra-high-speed Internet connection for any task. That's right, you can surf the net at home, stream HD videos in your office, and play your favorite games without any hassle.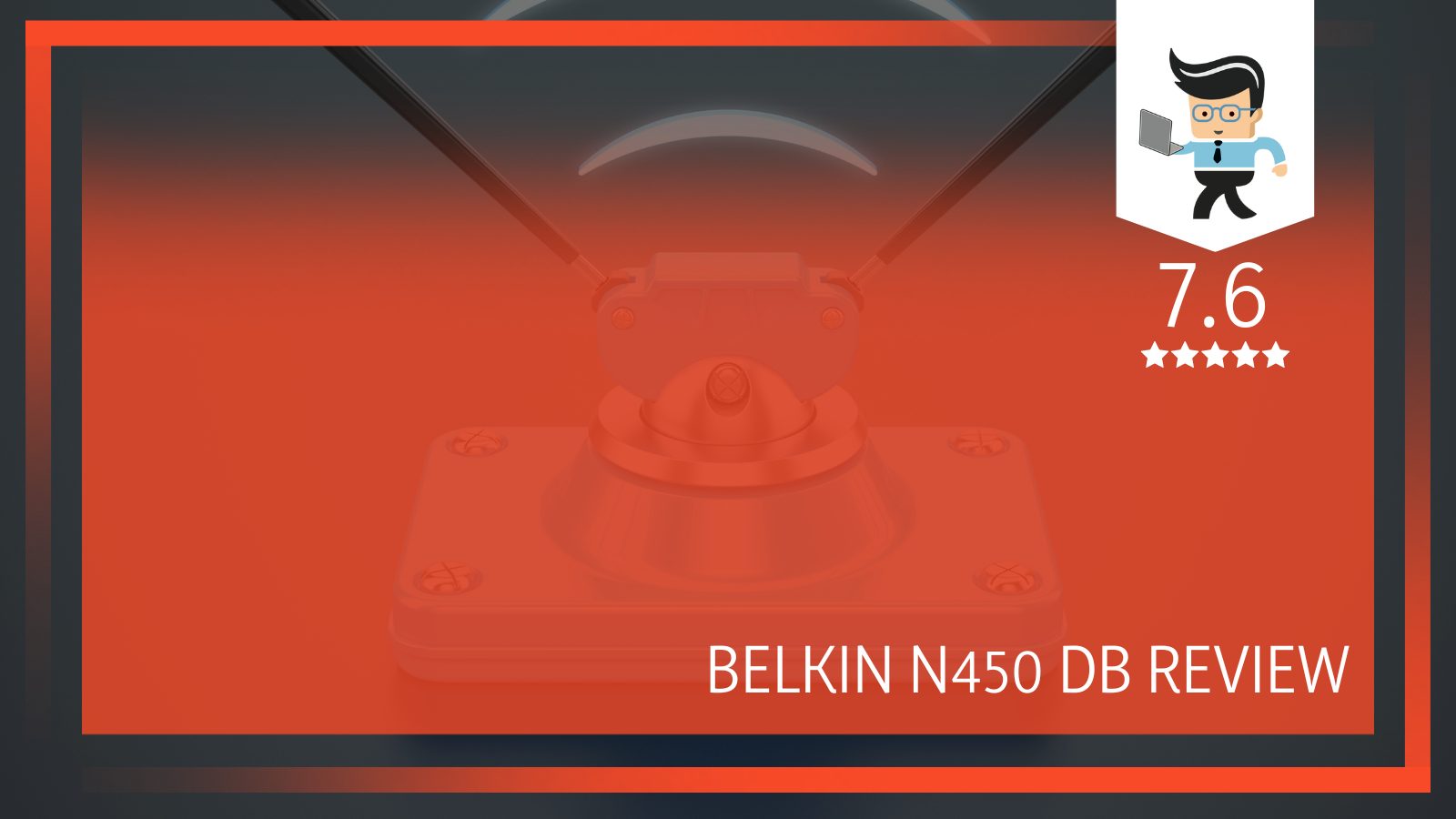 But does it really maintain the same performance in every situation? How about its security features and coverage—can you bank on them? 
Our review team has gone the extra mile to bring you this review in a bid to help you determine whether it's right for you or not. Read on!
Top Specifications at a Glance
Product
Key Specifications
Belkin N450 DB

Max Speed: 450 Mbps
Frequency Band: Dual-Band
Connectivity: Wireless
Ethernet ports: 4
Antenna: Internal
Security: WPA, WPA2, WEP
A Top Router for a Decent Price
Sometimes, you need a router that gives you some old-school feel but packs some modern features. That's where the N450 could be perfect with a speed-driven internet connection to help you get the best out of streaming and other online activities.
The router comes equipped with great features that allow users to enjoy outstanding streaming at home or office space. If you perform other tasks over the internet, you can count on the Belkin n450db to keep up the pace when it matters most as well.
At such a fair price point, the router incorporates some advanced technology features for various activities that allow users to stream their favorite videos online and enjoy their favorite games without stress. That means you have little to no buffering issues or connections getting lost.
Thanks to its dual-band frequency design, the router delivers a high-speed data transfer rate that works simultaneously to give you a maximum speed of 450Mbps, which is fast enough for many online functions.
You can have your entire family enjoying the router with communication at top speeds or multiple users at different ranges. Whatever the case, you're guaranteed the top features that will leave you satisfied and impressed, some of which we will touch upon as we proceed with this review.
Belkin N450 DB Key Criteria
PROS
Strong performance for video streaming
Easy setup
Simultaneous dual-band operation
CONS
It lacks a USB port
Build cover isn't strong enough
Truth be told, the Belkin N450 DB specs are a bit limited, but you get some vital points to operate with, notwithstanding. However, if you insist on cutting-edge technologies, you won't get far with this router. That's the plain truth about this Belkin product, even if it ranks as an excellent device for different functions.
Like other superb routers, the N450 DB comes with double bands – 2.4GHz and 5GHz, and it is also compliant with the 802.11n/b/g wireless standards.
On the 2.4GHz band, you get a transmission rate of 150 Mbps, while the 5GHz band has 300 Mbps. As a result, the router can achieve a combined speed of 450 Mbps, which means it can handle most of the tasks thrown at it without any hassle.
– Design: Exceptional Design
The Belkin dual-band wireless router comes with a design that speaks more of its budget-friendly price point at a quick glance, but that doesn't take anything away from its performance and user-oriented features.
It sports a matte black finish and a stand-up design that gives off a speaker-like look and comes equipped with the latest internet standards that enable it to work with different mobile and wired devices.
There are LED status lights on the front panel of the router. When there's no power on the router, the light is off but blinks once connected. With a connection to the internet, the light assumes a solid blue color. Besides that, in situations where the router cannot connect to the modem, the amber lights indicate to notify you of its inability to establish a connection.
That's not all on lights, though. You get indicators around the front panel for the WPS button.
Whenever you are able to establish a secure connection between the N450 router and other devices, you'll be able to tell from the indicator light, which shows you the status of the WPS connection.
The back panel gives you something different because that's where the modem connector stays. Alongside the modem connector, there are four LANs for wired connections, the reset button to restart the device, and the power switch.
– Connectivity Options: Keep Your Wireless Devices Connected Always
The truth is, the Belkin N450DB firmware does not offer support for a USB connector that allows you to connect external hard drives and other USB-wired devices, which is a bit of a letdown for users who want the whole cache of features to play with. Not to worry, with the 2.4 and 5GHz bands, you can connect wireless devices to use at the same time.
– Antenna: Internal Connectivity
At first glance, you'd be forgiven to think that the router does not come with an antenna. Well, the lights do an excellent job of helping you know what's up with your connections. However, the minimalistic build and design of the N450 mean the antenna has to be inside, which is a welcome development, considering the fact that many users would prefer their router simple and easy to use.  
You can use a vertical or horizontal position for the router with a stand included in the package.
– Setup: Nothing Could be Easier
This router has some unique qualities, such as efficient video streaming, high wireless speeds, and the synchronized dual-band function. It also lets you use different wireless devices together. However, the Belkin N450 DB setup is not only easy but also comes with preset security.
With this router and the setup process, you will enjoy a lag-free online experience when playing games, chatting, and more.
– Security Protocol: Keep Intruders Away From Your Network
One advantage the N450 DB has, is that it shares security features with Belkin's more expensive models. For example, it supports the WPA and WPA2 encryptions coupled with two firewalls – SPI and NAT. In addition to that, the router features WEP encryption.
Parental control is an essential feature that forms part of the security protocols on this router. That means you can filter access to certain content within seconds.
For more safety measures, Belkin updates the N450 firmware on a regular basis, including support for both IPv4 and IPv6 protocols. Nothing is left to change so that users can have a safe time using their network connections.
– Speed and Range: The N450 Does Enough
If you're a speed freak, you get enough from this device. If 450 Mbps doesn't work, you can increase the Belkin router speed by adding extenders and repeaters. Over streaming devices, we found that it gave off a strong performance. Also, our tests showed slight lag even at a distance of about 30 feet. You'll still get a solid and stable connection, but the range over that figure might cause lags.

– Overview
This router is perfect for you if your home is your primary target. The range goes wide, but you get a more robust and more stable connection for all your activities within your home setting.
Frequently Asked Questions
1. Is the N450 DB worth getting?
If you love a minimalistic design, faster connections, and a secure network, this router is worth getting. Other features you'll enjoy are the dual-band wireless frequency, ability to use the Ethernet ports, and internal antennas to boost connections.
The router is also easy to set up thanks to a simple process and LED indicators to point out the way. However, there's a downside to every good thing. There's no built-in VPN feature here, something that some users find disappointing. Also, the unit's body surface has a look and feel that's easy to scratch. Moreover, there's no USB port to connect a drive or memory stick. So file transfers via cables are pretty difficult.

Conclusion
Sleek, compact, and functional, the N450 DB's minimalistic shape and internal antennas mean you have a portable device that can fit anywhere in your home or office space. It's the perfect option for users looking to get a fast wireless router without going over the top.
The speeds recorded on this router are enhanced by the dual-band design with advanced technology features, which helps to transmit data on the 2.4GHz and 5GHz bands at the same time.
In addition to that, you get four Ethernet ports that enable you to connect a wide variety of wired devices to the router.
On the privacy and security side of things, Belkin N450 DB allows you to give your visitors access to a separate guest network or book websites that go against your code as a parent. The router also comes equipped with other security features that keep you in control of your home network connections keep you safe from intruders.
Overall, the easy setup and configuration process is a big win, and the superfast connection speed is just the icing on the cake for a great router that comes at a budget-friendly price.