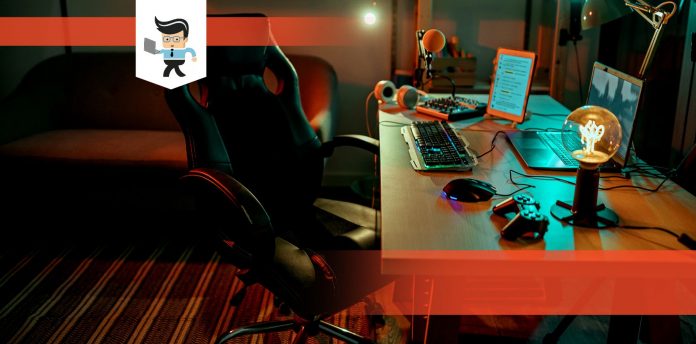 A Dr. Disrespect chair with all the features to improve your performances will make an excellent addition to your gaming setup. That's because a good chair is a viable tool in the hands of every streamer and gamer.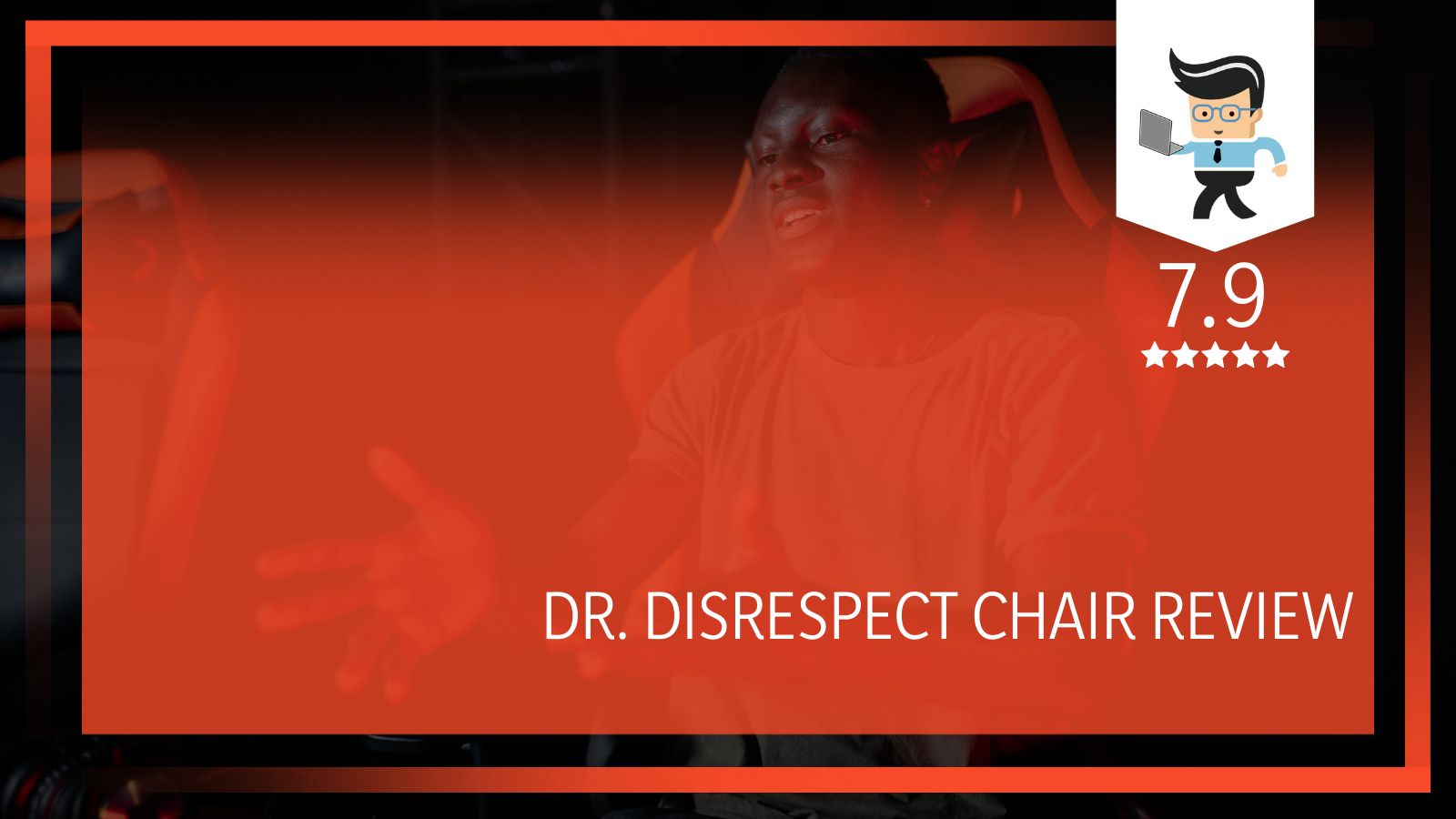 However, does Dr. Disrespect's chair counts as one of those? What about its top features? We will answer these questions and many more as we proceed with this review. Read on!
Dr. Disrespect Chair Specifications Table at a Glance
| | |
| --- | --- |
| MAXNOMIC Dominator  | Components  |
| Max weight | 370 lbs |
| Support | Lumbar, head |
| Height capacity | 7'0″ |
| Material | PU Leather |
| Frame | Aluminum, metal |
| Armrests | 4D |
| Max recline tilt | 155 degrees |
What Mouse Does Dr. Disrespect Use?
For starters, Dr. Disrespect makes use of the Roccat Kain 200 Aimo mouse for streaming and gaming. With this mouse, every click is cushioned by their hinged buttons.
These buttons feature a low-tolerance spring, thus allowing you to have better precision every time. That's necessary if you're going to be fast and straight to the point. How exactly does the mouse work for Dr. Disrespect? Here is what we think:
– Better Wheel
The wheel is also very responsive for high performance. In line with that, the mouse is comfortable to use. But will also last longer and will resist dirt.
The mouse wheel is solid and also carried an improved design that provides defined and responsive scrolling steps.
– Awesome Firmware
An intelligent firmware contributes to the process. As such, a click with the kain will register up to 8ms faster than on others. Thanks to improved switch mechanics and intelligent firmware algorithms.
– Comfortable Shape
A mouse should have a shape to keep your hand comfortable. This Kain mouse comes with a well-crafted ergonomic shape and builds to fit your hand and improve performance.
The performance coating has a grippy and durable style. As a result, the finish helps you have a firm grip. That's because the mouse has a hybrid anti-wear coating; Thanks to the performance finish, you won't lose hold on the kain even during the most frantic of gaming sessions.
The battery is rechargeable and lasts long. You can wire the mouse as well.
If you love a fast and precise mouse that will meet your gaming demand and complement your gaming setup, then the Roccat Kain product is for you.
What Chair Does Dr. Disrespect Use?
MAXNOMIC Dominator Key Criteria
PROS
High-quality materials
Lumbar and head support
Adjustability
Supports bigger users
Dr. Disrespect ranks among the most popular YouTube streamers out there. He has more than 3 million subscribers and features prominently as a pro gamer and a great entertainer. For this reason, gamers who follow Dr. Disrespect always want to know his streaming and gaming setup. Part of this includes the gaming chair he uses.
Dr. Disrespect uses the Maxnomic Dominator chair. The chair is built and designed with premium materials, including a high backrest suitable for tall gamers like Dr. Disrespect.
The brand name for the Dominator is well-known for manufacturing top-quality professional gaming chairs. It is regular for many other users and famous figures like Ninja and Timthetatman. As such, it's not a wrong choice which says a lot about Maxnomic's quality.
– Material
The materials on this chair are premium quality. For example, the seat cover comes with multi-layered PU leather for best resistance. It will resist flaking, sweating, and peeling. A class 4 cylinder connects the seat to an aluminum reinforced 5-star base.
Also, you get a soft PU coating that makes the casters perfect for use on hardwood and low carpets.
The foam is a durable cold-cured foam that presents a soft and breathable feeling. As such, you can enjoy your favorite games for more extended periods without feeling tired or exhausted.
– Design and Comfort
Every gamer needs maximum comfort to get the best out of their gaming activities. That's why this chair comes with an ergonomic design to encourage proper posture without compromising comfort.
For a gamer, your sitting posture goes a long way to determine how far and long you can go when unlocking new levels and outperforming your opponents while gaming. Like every other top gamer, Dr. Disrespect is well aware of this, which is why he has opted for the Maxnomic Dominator chair.
With the Maxnomic Dominator, you get a lumbar pillow and skin-friendly faux leather seat that provide ultimate luxury and a solid support base for every gamer.
What's more, for someone that is about 6'8″ in height and measures 100kg in weight, getting a chair that can accommodate his height and stand up to his weight is a great priority. The Maxnomic Dominator's sturdy base makes it perfect for Dr. Disrespect and other similar-sized gamers, and it is adjustable enough to fit into any standard position for tall gamers.

– Fully Adjustable
Dr. Disrespect's gaming chair comes fully adjustable. That's important considering the chair is rather big and tall for many users. It helps that you can adjust your seat to your liking with the 4D armrests present. Also, you can recline the backrest and use the lockable title mechanism.
It's worth noting that the 4D armrest can move in four different positions, and we all know how important getting the right angle is when playing games.
What Makes Dr. DisRespect's Chair Great?
We have pointed out that there are many Maxnomic gaming chairs to choose from. If you ask us, this chair is practically cozy. The MAXNOMIC generally comes in different sizes, different models. Each model is different from the others, and they all pack different styles and colors. However, the Maxnomic Dominator is Dr. Disrespect's choice. While it's slightly expensive, the chair is a solid option for every top gamer and enthusiast.
The chair also comes with faux leather and a sturdy base, and a combination of aluminum and steel frames. As a result, this chair is firm and provides a solid support base for your body. The back is a major attraction because of how sturdy it is.
Moreover, it suggests that the chair is for large people. For example, the chair measures 6'8″ in height and weighs over 120 lbs. If you're anywhere near that, this is the chair for you.
Another reason this chair is excellent includes the fact that it is adjustable. Despite your combination of weight and height, you can set things up to suit your needs. Again, you can always recline the chair to rest. That makes it the perfect dr disrespect streaming chair.
As always, if you love an excellent and high-quality chair in whatever category, it's always nice to give it a try. But if you love Dr. disrespect's choices and everything else he does, you can go ahead to choose this dr. Disrespect gaming chair. It will undoubtedly exceed your expectations; after all, it's all about working with a comfortable base.
Frequently Asked Questions
1. What makes Dr. Disrespect's gaming chair different from the rest?
Without a doubt, MAXNOMIC produces some of the best quality chairs out there, which delivers great quality that is well worth the money.
From cool user-centric features to premium quality and comfort, the Maxnomic Dominator helps you find the correct posture for your prolonged gaming sessions regardless of your sitting angle and positioning, which is something that only a few gaming chairs can replicate.
Also, the Maxnomic Dominator comes equipped with a dynamic vibration unit, cable connectors, and an SQ-AMP MK-II amplifier, all of which can help deliver a truly immersive experience when gaming.
2. Do I need to buy a Dr. Disrespect Chair for Maximum Games?
That's a personal decision you have to take on your part. Sure, the MAXNOMIC chair is excellent and packs certain qualities you'll only find on top-rated chairs. That makes it popular in the game competition and is chosen by many players.
As a gaming chair, it is sophisticated in many ways and built to meet the demands of every top gamer. However, it is also a product that not everyone can afford to get. For this reason, we feel that if you are not on the big side, you may want to consider other options. Not to worry, though, Maxnomic offers a wide range of chairs, and all you need to do is find a chair that fits your height and weight.
You will always have the assurance of buying from a trusted brand and following the example of a character like Dr. Disrespect. Besides, we prefer the Dominator chair for users who spend an extended time playing games or streaming.

Conclusion
Is the Dr. Disrespect chair solely responsible for his outstanding achievements in the world of gaming? Of course not. His entire gaming setup, including the components highlighted in this article, contributes to his exploits in the gaming community. However, his gaming chair stands tall as the most defining feature of his gaming setup.
Suppose you are looking to get a reliable and super-comfortable chair for your gaming and office use. In that case, the Maxnomic Dominator chair will make a great choice. If you are on a tight budget, then you should probably look towards other affordable options.
However, you will get the most value for your money when you purchase this chair. Its quality build and design imply that you won't be changing it any time soon.
Overall, we recommend the Dr. Disrespect chair to anybody looking to get a top-quality and durable gaming chair. The chair has a commanding presence, including an ergonomic design and comfortable build.