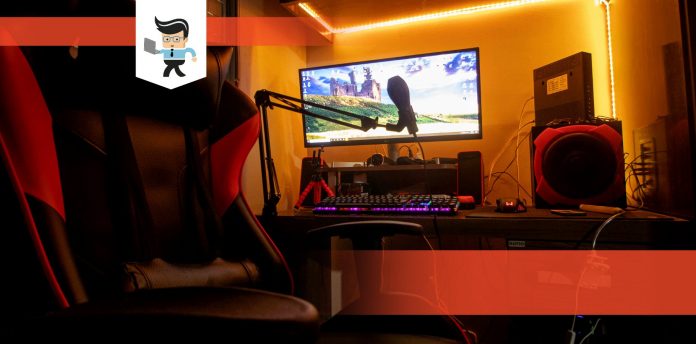 The Atlantic gaming desk is one of the most popular options for a gaming setup because the name carries just a bit of prestige. Atlantic has released gaming desks for over 30 years, including a few different types of gaming desks like curved gaming desks, professional gaming desks, and more.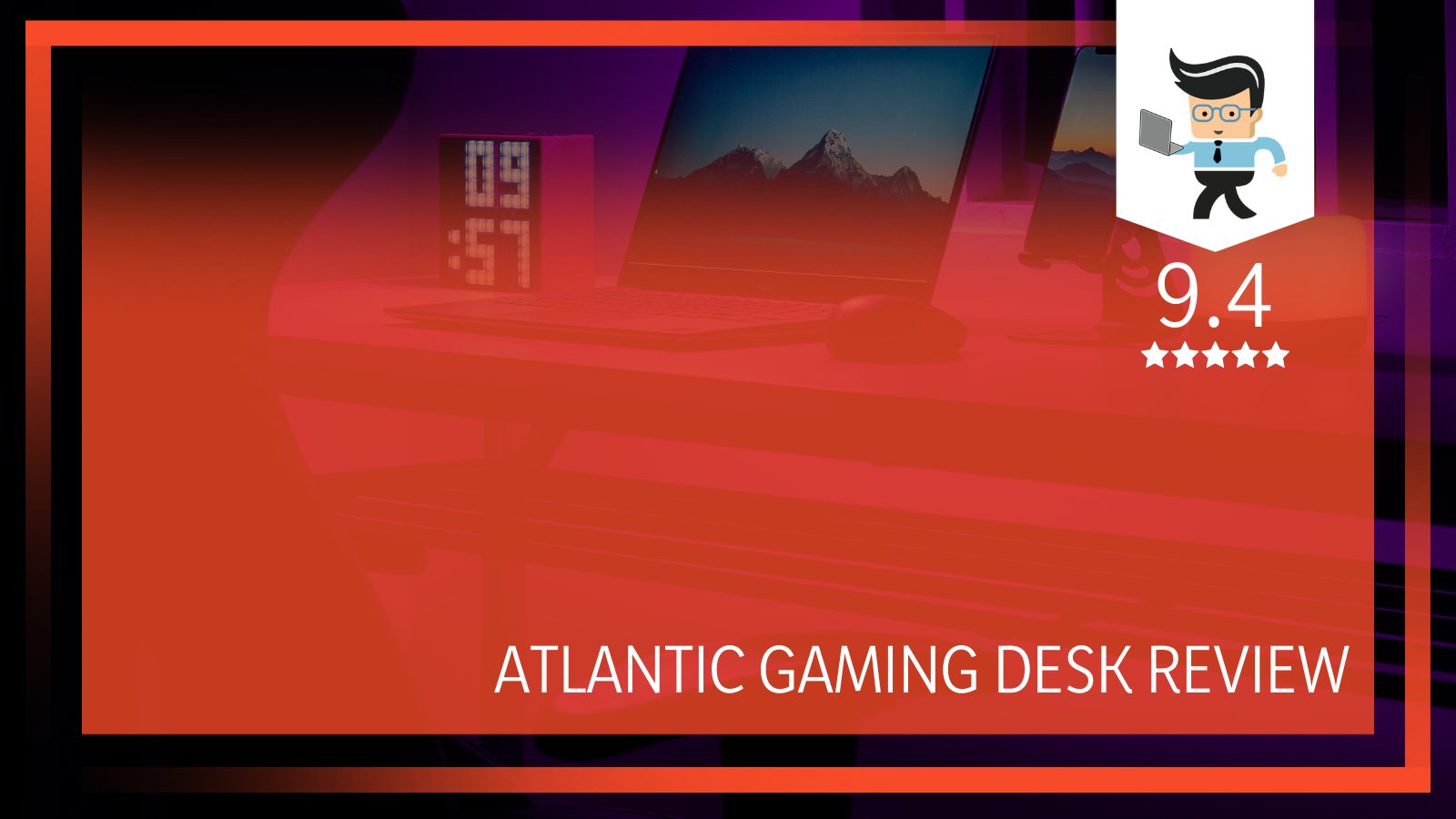 However, the original Atlantic Gaming Desk has always stood out as the most popular piece of gaming furniture.
In our review of the Atlantic Gaming Desk, we will look at the different features, explain what we feel the pros and cons are, and examine some of the Atlantic Gaming desk dimensions to see if they really fit in with a modern setup.
A Quick Review Of The Atlantic Gaming Desk
If you don't want to go through all of the review and you just need a TLDR version, here is what we think:
This is definitely made for gamers and gaming. The Atlantic Gaming Desk isn't going to be the type of desk you really want to do homework on or put a puzzle together on, instead, it is built for gaming.

It is made out of materials that will withstand some of your more extensive sessions where you get a little rough. Additionally, you won't really have to worry about your back hurting or getting muscle strain after you play for a few hours.
There are plenty of features that you will love. This gaming computer desk has many different features that will allow you to play for a long time. It has a charging stand for your tablet or phone, so you can keep it charged and glance at it when you are playing.
It also has speaker stands, game storage, an under-desk basket, a controller stand, and built-in wire management. You will be able to keep everything you need right near you.
The 6H x 7W x 22L inch elevated shelf supports up to 27-inch monitor, and if that isn't enough space for you, you can remove the shelf to fit in a 32-inch monitor.
Atlantic Gaming Desk Key Criteria
PROS
Charging stand for your tablet or phone
Speaker stands
Game storage
An under-desk basket
A controller stand
Built-in wire management
Made out of very strong steel
Convenient monitor stand
CONS
Packs too much into one desk
Speaker brackets are pretty small
Older or bigger speakers may not fit
Cup holder only fits onto the right-hand side
The Atlantic Gaming Desk has more than earned its place at the top of most gamers' wish lists. It has more features than almost any other (affordable) desk on the market today. It was designed by gamers, for gamers, so it has everything from speaker setups so that you get that surround sound you crave to a cup holder so you never spill again.
There is a power brick holder, a headphones holder, and a controller holder so that you can keep everything organized (and you will know where it is). You can add several optional attachments and, if you go on the Atlantic website, you can buy even more accessories.
Atlantic Gaming Desk dimensions
The desk itself weighs 37.4 pounds (meaning a single person should be able to lift it by themselves). It measures 40 inches in length, 23.5 inches in width, and 29.5 inches in height.
This desk doesn't lonely look great, it is designed extremely well. The tabletop itself is made out of very strong steel and it has a carbon fiber finish. The body of the desk is steel as well. This is going to be a desk that you can move, game on, and maybe even kick a few times in the heat of battle and it will survive.
However, some people aren't a fan of the "metal" look, so that is certainly something to consider. They really paid attention to the details here: to counteract the weight of the desk, there are non-marring feet to keep the desk from sliding or marking up your floor and/or carpet. The tabletop itself is made from metal and has a carbon fiber finish that is gorgeous. It doesn't show fingerprints or marks all that easily.
Features of the Atlantic Gaming Desk
The Atlantic Gaming Desk has so many different features and add-ons. You can take many of these features away if you won't use them, but you probably will.
The desk comes with a convenient monitor stand that raises your screen to your chosen height so that you won't have to hunch over or have any obstructions. There is also a place for you to hang your headphones so they don't get broken, they stay out of the way, and you went twist or bend the cord if you have one.
You also get a shelf to store games or whatever else you want. Finally, there is a place to put your cords and mount a power brick so that everything stays organized. This is a good feature because you can't hide your cords in any way. A TV monitor holder that can hold a 27-inch monitor and support 40 pounds is also included standard.
– How sturdy is the desk?
As the frame is metal and steel. The Atlantic Gaming Desk is a very study desk for the cost. It is capable of support over 100 pounds of weight, so while you can't sit on it, you can certainly lean on it without having to worry about anything breaking.
– How hard is the desk to set up?
Some desks come with so many parts and are way too difficult to set up. This one should take you less than 15-minutes to set up, depending on the additional features that you want to attach to your desk. You can remove or add parts quite easily. This is a job that you can do by yourself with minimal tools or technical prowess.
– Are there any problems with the desk?
Of course, there is never going to be a product that is perfect for everyone. Some people think that the Atlantic Gaming Desk tries to pack too much into one desk, and sometimes that doesn't pay off.
For example, the speaker brackets are pretty small. If you have older or bigger speakers, they may not fit into the designated areas. Another issue that some people have noticed is that the cup holder will only fit onto the right-hand side of the desk, meaning that southpaws aren't getting any love.
-Is the Atlantic Gaming Desk worth the price?
Some gaming desks out there are very expensive, more than you'd pay for parts of your gaming set up. Sometimes, companies who make desks will find a gaming setup and they will amp up the price quite a bit. This isn't the situation here.
The Atlantic Gaming Desk became so popular largely because of how affordable it is and how much you get for the cost. There are many desks out there that aren't as high quality, don't have as many features, and won't last as long that are twice the price. Seriously, this is a steal.
– Will I need to buy anything else for this desk?
Once you get the Atlantic Gaming Desk, you will want to improve everything in your gaming set up. You may want to get a gaming chair that will fit into the desk, as it does have a bit of a strange design. I'd also consider getting some dusting tools because, while the steel and tabletop are beautiful, they will show off dust.
– Are there any alternatives?
Honestly, there aren't many other desks that will even compare to this one for the price. You will have to add another hundred dollars to the cost to even find something that really compares.

Conclusion
Overall, the Atlantic Gaming Desk is going to be one of the best purchases that you can make for your gaming setup. It has revolutionized the way that so many people game and approach setting up their PC, gaming room, or just that small corner that you have.
Just know that once you purchase this gaming desk, you will want to improve the rest of your setup, so be sure to set some money aside.