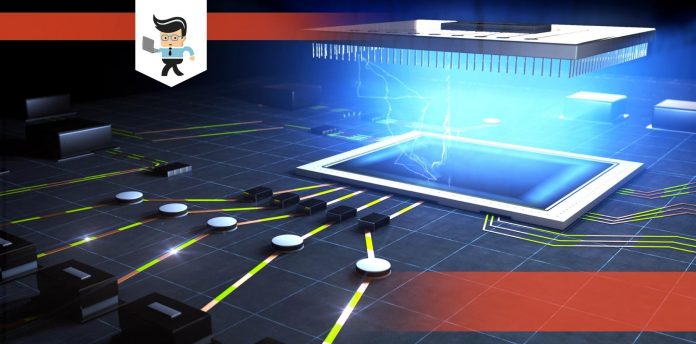 Knowing the pros and cons of using 9th Gen vs 10th Gen Intel processors is something that should matter if you're planning to get a new computer. We don't want you to use a processor that's not the best pick according to your situation, so we've gathered the most crucial information that you must have before deciding on a processor for your computer.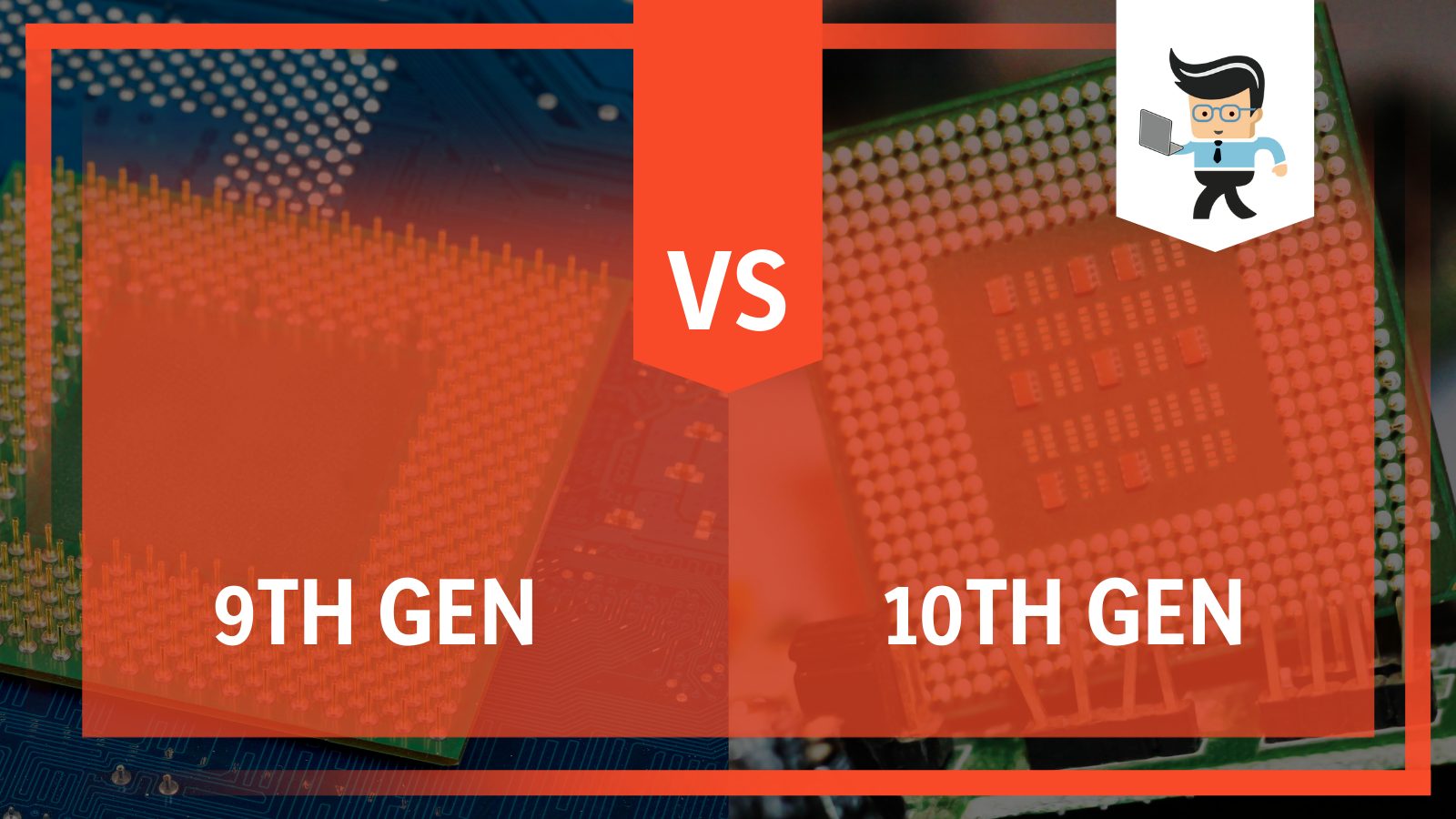 If you want to know the differences between 9th Gen vs 10th Gen processors, just make sure to read this guide thoroughly and you'll be able to easily pick the best processor for your computer.
Comparison Table
| | | |
| --- | --- | --- |
| Features | Comet Lake (10th gen) | Coffee Lake (9th gen) |
| Memory type | DDR3 | DDR4 |
| CPU | Hyper-Threading is additional | Based on 14++nm |
| Cores | Comes in Sunny core architecture with 10 cores 20 threads | 8 cores 16 threads |
| Graphics  | Better graphics performance compatible for 4k, 60Hz |  UHD Graphics 600 |
| Capabilities | Stronger and more durable for gaming CPUs without dedicated graphics | Better for gaming and good graphics, a little slower than comet lake. |
| Clock speed | Supports faster Wi-Fi capabilities |  Faster clock speeds than most 10th generation models |
| Video editing and 3D designing | These CPUs are more effective, dependable, and fluid to use most software | These CPUs perform incredibly well, but the 10th generation has better results |
9th Gen vs 10th Gen Intel
The main difference between 9th Gen vs 10th Gen Intel is that the 10th Gen processor delivers 18 percent more processing power as compared to the 9th Gen processors, along with a 2.5x increase in its AI characteristics.
– Processors
Winner: 10th Gen Comet Lake
The 10th Generation Comet Lake processors from Intel have just been introduced, adding some spice to the amazing two-horse race that is computer processing. The new range of processors replaces the earlier 9th Gen Coffee Lake CPUs by providing more cores, threads, and power.
The main difference between these 10th-generation processors is the Sunny Core architecture that is the basis of these new CPUs. Compared to the 9th generation processors and earlier generations, Comet Lake delivers a performance gain of 18 percent.
Until now, the Intel Core i9 CPUs such as the Intel Core i9-9900k and Intel Core i5-9600k  were the only Intel Core CPUs with hyperthreading, which was unfortunate because Intel's 9th generation of chips proved to have an excellent single-core performance. For some users, the 9th generation processors with 129GB RAM will remain unrivaled in terms of performance.
The 10th Gen Comet Lake core CPUs were announced earlier this year and include core-by-core switchable hyperthreading. If you happen to be an overclocking fanatic, you might be interested in this new feature, but most users won't find it very interesting.
– Processor Performance
Winner: 10th Gen Comet Lake
Both the 9th Gen vs 10th Generation Intel CPUs have good performance levels, although the 10th generation chip performs a little bit better. The 10th generation processors' enhanced concentration on artificial intelligence is one of their best features.
To increase the responsiveness of their systems, Intel has increased the AI characteristics of the 10th Gen processor. With the Deep Learning Boost technology, the 10th Gen core provides a 2.5x gain in AI performance over the 9th Gen processors. It forecasts workloads and maximizes performance to make the most out of the CPU in the easiest manner.
– CPU Cores
Winner: 10th Gen Comet Lake
Despite having comprehensive support for LGA 1,151 and 14-nanometer technology, a 9th generation Intel Core processor still outperforms a 10th generation processor in terms of performance. Meltdown and L1 Terminal Fault hardware patches are also included in the Core I series' ninth generation. Also, since the 10th Gen process has eight threads while the 9th Gen has four; the 10th generation Intel Core i3 processor manages significant CPU resources much better than the 9th generation.
When creating extremely demanding content, such as 3D modeling, doing advanced photo editing, or video editing, more cores are typically better. Any multi-core performance system will work best with processors from the 10th generation and will perform better in highly demanding tasks than the 9th Generation processors due to an increase in cores, and this is evident from most Intel 10th Gen vs 9th Gen benchmark.
– Graphics and Gaming
Winner: 10th Gen Comet Lake
Generally speaking, graphics produced by CPUs with the best graphics card performance result in smoother gaming and nicer graphics. You will achieve the highest "G7" rating for gaming performance with the 10th Gen processor. However, when it comes to graphics performance, there is no difference between the 9th and 10th Gen processors. Both of them offer comparable performance levels.
In addition, the Intel 10th Gen processor will feature Iris Plus and Gen 11 graphics. It claims to bring better functionality to systems running on Ice Lake. Our team of experts advise the 10th generation core if you want better graphics performance because it is a dependable CPU that supports the UHD Graphics 630 and has cutting-edge, cutting-edge technology.
The G7 dynamic range levels have also enhanced visual performance. The 10th generation's Iris Plus graphic architecture makes for a faster and smoother gaming experience. The 10th generation's compatibility for 4k at 60Hz is its finest feature.
– Connectivity
Winner: 10th Gen Comet Lake
Wi-Fi is another area where Intel's 9th Gen and 10th Gen processors diverge. The 10th Gen processor will offer Wi-Fi 6 functionality, while the 9th Gen is a rehash of the Wi-Fi 802.11ac feature. Additionally, the new feature will be three times better than the one in the 9th Gen processor, according to Intel.
The new thunderbolt-3 technology in the 10th generation devices enables the CPU to use less power and preserve more battery. Additionally, the 10th generation chip includes Wi-Fi-6 capabilities whereas the 9th generation has 802.11ac Wi-Fi functions. This means the 10th Gen processor wins in this category.
– Clock Speed
Winner: 9th Gen Coffee Lake
Focusing on the less technical qualities of Intel's 9th and 10th generation processors is just as important as knowing their technical specifications. Making an informed choice requires a thorough understanding of the distinctions between these two processors and their capabilities.
The 10th generation supports faster Wi-Fi capabilities, yet the 9th generation models have faster clock speeds than most 10th generation models. Keep in mind that for Wi-Fi services, clock speed is not very important. Therefore, our experts think that the 10th generation has an advantage over earlier generations in terms of networking and Wi-Fi efficiency.
The 9th Gen processor still performs well in applications where performance is based on clock speeds. Some video games and software programs might need this capability. The less effective clock speed feature, however, is overshadowed by other areas where the 10th Gen processors exhibit significant progress.
The fact that the clock speed of the 9th Gen processors is higher than those of the 10th Gen machines, however, highlights the difficulties Intel is having in achieving high frequencies from 10 nm components.
– Editing Experience
Winner: 10th Gen Comet Lake
The coffee lake can transmit videos in a billion different hues more quickly than its rival. However, the 10th generation processor is a winner since it includes cutting-edge capabilities that make gaming more effective, dependable, and fluid. When comparing performance to budget, higher performance results in more spending. Recall that this is a straightforward rule.
Therefore, make sure you concentrate on the 10th generation i-9 10900K CPUs or processors when purchasing a PC to be used for a picture or video editing. The PC will get slower and have more issues when running Adobe products with several windows open, which is not a good sign for those who always have a lot of work open on their laptops.
– Pros:
Allows for faster and more memory
Apps will run more quickly
Newer generation is substantially better for gaming
– Cons:
Costs more to buy 10th-generation laptops
Faster, but not significantly so
Difficult to obtain and isn't suitable for gaming laptops

Support for LPDDR4X RAM in Intel's 10th-generation CPUs is a much-welcomed improvement. The obvious enhancement is a roughly 50 percent higher RAM bandwidth, which will help everything from gaming performance to application speed a lot.
The Sunny Cove cores in the 10th-gen chips are faster and wider, and as a result, the IPC (instructions per clock) has increased by about 18 percent in comparison to the cores utilized in the prior 8th-gen chips. Intel adopts a 10nm process for its 10th generation CPU.
– Pros:
Fastest Intel processor for the desktop
More cores equate to more flexible multitasking
Improvements in Turbo management speed up processing
– Cons:
Overclocking has minimal overhead
Produces a lot of heat
Contains no cooling system

The more recent 9th generation laptops are the best option right now if a deal is more important to you than pure performance. Early on, a limited supply will keep 10th-generation pricing high. Intel's 9th-gen CPUs are very amazing because of their improved Turbo Boost usage and better efficiency.
Although the 10th-generation chips will be speedier, few people will likely notice the change. Only applications that support it can benefit from its snazzy new AI performance. If the software supports it, the encoding will be much faster.
The new CPU appears to completely replace the older one overnight, and those where they coexist peacefully side by side for so long that you're unsure which one to buy, like this instance. It will be simpler and more economical to purchase a nice 9th-generation laptop if you need to purchase a laptop right now for business or school.
FAQ
– Is 10th Generation Intel Worth It?
Yes, it is worth it because you will need the best system for such a degree of performance if you are utilizing a laptop or system for high-end tasks like intensive video editing. The 10th Gen processor, thankfully, is an improvement and provides better performance.
The inclusion of Thunderbolt 3, Wi-Fi 6, and additional multi-core capabilities are just a few of the enhanced characteristics of the 10th Gen processor. The 10th Gen CPU utilizes 10-nanometer protocols and delivers superior AI features, which is the primary distinction from the 9th Gen CPU.
Conclusion
The latest generation of CPUs is almost always superior to the older ones, according to widespread consensus. Accordingly, the 10th generation processors or CPUs are substantially superior to the 9th generation CPUs, giving an enhanced performance with quick executions and lower energy usage
Additionally, while the Intel Core™ 9th generation and core 10th generation processors share several characteristics, the 10th generation processor has better multi-core capabilities, making it a good option for gamers.
A dual-core or quad-core will suffice if all you intend to do with your system is multitask, browse the internet, and perform other office tasks. A 9th Generation processor will work nicely for you in such a situation. You'll see 9th-gen laptops providing discounts and other incentives when 10th-gen laptops are eventually released in substantial quantities.