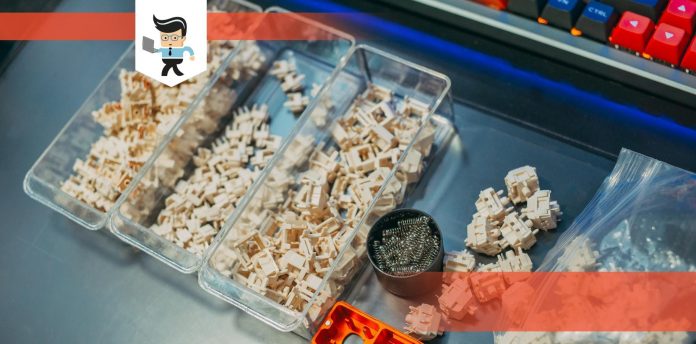 Halo true vs Gateron yellow is a discussion being held by many gamers and mechanical keyboard enthusiasts, and we're here to help you determine the right one for you. While both mechanical keyboard switches may feel the same when pressed, they're both different in weight, sound, and some other minor factors that can make or break them for you.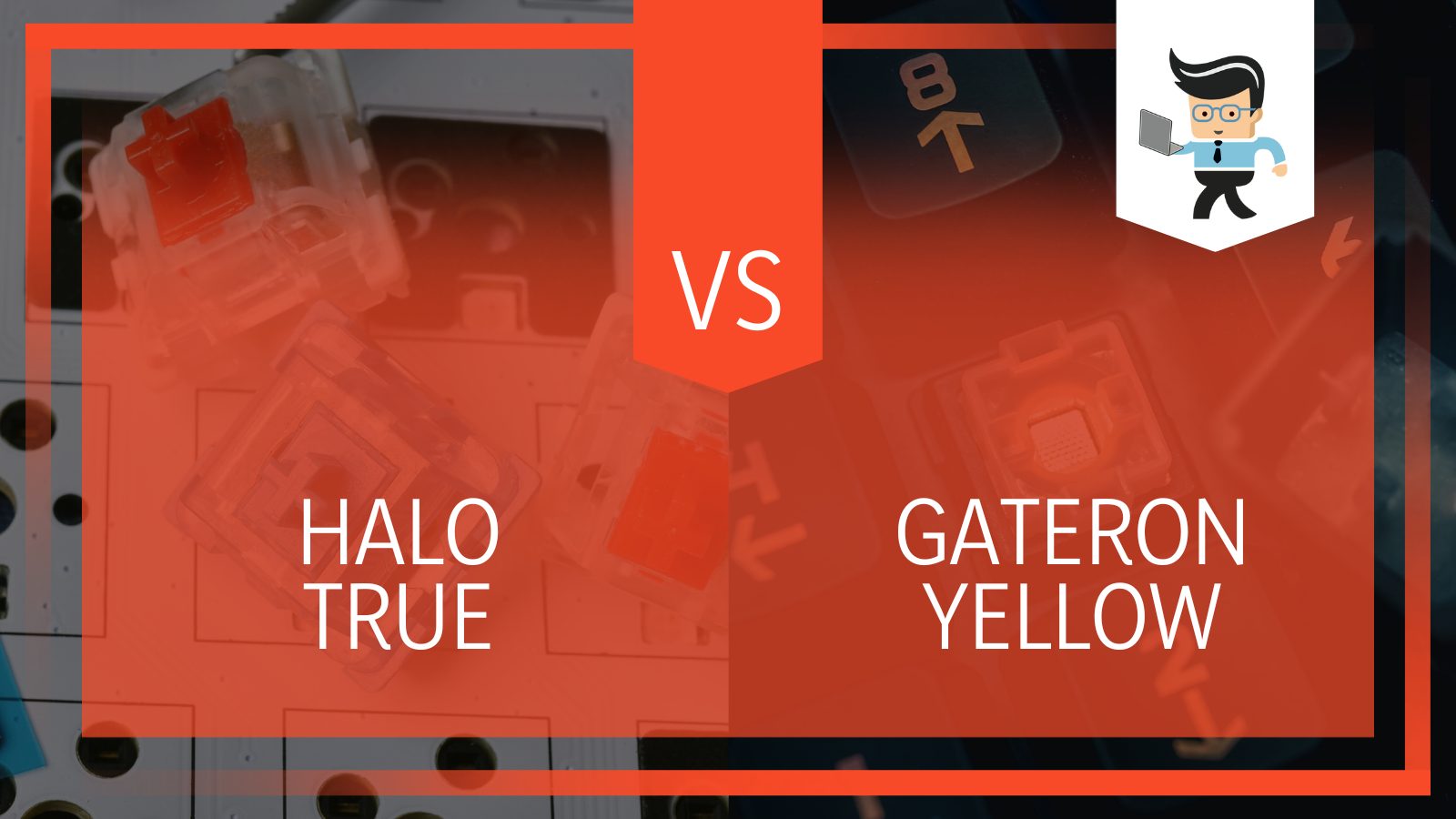 Let's take you through the world of mechanical keyboard switches as we explain the characteristics and differences between these two switch variants. By the end of this comparative guide, you should have more information to make a better decision on the right keyboard switch type for your computer needs.
Halo True vs Gateron Yellow Comparison Table
| | | |
| --- | --- | --- |
| Features | Halo True | Gateron Yellow |
| Switch Type | Tactile | Linear |
| Total Travel Distance | Four millimeters | Four millimeters |
| Pre-travel | 1.9 millimeters | 2 millimeters |
| Actuation Force | Medium heavy tactile at 60g | Smooth at 50g |
| Manufacturer | Kaihua and Drop | Gateron |
What Are the Differences Between Halo True vs Gateron Yellow?
The main difference between Halo true and Gateron yellow is that Halo True is a tactile key switch while Gateron yellow is a linear switch. Halo is a medium-heavy switch with 60 grams of actuation force and perceptible tactile feedback. Gateron offers no tactile feedback but a smooth and consistent feel.
Halo True is good for those who want an extremely light pre-load, allowing you a tactile feel that makes sure your typing is smooth and consistent instead of slow and inaccurate. If you're looking for the ideal custom switch for coding, typing, or gaming, the Halo True is one of the best options you can choose.

– Benefits
The Halo True switch is a mechanical key switch developed by Drop and Kaihua. It's a tactile switch in the medium to heavy region, providing a consistent and smooth feeling every time it's pressed. This switch variant provides your mechanical keyboard with a satisfying tactile experience.
The Halo True has gained a lot of popularity over the years thanks to the lack of tension at rest, otherwise known as pre-load, it offers. Its smooth press from the beginning to the end is another reason many gamers love them. With these custom clicky switches, you'd be able to attain minimal resistance while enjoying the tactile feel it comes with, which results in smoothness and consistency that's close to being perfect.
The benefits of using Halo True switches include:
It's an excellent switch for gaming, typing, and coding
Offers an extremely light tactile feel and produces little to no resistance
Halo True switches are good, especially if you're a fan of tactile key switches. They are smooth, quiet, and allow you to shine LED lights through them.
– Drawbacks
However, the price tag of Halo True is on the higher side, so you may need to fork out a bit of cash to get them.
– Design
Both the Gateron Yellow and the Halo True switches feature a clear top design. This makes them great choices for RGB lovers as you can easily add RGB backlighting to your keyboard, complementing your PC design. With their sleek designs and pleasing appearance, you won't regret adding either of these switches to your desk setup!

– Typing Performance
Both switch variants perform well in typing scenarios. The Halo True switches offer a smooth click and audible, bumpy feedback, which makes them a great option for those who love hearing their keyboard sounds when typing.
On the other hand, the Gateron Yellow makes little to no noise and offers a minimal tactile bump. Its actuation point is also mid-range, but that doesn't stop it from being a great switch type for typing. The one you choose will depend on your preference.
[easyazon_image align="none" height="500" identifier="B09VBKZPMW" locale="US" src="https://m.media-amazon.com/images/I/41c9KL-UyCL._SL500_.jpg" tag="onecguy-20" width="500"]
The Gateron Yellow switch is good for those who prefer speed over functionality when it comes to custom switches. They are linear switches with characteristics similar to Cherry MX Red switches. However, they require more actuation force, like what you'd apply on Cherry MX Black switches.
[easyazon_link identifier="B09VBKZPMW" locale="US" tag="onecguy-20"]

– Benefits
Gateron Yellow switches have a better feel when compared to Cherry MX switches and they serve as the perfect all-around switches for gaming, typing, and other tasks that require many keystrokes. Note that these switches are primarily for gaming keyboards so you're not going to get any clicky feel whatsoever. You get a total travel distance of four millimeters and a standard actuation force of 50 grams. Since there's no clicky feedback, you'll be met with complete silence when you press your keys.
The only sound you'd get from tapping keys with Gateron Yellow switches is your fingers pressing on the keys. While they aren't excellent for library typing, these switches are great for when you want to play your games quietly without disturbing your roommates.
The benefits of using Gateron Yellow switches are:
Gateron Yellow switches are budget linear switches that offer excellent smoothness and speed
They produce no clicky sounds and unlike Cherry MX switches, they are silent when pressed
Gateron Yellow switches have a long travel distance of 4mm that's ideal for their actuation force
They are easy to clean
Perfect for clicking sounds in games
Gateron Yellows are excellent linear key switches. They offer a vertical pressing sensation without providing a clicky feel while being silent and smooth.
– Drawbacks
The only con they have is that they are scratchy right out of the box. However, you can fix this issue by applying some lubricant to them. It might be cumbersome to apply lubricant, but it's well worth the effort.
– Durability
Both switch variants are strong, durable, and built to last. They are both ideal for users who are looking to use their keyboards for a good number of years. The Halo True and Gateron Yellow are made of high-quality materials that will stand the test of intensive gaming, typing, and other usages.
You get quality plastic housing and stems on the Gateron Yellow switches, which gives them the ability to withstand wear and tear over an extended period. Overall, both switches are excellent choices for those looking to get durable keyboards that will stand the test of time.
– Smoothness
While both switches offer excellent smoothness, the Gateron Yellow offers a smoother feel since it's a linear switch. However, when compared to other tactile key switches, the Halo True reigns supreme, which means that it's smoother than other tactile mechanical switches.

– Gaming Performance
When it comes to gaming, the ideal option between both switches is the Gateron Yellow switch. The Gateron offers neither tactile bump nor audible click. In addition, it has a gaming-grade rating, and it's smoother and more responsive. However, if you utilize tactile mechanical switches for your games, then the Halo True is one the best switches you can buy.
FAQ
– Are Halo True Switches Heavy?
Yes; Halo True switches are in the medium to heavy range. They can attain a spring force of up to 100g, which makes them heavier than many tactile switches around. Although this is not a bad weight for a switch, it would be too cumbersome to have one heavier than this, so it's pushing the line.
Conclusion
No matter what switch you decide to work with, you're sure to get excellence from the Halo True and Gateron Yellow. While Gateron Yellow switches are linear switches with smooth actuation points, Halo True switches are tactile switches with medium to heavy actuation.
Gateron switches are ideal for gaming because they are silent, offer smoother actuation, and applying a lubricant to them will eliminate the scratchiness they have out of the box. Ultimately, your preference will determine the one you'd work with but keep in mind that Gateron Yellow switches offer the most speed among all Gateron switches and Halo True switches are the best for gaming among all tactile switches.