If you're looking for a modern approach to comfort and style when gaming, our expert's Xrocker review will help. Of course, Xrocker has a chain of excellent gaming chairs with brilliant features, and we will expose you to some of these features as we proceed. Brace up to learn why you have to get one for yourself.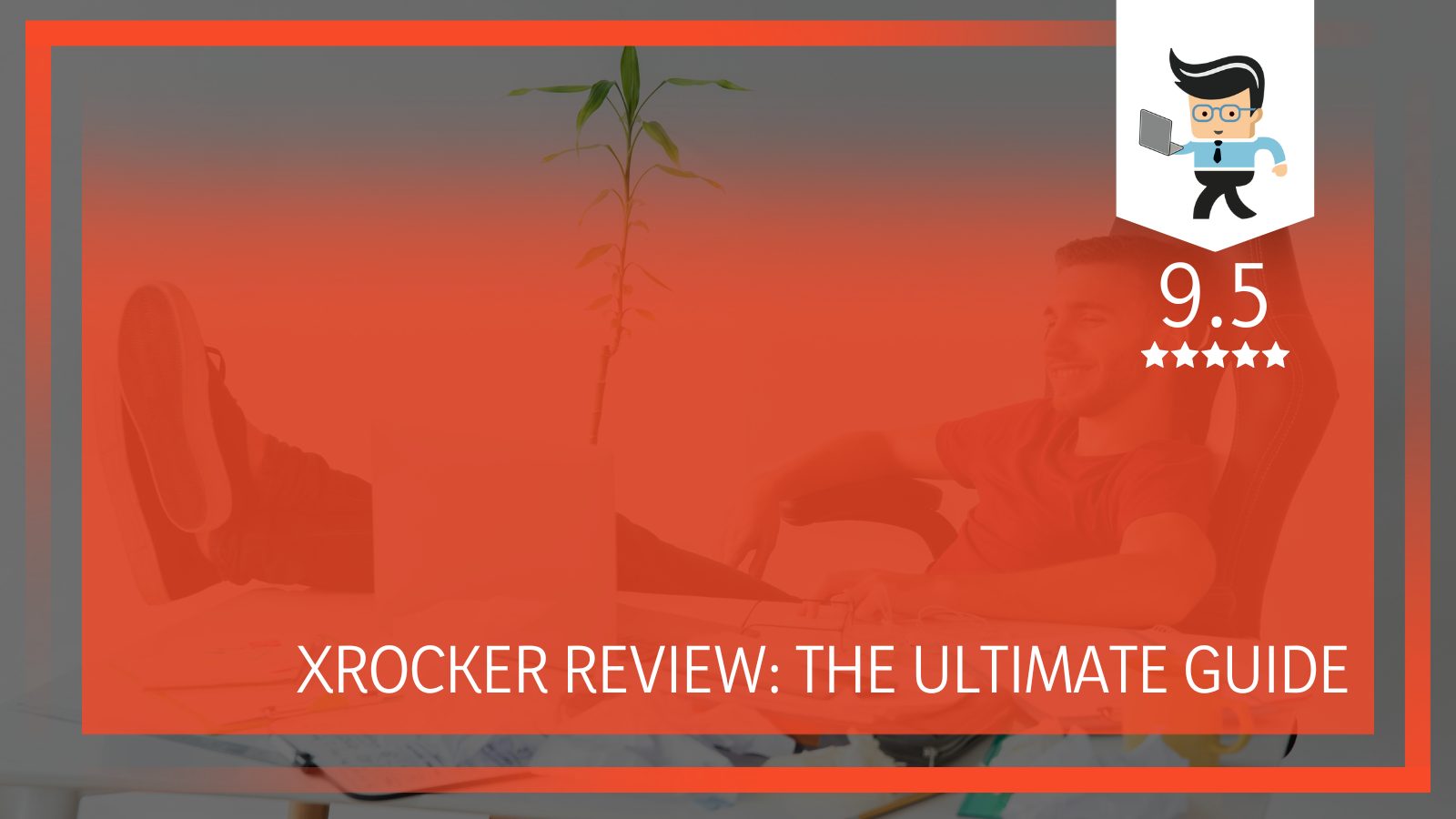 Top Specifications at a Glance
Product

Key Specifications

-Material: Vinyl, Foam

-Frame: Metal

-Connectivity: Wireless

-Material: Synthetic

-Frame: Metal

-Connectivity: Wireless

-Material: Wood, Vinyl

-Frame: Metal

-Connectivity: Bluetooth

-Material: Textile

-Frame: Metal

-Connectivity: Wireless
Best X Rocker Gaming Chair: Our Top Picks
If you're wondering why you need a gaming chair, narrow your options down to the Xrocker variety. That's because it's more than a chair. With the Xrocker brand, you can say goodbye to sitting on your bed, the floor, or a rugged old chair. The new tech here will help you get the most out of all your activities.
Gone are the days of sitting on your bed, the floor, or in a crappy office chair while you're deep into a game. New technology allows you to get more out of your gaming experience.
The best Xrocker gaming chair allows you to relax and enjoy yourself. They're constructed and designed to incorporate ergonomic science with top-quality entertainment value. In line with that, you can expect these chairs to be both comfortable and fun.
Innovative enhancements like Surround Sound, AFM technology, vibration effect, wireless capability, and more make Xrocker the go-to gaming chair. The home theater effects with a well-curved seat back provide the ultimate gaming experience.
The vibration levels cause you to feel the impact of all jarring moves. That way, you're part of the process, especially on a more solid and less movable base for added stability.
While the best of the Xrocker chairs reviewed below share many features like speakers and ergonomics, they have vital areas. As you read, watch out for your color preferences and other key features.
X Rocker Pro Series 2.1 Key Criteria
PROS
Very comfortable
Built-in massager
Cool audio and speakers
Connection to multiple chairs
CONS
Below par build quality
Long setup
The XRocker 51396 Pro Series Pedestal 2.1 gaming chair comes with excellent features you'll love. This gaming change makes your home look more like an entertainment center. Rest assured, you can put that down to long hours of gaming in style and much-needed comfort. With it, the desire to leave your home reduces each passing day.
– All-Purpose Use
There's hardly a thing or activity you can't put this chair to. It's a pedestal lounging chair. It is suitable for playing video games and watching movies. You can also relax while your music blares out from the speakers.
– Media Experience
The media experience here comes as no surprise considering Xrocker's use of the latest technologies. In line with that, the chair incorporates two forward-facing speakers. There's also an audio force modulation technology and ported power subwoofers.
The subwoofers go into the open space inside the chair. As such, you experience total immersion in your game, movie, or music.
– Additional Vibration Motors
There is nothing quite like an immersive sound or real-time shakes while you game. That's what's the Pro Series H3 carries. The additional vibration motors will sync with your audio's bass tones.
When that happens, you experience a more powerful full-body sensation keeping you comfortable and entertained for hours.
– Radio Wireless Receiver
This Xrocker comes with a built-in radio wireless receiver along with a wireless transmitter. The latter works with any source that has RCA stereo outputs. The best part? This chair comes with RCA cables included in the package.
– Compatibility and Connectivity
With a chair like this, you'd want to explore how it works on a wide range of devices. Thankfully, this x rocker gaming chair is compatible with Xbox, PlayStation, and many other gaming systems.
For connections, it sure helps that you can connect to other chairs. For this reason, there's a control panel that incorporates separate volume and bass controls. You also get an input and output jack to help connect to your favorite audio source. With that, Xrocker Chairs can participate in multi-game modes.

– Performance
The performance of this chair can be described in two words – powerful and convenient. Powerful because when you connect this chair to your music or gaming console, it delivers remarkable sound quality from speakers built into the chair. On many occasions, it will be on par with your home theater setup.
– Overview
If you want a comfortable, powerful, and compact gaming chair with modern, innovative features, this is for you.
Pros
• Modern look and design
• Comfortable
• Wireless connections
• Multi-purpose
Cons
• Chair peels
The X Rocker 5127401 chair gives off the feeling that it is more than just a gaming chair. Why? There's a sleek, eye-catching design you can't miss when you step into any room. Perhaps that's down to the back leather exterior or the exquisite sound system.
It's by no means a small chair or one that lacks supreme quality. You can play with the tilt design for more back support and overall comfort. It also has a base built to satisfaction and will hold up heavyweights. The control panels are much like those on other X-rocker chairs.
– Material Components
This chair comes covered with faux leather. Like other Xrocker chairs, you can also put it to many uses. As such, it makes the perfect companion for playing video games, watching movies and TV, listening to music, reading, and relaxing.
– Media Role
The chair also plays the role of a media hub, thanks to its capabilities. As such, you get an immersive media experience. That's because the chair can hook to wireless audio transmission.
The two speakers near the headrest and subwoofer come positioned to pound your back with bass-heavy sounds. With them, there's never a dull moment while you play games or listen to music. The wireless connection further boosts your experience. You can connect quickly to your devices or use the optimal RCA cable to do so.
– Headphones Compatibility
Still, under media, you can input your headphone into your jack. Sometimes, you want to feel the good vibes of your music playing or become more involved in your games. Use the headphones rather than the chair's speakers.
– Connections
You can connect to many modern consoles available today. For example, the chair can connect to consoles like Xbox and PlayStation. Playing with friends can help create a significant competitive atmosphere. You can connect to other Xrocker Chairs through the input and output jacks. That way, you can ignite the multi-game mode.

– Comfort and Power
Comfort is the central part of every Xrocker gaming chair review. This chair comes constructed for extra comfort. It has a proprietary design that adjusts to your body rather than forcing your body to make adjustments.
The 5127401 chair also comes with inbuilt batteries that make the chair portable. That's one of the reasons why it's powerful across many applications.
– Overview
Getting any chair is easy, but if you want a stylish and comfortable option for all your activities, this chair is your best bet.
Pros
• Easy to clean vinyl fabric
• Additional head and neck support
• Wireless receiver
• Strong and comfortable
Cons
• A bit heavy
• Unsuitable for much taller users
The X-Rocker Pro Series H3 gaming chair takes care of some of the most important aspects of a modern gaming chair. As such, there's a lot of multimedia buzz and experience. Moreover, comfort and audio give off a chair for all seasons.
It has couch-like comfort gamers will love because they spend more hours seated. Besides that, the vibration motors and built*in 4.1 surround system take your experiences to the next level. Like those before it, it's an all-purpose gaming chair. The fabric leather is comfortable for different activities and spaces. That includes playing video games, watching movies and TV, and relaxing.
– Audio Jacks
You'll find ports for mediate connectivity on the right-side panel of the chair. They contain controls for volume, bass, and vibration. With the ports, you get a standard 3.5mm input for many devices such as smartphones.
You also get an RCA input/output for game consoles.
– Complete Media Experience
Your media experience isn't left hanging halfway. To that end, the chair incorporates four forward-facing speakers, audio force modulation tech, and ported power subwoofers. They all form part of the open space inside the chair. What you get is total immersion in your game, movie, or music.
The subwoofers and the synced vibration motors fully utilize the open space within the chair. As such, everything about sound is taken to another level.
– Compatibility and Connections
There's a whole lot of consoles and devices you can connect this chair to. For example, link it to your Xbox, PlayStation, Nintendo Wii, MP3s, DVDs, etc.
The same thing goes for other chairs, particularly from the Xrocker brand. That's because the control panel includes separate volume and bass controls. Also, there are input and output jacks for connecting to your audio source. As such, other X-Rocker chairs can join in multi-game mode.

– Overview
If you want a sturdy gaming chair that offers near-perfect conditions, this is the best option for you.
Pros
• Comfy leather seat
• Nice recline option
• Space-saving size
• Sleek and attractive makeup
Cons
• Creaks while rocking
• Average speaker quality
When you read an Xrocker chair review, you probably pick out the best. This particular chair does its bit to contribute a comfortable and quality-based spectacle.
The Surge Bluetooth 2.1 Gaming Chair comes in a simple black color with red piping. However, it boasts a strong build and has excellent wireless audio capabilities. That's why it's a chair capable of letting you power through tons of hours of gameplay. The best part, the discomfort gets limited.
– Working Speakers
This Xrocker chair also comes with good speakers. Gone are the days where chairs were just plain and efficient. Here, the speakers help you play games, watch the latest movies, relax and do other interesting stuff.
– Media
If you want an immersing media experience, look no further than the Xrocker Surge. It comes with two forward-facing speakers with powerful subwoofers to distribute sound. With it, that cool, low rumble will intensify during games or movie time.
The fact is that gamers now have a preference for chairs that carry audio capabilities. The Xrocker delivers that in spades, especially with the AFT technology. With that, get ready to be a part of every beat and sound.
– Wireless Options
There's a wireless Bluetooth receiver that comes built into this chair. As such, you can get a Bluetooth-enabled device to play files from the chair.
Wires are getting old school fast. No one wants to deal with all those cables making things inconvenient. With this chair, you don't have to be tethered via a cable. Even if you lack a Bluetooth-enabled device, the RCA cables will suffice.
– Comfortable Design
There's no harm sitting on this chair for a long time. What you have includes a padded backrest and arms so that you're relaxed while gaming.
The chair is also compatible with other gaming devices, consoles, and systems. That's why you can conveniently use your TV, CD, DVD, Blu-ray, and MP3 players with it.

– Overview
If you want all the specs of a modern chair, including wireless connections and connectivity, this one will fit you.
X Rocker Gaming Chair's Buying Guide
How to Select the Best X Rocker Gaming Chair
Deciding the type of Xrocker video game chair you want takes some time and information. You'll want to know the exact value you're getting before committing yourself. Well, there are different Xrocker models to choose from.
The review above has already helped you narrow down your search and scope of features. As such, here are some of the reasons you'd need an Xrocker. Also, they serve as points to look out for before buying one.
1. Three or More Seating Options
With Xrockers, you usually have three seating options. They include a rocking chair style, a pedestal-based captain's chair, and office and PC gaming chairs. In many cases, Xrocker has focused more on a gaming chair that carries a low profile. That way, it's easier to enjoy console gaming in front of a TV screen. It also makes it easier to move around.
Another option you can choose to use? Lounge on the chair while listening to music, reading, or doing anything else. That's what makes the Xrocker brand popular.
2. Connectivity
The second thing you want with X Rockers is a good level of connectivity. As such, these chairs often have a built-in control panel for adjusting your settings and connecting to your favorite media devices.
You can do that via RCA cables, HDMI, or by the wireless transmitter.
Another thing you can do? Plug your headphones directly into the jack provided on the Xrocker chair. That's for a unique sound, and you can also share the same gaming experiences with others. Do that by connecting to multiple X Rocker chairs.
3. Built-in Sound System with AFM Technology
Watching out for this part makes sense. The fact is X Rocker is famous for offering the same with surround sound capabilities. Figure out the style of the chair you want. Perhaps other than the sound system, it would have better capabilities than others.
The surround sound 2.0, 2.1, and 4.1 all provide value-based sounds. Moreover, the X rockers AFM patented technology allows you to feel the game's sounds from within the space in the chair. That will provide a more personalized gaming experience.
Also, Xrocker has included PC gaming and executive-style office chairs in its range. As such, those that enjoy playing their games on the gaming desk can do so. Don't worry, a good number of them will also include built-in speakers.
4. Built for Gamers
Many Xrockers are built for gamers. At least, that's what their research and development team suggests. That's because they have carefully studied the positioning of the average gamer. That also goes for the duration they spend in each position.
The chairs will help provide comfort and proper support for such individuals. With the chairs, gaming for long periods takes a slight toll on you. Cushions on the Xrocker models are carefully done. All the right places have that ergonomic curve to protect your back, and the chair cradles your vertebrae whenever you sit. That way, blood circulation continues smoothly, and you can relax or enjoy your favorite games for prolonged hours.
Conclusion
You are not alone if you place a high premium on audio, wireless technology, and comfort. Those are top considerations many individuals will have. As such, you must choose the Xrocker chair that offers the best of such qualities.
Overall, we conclude that the Xrocker 5172601 chair represents the one with the best value. It is the in-thing for all types of gamers who want them as part of their gaming rigs. It is Bluetooth-enabled, comfortable, and has a good sound system. You will enjoy the fact that you can connect to other chairs and have a hands-on gaming experience.