Our TP-Link N450 review takes note of this old but standard N450 protocol Wi-Fi router capable of handling a good deal of traffic over multiple devices. Like other quality routers, it's also fast and covers a good range even if you want it for networking.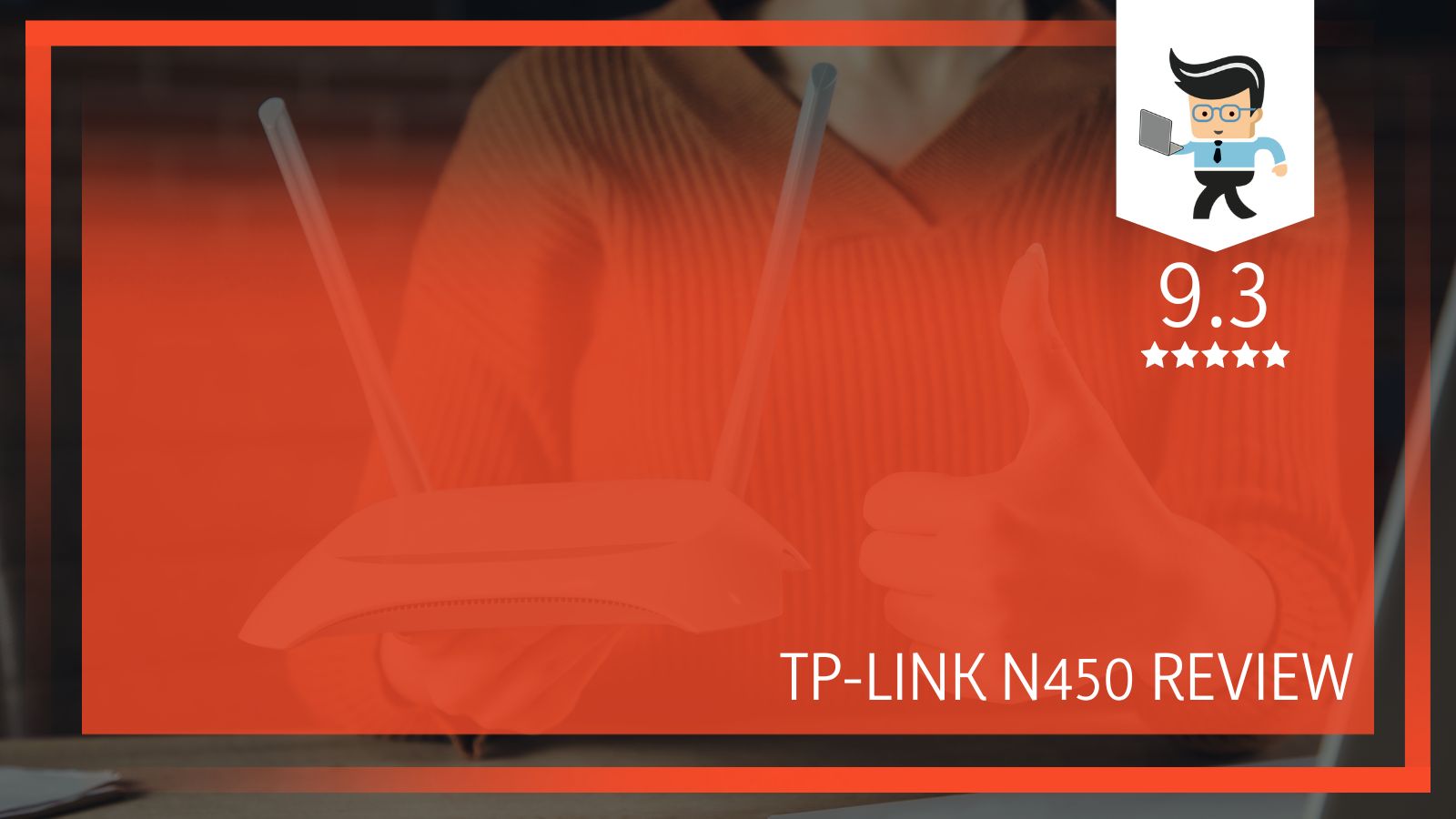 As an N450 router, we can say the price is suitable enough for the kind of style, design, and performance you get. There's still more to know about it, and our review team gives you just that with a full outline of its features, pros, and cons.
TP-Link N450: Outline of the Key Specifications
Product 
Key Specifications 
TP-Link N450

Brand: TP-link
Frequency: Single-band
Ports: 7
Security Protocol: WPS
Data Rate: 450 Mbps
TP-Link N450: What Makes This Router Stand Out?
If you operate a small company and want a reliable router that offers more than moderate connection, this TP-Link will go far. It packs a nice networking speed and gives off a satisfactory performance. Also, it comes with a single-band Wi-Fi and fairly good throughput, coupled with a set of management settings.
With those settings, you have access to the control and remote management. We've done a comprehensive review of the product below to showcase whether it's an excellent fit for your office or home.
TP-Link N450 Key Criteria
PROS
It has a stylish build
Has a good networking connection
Easy to install
CONS
There's no USB port on this router
Single-band Wi-Fi limits some functions
With the TP Link N450, you get a single-band wireless Wi-Fi router fit for several applications. Some long-term router users would argue that it doesn't offer much, but it has its purpose.
Also, it's the budget version of the TP-Link AC1900 (Archer C9), which makes more sense to use in medium-size offices and homes that need strong, all-around performance.
The wireless N speed offers up to 450Mbps. That's ideal for bandwidth-intensive tasks such as HD video streaming, VoIP, and online gaming. However, that's nothing like some top routers that offer more. The 802.11N technology and three antennas are featured here for increased coverage and stability.
– Design: Smooth and Efficient
This wireless wi fi router has a smaller frame than many mid range routers such as the Netgear N300. It comes with a glass-like black enclosure followed by three non-detachable external antennas.
You have to be extra careful while handling it, though, because if one of the antennas breaks, good luck with that. In fact, you can't replace them unless you get an entirely new router.
The front is arched and comes occupied with up to eight LED status indicators for Power, Internet activity, Wi-Fi signal activity, WPS activity, and another for wired-port activity. That's one for each of the ports. At the rear, you get four Gigabit LAN ports, a WAN (Internet) port, a Wireless On/Off button, WPS/Reset button, and the Power On/Off button.
When you get inside this router, it has a 2.4GHz radio that offers theoretical throughput speeds of up to 450 Mbps. You can make many changes through the web-based management console or the included CD when it's on. You'll find both basic and advanced settings, which are easy to navigate.
– Setup And Performance: Easy Setup and Quality Performance
With this TP Link wi-fi router, you have a device that's easy to install. When you connect it to a computer and Internet provider, the router will automatically launch the Web-based settings.
You can then go ahead to configure your network, adjust the Wi-Fi settings, and set a router password. Once configured, you'll get everything set in under ten minutes.
As part of the setup process, it's easy to change the settings of this N450 router through the web-based management console and a CD to make the changes. You get a management interface that allows you to make basic and advanced modifications. You'll find that the interface is simple to navigate.
To run Basic Wi-Fi settings on the router, you can enable and disable the 2.4 GHz radio band. Also, the advanced settings help you make changes in the security settings, including the WEP and WPA-personal protocols. With those, you can modify the Wi-Fi channel width and make changes in the transmission power settings.
When you want to install the N450, you need to connect the hardware when you power off the modem and take out the backup battery. After that, connect this modem to the Internet ports on the router and add an Ethernet cable. When you power on the modem, wait for two minutes before powering on the router.
Go ahead to check the LEDs for power, wireless, and Internet indicators. If these three lights are on, your router is ready.

– Networking: Smooth and Seamless Connection With Your Favorite Devices
Even if the price tag of this old router is a little high for the features users get, the networking features and performance of the device are satisfactory. We believe it will perform well as a wireless home router for those at home or do a good job for small offices.
Further tests also show that on the 2.4 GHz radio band, at a close range of about 5 feet, the measured network speed reaches 96 Mbps.
If you take it to 15 feet and above, you'll experience some downtime on the router. However, it can reach as much as 71 Mbps of speed at 15 feet. At 30 feet, it's going to get down a lot, considering the range.
With the TP-Link N450 specs, we think the single band's whole performance and network structure make it ideal for browsing, streaming HD videos, and online gaming. However, this router complies with the IEEE 802.11N standard, which establishes a Wi-Fi network and speeds up 18x. It also provides an exceptional 6x range of 11g products.
Its also designed to mitigate data loss in a rather exceptional manner, because of the 450 Mbps data transmission rate. Whether that's in separate concrete and steel buildings, it will work quite well for at a mid-range distance.
– Ports: Connect Your WAN and LAN Cables
We all love built-in ports because they give us an extra dimension of connection. While this router lacks a dedicated Ethernet port, the Wi-Fi is still good for regular users, but the seven ports give you more options.
The ports are even more essential when you consider there's no USB port on this router. Whether you want a USB 2.0 or 3.0, you'll have to find those on another model. As a result, data transfer to USB storage devices is non-existent.
– Security: Secure Internet Access
Having a secure connection on your devices is non-negotiable. That's why this TP-Link N450 setup includes different security protocols like WPS and WPA. With those, you can have a secure connection all through your time online. You can also initiate moves using the parental control feature.

– Overview
The N450 wireless Wi-Fi router from TP-link doesn't have a pricey worth, but this takes nothing away from its strong performance and an overall good feature set. It's an ideal router for those on a budget, and you'll find that the 2.4GHz throughput scores perform better than many models in its class.
Frequently Asked Questions
1. Is the N450 a Budget Router?
It sure is, and there's nothing wrong with that. Many people might think it still costs much, but that's only because it has straightforward features you won't find anywhere else.
At least, you get to connect your devices and witness its fast speeds at close ranges. The budget price also means you get to make some minor hacks and improvements.
2. What Are the Drawbacks of the N450?
It's on record that there is no 5 GHz radio band because TP-Link decided to make it a single-band Wi-Fi router. That makes it a bit outdated, since many modern-day routers give you more than that with dual-band and tri-band frequencies.
Another thing is that there's no USB port on this device. You can't connect a USB drive, cable and can't transfer files as a result. The router also doesn't perform well over long ranges. We noticed it does a lot of good within the stated 1,500 sq feet range, though.
The N450 features three antennas that help with its signal strength and range. But the antennas are non-detachable, which means you have to protect them because you can only replace the whole router if an antenna breaks.
TP-Link N450: Conclusion
This N450 wireless routing device is the perfect router for those looking to save some money. There's minimal hassle about getting one and operating it. That's because it's easy to install and configure, which takes under ten minutes to complete.
Then there's the good but not overwhelming feature set. You get a couple of ports, three antennas, good storage space, and other capabilities.
When you think about other models in its class, you'll grab this one because it'll perform well for a small business, home, and office. It's an excellent choice for beginner users, too. For the price, you get substantial connectivity throughput, secure connections, and a healthy range. However, it's a single-band router, so you can rule out the 5 GHz band.