What comes to your mind whenever you hear of Sodapoppin gaming chair? Do you think of it as maybe a premium gaming chair that may be a little bit over the top for your gaming needs or just a super-comfortable chair for hardcore gamers?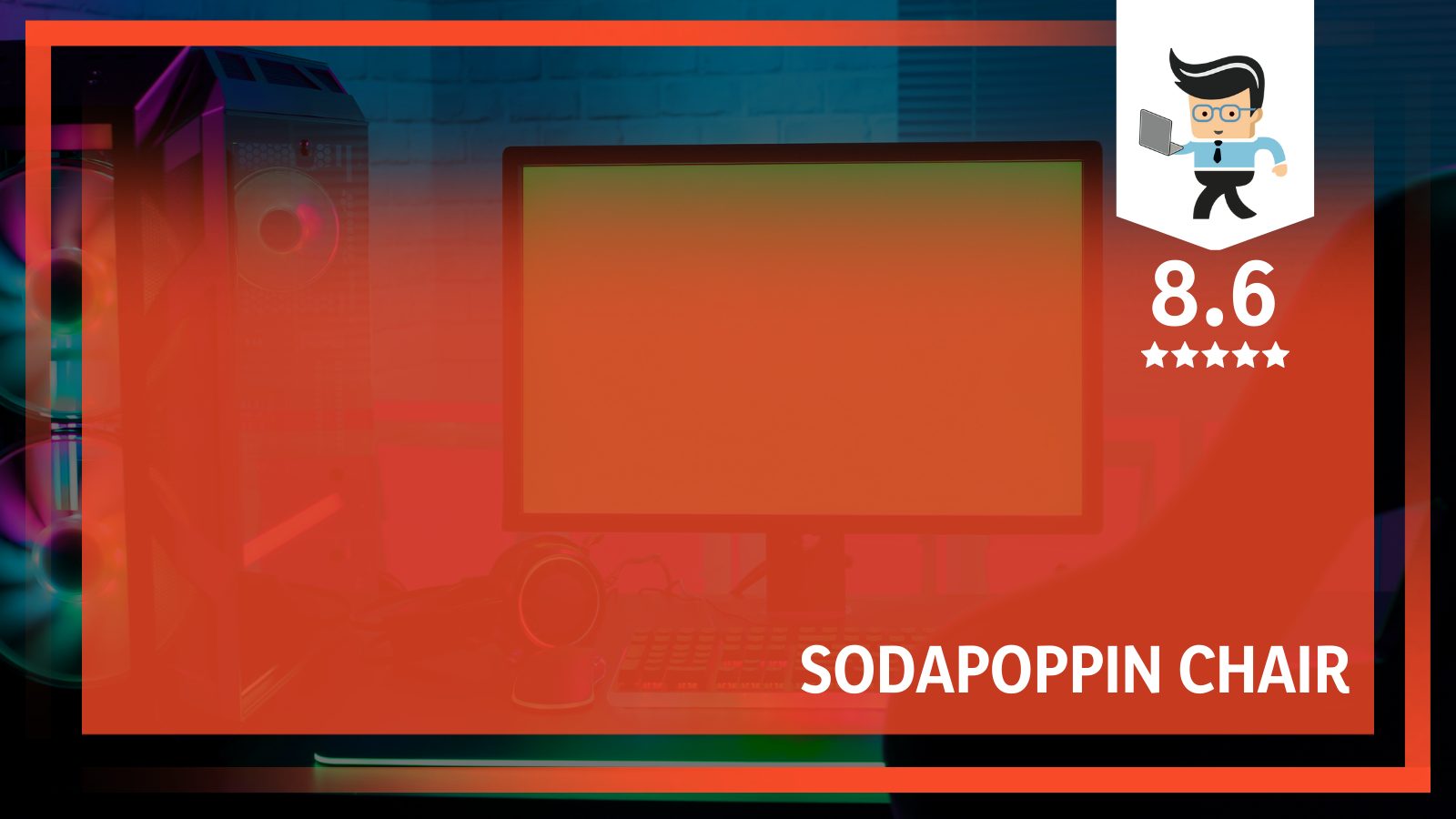 If these are your thoughts, then you are not very far from the truth, except that it may actually be perfect for your gaming needs and suit a lot of users, including office workers.
How do we know this? Follow as we unravel everything that makes the Sodapoppin Chair one of the most sought after in the gaming community. Read on!
Sodapoppin Chair Specifications Table at a Glance
| | |
| --- | --- |
| Brand | Herman Miller |
| Model | |
| Weight | 51 lbs |
| Dimensions(inches) | 28L x 27W x 38.25H inches |
| Material | Recycled Material |
| Color | Black Rhythm |
| Frame Material | Alloy Steel |
Sodapoppin Chair Key Criteria
PROS
Made of sturdy material
Elegant look and design
CONS
A bit on the expensive side
What Chair Does Sodapoppin Use?
The gaming community is made up of many top gamers, most of who are a household name when it comes to some specific computer and video games.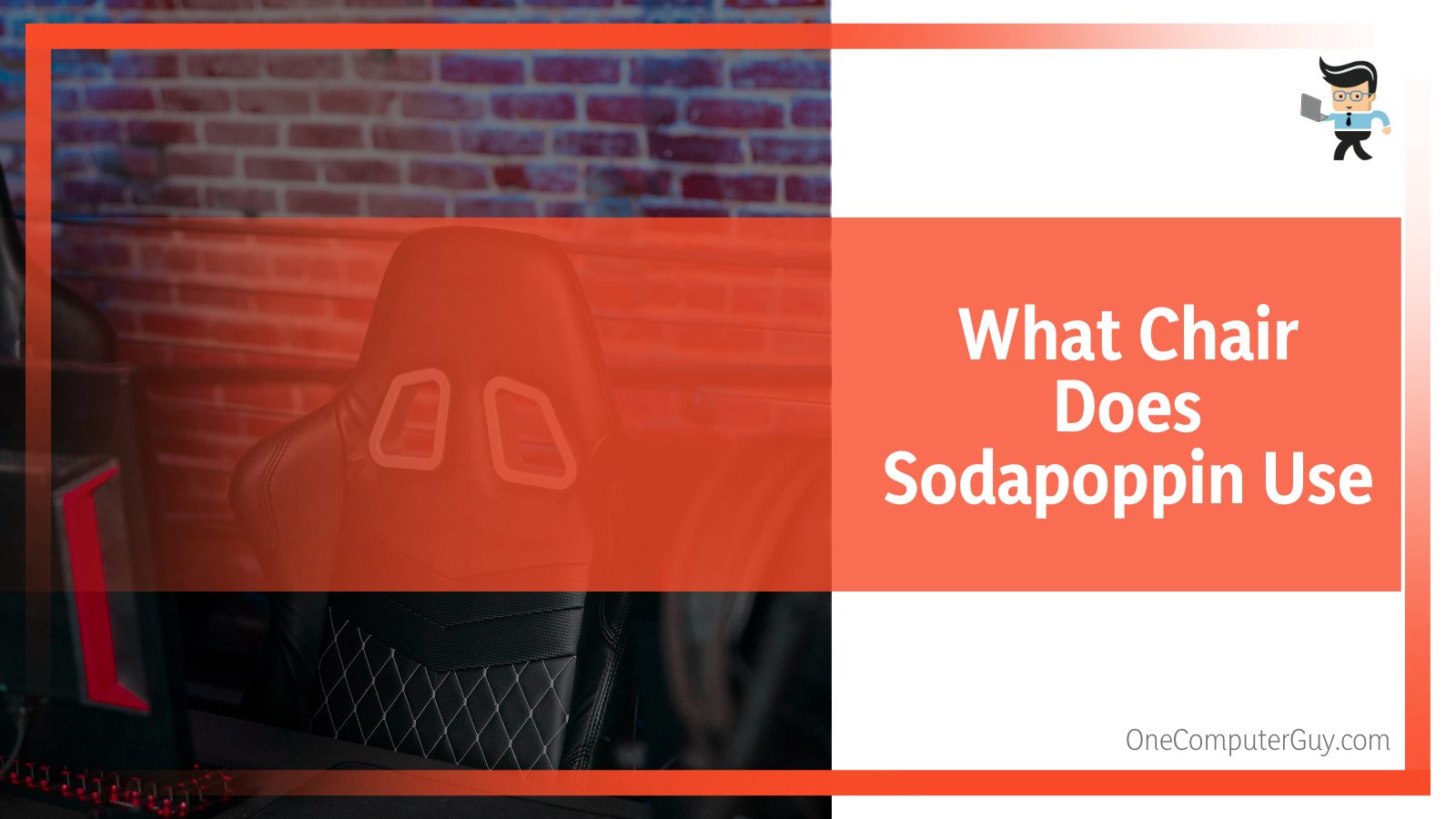 However, some gamers have made a name for themselves and stand out as experts and pro gamers with a proven track record of impressive performance in every game they play. Standing tall as a notable member of this elite gaming community is Sodapoppin, who has seen his fanbase grow into a large community over the past few years.
With over three million followers on Twitch and mite than a million active subscribers on YouTube, the 25-year old is having the time of his life, and his success story would be incomplete without his favorite chair.
At this point, you may be wondering what chair does Sodapoppin use, and how exactly does it helps when it comes to gaming et al. Well, we are here to give you an answer to that and many more.
As we all know, a gaming chair is an important aspect of any gaming setup. It could make or break your overall gaming performance and impact your health while at it. However, with a super-comfortable gaming chair like Sodapoppin's, you build great interest and excel in whatever you do and even become a household name in the gaming community.
Sodapoppin uses the Herman Miller Embody Chair, a gaming chair he publicly unboxed in 2016, much to the delight of his numerous fans.
So, what makes the Herman Miller Embody Chair so special to be a major part of the Sodapoppin gaming setup? Let's find out below.
Starting with the design, theHerman Miller Embody Chair is a top-class gaming chair for all the right reasons. Its exceptional ergonomic build was brought to life by a team of top physicians and Ph.D. holders, including Bill Stumpf and Jeff Weber, across several fields such as physical therapy, biomechanics, and vision.
The expertise of these renowned professionals contributed to the chair's final outlook. It perfectly combines natural body shape and posture alignment with great pressure distribution and support for healthy movement in a gaming chair that will come in handy for everybody.
Considering the level of expertise involved in the chair's R&D, it should come as no surprise to anybody why Sodapoppin decided to opt for the chair as his number one choice for all gaming-related activities.
It makes it easier for Sodapoppin to work and game in front of his PC for several hours and maintain good posture at the same time.
The chair weighs 51 lbs, and its maximum weight capacity hovers between 350 lbs to 400 lbs, which should be more than enough for any gamer or office worker. Its alloyed steel frame and 2.5-inch diameter carpet casters help to maintain great balance on any surface without sacrificing mobility in the process.

– Premium All-Fabric Upholstery
In addition, the chair features an all-fabric upholstery known as "Balance." As a microfiber type of fabric, Balance comes equipped with two innovative layers that are made of thin fabric. In-between these layers are a thicker, cushion-like fabric that is breathable, easy to clean, and skin-friendly.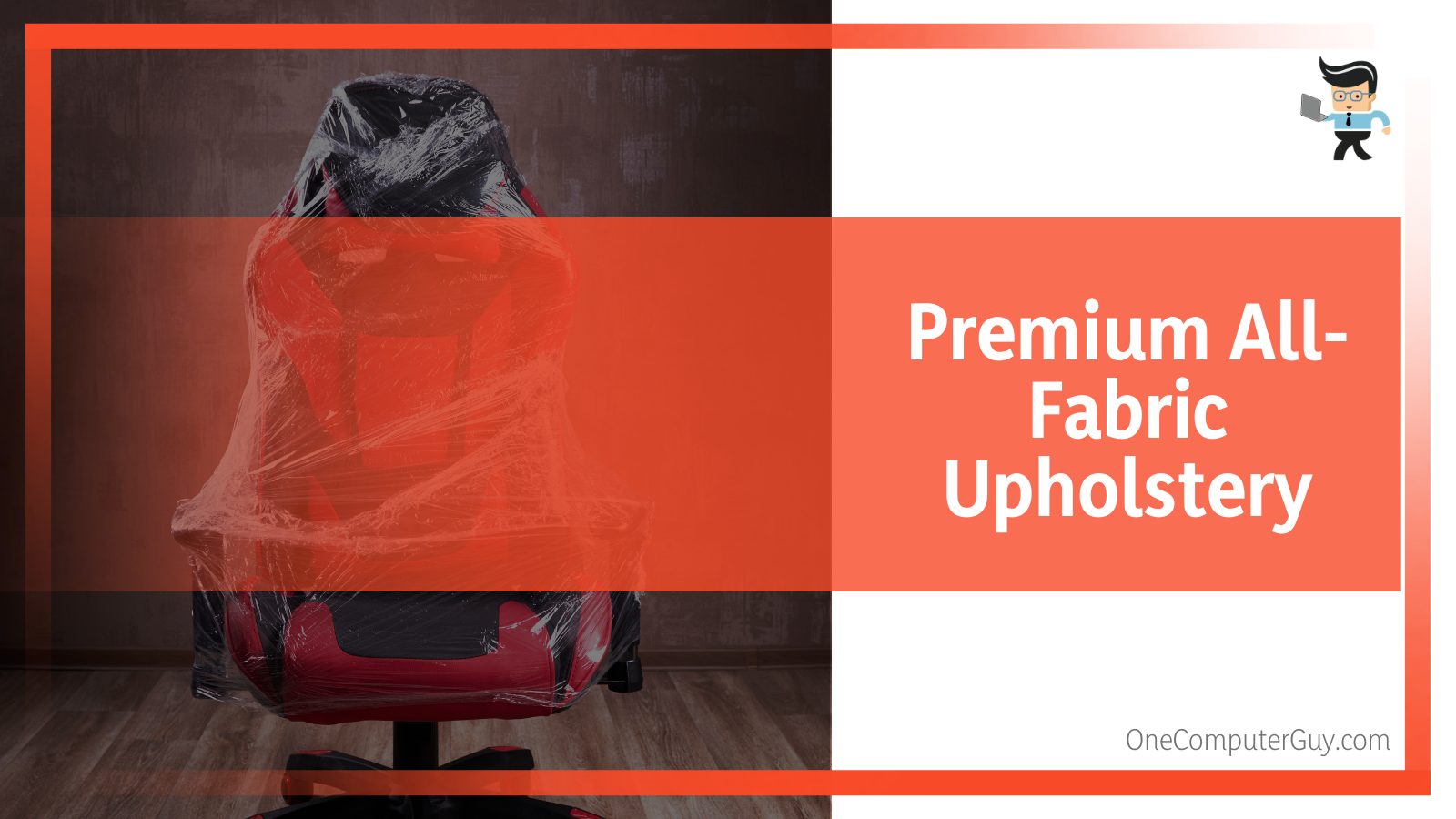 There is a tilt limiter feature, where you can lean back until you find a comfortable position and lock in the angle.
Also, you have a backfit adjustment mechanism that comes equipped with a central spine and flexible ribs to imitate the shape of a human's back area. How does this work? With this mechanism, you can set up the backrest according to the natural shape and curve of your spine to get an even more balanced posture.
As soon as you achieve the right fit, the backrest embraces you snuggly and firmly. The backrest adjusts automatically whenever you move or change positions without sacrificing comfort and convenience.
Ultimately, this feature will work for you as it does for Sodapoppin. You can tilt backward or forward and recline as you wish without losing support.
– Floating Pixelated Support Mechanism
What's more, Herman Miller Embody's pixelated support mechanism gives off a floating feel, even as you swivel or move around in whatever direction your current game demands.
Its innovative matrix of pixels makes for a smooth and seamless alignment between the surfaces of the chair's back and seat with your body as you move. This way, it ensures an even distribution of your weight and enhances a free flow of movements, thus helping you to focus on your games and keep you comfortable while at it.
– Super Comfortable Seat
In addition, the Herman Miller Embody Chair comes equipped with a durable but super comfortable seat that keeps you at ease always.
Notably, the seat incorporates a wide range of support layers, with each layer meticulously designed to guarantee durability and great comfort. These layers work hand-in-hand to conform to your shape and allow airflow to keep you cool and comfortable in hot weather.
For a pro gamer like Sodapoppin, it isn't difficult to imagine how he makes the most of technology to create an ideal gaming gear. Speaking of which, the Herman Miller Embody's functional technology mechanism comes in handy for all his gaming needs and demands. The chair is very specific about its support for healthy circulation and focus.

If you desire a premium gaming chair that will bring you closer toward your dream of becoming a pro-level gamer like Sadopoppin, the Herman Miller Embody Chair is the one for you.
Frequently Asked Questions
1. Is Herman Miller a Good Gaming Chair Brand?
Yes, and for all the right reasons.
Unknown to many, the Herman Miller Embody chair is not a dedicated gaming chair. The company introduced the chair as a must-have for home and office users who are looking to procure an ergonomic chair with premium features.
Coming from a brand that specializes in making the best ergonomic chairs with healthcare features, it is difficult for Sadopoppin to ignore the Herman Miller Embody.
Other top pro-gamers like Sodapoppin also appreciate the intricate design process of this chair, especially in the area of ergonomics and health.
Most times, an avid gamer is not entirely different from office workers. Apart from sitting down for many hours, they both work from their sitting position and swivel every now and then.
If we are true to ourselves, then we will not dispute the fact that these come with some health implications, including back pain, fatigue, and muscle pain.
Fortunately, the chair's intricate design means you can go about your favorite games for a sling as you want without suffering from any of these. Sitting on this chair will not leave you in pain, as it comes with both headrest and lumbar support to help maintain your natural body shape of head, neck, and back as well as improve your posture.
2. Does any other top gamer use the Sadopoppin Chair?
Yes, of course. For a chair that perfectly blends luxurious comfort and great style, it comes as no surprise that it appeals to a wide range of users, including top-rated gamers and renowned Twitch streamers.
Notably, popular pro-gamers like Pokimane and Shroud also use and enjoy the Herman Miller chairs.
Can I become a renowned Twitch streamer too with Sodapoppin gaming chair?
While becoming a great gamer will depend majorly on your individual skills and experience, a good gaming chair like the Herman Miller Embody will hasten the process.
You can sit down comfortably in front of your screen for long hours and hone your gaming skills until you become an expert.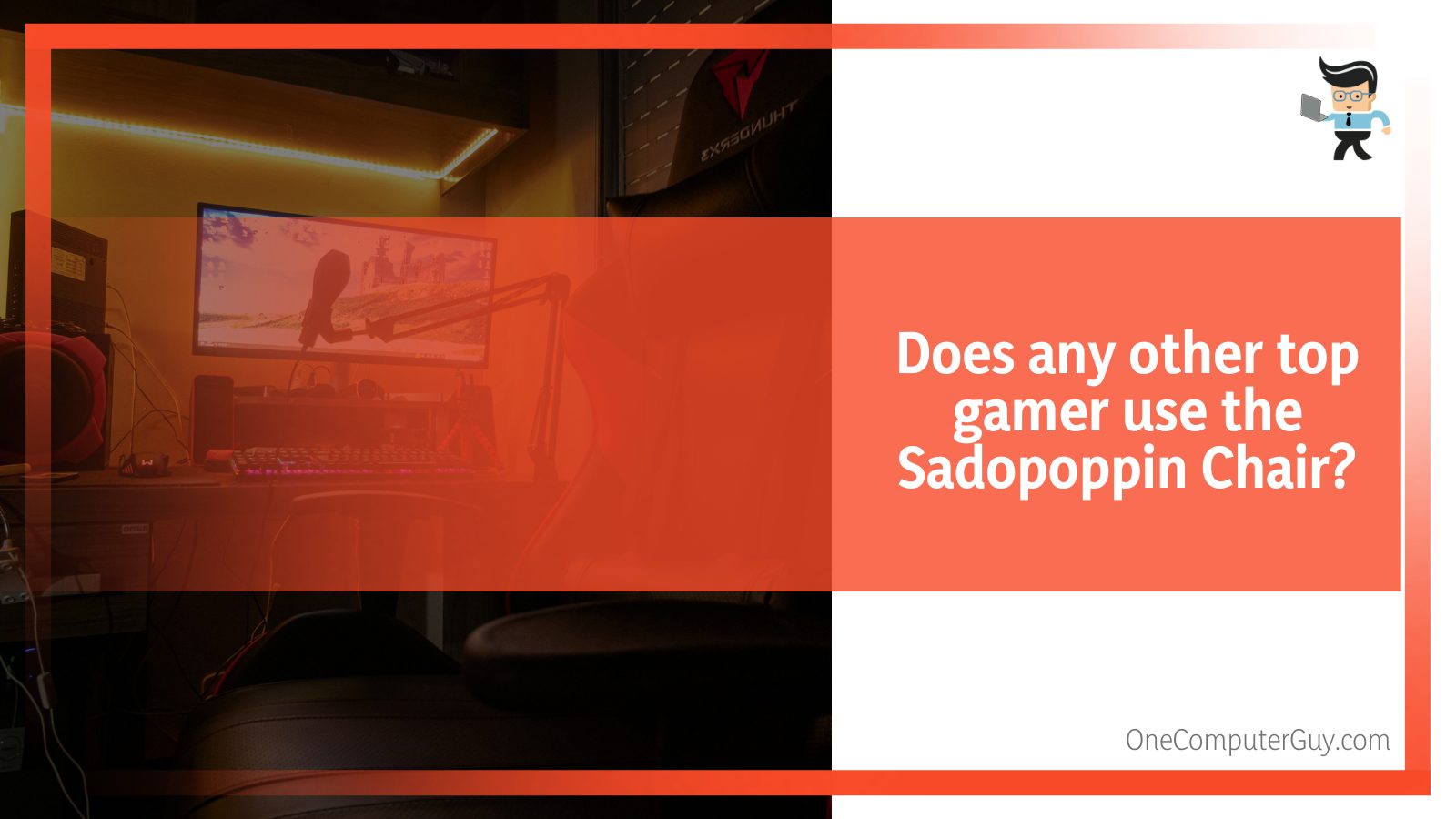 Buying Guide for a Gaming Chair
The options for gaming chairs are becoming more and more extensive, especially as they are now available in different styles and designs. Although your personal preference will play the biggest role when looking for the right gaming chair for you, the listed considerations below will help streamline your options toward the right choice.
1. Chair Type
There is some level of comfort and convenience attached to all gaming chairs, which has seen them become the go-to chair for anybody looking to relax and transform their sitting experience, including gamers and non-gamers.
Whether you are an avid gamer or an office worker, getting the right type of chair suitable for your specific needs and demands could be the difference between convenience and pain, especially if you sit for prolonged hours.
Usually, here are the three most popular types of gaming chairs that deserve your consideration when sorting through your options. They are:
• Gaming rockers. These types are suitable for hardcore gamers and enthusiasts looking to get a combination of gaming control and a super comfortable chair.
• Racing chairs. Usually, they come equipped with pedals and steering wheels to provide you with a realistic gaming experience without sacrificing comfort, convenience, and great features.
• Pedestal chairs. These will come in handy for gamers who prefer taking an elevated position and swiveling back and forth while enjoying their favorite FPS games.
2. System Compatibility
When it comes to gaming chairs, you can never be too careful. This is because what works for one game may be utterly useless fr another game. In this regard, you are better off with a gaming chair that is compatible with your gaming needs so that you can comfortably sit on it and enjoy your games at the same time.
3. Lumbar Support
Back pain remains one of the most notorious issues in the gaming community due to obvious reasons. However, it is possible to have an exciting gaming experience if you opt for an ergonomic gaming chair like the Sodapoppin gaming chair. This chair comes with comfort features needed to support your lumbar vertebrae and maintain your natural posture.
Conclusion
By now, we hope you have learned and understand everything that you need to know about the Sodapoppin gaming chair. It is a great chair by all indications, and it offers great value for money if you consider the premium features that come with it.
From the spine-like back design to the pixelated support and dynamic, ergonomic build, the Herman Miller Embody brings your dream of recreating the Sodapoppin gaming gear right in your home.
You can count on the chair to deliver the same level of performance and bring you closer toward your dream of becoming the next Sadopoppin, or even better.