Our RT-AC1900P vs. RT-AC68U review covers some familiar areas, including the speed and range of these two great Asus routers. Both of them are excellent in different ways, and you can get fantastic service choosing either model.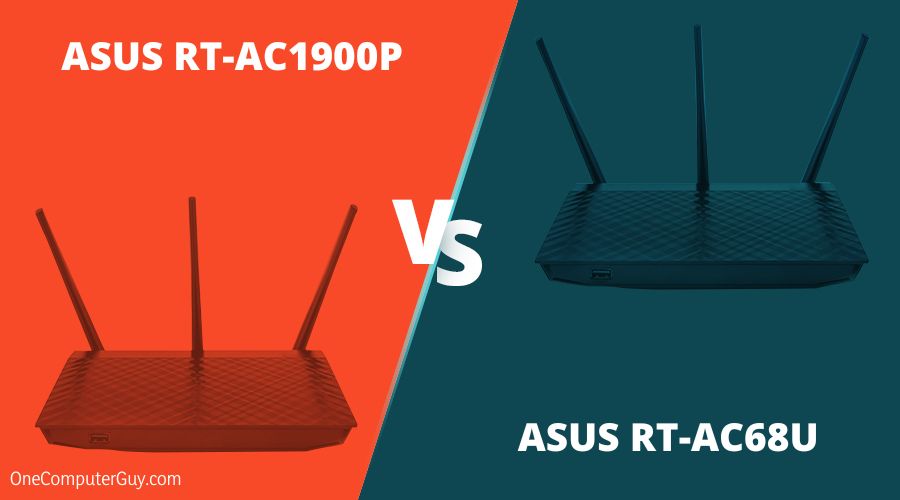 However, this comparison is here for a reason, and that's to help you figure out which one matches your needs. Our team has carefully put this piece together to explain the top features and specifications of these devices to help you make an informed decision. Read on!
A Glance at the Top Specifications
Product
Key Specifications
RT-AC1900P

Data rate: 1900 Mbps
Antenna: 3 Detachable
Security: WPA, WPS, WPA2
Frequency Band: dual-band
Ports: 4
USB: 1x 2.0, 1x 3.0

RT-AC68U

Data rate: 1900 Mbps
Antenna: 3 Detachable
Security: WPA-PSK, WPS, WPA2
Frequency Band: dual-band
Ports: 5
USB: 2x 2.0, 1x 3.0
RT-AC68U and RT-AC1900P Routers: Which Would You Rather Have?
Everybody knows just how important getting a good router is, especially if you are looking to enjoy fast data transfer and seamless connectivity in and around your property. And to be candid, Asus has consistently done a great job producing quality routers for different users over the years-out of which the RT-AC68U and RT-AC1900P stand out.
We understand you might not be able to tell the difference between the two models from the get-go. That's majorly because they share some common similarities in the aspects of design and other functionalities.
However, when we delve deeper to see how the routers perform in real life, we notice some subtle differences that could translate into a different experience for different users. That said, we'll do a little digging to bring you the best one, and you can go ahead to choose which one meets your needs.
Pros
  It has dual-band speeds reaching 1900 Mbps
  Mastered to provide ultra-wide coverage
  High-performance antennas
  It has an excellent Wi-Fi technology
Cons
If you're searching for a router to bring fast Wi-Fi to your home, you should have the Asus RT-AC1900P on your list. As a dual-band router designed for medium to large homes, the router does an excellent job on the 2.4GHz and 5GHz throughput tests and won't leave you disappointed when it comes to extensive coverage in and around your facility.
Users can connect their external devices via the four Gigabit LAN ports and the two USB ports available on the router. Plus, you can tinker with the management settings to ensure maximum protection against harmful clients and malicious websites while surfing the internet.
Even though the device doesn't come with the Multi-User Multiple Input, Multiple Output (MU-MIMO) data streaming support, its file transfer speeds are just enough to get you through your daily online activities without going through the stress.
– Design: Cool and Functional Features
We mentioned how the RT-AC1900P looks similar to the RT-AC68U dual-band Wireless-AC1900 Gigabit router. That is because it replaces the latter in the Asus lineup and comes with a glossy-black, textured finish that sits vertically on a stand, just like the RT-AC68U model.
There are three removable and adjustable antennas at the top of the router coupled with ten blue LED status lights along the bottom. Four of these lights are for LAN activity, one for WAN, two for USB, two for Wi-Fi connectivity, and one for power.
There are four Gigabit LAN ports, a WAN port, a USB 3.0 port, and a USB 2.0 port. Also, you get a WPS button on the right side of the router.
– Software and Firmware: What's Inside?
Inside this device is a 1.4GHz dual-core processor and 802.11ac circuitry that supports AC1900 Wi-Fi. That's why you get a combination of speeds reaching up to 1900 Mbps to power your medium internet tasks without any hassle.
On the 2.4GHz band, you get rates of up to 600mbps, while you get 1,300Mbps on the 5GHz band. Besides that, this RT-AC1900P comes with beamforming technology which sends data directly to where it's needed most.
– Performance: Get the Best Out
We observed that the Asus RT-AC1900P specs enable it to churn out good speeds during throughput. As a result, it works well over some distance and will rank faster than other routers on its level. For example, the RT-AC1900P will have a score of more than 500 Mbps on the 5GHz over 30 feet.
– Installation: Easy and Quick
It's an easy to install router with the Setup Wizard doing most of the job for you. Plug it in and connect or a host PC and the Internet, and a  browse page will launch the Wizard. Use it to check your connection and configure basic wireless settings within minutes.

– Overview
If you need a mid-range option, the RT-AC1900P Wi-Fi router delivers solid throughput performance over close and long ranges and has and plenty of features that will meet your needs.
Pros
  Robust hardware.
  Very good Wi-Fi capabilities.
  Compatible with AiMesh Wi-Fi system
  Good signals at close and long distances
Cons
  No dedicated mesh
  Not wall-mountable
The Asus RT-AC68U is for users who want a more traditional device for a router without anything fancy. If you wish to surf, get some heavy traffic going, or play online games, it will give you an extensive range of functions. To that end, the router comes with three antennas and supports a dual-band frequency network over the 5 GHz and 2.4 GHz bands.
Other essential features of a quality router are available here. What's more, you get to speeds of up to 1900 Mbps and Broadcom's TurboQAM coupled with the latest 802.11ac technology.
There's an 800 MHz Dual-core CPU on this router and a smart multitasking facility that enables dedicated lanes for both Wi-Fi and USB data to limit any speed loss.
– Design: Ports for Extra Connections
There are two USB 2.0 and one USB 3.0 port on this router. That's why it tends to be fast, and file transfers happen without hitches. Moreover, you get four Gigabit Ethernet LAN ports for wired connections.
You also get LED lights here, but that's for the on/off button.
The Asus RT-AC68U specs also include a dual-band frequency and 1 GigaHertz dual-core CPU, enabling smart multitasking by creating separate lanes for Wi-Fi and USB data. The network standard also helps to boost speeds across different tasks and functions.
– Setup: Smooth and Easy
The setup is effortless, thanks to the ASUSWRT web-based interface. With your router plugged in, you can go online to have it connected while you set up other security and network parameters.

– Overview
This router is perfect for those who want a network they can manage with ease. It's easy to set up and comes with 1900 Mbps, strong signals, and broad coverage.
RT-AC68U and RT-AC1900P: Head to Head Comparison
The main difference between RT-AC68U and RT-AC1900P is, RT-AC1900P comes with a 1.4GHz dual-core processor and 802.11ac circuitry compared to the 1GHz processor on the RT-AC68U router.
Dual-Band, Speed, and Range
Both of these routers will give you excellent speeds in your home or small space. With the dual-band frequency, you can expect adequate throughput from both the 2.4GHz and 5GHz bands. Other features to help you get the best out of both devices are Gigabit and WAN ports, USB 3.0 and 2.0 ports, and other functions.
The max speed on both routers gets up to 1900 Mbps which is enough for various activities, including streaming, surfing, and playing games online.
In addition, both of these devices have three antennas each. That can only help further to boost the signal and range over your connections.
Security: For Safe Connections
The Asus RT-AC68U review and its counterpart, the RT-AC1900P, get much better when it comes to secure online activities. The fact is Internet users are prone to different levels of attacks that could put them at risk of losing meaningful information.
Since you can't be too safe, both routers give you different options for a more secure connection. They both come with the WPA-PSK, WPS, WPA2-PSK protocols to keep users on your router safe.
The RT-AC68U has AiCloud, NVIDIA GameStream Ready, and AiRadar features to help with that coupled with parental control features that will help protect your kids from harmful content online.
For the RT-AC1900P, you get a router powered by Trend Micro, which provides multi-stage protection ranging from vulnerability detection to protecting sensitive data. In addition to that, these two routers feature guest networks.
Software and Processor
While both routers feature quality software, firmware, and processors, we have to state that the RT-AC1900P comes top. Its 1.4GHz dual-core processor and 802.11ac circuitry beat the 1GHz processor on the RT-AC68U router.
Frequently Asked Questions
1. Which of these routers fits best in a small home?
As far as this Asus routers comparison goes, you'll always want the best one for your needs. If you have a small home, the RT-AC1900P or RT-AC68U is worth buying.
However, put into consideration the fact that the RT-AC1900P possesses the highest performing processor. Also, it has the latest power amplifiers—customized Wi-Fi circuit design.
Further, the RT-AC1900P is compatible with RMerlin's firmware, which gives the router a slight advantage over its counterpart since it combines both features and adds to it. So it will make sense to have it in your small home.
Conclusion
If you are looking to get the perfect router for your needs, you'd prefer a device that delivers a solid performance where it matters most. From data transfer speed to coverage and efficiency, the Asus routers we have here present a solid option for any home or office space.
However, we'll opt for the RT-AC1900P since it gives you the same max data speed rate as its counterpart but offers a faster processor and refined software features to ensure a fantastic user experience for everybody.