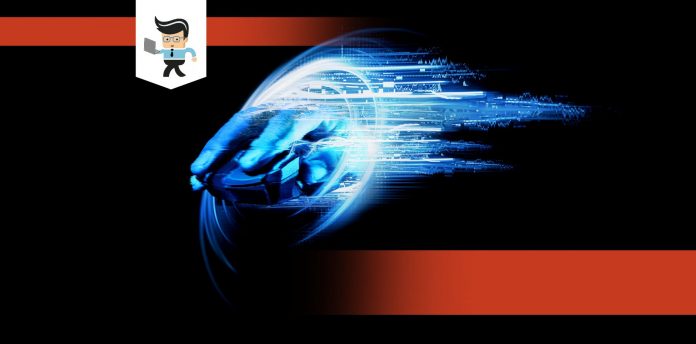 The Razer Naga vs. DeathAdder comparison is a coming together of two exquisite options gamers will love. These mice pack top-notch features and use excellent software that makes them tick.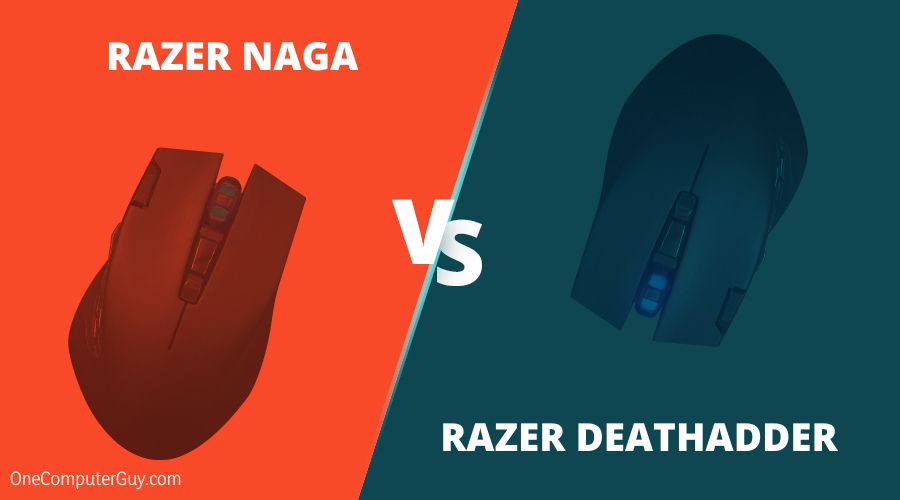 Gliding on any surface is a bonus because of how smooth they are. However, our article aims to draw out their main components and how they align or differ from each other.
Razer Naga vs. DeathAdder: Key Specifications Table
Product 
Key Specifications 
Razer Naga

Model: Naga X
Movement Detection: Optical
Connectivity: USB
Buttons: 16
DPI: 18,000
Software: Razer Synapse
Power source: Wired USB

Razer DeathAdder

Model: DeathAdder V2 Pro
Movement Detection: Optical
Connectivity: USB/Wireless/Bluetooth
Buttons: 8
DPI: 20,000
Software: Razer Synapse
Power source: USB/Internal Battery
Razer Naga and Razer DeathAdder: Head-to-Head Comparison
When it comes to the Naga X and DeathAdder, you're faced with a decision on which mouse makes you play games on a regular basis and without issues. You've also got to consider how they affect your hand size and the speed at which they execute your commands.
If you're a dedicated MMO or MOBA player, you'll find that the Naga here appeals and lets you get the most out of it. On the flip side, this DeathAdder comes across as perfect for shorter or adventure games. Whatever the case, both have quality designs, optical sensors, and software to get you going.
The question is to which one serves your needs better?
Please read on!
Pros
It's lightweight for an MMO mouse
It has a strong sensor
Comfortable design and grip
Full, 12-button right side of the thumb
Cons
Supports only one onboard profile
The Razer Naga dimensions are light enough to glide on all regular surfaces for a typical MMO mouse. It's a comfortable mouse with input devices that make it perfect for high performance. It's also the wired version of Razer's redesigned Naga Pro.
This particular mouse stands out from that pack since it's lighter, has low weights, and figures as an esports mouse. However, Razer has to drop some of the Naga Pro's best features to achieve its current weight, like its modular thumb-side panels. Still, the Naga X is a reasonable choice if you want an MMO mouse design.
– Build and Design: Light Cruiser
The Naga X's shape and build measures 1.50 by 2.94 by 4.56 inches (HWL), and it is also wide and flat, with a groove on the right side to support your ring finger. Support for the ring finger is common with MMO designs; the extra support for the "nonessential" finger gives you a comfortable hold to move the mouse without gripping the sides.
While that makes the mouse larger and heavier, it's much easier to hold and move for many hours.
The Razer Naga weight is its premier feature. The 3-ounce weight is also higher than other MMO mice we've come across, but it's lighter than most gaming mice with extra buttons or features. That's something positive when you consider the Naga X's wider shape and a buttload of buttons.
It's good around some games, too, including serious shooting and strategy games. It helps you remain comfortable in a competitive setting.
– Buttons: Full Side Buttons
From its weight, the Naga X has sixteen buttons on it! There are two click panels, a clickable scroll wheel, and a DPI cycle button in the center column for the top input.
Further, like other MMO mice, the Naga X takes out the normal forward and back buttons on the left side panel and replaces them with a numbered twelve-button keypad. That's the main attraction because you get to map either the number keys or the function row to your mouse.
The side buttons are suitable and just the perfect height, with the numbering beginning at the lower front where your thumb naturally fits and increasing in columns. That way, you keep track of the numbers on the pad without looking.
– Software: Razer Synapse Software
The Naga X relies on Razer Synapse, the brand's configuration software for button mapping, RGB customization, and other setting changes. There's a clean interface on the app, so it's easy to find and change settings.
Moreover, the Razer Synapse features a separate screen for customizing the side buttons just for the Naga X only. That helps reduce clutter and makes it easy to see what you've mapped to each button.
Synapse also enables you to save as many local, custom mouse profiles. However, the onboard memory only supports one Razer Naga profile. That's a bit low for this MMO mouse.

– Overview
If you want a basic MMO mouse, this Naga X will suit your needs. It packs solid and modern features. The weight also makes it appealing for different uses other than gaming, and the button-rich design offers different options to customize your experiences.
Pros
Quality shape and design
Razer optical mouse switches
Powerful sensor
Bluetooth and 2.4 GHz wireless capabilities
Cons
The Razer DeathAdder specs make for quite an exciting read. The V2 Pro was released alongside other mice like the DeathAdder V2. The former is the wireless version of the original, replete with Razer's updated suite of "Pro," including Bluetooth and 2.4 connectivity.
Since the standard DeathAdder V2 already offers Razer's top sensor and components, it's only normal that DeathAdder's V2 Pro feels like less of an upgrade than other models. As a result, we think it's a fantastic mouse, but a tad more expensive than its peers.
– Build and Design: Comfortable Movement and Grip
The DeathAdder V2 Pro has the looks of the standard DeathAdder but without its tail cord. That makes it a bit bigger than the standard DeathAdder V2. It's also slightly heavier than the DeathAdder V2 at 3.07 ounces.
However, it's normal for wireless mice to weigh a little more, as they require additional components. Still, don't expect the changes to have any impact on the comfort it delivers.
Further, without a wide base or thumb wing, it ranks as one of the most comfortable shapes out there, and its high-hump base keeps your hand in perfect position, even without side grips.
– Buttons: Economical and Customizable
The Razer DeathAdder buttons on this V2 Pro can be described as a seven-button mouse, but technically, it has eight. You get five on the top for inputs – left-click, right-click, a clickable scroll wheel, and two DPI cycle buttons.
The left side of the mouse has standard back and forward side buttons. If you flip the mouse, you'll find the last button that cycles through the mouse's five onboard profiles. All eight buttons are customizable.
Under the hood, there's the Focus+ sensor which can track up to 20,000 DPI with an accuracy reaching up to 650 inches per second. With that, expect pro-grade performances for different activities.
– Connections: Choose Wireless Type
As a top-level mouse, this V2 Pro lets you choose between two wireless connection types – Bluetooth and 2.4 GHz wireless using a USB dongle. The 2.4 GHz is more stable, especially for PC connections, while Bluetooth as a second option adds a lot of utility, and it drains less battery.
– Battery: Long Lifespan
According to Razer, there's a battery in this mouse, and according to Razer, the mouse gets up to seventy hours of battery life using the 2.4 GHz signal coupled with 120 hours when using the Bluetooth signal.
Besides, the V2 Pro supports wireless charging through the optional Razer Mouse Dock Chroma – a small USB pedestal with a passthrough to store the mouse's 2.4 GHz dongle.
– Software: Razer Synapse Software
The V2 Pro relies on Razer Synapse, Razer's configuration software, to adjust RGB lighting, remapping buttons, tweaking DPI presets, and other customizations like the Razer Naga above. The mouse lets you store about five onboard mouse profiles you can carry on the go.

– Overview
From our Razer DeathAdder review, it's evident that the V2 is an excellent mouse. Thanks to its top-flight sensor, excellent battery life, and wireless charging, its supportive ergonomic shape will appeal to users who play games for long hours.
Razer DeathAdder V2 Pro and Naga X: Which Is Better?
The main difference between Razer Naga and DeathAdder is, DeathAdder V2 Pro lets you store up to five mouse profiles and tracks up to 20,000 DPI, while Naga X produces 18,000 DPI but it comes with sixteen buttons.
Whether you want a Razer Naga for FPS or the DeathAdder V2 Pro, a comparison of their most essential features helps.
Software and Profiles
Winner: DeathAdder V2 Pro 
The Razer Synapse software is undoubtedly one of the best configuration apps out there. Both of these mice use this software to run components under their hoods. The Razer Synapse is quick, intuitive, and easy to navigate.
However, when it comes to profiles, the DeathAdder V2 Pro lets you store up to five mouse profiles in onboard storage to carry with you on the go. That's the standard for high-end gaming peripherals. The Razer Naga lets you store just one.
DPI, Connectivity and Sensor
Winner: DeathAdder V2 Pro
When you go under the hood of both mice, you'll notice that they have an efficient sensor working to track their DPI's.
While the Naga X produces 18,000 DPI, the Razer DeathAdder V2 Pro will track up to 20,000 DPI with an accuracy reaching up to 650 inches per second. However, both these mice will deliver pro-grade performances for different activities.
For connectivity, the Naga X only offers a USB connection to the PC and for charging. You can compare that with the USB, RF wireless, and Bluetooth option provided on the DeathAdder V2 Pro.
Buttons
The Naga X takes the day thanks to sixteen buttons, including the complete, 12-button right side of the thumb. That's double the number (eight) on the V2 Pro. The buttons are well-arranged and make it convenient for you to customize specific actions either on your PC or mouse itself.
Conclusion: Choosing the Best Performer
Without a doubt, the Razer DeathAdder V2 Pro mouse is the best of the two. While it has eight buttons less than the Naga X, it offers more with its fantastic sensor and option to save five onboard profiles. It has more DPI speed and connectivity options as well.
As a result, our review picks it as the best performer gamers can rely on.