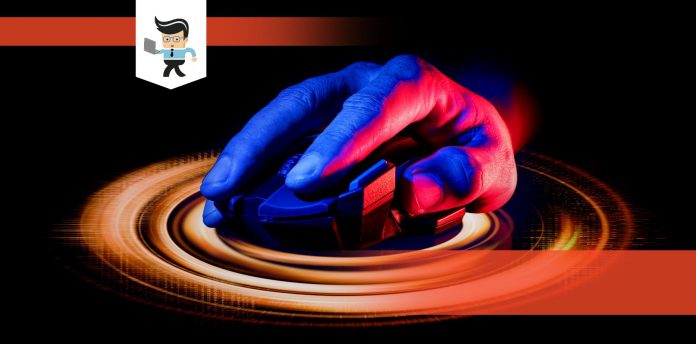 The match-up between the Mamba vs. DeathAdder from the Razer brand is a steep one. There's a lot of speed, precision, and software between these two. As such, it isn't easy to settle for either model. With us, that difficulty gets replaced with a sound knowledge of how these mice operate.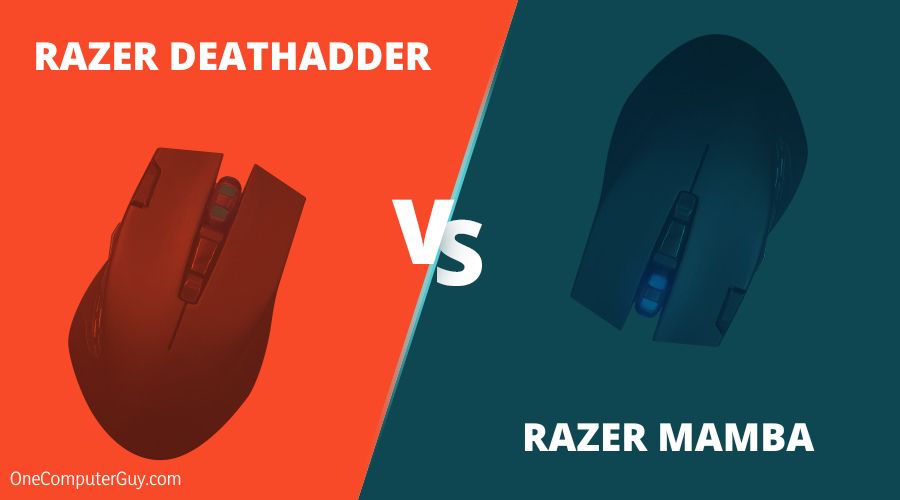 Key Specifications Table at a Glance
Products
Key Specifications
Deathadder

DPI: 20000
Software: Synapse Suite
Connection: USB

Mamba

CPI: 16000
Software: Synapse 3
Connection: Wireless
Razer Deathadder and Razer Mamba: Which is the Best Mouse?
Sometimes, you need more than good luck or fortune to pick out the best mouse. That's because it's more than another peripheral. It's a genuine part of your PC you want working well, mainly if you play games.
To that end, the option you choose should have low latency, great DPI, and response time.
We have outlined these two models in a bid to help you make the correct choice.
They're great options to have and will last for a long time. Before settling on either one, let our review guide you on their features and overall operations.
Pros
• Performs greatly
• Perfect USB cable
• Easy to customize buttons and features
• Fast and accurate
Cons
• Middling side buttons
Design and Comfort
Considering the razer DeathAdder weight, we have to applaud the positioning of the buttons available. What you get is a mouse equipped with two primary buttons, two side buttons, a scroll wheel, and two smaller buttons underneath.
That button under cycles through DPI presets by default. Also, the scroll wheel and logo have RGB Backlighting. The lights complement the mouse's black-and-gray plastic casing.
If you take a closer look, the Deathadder V2 looks like the original Xbox. You can put that down to the color scheme and how it comes shaped for its user. Again, the mouse's contoured shape, material, and big dimensions combine to make it look bigger than it is. Besides, you can use this mouse with a palm or claw grip.
The wide surface area of this Deathadder is pretty smooth with some slight texturing. As such, it feels like a dust magnet, but the sides of the mouse have a sharper texture. It keeps the mouse from falling during use.
The scroll wheel here is textured. Besides, it's easy to find in between the smooth primary buttons that surround it.
– Features and Software
If you want to have a field time using this mouse, you have to install the Razer Synapse software. When you don't, expect many pop-ups urging you to do so immediately you plug your mouse. It's all part of the Razer motive to get all users using its products. However, they're always top quality.
This software is essential to get the best out of the mouse. Other than that, you can stick to picking appropriate DPI settings. However, you can achieve a lot more with the software. For example, you can assign functions to all the buttons bar the left mouse button.
Other customization options are present, including the ability to set five sensitivity stages. With them, you can cycle through via the buttons underneath the scroll wheel. You can also set the polling rate of the mouse to 125, 500, or 1,000 Hz.
Another thing you can customize is the V2's RGB lighting via Synapse as well. The software also gives you five default effects to use (Audio Meter, Breathing, Reactive, Spectrum Cycling, and Static). The software can also set the lighting's brightness, On/Off, and synchronize the mouse's dancing lights.
– Top Gaming and Performance
One of the most significant upgrades on the V2 is the Focus+ optical sensor developed in collaboration with Pixart. With the sensor, you get support up to 20,000 CPI. That's a massive increase when you consider the relatively small CPI ranges offered by previous
DeathAdder models. According to Razer, this sensor also boasts 99.6% resolution accuracy.
The buttons here are also very responsive and deal well with in-game situations. Besides that, the side buttons perform well enough. The scroll wheel won't suffer from activation issues. If you play games, you'll notice it scrolls just enough in-game to cycle through weapons.

– Storage to Save Your Data
There's also the fact that you get onboard storage with this DeathAdder as well. As such, you can store up to five local profiles using the Synapse software. The profiles can be customized for use in specific games without hassles.
With the software here, you'll find the V2 a joy to use, even if it seems larger-than-usual at first. If you're right-handed, it'll fit you perfectly.
Pros
• Rechargeable, durable battery
• Reliable software
• Wired and wireless connectivity
• Fast response
Cons
• Lacking a good grip
– Boosted Design and Comfort
As we proceed with our Razer Mamba review, we will start with a look into its fabulous design. We have done that and must state that it's unlike other Razer mice. Why? It gives you about seven programmable buttons.
You've got the primary mouse buttons, two side buttons, two buttons under the scroll wheel, and one more in the scroll wheel itself. Note that the primary controls use mechanical switches rated for up to fifty million clicks each.
This mouse comes with a light contour and two-zone RGB lighting (the scroll wheel and the palm rest). As a result, it adds a bit of pop to an otherwise staid design.
For the most part, the Mamba ditches the USB wire thanks to its wireless support. What's more, the razer mamba weight separates it from the Deathadder above.
It still supports wired connections if that's your thing, and you can use the wire to recharge its AA battery.
– Feel
On the Mamba, you'll witness a spongy texture on the grip. It's much different than other mice in the Razer lineup. This feature isn't all that good because it can get grimy after prolonged use.
– Exceptional Features and Software
The software you can rely on here is the Synapse 3 management software. It saves your custom profiles to the device's onboard storage. Moreover, you can use this software to set the five different CPI profiles for cycling through.
Additionally, you can customize functions to suit the mouse's seven programmable buttons. That includes modifying the polling rate.
You've also got a sound RGB lighting system that uses the Razer Chroma software. You can also customize the lights.
– Moderately Strong Batteries
According to Razer, the mouse offers up to 50 hours of gameplay on a single charge. That excludes leaving the RGB lighting on, though. The mouse charges over the Micro USB, which forms part of the entourage. You'll notice it has a distinctly shaped connector to aid connection.
– Wonderful Gaming and Performance
The Razer mamba dimensions do appear small, but it is excellent for gaming nonetheless. You have the included proprietary 5G Advanced Optical Sensor that supports up to 16,000 CPI with 450 IPS and 50G acceleration.
The sensor will give you accurate readings – just like on other Razer mice. As such, it's easy to match the pace associated with frantic flicks across the width of the mouse pad. Again, it will respond well to delicate motions while you can also customize various functions.
The razer mamba dpi is a significant factor if you want speed and faster activating buttons. Speaking of buttons, the primary mouse buttons, side buttons, and CPI switches will produce a satisfying click when pressed.
The Mamba Wireless also features Razer Mechanical Mouse Switches. Word has it that they're able to withstand up to 50 million clicks.

– Enhanced Connection
The Mamba uses a wireless connection. Mind you; it's not a Bluetooth-enabled connection. This mouse relies on a 2.4-GHz dongle connection. According to Razer, it's has a proprietary Adaptive Frequency Technology that gives the Mamba Wireless a stable and reliable connection.
What that does is put any potential dropouts missed input to the side.
More on performance, gamers who use claw or fingertip grip might find the Mamba Wireless more comfortable to use. Not everyone will feel that way, though. It's a great mouse to help you perform a lot of functions and remain relevant in games.
The Mamba Wireless mouse has a sensor gamers will love and performs well, much like other Razer mice. It will take a space in your palms without attempting to fall off.
Deathadder vs. Mamba: Head-to-Head Comparison
The main difference between Deathadder and Mamba is, Deathadder can increase your DPI to 20,000, while Mamba offers a wireless connection that provides more brilliant performances.
Performance
Whether you want to game with either mouse or not, you'll appreciate that they're both great performers. For example, the V2 gives you the optical sensor, which supports up to 20,000 CPI. The Mamba has something similar.
Both of them feature buttons that are very responsive and provide quick in-game solutions thanks to over 90% accuracy. Overall, they're both easy to grip and use for long periods.
DPI
When you have software that could potentially increase your DPI to 20,000, there's a lot you can do. That's what the Deathadder here offers and which is over that of the Mamba. Performing many functions through several clicks per second could be the difference between winning and losing.
Connection
We can't make a complete razer mice comparison without mentioning how a wireless connection provides more brilliant performances. That's the case on the Mamba. What makes the most ideal is that you can switch to a wired option when the need arises.
We feel the 2.4GHz connection and adequate distance give you an edge. You don't have to be too close to your PC. What's more, you get up to 50 hours use time after a full charge.
Conclusion
The V2 and Mamba present great options for people who demand a perfect experience. We must state, though, that the V2 doesn't give you many options to customize.
It's a suitable option if you're after a solid performer without other additions. The software makes up for the drawbacks, though.
For the Mamba, we applaud its dynamism and think it's more suitable for gamers. Sure, the DPI doesn't read as high, but it's for gamers who can do with many personalized features. The texture, contort, and overall shape leaves you with a compelling combination. That's why we choose it.
Overall, you're always going to settle for what works for you.