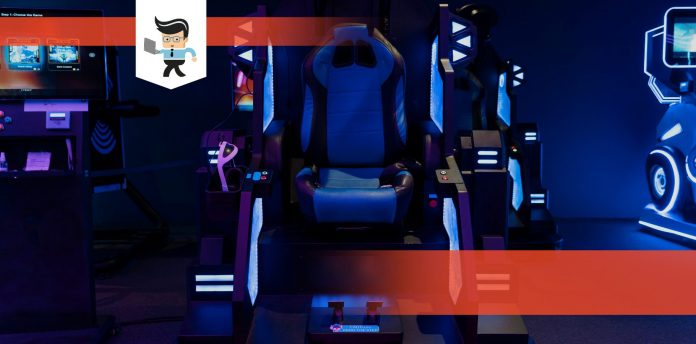 Getting the perfect purple gaming chair that introduces flair and great character to your gaming setup can be a hassle, as there are seemingly countless options to choose from that could potentially serve the same purpose.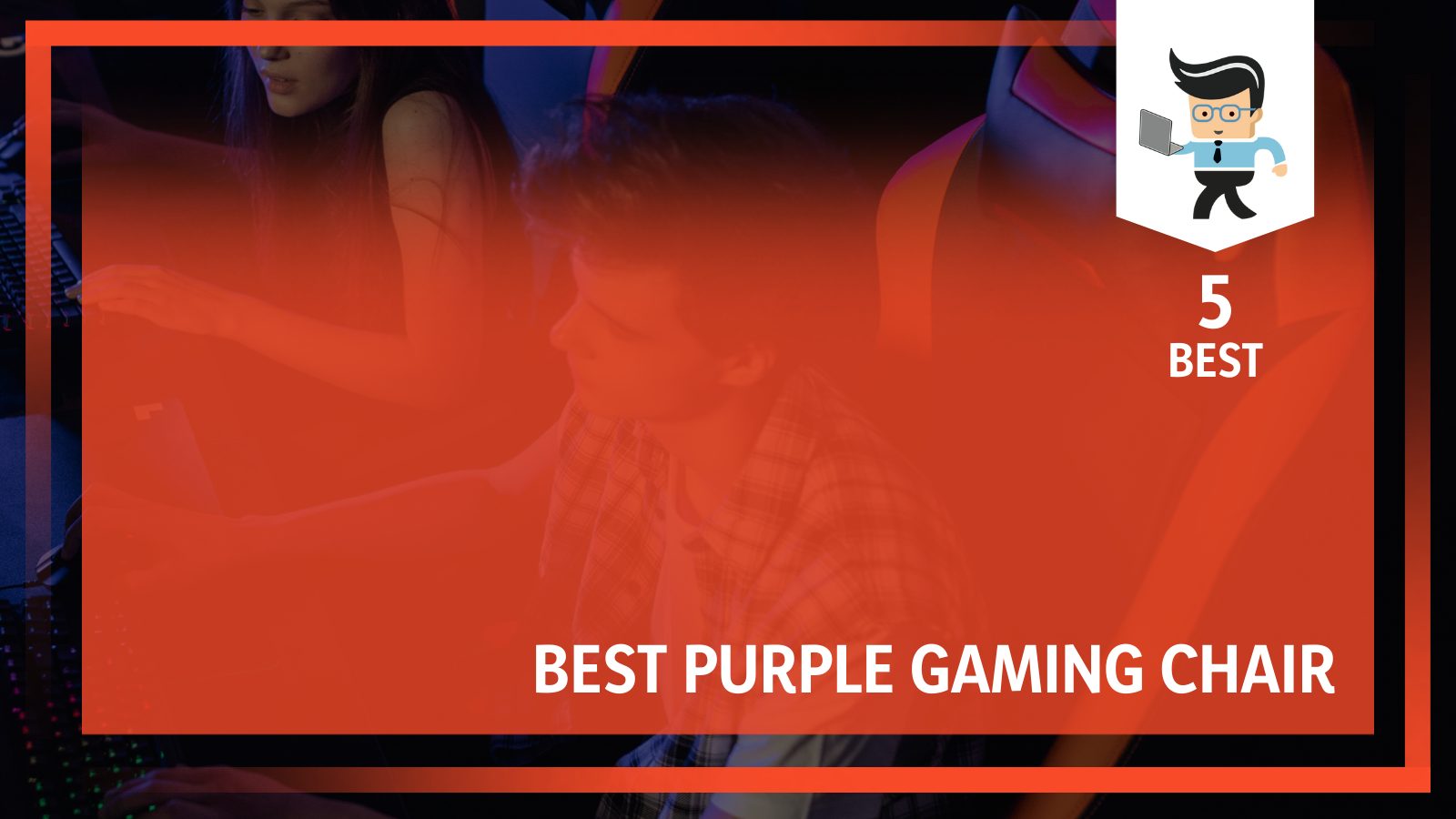 But in this article, we will help you sort through the options and tell you exactly which model is most suitable for your rig.
Why are we so sure?
We understand that a purple gaming chair reflects one of the primary colors that have a calming effect on mood and atmosphere. While this is not enough reason why a gamer should fork out some money to get it, other factors such as ergonomics, user-oriented features, and comfort that characterized the top models out there have made them the delight of every gamer.
Now, come along with us as we delve deep into the top features, benefits, and drawbacks of the best purple chairs in this review article.
Purple Gaming Chair: How the Key Specifications Stack Up
Product
Key Specifications
GTRACING Gaming Chair

Brand: GTRACING
Material: Mesh, PU, cushion
Frame: metal
Recline: 90 – 170 degrees
Max weight: 350 pounds
Ergonomics: Seat, arms

GLOGERY Gaming Chair

Brand: GLOGERY
Material: Faux leather
Frame: Metal
Recline: 90 – 175 degrees
Max weight: 300 pounds
Ergonomics: Head, lumbar, sponge

BOSSIN Gaming Chair

Brand: BOSSIN
Material: PU leather
Frame: Metal
Recline: 90 – 155 degrees
Max weight: 400 pounds
Ergonomics: Head, foot, height

Vitesse Gaming Chair

Brand: Waleaf
Material: Faux leather
Frame: Metal, aluminum
Recline: 90 – 180 degrees
Max weight: 300 pounds
Ergonomics: Head, spine, lumbar

Purple Gaming Chair

Brand: Vonesse
Material: Carbon fiber leather
Frame: Metal
Recline: 90 – 135 degrees
Max weight: 300 pounds
Ergonomics: Lumbar, massage
Top 5 Purple Gaming Chairs for the Stylish Gamer
If you are in the market for the best gaming chairs for different purposes, searching online and offline can be a problem. There are tons of chairs to choose from, with brands popping up more models than we can keep up with. However, your search is narrowed down by one distinctive factor: the purple color.
With the color you want all figured out, there are some other things to consider. Let's face it; some brands create chairs you can't even manage. On the flip side, other top brands give you a nice chair with a base to fit your needs. If that's what you're after, you're in the right place.
Our review team has gone on to select five gaming chairs that feature the purple color. Whether you get hints of the color or major douses of it on the chair, the features on them are worth it. These chairs feature components that let you personalize them to fit different spaces, including the office and game spaces.
Ergonomics is also the watchword, with the chairs here giving your body enough comfort as you sit for prolonged hours. You'll also find features such as massagers, footrests, and other ergonomic comforts. Without mincing words, we urge you to go through our list and review the five best gaming chairs featuring the purple color.
Pros
  Bluetooth speakers with surround sound
  Smooth and wear-resistant PU leather
  Adjustable and ergonomic design
  Fit for gaming and office use
Cons
  Armrests and footrests aren't sturdy enough
  Bulky
GTRACING is a brand that's well-known the world over. You don't get to that level without delivering the goods on gaming chairs and their capabilities. To that end, this purple computer chair is one of the ultimate chairs GTRACING built for high-level competitors looking to enjoy their favorite video games in grand style.
The chair is a great ergonomic assembly built on a solid metal frame to support your weight in an upright position. This also means that you can stay comfortable for long hours at a time.
With the padding, it's easy to see why GTRACING says the chair was built for comfort. It's extra-thick so that you have the best support through all your activities. That goes for the seat and back area, the two most important aspects of any gaming chair.
In addition to that, you get Bluetooth-enabled speakers that give you some pomp and an immersive atmosphere when gaming.
– Adjustable Components: Figure Out Your Favorite Spots
If you can't make adjustments on the chair, then it's not from the GTRACING brand. This model gives you versatile functions you can tweak to suit your needs. For example, you get adjustable armrests to give your arms some life after gaming for long periods.
The height of the seat is also adjustable coupled with the recline angle to rest your back. You can recline between 90 to 170 degrees, while you can also take advantage of the 360-degree swivel function.
Besides that, you get a 5-point rolling base that supports up to 350 pounds.
– Ergonomic Design: Reliable and Comfortable
You get a strong metal frame designed to help promote a comfortable seated position and allow users to use the removable headrest. It helps to give you more focus and if you ever feel uncomfortable, take it off.
– Materials: Body-Friendly Components
This GTRACING model comes with high-quality, smooth PU upholstery that covers the thick padded seat. We know the cushion is made with high-density foam to last for the longest time. If you're having a hard time gaming, you can take out the footrest for more support.
– Connectivity: Bluetooth Speakers
The fact that you can have sound on this purple chair makes it worth getting. Those sounds you hear on your screen can become up close and personal when it comes from your gaming chair. To that extent, GTRACING incorporates two Bluetooth speakers into this chair. Moreover, there's a surround sound system that brings out the best in entertainment.
Having a Bluetooth connection also means that you can connect it to a number of compatible devices. Your smartphone, tablet, console, and other devices can connect to the Bluetooth speakers with up to six hours of playtime.

– Overview
If you alternate between your gaming space and office, this is the ideal chair for you. It's a great model for working and playing games thanks to exciting and adjustable features.
Pros
  Widened memory foam for more legroom
  Robust metal frame
  Recline with rocking function
  Waterproof and easy to clean
Cons
The GLOGERY purple leather gaming chair is another model on this list that comes equipped with the highest quality faux leather on all sides. Also, it sports a solid metal frame that provides enough support and balance to gamers. As such, the chair is expected to last for a while yet.
There's a high-density foam at play here that you get the best cushioning and support throughout any activity. You get some adjustable parts and additions to the chair with emphasis on your back and lumbar area.
– Seat: Wide and Thick to Accommodate Different Sizes
When you sit on this chair, the first thing you'll notice is how wide it is. The manufacturer also makes the foam cushion thick enough to regroup when you get up. What that gives you is more comfortable legroom without pressure on your feet.
– Ergonomic Design: Safe and Comfortable
Along with the solid metal frame on this chair, there's a high-density sponge inside to give you a more fatigue-resistant sitting posture.
In addition to that, you get adjustable lumbar support and a headrest pillow to relax your spinal and neck. Both of these components are ideal for prolonged hours of work or gaming sessions.
– Material: Soft and Easy to Maintain
GLOGERY selects exquisite materials for this racing-style chair. In line with that, the chair comes with soft and wear-resistant quality PU leather.
The materials are also waterproof, fade-resistant, and easy to clean. The components are rigorous coupled with the assembled nylon base that can withstand up to 300 pounds.
– Customizable: Personalize Your Chair
You can make some extra adjustments to this chair, depending on what you want. For example, you can lock the chair at any angle between 90 to 175 degrees. There's also a 23-degree rocking function so that you can control whether the chair swings or remains stable.
The chair is also easy to assemble with every hardware and tool necessary for setting it up.

– Overview
This GLOGERY chair is perfect for gamers and regular users alike. The softcover, quality foam, and ergonomic design will give them a better experience.
Pros
  Durable and reliable
  High weight limit
  Includes an extendable footrest
  Wear-resistant design
Cons
  Bulky design
  Can retain stains
Perhaps you want that unique and stylish black and purple gaming chair but don't quite have the funds to buy one. Well, this Bossin chair gives you that option because you can get it on a tight budget. It's one of the best chairs with the kind of features it boasts.
For starters, there's a footrest you can bank on to rest your feet and some extra cushions so that you have maximum support. That's necessary for gamers who spend a lot of hours sitting in one spot. In addition to that, the chair's ergonomic design makes it ideal for use in different spaces, including in your office.
However, it's best used for gaming thanks to its high-back design and neck pillow to keep you focused on the game.
– Top-Notch Build and Material Components: Nice on the Skin
We like the super-smooth PU leather, which is soft and comfortable at the same time. It limits sweating and won't stick to your skin.
Along with the leather, there's a Class 3 gas lift which gives the chair a durable and reliable frame. That's why it can support up to 400 pounds weight limit.
The thick padding on this chair makes it perfect for gaming or even for work. Also, you get extra cushioning built into the armrests to keep your muscles supported as they start to tire out.
– Mobile and Adjustable: Customizable Seat and Parts
You'll enjoy 360-degree swivel action and a reclined angle of up to 155 degrees coupled with full adjustability and control. The chair is also height-adjustable with a gas spring cylinder. These mechanisms are simple to adjust depending on your needs.

– Overview
This Bossin chair is perfect for gamers who want thick padded cushions and a high-back for extended gaming sessions. That way, gaming is comfortable with improved performances.
Pros
  Perfect weight capacity of 300 pounds
  Light and easy to move
  Removable headrest and lumbar cushion
Cons
  Lacks adjustable armrests
  Above-average quality
We like this fantastic gaming chair for several reasons. The first being that it combines aesthetics and comfort well enough to leave you drooling over it. The second is that the chair is durable enough thanks to a robust frame made of heavy-duty steel, allowing it to hold up to 300 pounds of load.
If you're a gamer over six-two tall, you might have an issue with the back of the chair because the support is somewhat reduced. However, other users under that height will experience a comforting hug from the back of this purple and black gaming chair.
– Ergonomics: Great Support for Head, Spine, and Lumbar
Vitesse's ergonomic design on this chair is enhanced by thick overall cushioning coupled with adjustable lumbar and headrest pillows. As a result, you receive more assurances over your health with more reference to your back. Even if you spend all night hitting back at opponents, there's adequate protection and support for your back.
– Materials: Ideal Quality
The finishing is another point of reference and is done with skin-friendly leather while there are noiseless 360 degrees rolling casters. Your full round swivel is taken care of, and you can move around the gaming or working space. That's a safe way to move, and the floor is not affected.
– Customizable: Adjustable Components
The armrests on this chair are soft but not adjustable. That's a bit of a drawback if you can't flex your arms after prolonged periods. However, the chair has a back recline with a stated 90 to 180 degrees, although some users think it doesn't get that far. You can always recline to watch your favorite movies, take a quick nap, or play games from a reclined angle.
– Big Seat and Wide Back: Built for Comfort
Your gaming sessions will get a lot more interesting with the thicker back and deeper bucket seat on the Vitesse. With it, you get extra comfort no matter where you choose to use the chair.

– Overview
This chair does have a lot of customizable and comfortable features you can use. That makes it ideal for budget gamers who what a seat they don't have to worry about sitting on for prolonged periods.
Pros
  Spacious chair for gaming and office use
  Soft and comfortable material
  Segmented ergonomic padding for more comfort
  Excellent lumbar and massage function
Cons
  Armrests only pivot when chair rocks
Vonesse stands out as one of the top furniture-making brands in the market. The brand has a raft of innovative and stylish gaming chair models in its lineup. As a manufacturer, Vonesse has always been keen to create the best ergonomic chairs and redefine the seating experience. In a bit to do that, the brand covers about seven countries around the globe.
One of Vonesse's pieces of furniture is this purple racing chair for adults. The chair's profile is one with ample space for your entire body and soft materials that increase your comfort levels. To do that, Vonesse uses luxurious and sturdy carbon fiber leather.
If you feel jaded after playing or working for a long while, the vibrating function can help you settle down and relax. We like the solid base considering the chair is made for adults. As such, it has to pack enough punch and resistance.
While the armrests have paddings, they don't have enough room for adjustments.
– Stylish Design and Materials: Luxurious Racing-Style Chair
The materials here are essential collections. The chair's racing-style design provides the luxury and comfort you need, whether for intense gaming or long workdays.
Moreover, the premium leather allows for extended hours of use. The chair is also upholstered in carbon fiber leather to set up an aggressive style. That way, your space gets a nice and inviting appeal.
– Ergonomic Shape: All-around Comfort
Ergonomics should form part of the reasons why brands build chairs. Vonesse recognizes this fact and makes this chair comfortable with segmented padding designed to give highly contoured support. No matter where you use this chair, you'll have a comfortable base to function with.
As part of the ergonomics, you also get well-padded armrests and an adjustable lumbar support pillow. It's worth noting that the lumbar cushion fuses with a massage function that vibrates and helps your blood circulation when you sit in one spot.
You can optimize your position by raising or lowering the chair between 90 to 135 degrees. Recline to relax and let the rocking function give you some good times. Also, use the 360-degree swivel for more dynamic movement.

– Overview
If you love extras like massage and rocking functions, this purple chair is for you. The rich and comfortable covering will give you terrific experiences.
Purple Chairs: Frequently Asked Questions
1. Will the color of a gaming chair affect my mood?
Research has proven that colors have a way of affecting our mood. For example, a color like purple has a calming effect on the body and also signifies royalty. You can try out a white and purple gaming chair or other combinations if you like various colors.
2. What are the most important features associated with purchasing purple chairs?
If you are in the market for a gaming chair with purple color, you still have to consider some crucial factors such as:
  The type of materials used for cover and padding
  The adjustable or customizable options present
  The weight limit or max weight capacity
  The overall ergonomics of the chair
Purple Chairs: Conclusion
It's okay if you're still not sure of the purple chair that's best for you. But the fact is that these models are some of the best in the gaming chair industry. With the kind of support and adjustable capabilities you get, it isn't easy to look past five of them.
Perhaps your concern centers around a budget, the Bossin purple chair reviewed here comes equipped with a lot of great features at a very fair price, and we cannot recommend it highly enough. It's big enough, gives you ergonomic parts like footrests and extra cushions, and you can adjust the backrest to enhance your comfort level during every gaming session.
Irrespective of the purple chair you choose, ensure it's a model that will last for a long while and gives you proper support.