There are a lot of Noctua vs Be Quiet comparisons for the best quiet fans.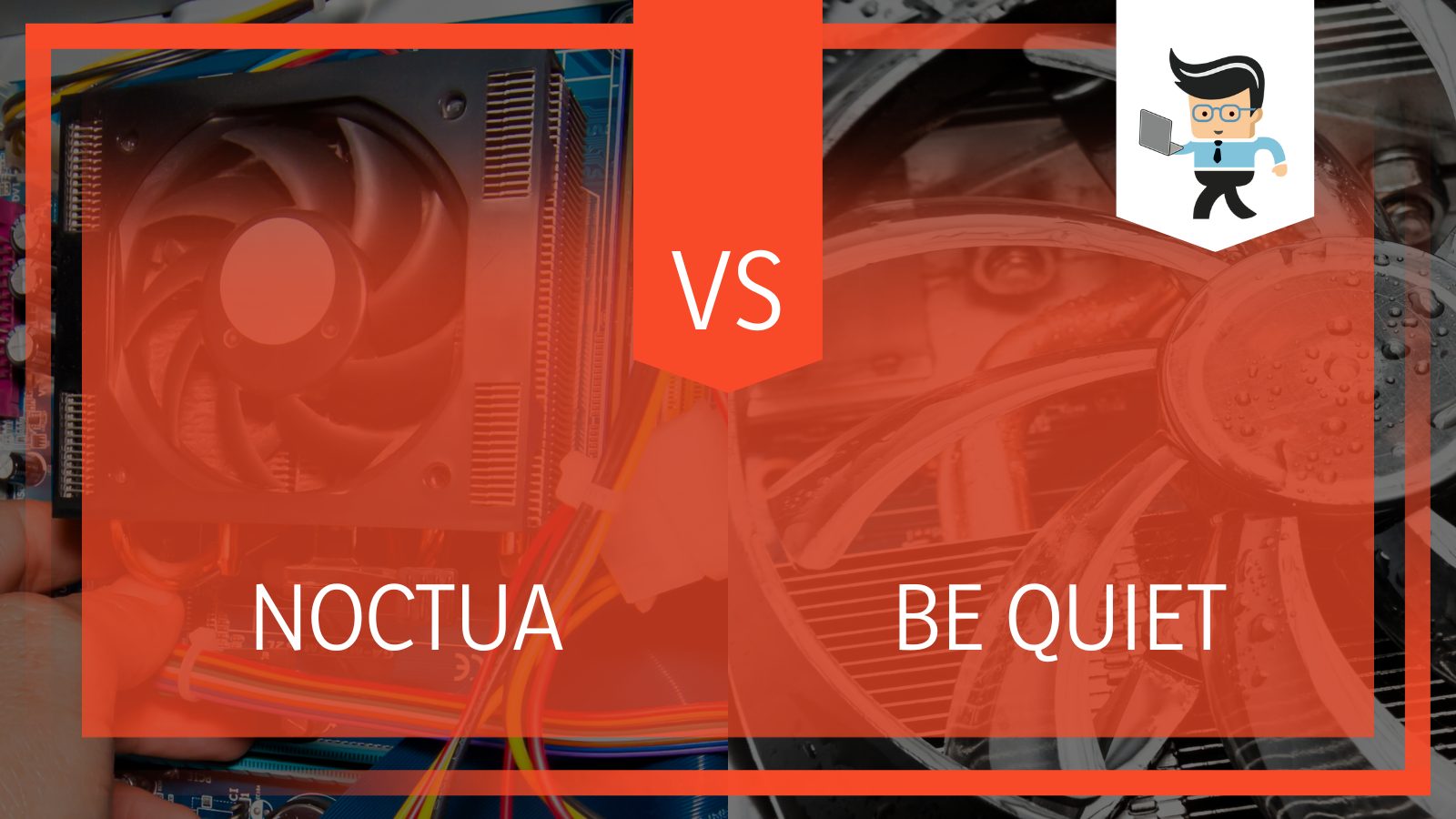 Understandably so, these are two of the leading brands available in the market not only for PC cooling, but also in the industrial applications.
They offer several options for high-perming radiator fans. The con of this is it makes deciding on which one to buy even more difficult.
In this article, our experts will not just compare these two brands. We will also give you a breakdown of which models to consider. Which brand do you think will win this showdown of silent radiator fans?
Be Quiet vs Noctua: What Is the Best 120mm Radiator Fan?
Fan
Pros 
Cons
Noctua

Some of the quietest fans available
Reasonable price
No need to clean them often

Quite thin
Made for one size
No physical knob to adjust speeds

Be Quiet

extremely quiet
6-pole fan motor for less vibration
Sleek and beautiful designs
Good cooling
Very easy to install

On the more expensive side
Easily attracts some dust and need more cleaning
No RGB lighting options on most models
The coatings scratch easily
We have taken a comprehensive look at the two brands' fan offerings. Over the years, both Noctua and Be Quiet have had some really great quality fans and then they've had some that aren't that great.
We will give you complete reviews of each brand and highlight the products that are obviously better than the other.
1. Overall Review Of Noctua: Look, Design, and Specs
Noctua is a great brand that has released some of the best fans on the market today. In general, their newer fans are particularly strong and silent.
They will often be the default option for manufacturers and computer builders because they have great quality and come at competitive prices. Their fans are good on static pressure and have better airflow ratios than even more expensive fans.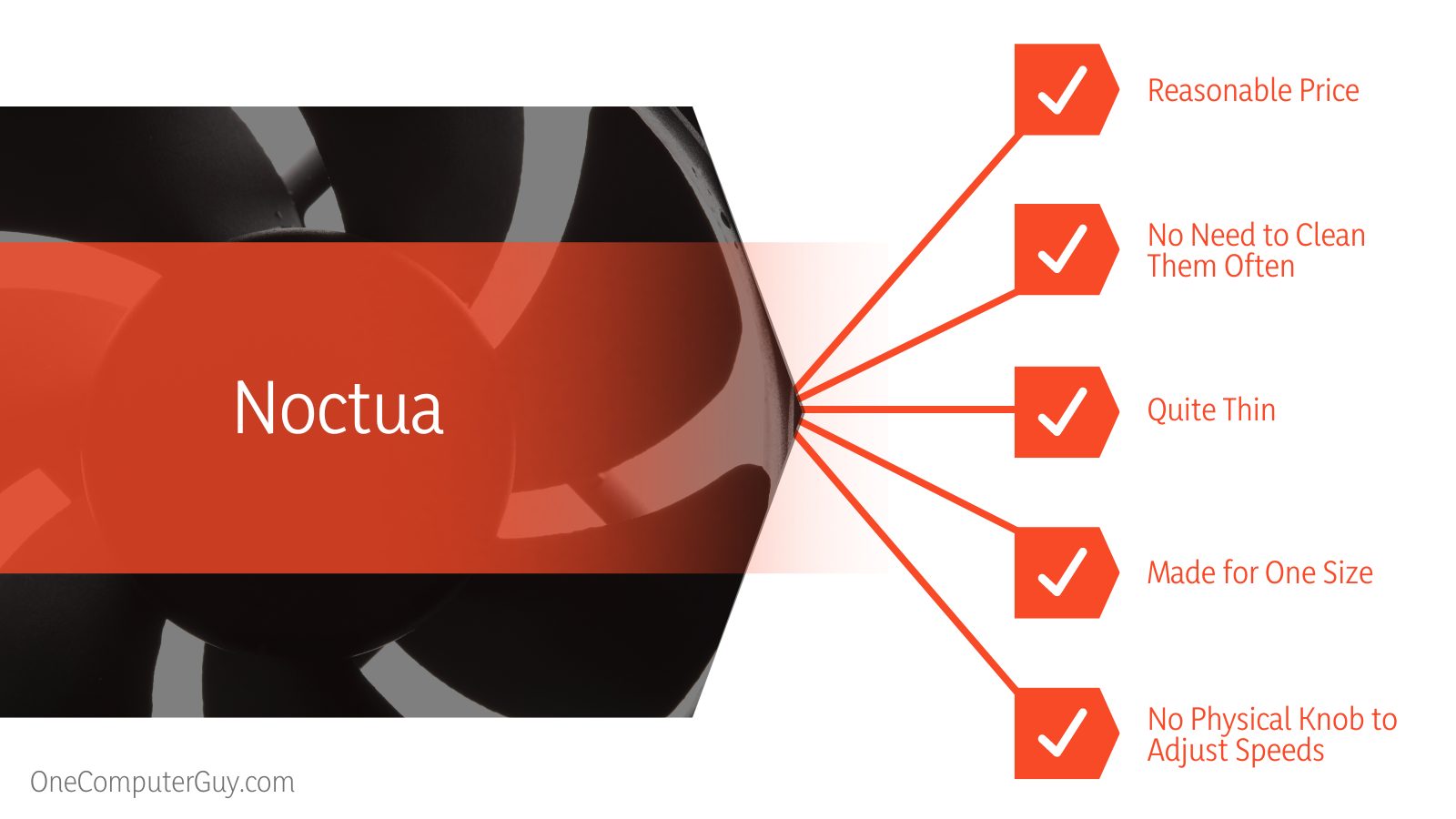 – Pros
Noctua has produced some of the quietest fans available on the market today. They come at a very reasonable price for how good they are. Moreover, you don't need to clean them all that often.
– Cons
Their fans are often quite thin. Many of their models are only made for one size. More importantly, there usually isn't a physical knob to adjust speeds, which may be inconvenient.
– Appearance
Noctua's fans are pretty, but sometimes they are a little clinical as well. They don't usually have the elegant touches that other brands have. The fans that do have elegant touches are a bit more expensive.
– Installation
Installation for these fans is easy and quick for almost all of them, unless there is some lighting involved. This will have a few more steps to the process. But even if you haven't done it before, you should be able to follow the instructions easily and get it done quickly. You will get almost everything you need in the box with the fan.
– Speeds
You can usually speed up Noctua fans quite a bit, but you do lose some of the quietness that most of us want. Still, if the fan is graded for a specific speed, then it is going to be quiet at that speed.
– Quietness
If you want a quiet fan, start with something from Noctua. They go the extra mile to ensure that their fans are quiet when operating.
They use rubberized parts so that there isn't a lot of vibration, which is a little detail that helps take Noctua products to the next level. There are also anti-vibration pads made out of silicone that help add to the quietness.
– Suggestions
If you are going to use a water cooling system, Noctua fans are hard to beat.
Here's a list of some of their products that you can check out:
Noctua NF-A14 FLX
Noctua 4-Pin Premium Quiet Fan
Noctua NH-D15
2. Overall Review of Be Quiet!: Look, Design, and Specs
Be Quiet! is a brand that isn't as well known as Noctua because they are younger and focus specifically on fans. Their products tend to be a bit more elegant (and expensive) than some of the other options. They are a little harder to find, but not impossible in many situations. Every single fan is quiet, as per the name.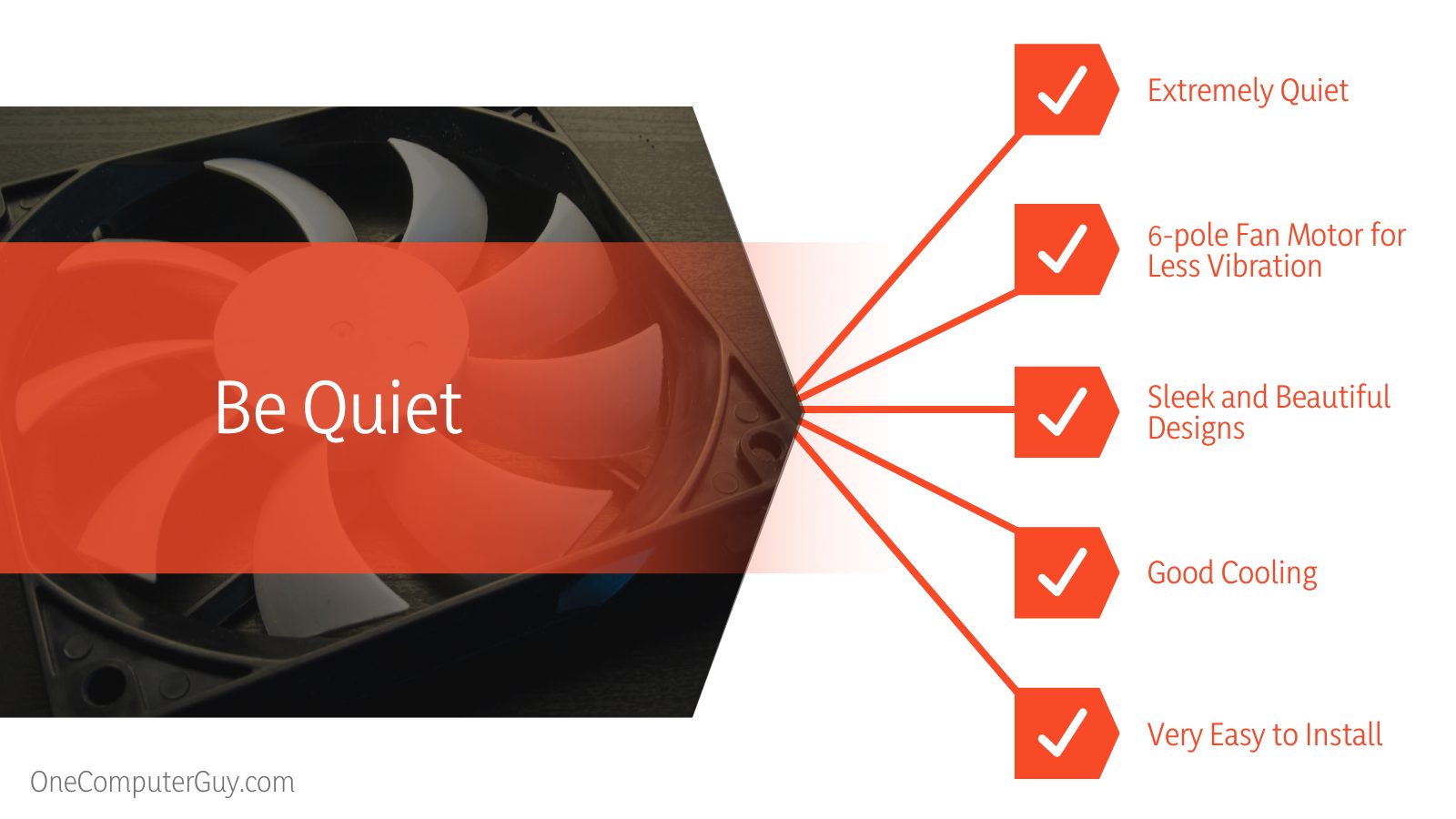 – Pros
As mentioned, these fans are extremely quiet. They boast a 6-pole fan motor for less vibration. They have sleek and beautiful designs and offer good cooling. They are also very easy to install.
– Cons
This is a brand on the more expensive side. They easily attract some dust and need more cleaning compared to its competition. They have no RGB lighting options on most models. Lastly, the coatings scratch easily.
– Appearance
Most of the fans from Be Quiet! are darker and a bit more stylish than other fans. They are designed with clear cases in mind and they almost all have a minimalistic edge to them. There are some that are designed to have lights.
– Installation
Installation for these fans is also simple. Even if you haven't done it before, you should be able to follow the instructions and get it done without a problem.
You will get almost everything you need in the box, including thermal paste, mounting brackets, two way PWM splitters, extra brackets, and even a screwdriver so that you don't mess up the finishings.
– Speeds
You can usually speed up a Be Quiet fan quite a bit and still get that same performance that you crave. These fans do stay quiet, even if you try to push them faster than the advertised speed.
– Quietness
Overall, this is one of the quietest fan brands on the market today. You can even overclock and adjust the speeds and you will get a consistent, quiet performance.
– Suggestions
Be Quiet! fans offer great price-performance ratio. They utilize a noise absorbing anti-vibration concept making them the great choice for gaming PCs and radiators.
Some models to check out are the following:
Pure Wings 2
Silent Wings 2
Shadow Wings 2
Which Brand Wins the Silent Radiator Fan Showdown?
The main difference between Noctua and Be Quiet is, Noctua doesn't attract as much dust and is more affordable, while Be Quiet is actually a lot quieter. 
Comparing these two brands for radiator fans is interesting because they seem to cater to completely different markets.
One is for the consumer that doesn't really care what their fan looks like whereas the other makes a fan that is so beautiful it would be a shame to put it in a case that doesn't show it off.
Here's our verdict.
Overall Appearance
The Noctua line has some of the most beautiful fans on the market today. They have some options that have all the bells and whistles, then they have other fans that are more simplistic but are still as gorgeous.
The Be Quiet fans are all simplistic but have elegant lines that can't be replicated. Still, you clearly have more options with Noctua over the latter.
Installation
Installation is easy for both of these fans, even if you have never installed one on your own before. Noctua fans take a little bit longer, but there are also more "how to" guides available for these fans.
Speeds
If you need a fan that you can easily adjust the speed on, then both Noctua and Be Quiet will have available options for you. However, there are more choices for most Noctua fans and they are a bit easier to overclock.
They are also easier to work with if you want to get a customized speed. Still, for the average user who doesn't want to adjust any speeds, fans from both brands are pretty much the same quality.
Quietness
True to its name, Be Quiet fans really outshine Noctua fans in this category. The Be Quiet fans are about as quiet as they can be, even when they are working overtime. This is largely because of the state-of-the-art technology the brand uses and their airflow-optimized fan blade design.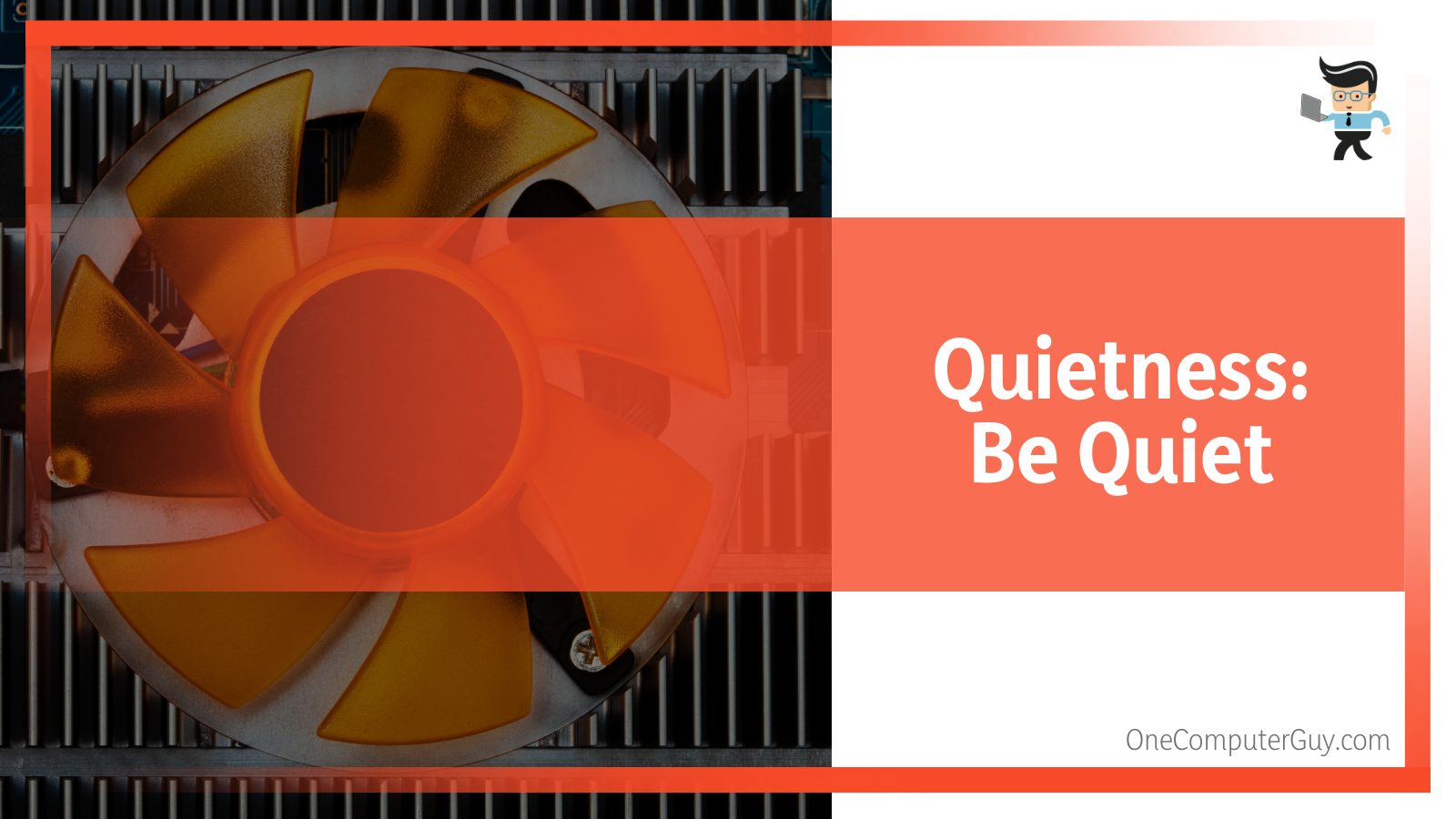 Still, both fans are quieter than the standard fans in prebuilt computers, and quieter than most other fans as well.
Price
Be Quiet fans are relatively more expensive than Noctua fans.
Cleaning
Noctua fans don't attract dust as much as the Be Quiet fans do, making them easier to maintain. They don't require a lot of cleaning compared with their counterparts.
Conclusion
At the end of the day, both Noctua and Be Quiet! produce quiet industrial fans that don't compromise performance.
If you are trying to choose between the two, it is going to come down to whether you want something that is truly quiet all the time even when you are overlocking or you need something with a pretty design.
If you want something that is quiet at all times (but is still beautiful and elegant), then you would want to go for the Be Quiet fan. If you are looking for something that is beautiful and looks great in a case (and can still be pretty quiet), then Noctua fans are the perfect option. Whichever you choose, you'll surely get a top-quality product.