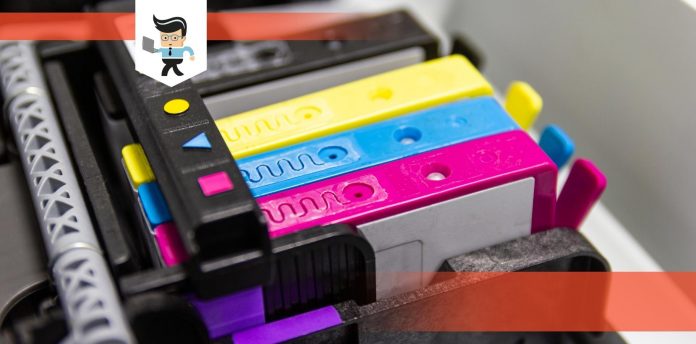 Like other top printers out there, the Epson WorkForce WF-7720 comes equipped with a variety of features and capabilities like scanning, copying, printing, and other capabilities business owners will value and appreciate. That makes it an excellent solution to a host of printing issues while going about its tasks without putting a burden on your employees.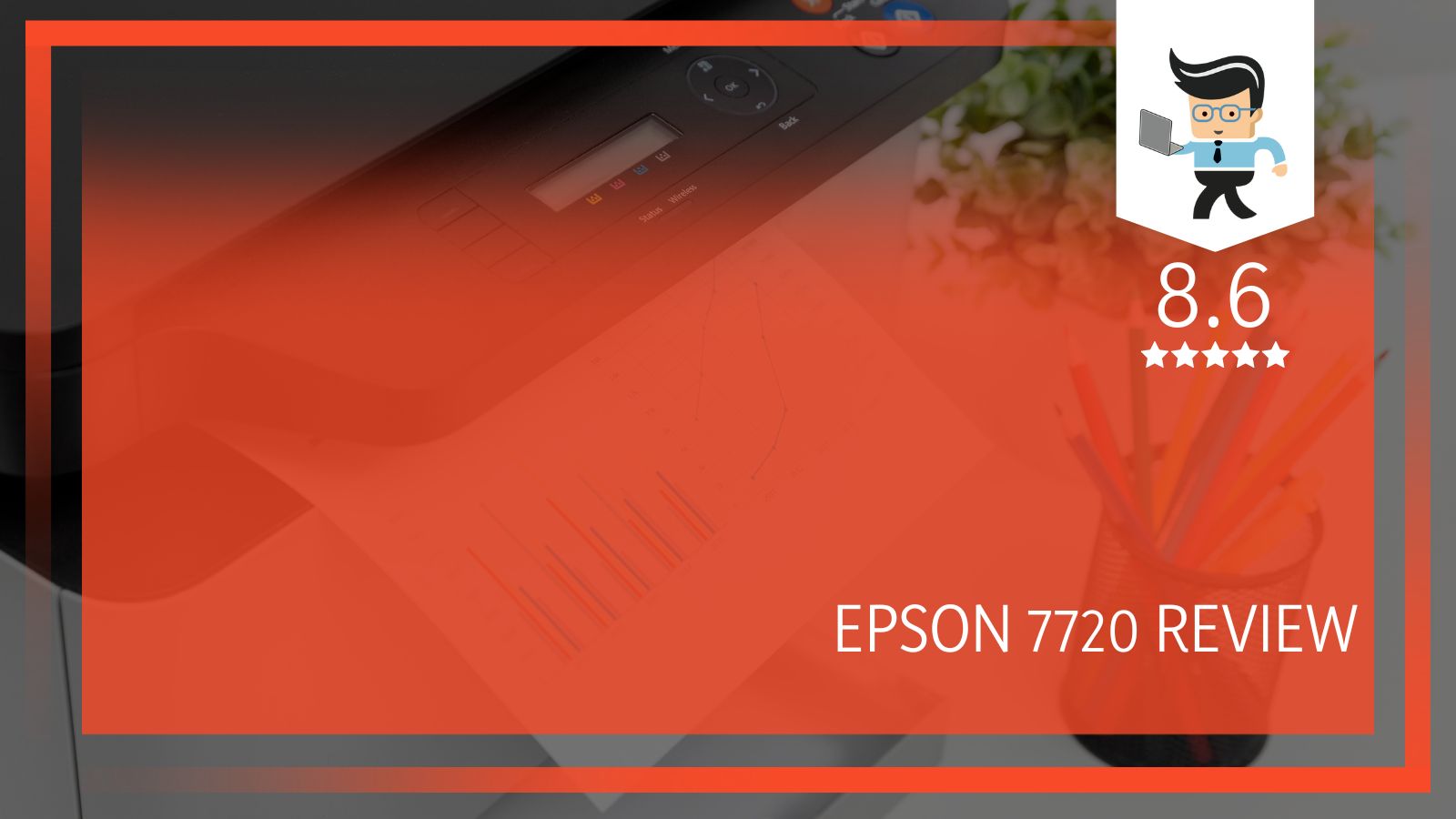 Epson is a giant printer manufacturer you can count on for superior quality peripherals. Our review of this product should help you learn whether it's good and reliable for the tasks and duration you use it for.
Key Specifications at a Glance
Product
Key Specifications

Brand: Epson
Model: WorkForce WF-7720
Printing Technology: Inkjet
Special Feature: Auto-Duplex
Color: Yes
Connectivity Technology: Wi-Fi
Epson Workforce WF-7720 Review: Fine Design and Functionality
The Epson WorkForce WF-7720 is a wide-format and all-in-one printer you can rely on to print oversize pages up to super-tabloid size (13 by 19 inches). Other features include reliable scans, copies, and faxing of documents up to tabloid size (11 by 17 inches).
It prints well but not at a very fast pace, but you get top productivity and easy features, such as a single-pass auto-duplexing automatic document feeder (ADF).
PROS
It works on 13 x 19 inches paper
Auto-duplexing ADF and scanner
Beautiful design and functionality
Multiple options for connection
CONS
High cost per page
Average print speeds
As a wireless all-in-one printer, the Epson WorkForce WF-77 offers multiple connections with specifications that make it special, including a unique shape and design.
It offers a nice blend of functionality and efficiency that modern printers are associated with. That's why it's suitable for low-volume uses, such as small offices and workgroups. However, expect a high cost per page.
– Design: Elegant With Intuitive Controls
The WF-7720 comes with an all-black color and white letters and numbers. For the most part, it's just like every other all-in-one printer due to its size and overall make. You'll see a scanner bed at the top of this device that's large enough for an 11 x 17 inches paper.
The top of the scanner cover has an automatic document feeder capable of scanning papers as large as 11 x 17 inches. Also, the automatic document feeder or ADF has a grey tab you can open in case of a paper jam.
The control panel features at the front of the printer with an 18.5" wide control panel that tilts up about 45 degrees. Also, there is an easy-to-use 4.3" color touch screen coupled with three indicator lights for various tasks.
We like the large screen size, which is easy to read and operate. Under the control panel, you get the output tray that manually extends out, making this printer deep at 32 inches. Two paper trays appear under the output tray, and each one can hold 250 sheets with sizes reaching about 13 x 19 inches of paper.
These trays also manually extend out from the printer to accommodate large-format paper. There's a translucent plastic cover to protect the paper when the tray extends beyond the printer's front.
There's a USB port at the printer's front, and the scanner bed lifts to expose the print heads and inkjet cartridge slots. There's a cover to protect the ink cartridges, and you can remove them when you want to change the ink.

– Print Quality: Top-notch With High Cost per Page
When we tested this Epson WorkForce printer, we used a variety of tasks, including printing texts on different paper sizes and fonts, and the text edges came out sharp, while the fonts appeared to be accurate on the paper.
The only drawback we recognized was the slow or average print speed. It will do 18 ppm for B/W and only ten ppm for color, making it move slower than other printers in its class.
It's not uncommon to have photo printing blow through ink fast on any printer. That's the case with this WF-7720 when we printed photos on both plain and photo paper.
Even though the results were beautiful and showed off the fine resolution of the printer, the shots were blown up. However, the color prints matched the tone and color of the original copies well enough.
The quality will drop for photos in plain paper, but you'll still get some good color matching and detail. You'll receive a warning for low ink with so many color prints, though. Also, the cost per page for the WF-7720 is on the high side and will increase when you do more work.
– Setup Process: Easy With the Setup Wizard
Any all-in-one printer will offer some complications to set it up. The Epson Workforce WF-7720 is no different and will take a while. We connected the printer to the Wi-Fi network and downloaded the installation software to get started.
Once the installation software was open, it downloaded the files to install. After that, the setup wizard quickly took us through every step from printer drivers to fax settings with ease. However, we had to manually use the touchscreen to connect the printer to the Epson account created in the setup wizard, and everything else was smooth sailing.
– Scanning: Offers Quality With Little Problems
The printer gives you flexible scanning options. We realized this when we tested it on text documents and photos. The Epson WF 7720 paper size takes 11 x 17 inches for the ADF, which is the total size of the scanner bed.
However, testing scanned text through the ADF revealed a cut-off text on the right edge of the page, making the document feeder almost useless or incorrect for documents.
Scanning an 11 x 17 inches photo placed on a scanner bed gave us a great job of providing matching colors and detail. It also helps that the scanner settings range from 200 DPI up to 1200 x 2400 DPI, but even the lowest settings work just fine.
However, the higher setting will blow up smaller photos to large sizes to a significant effect. What's more, it's easy to scan from this printer without using a computer. It can scan a flash drive, email, cloud drive, network folder, etc. Scanned images can be saved in various formats, such as Bitmap, JPEG, PDF, PNG, and more.
– Fax Quality: Easy Operation
The fax in this AIO printer is easy to use. You can use physical buttons on the control panel, which is a great change.
It is also simple, offers good quality, and all incoming and outgoing faces are easy to read. The graphics might leave much to be desired, but the speed is fast for the kind of jobs you want with it.
– Software: Good Enough
The fact is that the software on this printer is excellent for mobile but not as good for PC programs. It is functional, simple, and easy to use, but it gives off the feeling of being aged.
The software will facilitate printing from phones and cloud drives with Box, Dropbox, Evernote, Google Drive, and Microsoft OneDrive installed by default. Printing from the software could be quite the challenge when you want the right settings.

– Overview
The Epson WorkForce wide-format printer prints, copies, and scans wide-format pages. It's perfect for users that prefer a robust feature set. It prints well overall, but the high cost per page takes its toll on users.
Final Thoughts
If you need 13 x 19 prints, the Epson Workforce WF-7720 printer is a practical choice. It's solid and has quality features, but it's not without drawbacks like other printers in its class.
Printing on paper offers decent quality, but the ADF scanner leaves some doubt on how it operates. It also has a high cost per page, but overall, we'll recommend it for small businesses and offices looking to get through their daily tasks without going over the top.