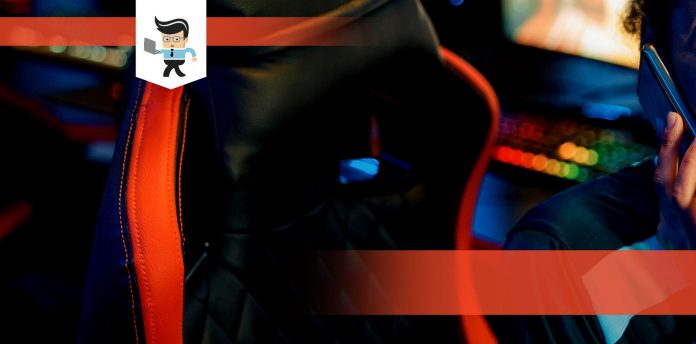 Deciding the best between the Maxnomic vs DXRacer is an age-old comparison to find the best manufacturer and top-quality models. That's not an easy task considering that both brands have been in the gaming chair industry for years and have a vast range of users.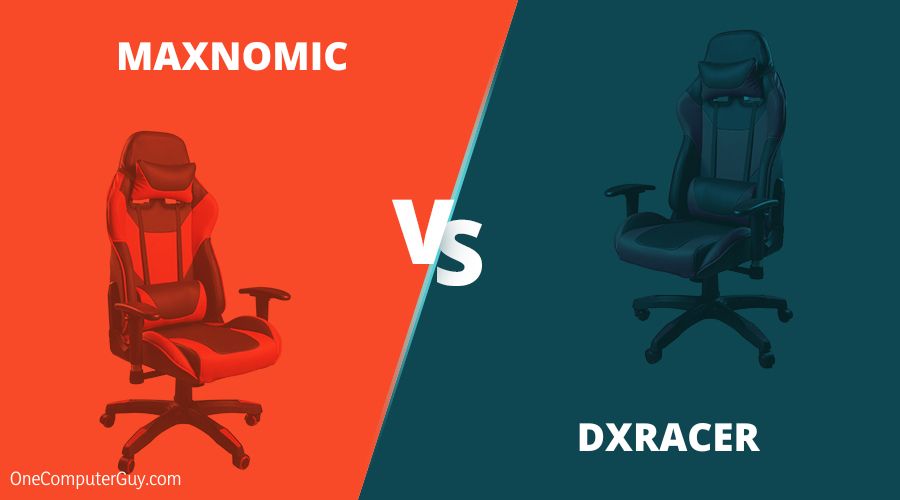 The fact is that you can't go wrong with either brand as far as comfort, adjustable features, and working specifications are concerned. However, they differ in some key areas, which might translate into different experiences for different users.
In line with that, our review team has put together this article to help you understand the notable differences between the two chairs and help you determine which brand is more suitable for your lifestyle. Read on!
Maxnomic vs DXRacer: Key Specifications
Product
Key Specifications
Maxnomic Leader Chair

Material: Faux Leather
Frame: Metal, steel
Max. Weight: 330 pounds
Recline angle: 67 degrees
Support: Non-slip headrest
Armrests: 4D adjustable

DXRacer OH/RAA106

Material: Leather
Frame: Metal
Max. Weight: 200 pounds
Recline angles:90 – 135 degrees
Support: head and lumbar
Armrests: 3D adjustable
Which Brand Has the Upper Hand Between Maxnomic and DXRacer?
DXRacer is a renowned giant and a staunch fixture among popular professional gamers and streamers. It's so popular that it has featured an exclusive seat for several gaming events, including WGC and UMG. That's because the brand is the oldest of all gaming manufacturers in the market.
As such, it's referred to as the father of modern ergonomic gaming and office chairs.
On the other side, you've got the Maxnomic which has been around for about eight years now. While it still qualified as a newbie for many users, the Maxnomic brand has carved out a niche in the premium gaming chairs market with top-quality build and design that appeal to all and sundry. Like DXRacer, it has attracted the attention of big names such as SoloMid and Riot games.
Read as we get on the unique selling points, feature comparison, and other information you need to know about these two amazing brands.
Different Models and Categories: Get Personal
Both chairs have a lineup of chairs categorized under different functions and sides. For example, the Maxnomic brand offers four main categories of gaming chairs. Also, the brand has unique and OSU edition chairs. Each group packs many variations that help each of them cater to the broader market.
When you want to choose the right Maxnomic chair, size is paramount. As a result, Maxnomic makes selecting a model easy for you, thanks to its four categories of seats based on size. You get from small (S) to extra-large (XL). The common thing among these size levels is the advanced ergonomic features on all models.
Whether you're on the S or XL model, features like a reclining seat, metal base, 4D armrests, and extra cushions are present. Moreover, all Maxnomic seats are made of synthetic leather filled with cold-cured quality foam.
For the DXRacer chairs, you get a much broader catalog ranging from regular office chairs to gaming chairs, gaming gear, and more. Further, this brand gives you six categories or series of gaming chairs to choose from. There are many unique edition models for gamers who want to customize their chairs other than those options.
Another that sets the DXRacer apart from the Maxnomic is the features it has. For example, some series have 2D armrests, while others come with 4D adjustable armrests. Again, the base of the chairs differs from nylon to metallic.
The DXRacer sets are often filled with high-density body-shaping foam with different covers. You'll find synthetic leather on some models, while others come with mesh, vinyl, or genuine leather.
We are trying to say about these two unique brands because you'll need to watch closely to get the best chair for your needs. To that extent, we will be reviewing two top models from each brand below. Do well to take note of their features, benefits, and differences.
Pros
Built with premium materials
Height and recline adjustments
4D armrests
Durable and fit for gaming
Cons
This particular Maxnomic chair is built with premium materials to keep you happy with an optimal seating experience. For this reason, the brand used a metal frame and molded cold-cured foam wrapped in premium PU leather to encourage proper posture, overall comfort, and a unique visual appearance. The unique colors and patterns make it worth having alongside fully customizable tilt, recline, and height.
The chair's ergonomic ability is a stated fact here, irrespective of your body type. It helps that you can use the Class 4 cylinder to adjust the height to suit your preferences or use the heavy-duty tilt mechanism to relaxed. Also, the armrests are adjustable in four different directions, while you can always expect all-day comfort from the skin-friendly seat.
We like that the PU leather keeps the chair looking luxurious. It sits on a steak frame that adds quality and durability to the chair; no wonder this model features on Esports teams and celebrity streamers.
– Comfort: Styled to Keep you Going
All Maxnomic models bear the needforseat tag for a reason. They're comfortable, and users are left enjoying the cold-cured foam underneath the covers. The foam maintains its shape for a long while, resisting compression. That makes it very hard, but at the same time, durable for several years.
– Height-Adjustable: Set Different Levels as You Deem Fit
Three different springs on this chair let you choose one based on your height. It helps because you might have family or friends over that use your chair. Also, it's essential to figure out your size before buying this model. For example, if you're taller than 6'5", this chair isn't for you.
– Armrests and Tilt: Get Super Comfortable
We have mentioned that you can adjust this chair to four different directions due to its 4D capability. It's a valuable feature you can use to customize the position of the armrests for maximum comfort.
In addition to that, there's a tilt function you can lock into five different positions, and you can recline the chair up to 67 degrees. That's decent enough for many users to rest, take a nap, or play games in their comfort zone.
– Extra Support: More Protection for Your Head
You get extra support by way of a non-slip headrest, but there's no lumbar support cushion to follow that up. That reason is that the shape of the backrest takes care of this automatically. It's designed not to need an additional lumbar cushion to protect your back or make you more comfortable.

– Overview
Not so many Maxnomic gaming chairs are built to meet the demand of heavy gamers, but with this particular model, you get comfortable and super convenient with your big body size. It is perfect for larger gamers who want a simple yet effective and efficient game chair.
Pros
Resilient molding foam
Solid and long-lasting material
Adjustable parts
Ergonomic design and build
Cons
The cover can get hot after long-term use
This DXRacer gaming chair is one of the Racing Series models with a comfortable seat to boost your performance. Many features give you the chance to personalize your experiences, including adjustable armrests and a tilt-rocking mechanism. The same thing goes for the height, which you can adapt to various desk levels.
It helps that the whole frame is made of metal to provide adequate support. Also, the cover of this racing-style chair is a cut from PU leather stitched and is suitable for prolonged periods of working or gaming.
Foam: High-Density Mold Foam for Comfy Times
You'll feel wrapped in this comfortable chair because of the high-density foam since part of it is used in the high backrest and seat. That way, you can sit for long periods over the elastic leather covering. It will help you remain in the correct posture.
– Recline Back in Style, Comfort, and Convenience
The recline feature is here to give you a reboot when you need one. Playing games or doing other things for extended periods often leaves its toll on you. That's why it's vital to take a rest. However, you don't need to get up from the chair. Recline to your favorite spot between 90 to 135 degrees.
– Adjustable Parts: Armrests and Extra Support
As one of the chairs similar to DXRacer, you can make critical changes to the arms for more comfort. Here, you can adjust the armrests to three different directions, making it portable for different body shapes and sizes.
In addition to that, there are extra pillows for your head and lumbar region. That way, you're safer and more comfortable.
– Strong Base: Robust Background to Swivel
Swiveling on the chair is effortless. You can go around 360-degrees on the robust base that provides the perfect background. If you're the type of user with multiple screens, you'll find this feature helpful.

– Overview
The OH/RAA106 model from DXRacer is perfect for gamers who want a robust option that's mobile and adjustable at the same time.
OH/RAA106 Racing Series and Maxnomic Leader: Head-to-Head Comparison
The main difference between Maxnomic and DXRacer is, DXRacer has a recline function and 3D adjustable, while the Maxnomic Leader sports 4D ones.
Finding the difference between gaming chairs boils down to particular factors such as comfort, ergonomics, and materials used.
– Comfort
Winner: Both
It's easy to see why both of these chairs tie when it comes to comfort. That's because the two brands have the essential features gamers and enthusiasts tend to look for. For example, you've for generous paddings on both chairs, extra support pillows, adjustable armrests, height, reclining angles, and many others.
If you have the budget to select from either model, take comfort out of your list of considerations. That's because any of these two chairs will do.
– Key Feature and Capabilities
Winner: DXRacer
As part of this gaming chairs comparison, we have to mention some key factors that make gaming worthwhile for users. It can be difficult settling for the DXRacer because Maxnomic boasts quality features.
The DXRacer has a recline function with a max angle set at 135 degrees. The armrests are 3D adjustable, unlike the 4D on the Maxnomic Leader. However, it has enough padding and gets the job done.
The padding on the seat is soft and resilient at the same time while you get extra support from the headrest pillow and lumbar cushion to support your lower back. There are other DXRacer accessories to consider, including footrests for your seat.
– Ergonomics and Materials
Winner: Both
We agree that both chairs have premium seats made out of premium leather materials and fine upholstery. The leathers are firm over the cold-cured and high-density foams provided by both brands. Moreover, the leather is easy to clean and a little breathable to keep users cool during prolonged use.
We also have to mention that both models have a combination of metal, steel, and aluminum so that you have the perfect base and frame for support.
Conclusion
Having gone through our review of these two models from popular brands, we hope it helps you make a choice. The chairs on parade are made with the finest materials and components to keep you safe and comfortable at all times.
With Maxnomic chairs, you get to enjoy top-notch build quality and additional lumbar cushions that will keep you through your marathon gaming sessions. DXRacer, on the other hand, comes equipped with a lot of premium features and a higher weight capacity that gamers and enthusiasts will find very appealing.
Which one is better?
We think the DXRacer offers more, not just because of the manufacturer. The full range of user-focused features, customizable parts, and general ergonomics make it a chair worth having.