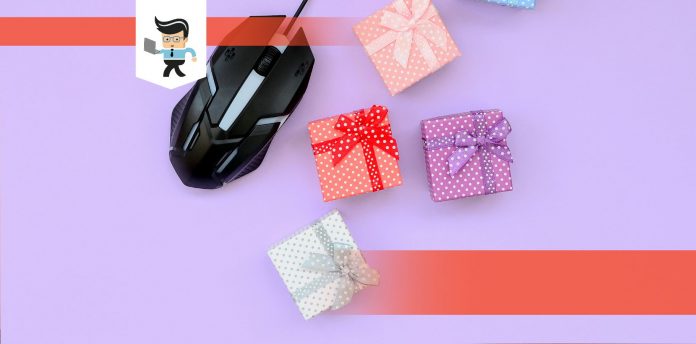 When you compare the Logitech G403 vs the G502, which one is the better option when it comes to wireless mice?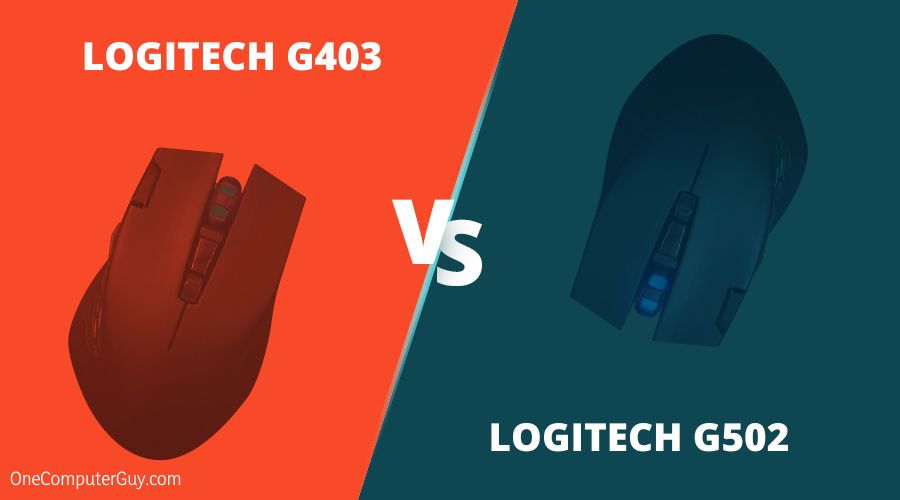 Well, both mice have similar builds and are for those who have medium-sized hands.
They are among the most popular mice available on the market today, though they have some detractors as well. They come in good shapes that prevent fatigue, offer lagless wireless inputs, and have quite good battery lives.
So how do they compare to each other? Our experts will break it all down in this article. Keep reading to learn more about their specs, features, and availability.
Comparison Table
Product
Key Specifications
Logitech G403

Extremely high-quality build
Wireless and lagless
Fantastic sensor and good battery life

Logitech G502

Adjustable weight, balance, and DPI speeds
Easily customizable buttons
Ergonomic shape
1. Logitech G403Review: Is This the Right Mouse for You?
The G403 is part of Logitech's Prodigy line, which is a more affordable line that still offers higher-end gaming options. It has a reduction in the number of buttons and has a classical design that attracts people who want to game casually without breaking the bank.
Still, those who do choose this mouse will get all of the advantages of a gaming mouse.
– Overall Design
Gaming mice have a particular look in them, and the Logitech G403 is no different. This is a more basic design, but it is effective for a wider range of people. The shape tapers near the grip and holds the hand in a natural position, which helps to reduce hand strain.
This is a great "gateway" gaming mouse because it doesn't hold the hand in a way that is too strange.
– Appearance
Most gaming mice will have lighting, and this applies to Logitech G403, too. To keep the price down, the lights are minimalistic, but there are some good RGB LEDs under the G Logo. It is really subtle, but it does add some pizzazz.
The lights are slightly more muted than more expensive mice and people who have an eye for color have noticed that the lights are a bit "cool" and toward the bluer end of things.
The good news is that they can shift easily between the 16.8 million colors available on the spectrum with the software. You can also program them to any color you'd like via the Logitech Gaming Software.
The finish of the G403 is what sets it apart from mice at the same price point. It plays off the lights and it stays cool in your hands. It also looks better when you're done playing: for some reason the finishing doesn't show fingerprints, dust, or wear marks.
– Performance
The sensor is really where the G403 stands out. It sends about 1,000 reports per second, which is a good number. The overall performance is smooth and seamless, especially if you take the time to adjust the settings to your own preferences.
It is easy to control sensitivity and functionality with the scroll wheel. You will have three available presets that you control, which is quite a lot for the price range.
– Buttons
The buttons are positioned extremely well, you won't accidentally hit buttons when playing, but you will be able to hit them in seconds. They are well-defined on the mouse itself so your fingers find them easily. When clicked, they are responsive and fast enough to be a competitive gamer.
Still, the noise is not so loud that it will be out of place in an office or dorm room. According to Logitech, the buttons are the same on this mouse as they are on the much more expensive mice. There have been few reports of buttons falling apart or starting to stick.
– Logitech G402 Weight
A lot of people talk about the weight of this mouse because it is just so light. Some people love this because it reduces hand strain but other people think that it makes the mouse feel extremely cheap.
It's important to note that there is a slot on the underside where you can put a weight to give it a bit more substance.
– Other Things to Consider
The mouse does make a strange vibration if you are a little too rough with it, like when you hit it against a harder surface or if you just move it too quickly.

Pros
It is an extremely high-quality build
It is wireless and lagless
It has a fantastic sensor and good battery life
Has good weight and is ergonomic
Cons
It is expensive for the range (because it is wireless)
The wired version's cable is heavy
It is on the larger side
The G502 is a bit more popular than the G403, but its popularity doesn't mean anything because both the wired and wireless versions had better manufacturing pipelines than the G403. The wired connection is the better of the two, largely because it is just more reliable. Still, the wireless version is pretty good, too.
– Accuracy
This is one of the most accurate gaming mice in this price point. It uses the PMW3366 optical sensor, which is one that a lot of gaming mice use. If you play mostly first-person shooter games, this is a fantastic option. There is a good targeting stand and minimal acceleration when you are playing.
– Weight
This mouse has a tunable weight system that allows you to customize the feeling of the mouse in your hands.
The weight customization is easy to use, and you can even make different settings. If you are willing to take the time to find the best settings for you, it is really helpful.
– Customization
If you need to customize your mouse for gaming, you usually won't have too many options at this price point. However, with G502, you will. You will be able to customize the lights, the feeling, the weight, the speed, and more. There are 11 buttons to customize.
– Lighting
There is slightly more lighting on this mouse than on the G403. You can adjust the color patterns using the software or develop your own.
– Performance
The Logitech G502 is a mouse that many gamers stand by, including serious gamers. It is only effective when it is a good fit for your hands, however. The buttons are spread out just so, meaning you won't hit them accidentally, but you won't have to strain your hand to get what you need.
– Design
Overall, the shape of this mouse is pretty good for people with larger hands. Mid-sized hands will be okay, but anyone with small hands will experience fatigue fairly quickly. It is wide instead of high, as it has a "claw" grip style.

Pros
The weight, balance, and DPI speeds are all adjustable.
The buttons are easily customizable
RGB lights are beautiful
Has an ergonomic shape
Cons
The DPI positioning is on the awkward side
Logitech G502 vs G403: What Are Their Differences and Similarities?
The main difference between Logitech G502 and G403 is, Logitech G403 comes with a wireless connection while Logitech G502 lets a lot more customization options.
Let's see how these two options stand up against each other:
Connections
Your mouse needs to stay connected to your PC when you are gaming or just using your computer. Both of these mice come in wired and wireless connection options. The wired connections work pretty much the same way and are equally as good as the other.
The G403, however, has a slight advantage when it comes to the wireless connection because you can move further away with it.
Customization
Customization is a great add-on in whichever equipment. However, not all features that can be customizable are important to every user. For example, not everyone needs to customize the lighting in their gaming mouse.
But there are certain customization that really matters, like the weight of the mouse in your hands. Very few mice in this price point will have a mouse that you can adjust the weight on, which is why the Logitech G502 wins this round.
Well, it wins the customization game overall as Logitech G502 allows users to configure their mice to be an extension of their hands.
Hand Feel
Both of these mice feel good in your hand. The grips are slightly different, so the "better" option is really going to depend on your own preferences.
However, the G502 is really only going to work for people who have large hands, particularly longer fingers. The grip is more controlled and less all-encompassing.
Conclusion: Which One Wins This Logitech Mice Comparison?
Depending on the size of your hand and what you prioritize to have in your gaming mouse, either the Logitech G403 or the Logitech G502 is going to be a good option for you. They are both amongst the highest-rated mice from the brand and the market as a whole.
Understanding the size of the mouse that you need is important when making your choice here. You want to find the mouse that meets your needs and keeps your hand positioned in a way that is comfortable. This means in the grip shape, in the size of the mouse, and even in the weight of the mouse.
Overall, the Logitech G502 is actually the better mouse of the two. But Logitech G403 doesn't fall far behind it. In fact, we think that the Logitech G403 is going to be the best bet for a wider range of people.