Our Logitech G403 wireless review showcases a mouse that forms part of the new Prodigy lineup from the Logitech brand. It's a peripheral engineered to make high-end gaming rigs worth having, thanks to its reduced number of buttons and classic design.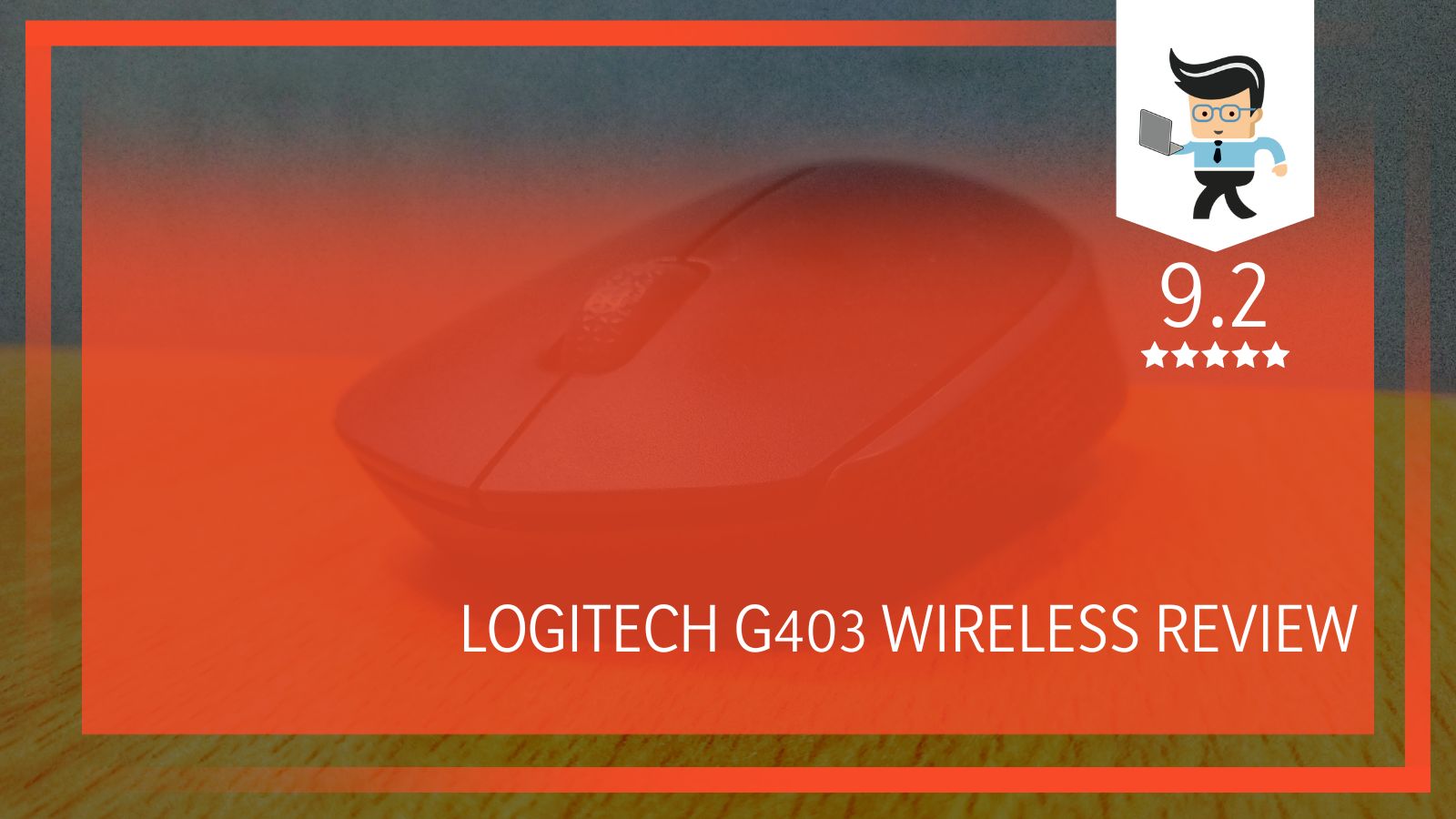 If you're a gamer, you'll be interested in what we think about this mouse and what it has to offer to make your experiences worthwhile.
Will its feature set, specifications, and other abilities boost your gaming performance?
Let's find out!
Key Specifications at a Glance
Product 
Key Specifications 
Logitech G403

Brand: Logitech G
Connectivity Technology: Wireless
Movement Technology: Optical
Ergonomics: Side grips, Weight-adjustable
DPI: 200 – 12,000
Buttons: Six
Logitech G403 Wireless: Nice Grip and Power
The Logitech G403 Wireless is a gaming mouse that packs moderate to high-level features. It's similar to the G Pro Wireless mouse but comes with a pronounced slant design for right-handed users.
Like other Logitech mice, it offers an excellent sensor performance, and it's also fully customizable using the Logitech G HUB software. It also has full RGB with a shape that's comfortable for palm grippers, although we can't rule out claw and fingertip grips. It's a well-rounded mouse, as you'd get to see below.
Logitech G403 Wireless Key Criteria
Lightning and Customizations
8.9
PROS
Comfortable to hold
Creative and intuitive software
Stylish
Familiar feel
CONS
Suits right-hand orientation
With this Logitech gaming mouse, you get a peripheral that's equipped to deliver a gaming-grade performance with up to eight times faster response than standard mice. Every mouse click and movement gives you a near-instantaneous response from hand to screen.
Inside, users have the most advanced optical sensor, which delivers more than enough speed, accuracy, and consistency. We also like the fact that the mouse is ergonomic. The wide rubber grips and removable weights add to the ease of use.
Shape and Design: Stylish and Comfortable Grip
Many gaming mice have precise, exotic shapes and designs, but the G403 Prodigy mouse relies more on the basics. To that extent, it has a classic design that feels more natural and familiar than other mice in the Logitech G lineup.
There's a little tapered grip for your thumb and ring finger to rest on the mouse, and it will glide across a host of surfaces without issues. Unlike other mice in its class like the Razer Naga, this mouse from Logitech boasts an unconventional shape and unique wide angles.
The Logitech G403 offers gaming gear with its matte black finish and RGB LEDs to slide things up. These two components are programmable using the Logitech Gaming Software.
The mouse's build can be described as understated and stylish without being too loud. Whether you use it in the office or your game room, it won't catch the eye. At least, not immediately.
You'll have a good feeling with the matte finish in your hand, which doesn't leave fingerprint marks on the mouse. At the sides, the Logitech G403 specs feature two thumb-side buttons. They are well-positioned towards the top or the left side of the mouse and out of the way to avoid accidental clicks.
The two primary buttons – the left and right-click buttons, add to the moderate look and function of the mouse. These buttons are responsive and will give off a satisfying click, coupled with being fast enough for competitive gaming.
According to the Logitech G brand, these buttons are the "real deal" and feature on their Pro line of gaming mice. Their custom-tensioned springs and detached plastic will not warp after extended use. However, the buttons are plastic, just like the rest of the mouse, and can get bad in the long run.
We observed that the mouse buzzes when tapped against a hard surface, but that's more of a side effect with the custom tensioned springs underneath the right and left buttons.
The weight is another talking point, but the Logitech G403 weight was designed to be light for many applications. But you'll have the chance for optional weight when you add the extra ten grams to the mouse.
RGB Lights: Put On a Show
You can use this RGB gaming mouse to a significant effect. You can trace this tradition of RGBs back to when gamers used LEDs in computer cases. So it's normal to have peripheral manufacturers spice up their mice with different customizable LEDs.
The ones you get on this mouse are bright but muted by a soft touch overlay, so they're not too bright to the level where you dislike them. Shifting between the 16.8 million colors available is easy, and you can program them to colors you'd like using the Logitech Gaming Software. They look nice with a dominant blue hue on the mouse.

Features and Durability: Quality Components and Durable Battery
The G403 wireless mouse uses the Logitech Gaming Software like other devices or peripherals from the brand. It's robust, smart, and easy to use, and it won't take too much by way of system resources to handle.
As a result, you can use the software to change the mouse's DPI (between 200 and 12,000), program buttons, link individual profiles to games, and change the illumination color. As for this wireless version of the G403, you can use the software also to monitor the battery life.
As a full RGB mouse, you can take complete control of the colors and go ahead to sync up with other Logitech products for a coherent color pattern. You get excellent fidelity from this wireless mouse with the wireless website inside.
What's more, the Logitech G403 battery life is worth mentioning, and users can expect over twenty hours of battery life after a single charge. Ensure you take care of the sensor to avoid getting lost in the mix.
Performance: Smooth and Designed for Gaming
As mentioned in the Logitech G403 release date, the sensor has always been a standout feature, and according to the brand, the sensor sends about 1000 reports per second. You get a silky smooth mouse even on the highest sensitivity settings.
Of course, you can control the sensitivity with a button placed above the mouse wheel while toggling between three to five presets. Each of these presets is too sensitive or slow, so it's hard to find a pleasant zone. But you can have this fixed when you tune the sensitivity in your computer's settings or individually for games.
Notwithstanding, we preferred that the presets were a little more granular. These settings will bundle some games. You can also program your buttons, save your settings on the G403's onboard memory, and much more.
If you're asking how long this mouse will last, you only have to look at the rubberized side panels, which are firmly affixed to the body to add to the mouse's sturdy design. There's hardly room for anything to get in around the edges over time, and the material on the Logitech G403 wireless will keep out dirt and oils.
Even with the rubberized side panels, they're durable, and they won't start peeling off even if you apply pressure on them.
The G403 wired version is robust and flexible, but the wireless version gives it a run for its money. Both of them will last long, and the beauty of this wireless option is that it's easy to move around, especially with the onboard profiles.

Overview
From the Logitech g403 dimensions, which you can adjust to the software and programmable buttons, you get a mouse ready for the business of gaming. It's that good and will fit regular and pro gamers looking to have the edge over the competition. The battery life is more than encouraging, boasting over 20 hours of use even for continuous gaming.
Things to Consider Before Buying a New Gaming Mouse
– Sensitivity
The sensitivity of a mouse is represented by the DPI or dots per inch. It points out the number of dots the mouse records on a mousepad for every inch of movement. If you have a high DPI, the mouse will be swift across the screen and on any surface. A low DPI can also be advantageous when you focus more on shooting games.
While there's no best DPI setting, the Logitech G403 here gives you some options to dictate the pace between 200 to 12,000 DPI. Depending on the game you're playing, you can change the settings. Many professionals set their DPI low for traction and added precision.
– Grips
You'll want to know just how much the mouse you pick fits your hand and palm. There are different mouse grips for all users, including claw, fingertip, and palm grips. The Logitech G403 wireless mouse applies to these three grips, but it's more suitable for palm grippers.
– Programmable Buttons
Without programmable buttons, gaming mice would be dull prospects. However, modern mice like the G403 wireless have buttons to transform some in-game functions through macros and key binds.
The G403 has six programmable buttons, well-positioned with the two primary buttons to give you the edge. The number of buttons doesn't matter unless you are a regular gamer with a preference for many buttons. Other things you can customize include RGBs and onboard profiles, which help you transfer your gaming setup to any other computer.
Conclusion
If you can find this Logitech G403 wireless gaming mouse on sale and don't mind its costs, you should go for it. It's a comfortable mouse with competitive rates for the kind of devices in its class.
For this reason, this wireless model isn't competing with entry-level gaming mice but those established and dedicated models from different brands. If you appreciate a mouse that gives you a serious advantage playing games online like this one, it's worth considering.
You can make many adjustments to the mouse, including physically with additional weights and programming the buttons and RGBs. It's the best peripheral and tool for gamers.