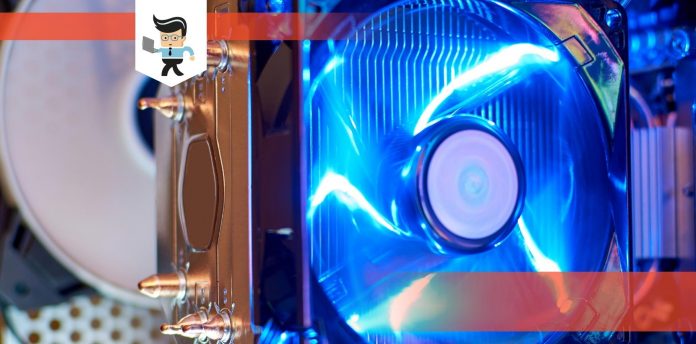 Our Lepa AquaChanger 240 review discusses a high-performance liquid cooler with a knack for fitting in with quality AMD and Intel systems. Fantastic features and capabilities are attached to the cooler, including a Central Diffusing Passage Cold Plate, a PWM-fan type with aggressive 9-blade design, and so much more.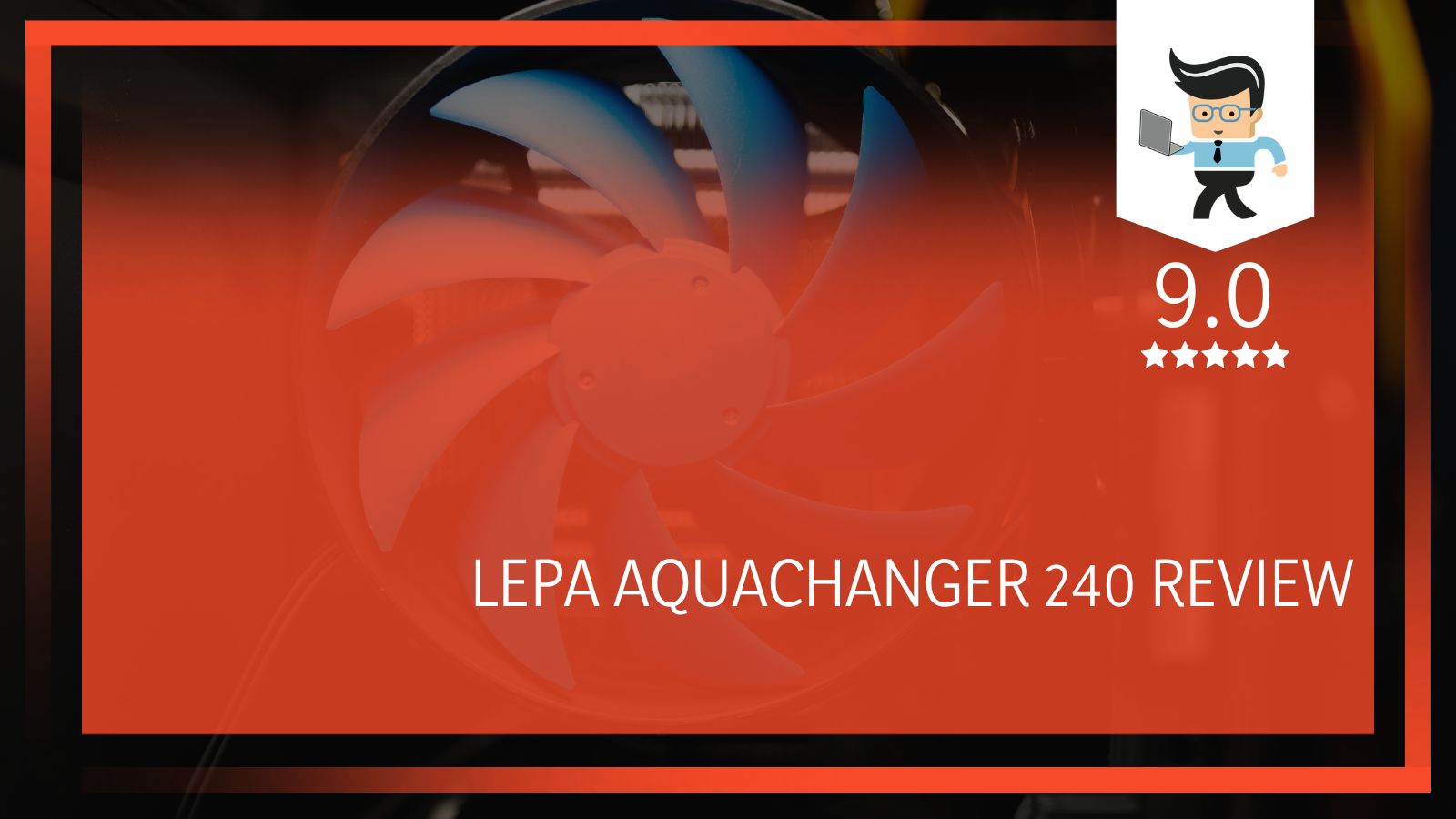 With many tasks and applications consuming more power and coolers growing in importance over the years, you must choose a perfect option for your rig. The AquaChanger 240 is one of such options that we have reviewed in this guide, so check out its quality and other relevant information here.
Lepa AquaChanger 240 Key Criteria
PROS
This product has a PWM-fan type with aggressive 9-blade design
It has a closed-cabinet and quiet pump
There is smooth passage of air for optimal cooling
There is an additional red LED light for visual appeal
CONS
The fan can be somewhat noisy
The hoses can be rigid and a little challenging to manage
The Lepua AquaChanger 240 is a cooler with a simple, practical appearance with some other great features. With that in mind, here are the top highlights that you can expect from this high-performing cooler:
Water cooling method
36 dB fan noise
2,700 RPM motor speed
Red LED light
240mm radiator
Patented CDP micro-fin cold plate
Anti-Leakage Tube
Easy installation

Product Review
Even though the Lepa liquid CPU cooler doesn't rank in the top echelons of coolers, it has its fair share of quality features. Our review team has gone through them using tests and how effective the features combine to keep your system cool.
The fans are optimized and effective at pushing air through the radiator, but get ready for your fair share of loud noise. The pump is just as effective, but it trumps the fan because you won't hear many sounds from it. Thankfully, you can modify the fan speed to a certain extent so that the cooler is almost ultra-quiet. Getting that quiet level of experience may mean compromising on some performances, but that's not a problem when running different power-consuming tasks.
We like the cooler's protrusive structure, which makes the copper base more durable and deploys more coolant for efficient CPU hot spot elimination. In the same way, the advanced aerodynamics form factor boosts downforce air pressure and creates high-volume airflow. Also,  this liquid cooler allows some customization so that you can fine-tune settings. More importantly, it will deliver impressive liquid cooling performance when in use, and it is easy to install.
The AquaChanger has a base plate connected to the IHS of the CPU with a layer of thermal paste. It allows better heat transfer between the two surfaces. Also, the metal surface of the baseplate forms part of the water block, which is designed to be filled with coolant. The coolant takes the heat from the base plate as it moves through the water block and continues to move through the system and upward through one of two tubes to a radiator.
The radiator will expose the liquid to air, which helps it cool, and fans attached to it eventually move the heat away from the cooler. The process repeats itself in the AquaChanger.
– How Has This Product Evolved?
The current model is more efficient at heat dissipation and contains more high-performing features than the previous model. The Lepa 120mm had to give way to the 240mm variation, which carries more features and capabilities.
Product Features Breakdown
There are some features and highlights of this Lepa liquid cooler you can look forward to after you decide to get one. We'll examine some of them now to help you determine whether or not this is the right choice for you.
– Water/Liquid Cooling Method
A liquid cooler has advantages, with the primary cooling method being water. The coolant in the Lepa AquaChanger is designed to absorb heat from the baseplate as it moves through the water block. The radiator will expose the liquid to air, which helps it cool, and fans attached to it then transfer the heat away from the cooler.
This process greatly helps in cooling the CPU faster and with less energy consumption.
– 36 dB fan Noise
In many situations, 36 dB of fan noise is enough to have an annoying sound. However, many users can attest to the quiet make of this Lepa AquaChanger cooler. If you're in a calm environment and running intensive applications, it can produce different sounds, but an average location will have near-silent efficiency when in use.
As noise level is a big factor for most people when choosing a CPU cooler, this product gets positive reviews for being one of the more silent ones on the market. When used in a regular setting, you won't have to worry about being distracted by the noise this product makes.
– 2,700 RPM Motor Speed
Fans are part of the process, and you get PWM variations backed by a motor speed of 2700 RPM. The fan is also aggressive with a 9-blade design for excellent and superior airflow. The aerodynamic design of the cooler boosts downforce air pressure and creates high-volume airflow via the fan. Furthermore, a ceramic bearing pump helps to produce anti-corruption, noiseless, and smooth operation.
Fan speed is essential; the more you have, the more air you move. With more air being pushed, that translates to lower temperatures. However, the way the fan is constructed matters because some fans are built for static pressure via a heatsink/radiator with great force. Others are made for high airflow out of a case with little resistance or intake.
At 2700 RPM, the fan on the Lepa AquaChanger works efficiently, but with higher fan RPM, get ready for higher noise levels. Lepa adds pumps to boost the quiet efficiency of the cooler.
– Red LED Light
The cooler has LED capabilities which adds more finesse to it. It serves as a perfect light on indicator, but the visual appeal does more to provide a gaming look. This product would look perfect on gaming rigs that have bright and stimulating colors.
– 240mm Radiator
A radiator is essential to any cooling process if you have a comprehensive water cooling system. The Lepa comes with a 240mm water cooling radiator that is necessary for transferring heat from the water to the air.
Also, the radiator allows the airflow to pass smoothly to help the cooling at a lower fan speed. You get thicker hoses that are more robust with an anchoring system. Simple instructions will help you install all these parts with ease.
It's a large radiator that enhances heat exchange capacity and cooling performance.
– Patented CDP Micro-fin Cold Plate
To accelerate heat absorption from the CPU, the Lepa water cooler comes with its own patented CDP micro-fin cold plate. It can accelerate the heat absorption from the CPU up to 30 percent thermal convection.
If too much heat bogs your processor, you might experience performance issues such as thermal throttling and performance slowdowns. In the same way, if things get too hot, your components could fail or, in the worst-case scenario, catch fire.
Rather than opt for the easiest option, it's critical for the life of your PC and its precious components to stay cool. That means getting a quality CPU cooler like the AquaChanger 240mm. It will keep temperatures under control no matter how much work your computer is doing.

– Anti-leakage Tube
There's a minimal chance of a tube leakage as long as you don't remove it too often. If you keep adjusting or reinstalling it, there's a possibility that the AquaChanger will leak.
For these reasons, the Lepa brand includes an anti-leakage tube featuring an elastic rubber tube with anti-leakage layers that provide exceptional durability. This helps with keeping the product leak-free.
– Easy Installation
The AquaChanger is a liquid cooling device that's easy to install in an efficient way to keep a PC's central processing unit (CPU) cool. Lepa includes explicit instructions to help you get the best out of the cooler, which contains water to absorb the heat generated by your processor. When the water absorbs heat, it gets pumped through a hose to the radiator. The radiator cools it and sends it back to the CPU via another hose. This process is highly effective in keeping your CPU cool and working at its best.
Will this product fit into your system? Whether you choose air, AIO, or custom water loop, you need to ensure it's not too big. You'll know the Lepa AquaChanger is a great fit when you match the CPU socket. Also, it will work perfectly for both the AMD and Intel processors/sockets.
– Necessity
So is a CPU cooler necessary? From the activities you plan to handle and work on, you'll be able to answer this question. The thing is, CPUs generate a ton of heat, so every single CPU out there will need something to cool it. Some CPUs have their coolers attached to them, but you should get one for your AMD or Intel system to keep it functional.
Furthermore, liquid coolers tend to have a quieter disposition than air variations as the pump is usually well insulated and the radiator fans run at lower RPM. This is a big factor to consider if you are easily distracted by noises while working or gaming.
Final Words
Without a doubt, computers are among the most widely used powerful machines in the world. However, the more powerful a computer system is, the more likely it is to run hot. That is why it is very important to have an efficient and top-performing cooler that will help keep your rig cool without hardware throttling or even failure in extreme cases.
As we learned from our Lepa 240 review, it's an excellent choice for entry users and those on a budget looking to protect their CPU from the effects of intense heat.
It packs exceptional features, such as a patented CDP micro-fin cold plate, 2700 RPM fan speed, and 36 dB of regular fan noise. It is, at best, quiet and durable. The LED adds quality to the overall appearance of the Lepa AquaChanger 240mm liquid CPU cooler, so get one today!