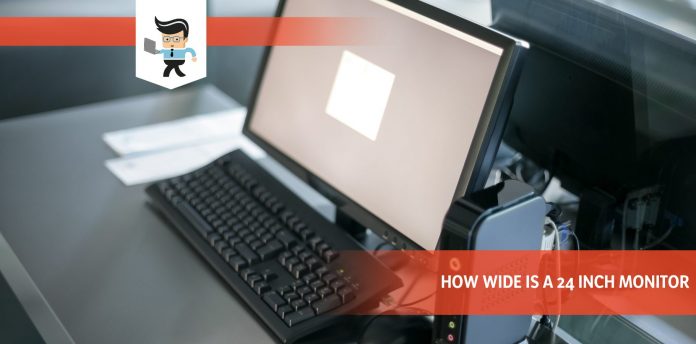 While the question "How wide is a 24 inch monitor?" seems so simple, many people cannot accurately answer it.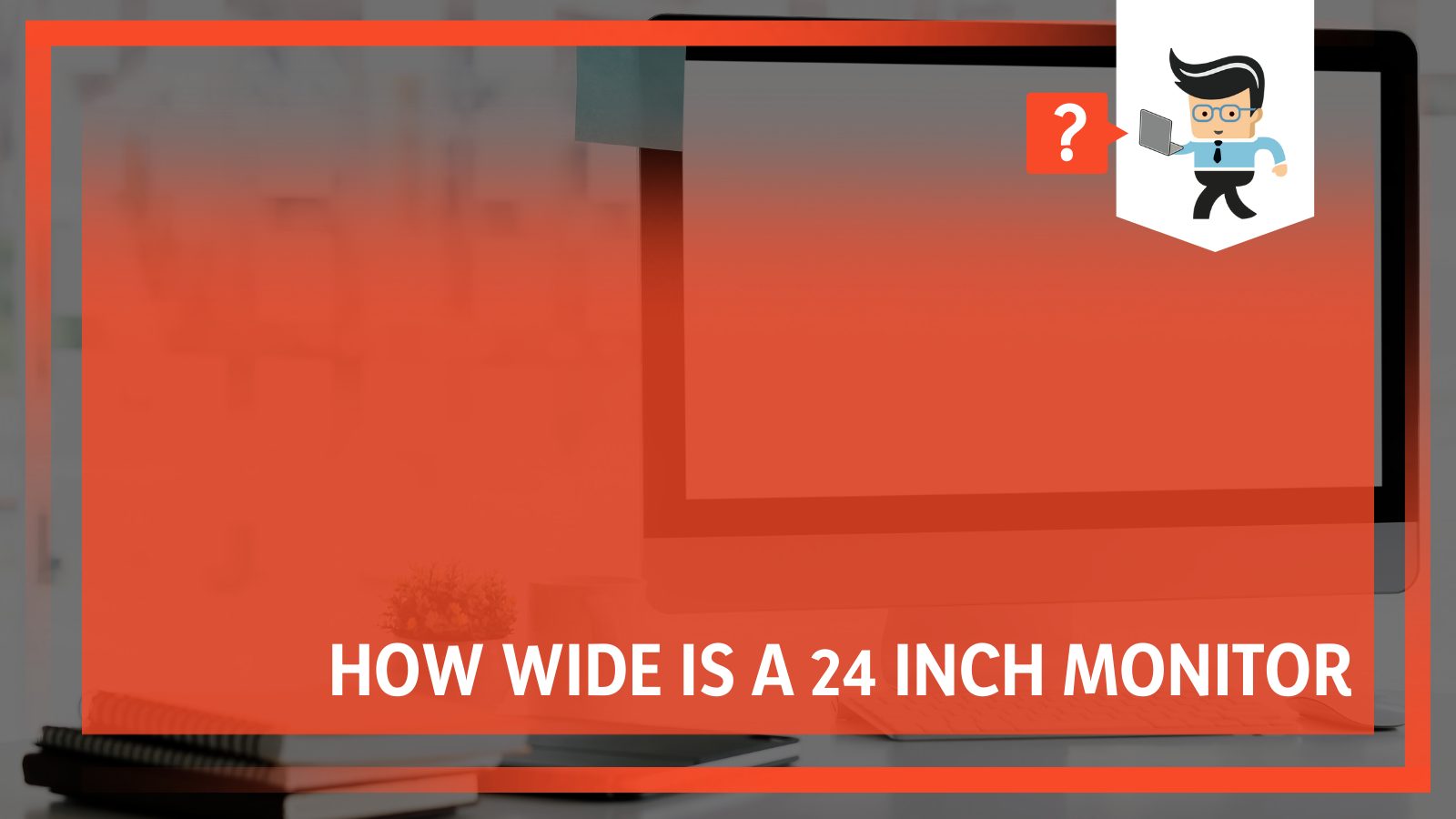 If you want to know the details of 24-inch screen monitors, we've got you covered. Scroll down to learn the exact dimensions of 24-inch monitors.
How Wide Is a 24-Inch Monitor?
A 24-inch display is 20 inches wide and is mostly 12 inches high, but a few can be 15 inches high. So a 24" monitor's dimensions are 20 inches x 12 inches. Therefore, a monitor's dimensions differ from its screen size.
The term 24-inch refers to the screen size of a monitor. The value is determined by diagonally measuring the distance between one corner and the other, for instance, the top-left and bottom-right corners. It's worth mentioning that 23-inch monitor dimensions are pretty similar to 24-inch ones. 
The dimensions given for a monitor do not include the stand. To add the stand's height, add about 4 to 6 inches for the stand. 
What Are the Factors That Determine a Monitor's Size?
Aspect ratio, bezel size, and trim size are the factors that determine a monitor's true size. Let's look at some in-depth information about the factors that determine the actual size of the monitor. 
– Aspect Ratio
A monitor's aspect ratio is the ratio of height and width, so if you have a wider aspect ratio, the width is larger while the height will be smaller. Similarly, the height-width ratio will decrease if the aspect ratio is lower.
Remember that the aspect ratio is horizontal and vertical pixel counts ratio. Therefore, a 1920×1080 pixel resolution monitor has a 16:9 aspect ratio, and both are co-dependent. If you change the aspect ratio, its resolution will also change.
16:9 (HDTV standard) aspect ratio offers a wider screen look than 4:3. For viewing standard, 16:9 is the most popular viewing standard. However, another ratio, the golden ratio, which means the width is roughly 1.5 times the height, is considered the most aesthetically pleasing.
– Bezel Size
A monitor's bezel is the outer border that looks like a frame. Earlier versions of monitors had a thick bezel. The bezel's importance is adding structural integrity to the monitor; however, thicker bezels are at odds with technological trends as they reduce the display size.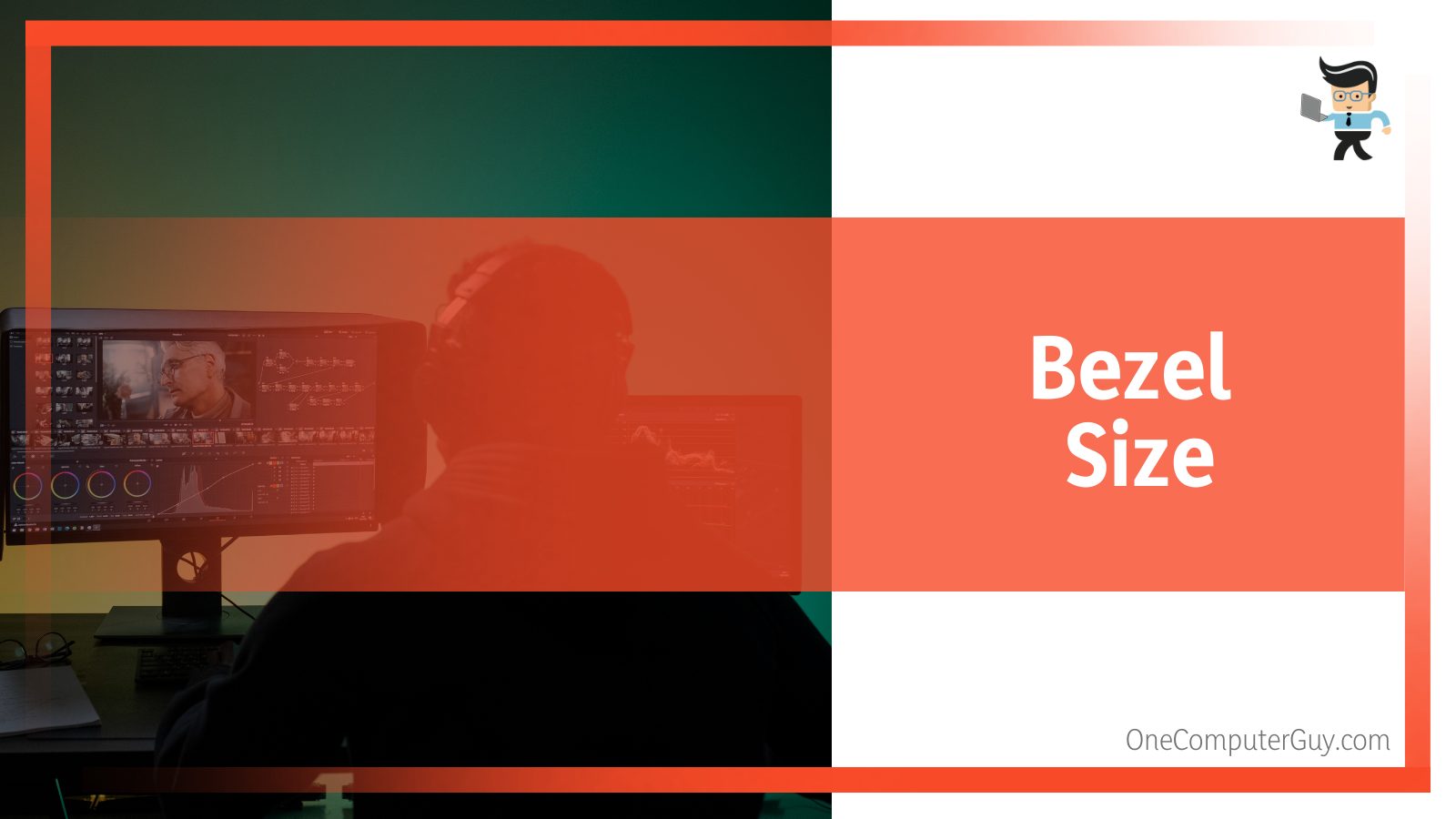 If the bezel size is 1 inch in the outer boundary of the display, then the monitor size increases by 2 inches on either side and two inches higher compared to monitors without bezels.
Modern-day monitors are bezel-less (less bezel, not without bezel). The thin bezel around the screen dramatically reduces the monitor's size and allows room to increase the display size.
So a 24-inch bezel-less monitor is much smaller than a 24 inches monitor with a thick bezel around it. The disadvantages of having a thick bezel are that it does not make for a seamless viewing experience.
– Trim Size
The trim size of a monitor means its actual height and width. As said earlier, a 24 inches monitor is usually 20-inch x 12-inch. However, some monitors can be 15 inches tall, affecting the monitor's general size.
How Can I Determine the Actual Size of a Monitor?
Diagonally measure the screen's distance from one corner to the other to determine the actual display size of a monitor. This measurement gives you the screen's viewable area. For CRT monitors, the figure is roughly an inch greater than the actual area.
These figures are usually included in the specs; for instance, 24″ monitors state that 23.1″ is viewable. In contrast, the screen specification size is its real size for flat panel monitors.
Check out the procedure below.
Measure the length and the height of the monitor using a ruler. While taking the horizontal and vertical measurements, do not include the bezel/frame around the monitor,

only measure the viewing screen

. This will give approximately 20.92 inches by 11.77 inches for your 24-inch display monitor.

Measure the diagonal size

by running a tape measure or ruler from the bottom corner to the top corner. For instance, the distance between the bottom right corner and the top left corner. Only factor in the viewable area, which should be 24 inches. 
If the screen is too big, you can't use a ruler, or you don't want to make a mistake, use Pythagoras' theorem to determine the diagonal length.
– Aspect Ratio
To know the aspect ratio of your monitor, compare the length and the height and divide the width by the height. Compare this value with the popular aspect ratios such as 16:9, 4:3, 5:3, or 16:10.
Should I Get a 24-Inch Monitor?
If you're planning to use it for office work or casual gaming, then a 24-inch monitor will suit you well. However, for more intense tasks such as video oediting or split-screen purposes, you will be better off purchasing a larger monitor.
The response to this question depends on the use you will subject the 24-inch display to. Remember, a monitor is the window to your PC's soul. Everything you perform on your PC will be lackluster without the correct display. 
So whether you want to use it for gaming, watching videos, editing, or viewing photos, you need a monitor that stands up to the task. For that reason, let's see how a 24-inch display performs.
– Office Work
A 24-inch monitor is sufficient for most office workers' tasks. Typically, it is the standard-sized desktop monitor for office work. The monitor leaves enough space on your desk to allow you to perform other tasks.
But it is important to note that suitable monitor sizes depend on your professional needs. With 24-inch monitors, you can comfortably do a range of tasks, including:
Having a video call with up to 5 people

Watch videos and presentations

Browse the internet

Open documents and edit them

Use business communication platforms

Use social networking platforms

Browse for images and edit them

Use a project management system
Furthermore, this monitor allows you to show two windows sided by side or stacked. This is important if you are watching videos and taking notes simultaneously. Also, it is beneficial when researching and writing text simultaneously.
However, if you do coding-related tasks or are a developer, you might need a larger display to boost productivity.
– Video Editing
A 24-inch display is okay for video editing but not the best. You should use ultrawide monitors, dual monitor set-up, or a 27-inch curved monitor, especially if you dislike working close to the display.
Video editing has several functions, such as navigating and scrolling the timeline, which can be tricky to handle on smaller screens. So a 24-inch can make you feel cramped quickly, especially when using Photoshop.
– Gaming
24-inch PC monitors offer enough screen real estate for gaming. Therefore, it is easier to see most things from this field of view. Most gamers choose 24-inch gaming monitors for higher frame rates, while some have QHD for gaming. In most tournament gaming, 24-inch models have become the standard.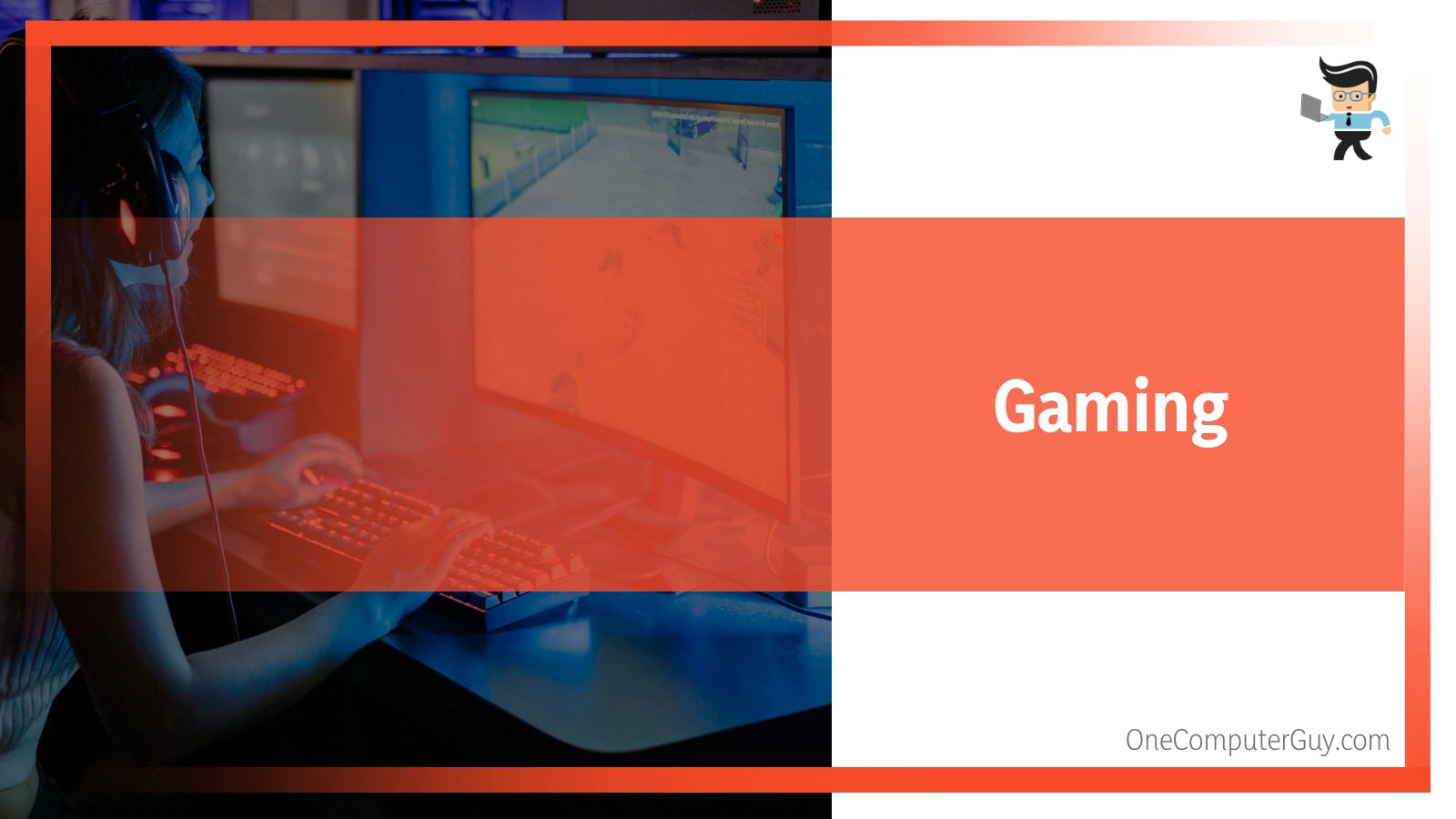 Furthermore, a 24-inch allows decreased head movement for players, unlike the larger screens which require players to move their heads to have better visuals. These decreased head movements can make a huge difference in competitive gaming. With a 24-inch monitor, you can view the entire screen without moving your head.
However, most gaming monitor size comparisons state that if you prefer graphics more than anything else while gaming, you can go for a 27-inch monitor instead. These monitors are available at higher resolution, or even 4K, for better graphics.
– Split Screen
A 24-inch is not a good option for split-screen viewing. Ideally, having two side-by-side windows on such a display size is slightly more unmanageable than a 27-inch. In this case, you need to choose a bigger monitor, such as a 27-inch.
What Factors Should I Consider in a 24-Inch Monitor? 
The monitor's resolution, display technology, and refresh rates are just some things to look out for when planning to buy one. A 24-inch monitor has a lot to offer, but to enhance your experience, you need to consider some key aspects.
– Resolution
The resolution of a monitor is the number of pixels the monitor displays in an image. 24-inch screen size in pixels is mostly 1920 x 1080 pixels for 16:9 format. This is also called Full-HD. Basically, this means that the monitor has 1920 pixels horizontally and 1080 pixels vertically.
Higher resolutions let you display more information, leading to better image quality. 
– Display Technology
Currently, the most common display technologies include light-emitting diode (LED), liquid-crystal display (LCD), and organic light-emitting diode (OLED). While all these display technologies are great, OLED offers the highest level of performance.
– Refresh Rate
A monitor's refresh rate is an essential quality, especially for gamers. Typically, it represents the number of times a screen refreshes an image, so a 60hz monitor will refresh the image 60 times. This is the introductory monitor refresh rate for gaming monitors. If you are a gamer, a higher rate works better.
– Video Inputs
Most displays have VGA, DVI, HDMI, and Displayport inputs. However, not all displays have these ports. While shopping for a monitor, make sure it has a DisplayPort which supports 3840 x 2160 (4K) at 60 FPS. HDMI is an excellent choice, thanks to its ability to carry audio signals.
What Are the Best 24-Inch Displays?
The Acer R240HY, ASUS VA24EHE, and LG 24M47VQ TN are some of the best 24-inch monitors on the market. Let's look at these monitors in-depth.
– Acer R240HY
The Acer R240HY features a 99 percent coverage of the standard red-blue-green spectrum. Thus, it has a near-perfect color data reproduction within the images projected on the screen. In addition, it uses the Acer eColor Management utility to adjust contrast, sharpness, and saturation for better viewing.
The display boasts perfect image quality for viewing photos and images and browsing, courtesy of the superior 100 Million:1 contrast ratio with full HD resolution. Its default refresh rate is 60hz, but you can overclock to 75hz.
– ASUS VA24EHE 
The ASUS VA24EHE uses Video Intelligence Technology to choose a suitable view mode. You can set this IPS panel to a standard, theater, reading, game, night view, sRGB color space, and darkroom modes. This lets you adjust the monitor's brightness, sharpness, and color.
It features a 75hz vertical scan rate with Adaptive-Sync/FreeSync technology which eliminates ghosting, thus giving you crisp and fluid visuals. In addition, the TÜV Rheinland-certified flicker-free technology and blue light filter allow extended viewing without tiring the eyes.
– LG 24M47VQ TN
LG 24M47VQ TN has a screen split feature that lets you split the screen into four segments. This should make multitasking more efficient.
Also, you can turn it into a Reader Mode and dimming/almost-zero flicker feature, allowing you to work for longer. Its 2-millisecond response time enhances your action film, sports viewing, and game sessions.
Conclusion
If you are still wondering how wide is a 24 inch monitor, here are the key things to note:
A 24-inch display is 20 inches wide and 12 inches tall.

24 inches, in this case, means the diagonal size, say from the top left corner to the lower left corner.

While determining the monitor size, only factor in the screen size, not the frame or bezel size.

The actual size of a monitor depends on the aspect ratio and the bezel size.
You can measure the actual size of your monitor using a tape measure. The information in this article should easily guide you on how to do that.