The Cooler Master Hyper 212 vs 612 air coolers are a really great option for you if you don't have a cooler for your computer and are looking to get one. These air coolers belong to the Hyper series and are considered some of the best in their price range.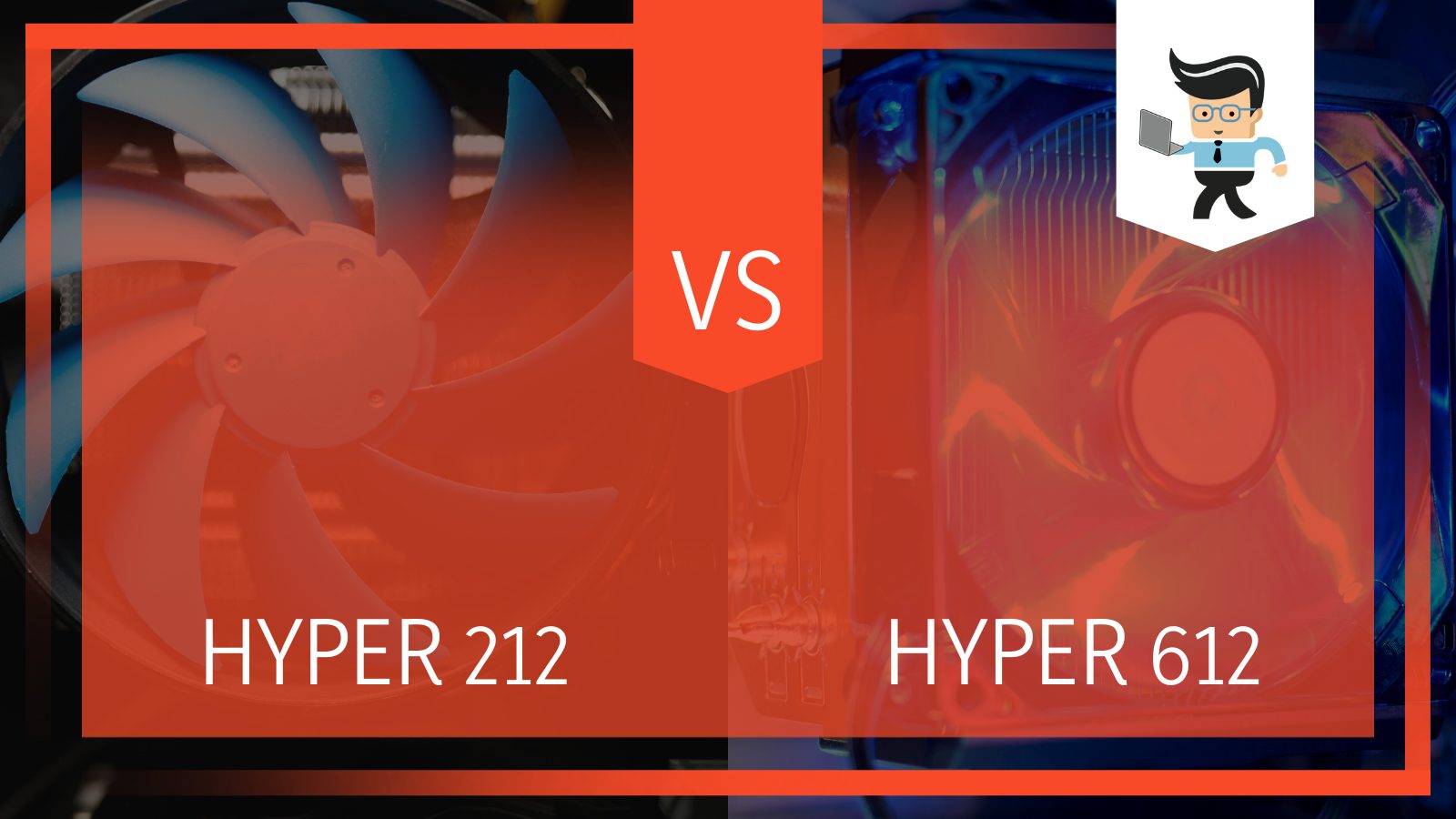 In this guide, we will discuss the key features, performance, and a few other aspects of these air coolers to find out which would make a better choice for your computer. If that's something that intrigues you, read this article until the end to find out which one is the better cooler between Cooler Master Hyper 212 vs 612.
Hyper 212 vs 612 Comparison Table
| | | |
| --- | --- | --- |
| Factor | Hyper 612 | Hyper 212 |
| Design | Has 6 tubes for airflow | Has 4 tubes for airflow |
| Performance | Better | Very good |
| Features | Has better features | Provides great value for money |
| Dimensions | 5.5 x 4 x 6.3 inches | 3.3 x 4.7 x 6.3 inches |
What Are the Differences Between Hyper 212 vs 612?
The main difference between Hyper 612 vs 212 is that the 612 is a later version that is larger, has bigger fins, a higher fan speed, and a more significant airflow than its predecessor. Even though the 612 is very good and has a decent price point, the 212 is still hailed as an excellent air cooler.
– Design
Let's start our Cooler Master Hyper 212 vs 612 comparison with the aspect where most components usually differentiate from each other; the design. As far as the Cooler Master Hyper 212 goes, even to this day, that little beast of a cooler from the Hyper family is considered to be among the top picks in the category of best coolers in their budget.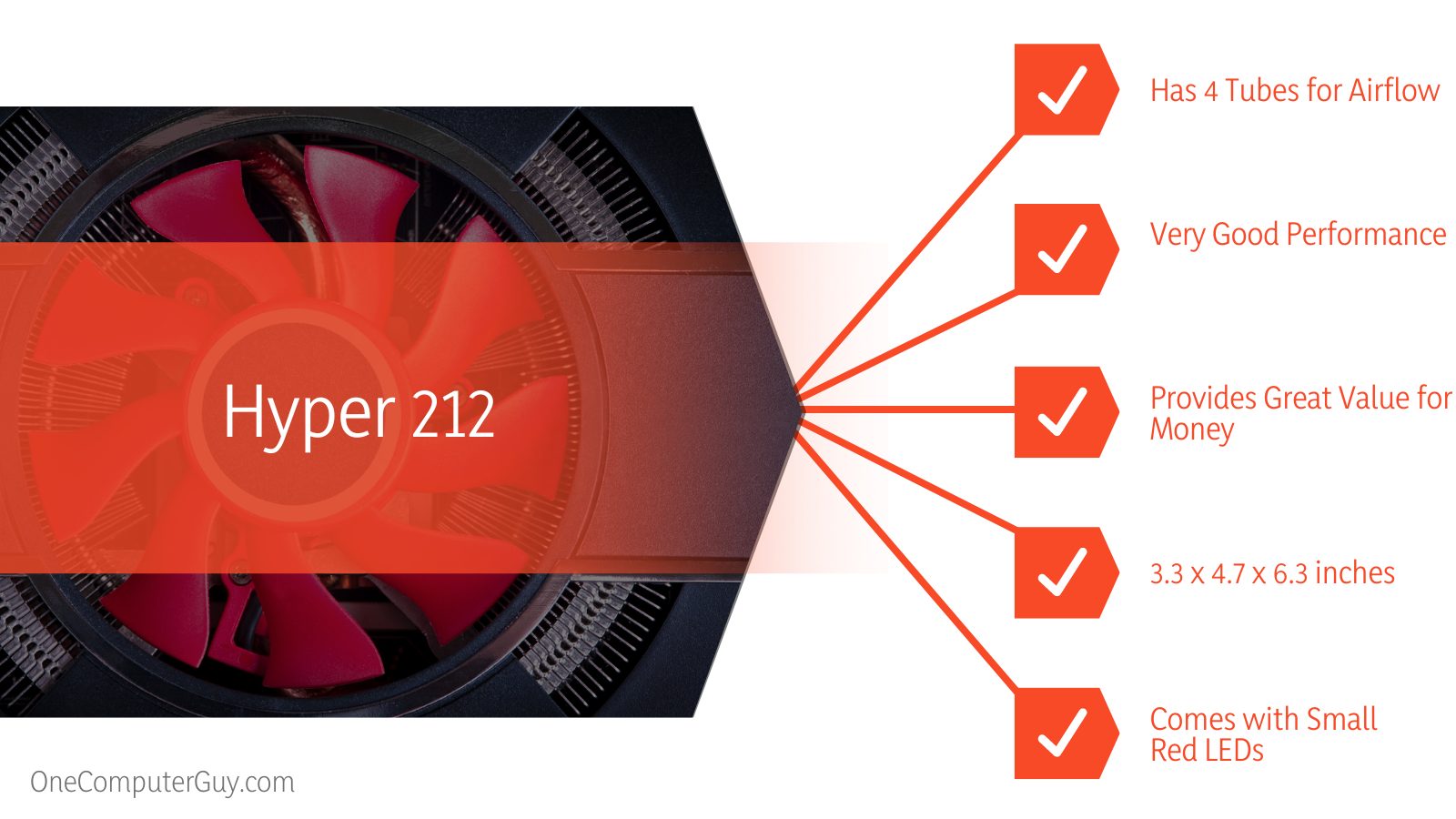 The 212 air cooler comes with small red LEDs and has 4 copper pipes that allow it to perform its cooling function admirably. The Hyper 212 has a rifle-type bearing and a 120mm fan that has a speed of 600 to 1600rpm to allow for cooling.
The Hyper 612 cooler, on the other hand, has six pipes, and in order to successfully utilize all those airways, the Cooler Master Hyper 612's fins are far bigger than the fins of the Hyper 212.
It should go without saying that trying to fit 6 pipes into an area the size of 212 would have been disastrous. With expanded size come additional advantages, such as space for pre-coolers and a second fan.
And we're talking about a dual fan because if you have the space for a larger cooler, you will also have room for an additional 25mm fan. That implies that adding a second fan will only improve the hyper 612, regardless of its current quality.
– Fins
With a sleeve-type bearing, this cooler's main structure is made up of 45 aluminum fins that are pressed over the heat pipes to conduct heat away from them. The 212 CPU cooler's dog-bone-shaped fins are still present in its descendant, but in the Hyper 612, they dig substantially deeper to make room for the six 6mm heat pipes to ascend and supply heat to the fins.
The copper base plate and a massive, all-aluminum pre-cooler, which make up the top portion of the base, trap the heat pipes as they emerge from the bottom of the fins.
– Performance
As far as the Hyper 612 vs Hyper 212 evo comparison goes, performance-wise, the Hyper 612 has a prominent edge on the 212 cooler, which can be understood by taking a look at some of the features of both coolers.
The Cooler Master 212 CPU cooler has a fan size of 120mm, which rotates at a maximum speed of 1600 rpm, and produces a max airflow of 66.3 CFM through its four copper pipes. The power consumed by the 212 is 2.28 watts, and it produces up to 31 dBA of noise in its operation.
Now, if we compare these stats to the Hyper 612, we can see that this cooler has its 120mm fan operating on a maximum speed of 2000 rpm, which produces an airflow of 82.9 CFM through its six copper pipes. Its ratings are also not too bad, considering that its maximum noise level is 36 dBA. After this comparison, you can easily see that the Hyper 612 outperforms the 212.
– Features
Hyper 212 vs 612 coolers can also be compared on the basis of their features. If we look towards the 212, it happens to be a slip of a cooler with small dimensions. It has four copper pipes that it uses for heat dissipation.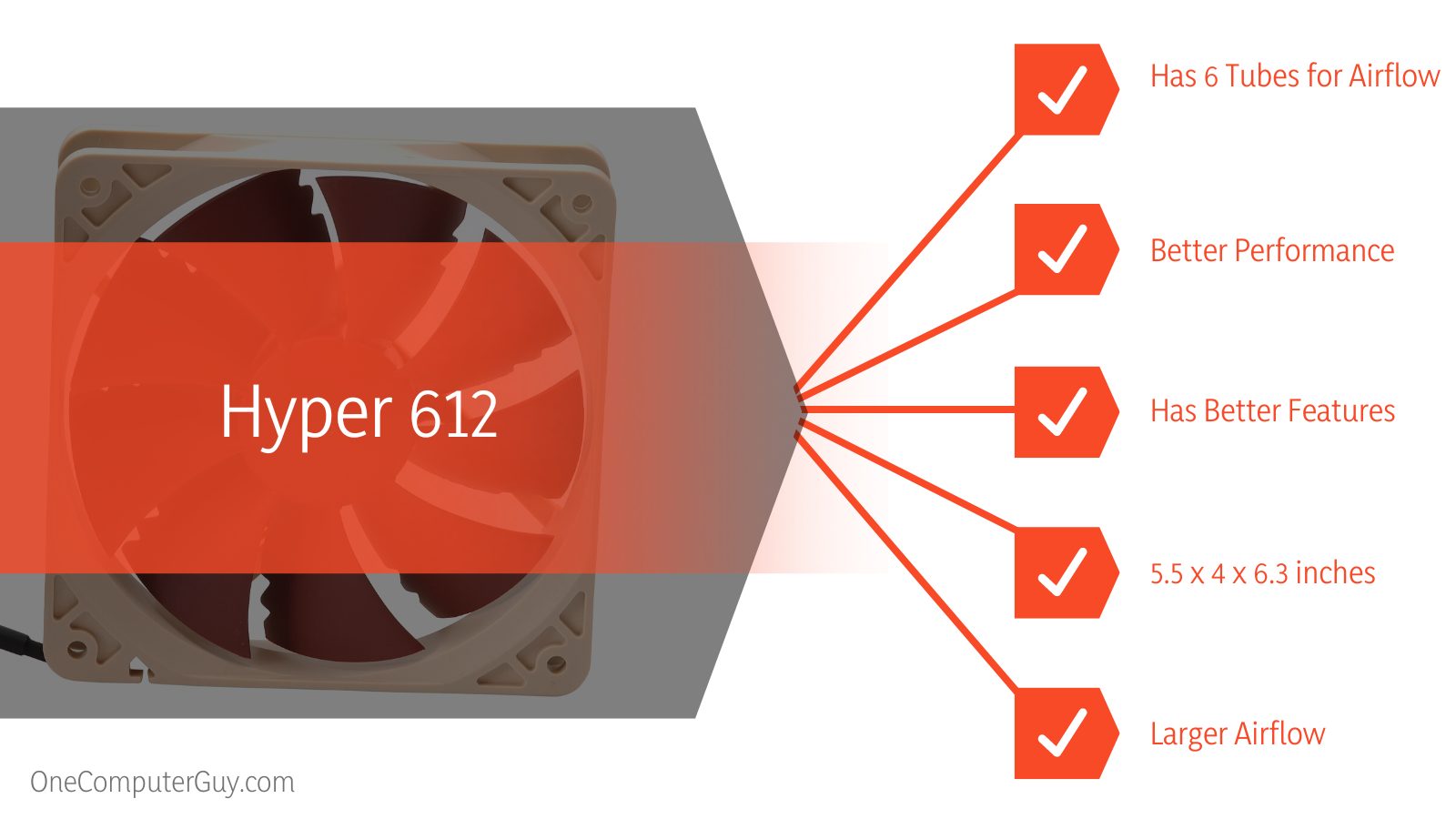 And in case you had any ambiguity, let us clear it up by saying that it is a CPU air cooler. It has a 4-pin connector, with the control method being the PWM (Pulse Width Modulation). With all these features, the 212 happens to be quite adept at cooling down your computer.
Now let's take a look at the features of the Cooler Master 612. When compared to the 212, it has bigger dimensions, 6 pipes instated of 4, and greater airflow. Other than that, both these coolers retain some similarities too.
The Cooler Master Hyper 612 is also a CPU air cooler that has 4-pin connectivity and is controlled via PWM. Its bigger fins, larger airflow, and other features allow it to dissipate more heat than the 212, all while being faster, as seen in our hyper 212 review.
– Dimensions
If you're wondering about the dimensions of Cooler Master Hyper 612 vs 212 coolers, you can satiate your curiosity in this section. The Hyper 612 has a width of 5.5 inches, a depth of 4 inches, and a height of 6.3 inches.
The Hyper 212, on the other hand, has a width of 3.3 inches, a depth of 4.7 inches, and a height of 6.3 inches. Where the weight of the 612 comes to around 1.6 pounds, the 212 weighs around 1.2 pounds.
What Is Hyper 612 Best For?
The Cooler Master Hyper 612 CPU air cooler is best for those who want to have a somewhat powerful air cooler to keep their computers at the desired temperature. With its 6 copper tubes, a 120mm fan, and a speed of up to 2000 rpm, the Hyper 612 is a good option if you're looking to get an air cooler.
What Is Hyper 212 Best For?
The Hyper 212 is the best option if you don't want to spend much on a cooler but still desire something that gives more bang for your buck. It happens to be both one of the cheapest and one of the best air coolers in the Hyper series, so you won't go wrong with it.
– Recommendation
Being one of the most affordable air coolers, the Hyper 212 still retains its position as the best air cooler you can buy in its price range. With all of its features, we can safely recommend the 212 as being worth every single penny.
Conclusion
In the end, we can safely conclude that both the Cooler Master Hyper 612 and the Hyper 212 happen to be very good air coolers at their respective price points. The Hyper 212 is smaller than the 612 but is still a great option for your computer.
With its 120mm fan, four-tube airflow system, and 600 to 1600 rpm fan speed, the 212 can easily keep up with your computer and maintain its temperature at the desired level.
The Cooler Master Hyper 612, on the other hand, has a six-tube airflow system along with a fan speed of 600 to 2000 rpm and a larger airflow as compared to the 212. But even though the Hyper 612 has more features than the 212, the latter still holds its position as the air cooler providing the most value for your money.