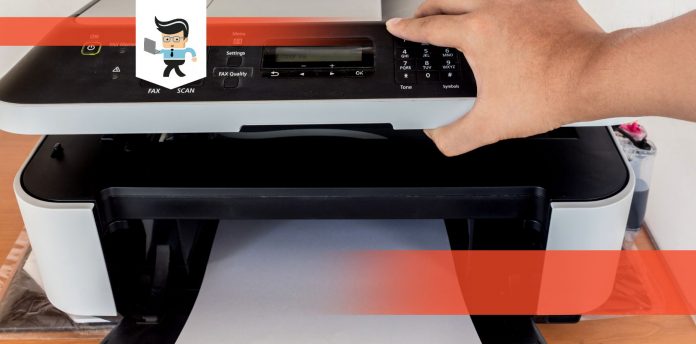 This all in one printer review compares the HP Envy 7645 vs HP Envy 7640. These printers have a similar level of performance, but they have some minute differences also. Special features of each printer will determine which is best for your needs.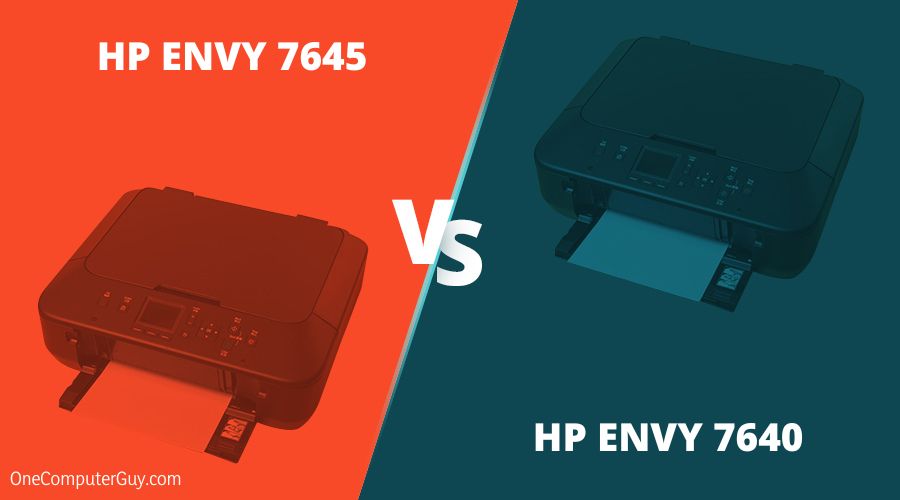 When purchasing a printer, one needs to take into consideration many factors. These factors surround the characteristics and specs of a printer. How will it benefit me? Is it best to buy it? HP provides excellent electronic devices that we can all use.
Product
Specifications
Hp envy 7645

Print, scan, copy, and fax
Mobile printing
25.3lbs

Hp envy 7640

Print, scan, copy and fax
Mobile printing
25.3lbs
Individual reviews
Pros:
• Mobile printing( tablet, phone)
• Memory card slot
• Excellent for home and office printing
• 3.5'' touchscreen to print directly
Cons:
• The quality of photos is subpar
• Not intended for high volume printing (can be slow for large jobs)
This all-in-one-printer is excellent to meet all your printing needs. If you need a printer that can print up to 1000 pages a month, the HP envy 7645 is an excellent option. HP thermal inkjet is what establishes this printer, which provides for high-speed printing.
Features
This printer has some fantastic features. Take this HP Envy 7645 printer review into consideration. It will help with your decision to buy this superb printer.
• Connectivity
All-in-one wireless printers are beneficial. They allow printing from several devices, e.g., smartphones, etc.
Printing occurs without you having to connect the printer to a specific cable or special transfer. Your prints run right away! It also uses 1 USB 2.0; 1 Wi-Fi 802.11b/g/n and supported by Wireless direct printing; and it has a memory card slot.
The hp envy 7645 printer has a copy speed for black copies of 21CPM, which it measures in pages per minute. Colored copies run at 19CPM. We measure copy speed using a draft and A4 paper.
Furthermore, it contains one tray which holds 125 sheets of paper. The output tray capacity is 25 sheets, and it has an input tray capacity of 140.
The HP Envy 7645 comprises technology that facilitates high-resolution bar codes. As a result, it provides easy and smooth printing. It results in superb quality of text and images with incredibly high speed. It requires no maintenance.
Memory Card compatibility
This printer uses secure digital and USB flash drive for storage of memory. These devices save and store all information passing through the printer.
Reviewing the body Hp envy 7645
This printer is 25.3lbs; it is fantastic for mobile printing. This unbelievable wireless printer is super convenient. It provides many advantages to its users. This HP Envy 7645 review sums up that the printer offers excellent print quality. It also uses a wide variety of paper sizes.

Benefits of HP Envy 7645
This printer is one of a kind. It can benefit you for all your printing needs. How will this printer change your perspective about printing? The following are benefits that arise from using this printer:
Do you want rapid printing? What about when you're in a rush? This printer produces documents very quickly and is incredible for home and office printing!
This printer can be connected to your home or office Ethernet, Wi-Fi, or wireless LAN. It even allows users to print from the convenience of their mobile phone or tablet.
The 7645 printer offers high-quality images and documents. You can print on a varied range of paper types in different sizes.
This printer is beyond amazing! Users are very satisfied with its performance. Thinking about buying a printer? This should be a choice!
Pros:
• Connects via Ethernet, Wi-Fi, and USB
• Automatic duplexer
• Borderless printing
Cons:
• Business printing may be slow
Features
Wired (Ethernet) Wireless; Wi-Fi 802.11b/g/n USB; 1 USB 2.0
Direct print supported by Wireless direct printing, memory card slot.
This printer allows a copy speed for black copies of up to 21 CPM and colored copy speed of 19CPM. This is measured in copies per minute using draft and A4 paper.
The 7640 has two trays which can contain up to 125 sheets each. Its output tray can hold 25 sheets each.
The HP Envy 7640 is a low-cost choice for high-speed printing. This feature provides printing on a variety of surfaces, with the outcome being high-quality output.
Memory Card compatibility
Like the Hp envy 7645, this printer uses a secure digital and USB flash drive for all its storing purposes.
Reviewing the body of Hp envy 7640
The Hp 7640 printer has impressive specs for your printing purposes. Our HP envy 7640 review highlights these features and shows how this machine provides rapid and high-quality printing.

Benefits of Hp envy 7640
Unique, fantastic, and excellent are only a few words to describe this printer. It provides us with many benefits that will help us make our printing life safer and much more manageable. Here are some services that this printer offers:
•   Color LCD touchscreen:
this allows you to control the printer using the front panel easily. It's convenient and easy to use. It's very beneficial as it saves time.
This printer produces text and documents of high quality. The output is excellent, and it uses different shapes and sizes of paper.
This printer is ENERGY STAR® qualified. That certification is hard to come by. It's for products that are the same or better than standard products, only they use less energy.
This printer falls in that category, which is beneficial to you as a person and, by extension, society.
The HP Envy 7640 printer is beneficial to one's life, as we can see. Are you deciding which printer you should buy for the holidays? Make this be an option!
Comparison of HP Envy 7645 vs 7640
The main difference between HP Envy 7645 and 7640 is, HP Envy 7645 can carry more paper compared to HP Envy 7640, giving it a competitive edge.
We've discussed individual specs in each wireless printer review. Are you able to make your decision yet? Do you know a clear difference, and which is the one right for you? Construe this comparison to make your verdict!
– Power consumption
Both the Hp envy 7645 and 7640 uses the power of 13.95 watts (printing), 3.60 watts (ready), 0.93 watts (sleep), and 0.20 watts (off). Within both printers, there is a built-in Universal Power Supply. It assists with a power supply of 100-240 V (+/-10%), 50/60 Hz (+/- 3 Hz).
– Paper type
The difference between HP Envy 7640 and 7645 lies in the paper type. Both printers can hold as many as 15 sheets of photo paper. But 7645 can carry more plain paper than the Envy 7640. The 7645 has an input capacity of 140 pages, while the other has a tray that holds 125 sheets. So, when you compare hp envy 7640 vs 7645, you'll see that the HP Envy 7645 has the edge in keeping more plain papers.
– Print, scan, copy & fax
Here's another measure to compare HP Envy 7645 vs. 7640. Both models support the printers' four functional capabilities—printing, scanning, copying, and faxing. All-in-one printers usually have all these functions. It allows users to share your documents without ever switching printing devices.
– Mobile Printing Capability
This feature is present in both printers. They both offer mobile printing, made possible through Wi-Fi direct and local Wi-Fi connection. This feature allows printing from a smartphone using one of the major operating systems. It supports Android, iOS, Blackberry, Windows 8, and Windows RT.
– Weight
The Hp envy 7645 and 7640 printers have the same general weight and dimensions. Both weigh approximately 25.3lbs and a dimension measured using (W x D x H) of 454 x 503 x 193 mm (17.8 x 19.8 x 7.6 in).
– HP Thermal Inkjet
Both the Hp envy 7645 and Hp envy 7640 use this print technology. It enhances the quality of images and documents that come from these printers. It also provides a high resolution that requires no maintenance and easy to use.
Conclusion
When analyzing these two printers, there wasn't a clear distinction. They have very similar features and specs.
If you need a printer that can hold more paper, the HP Envy 7645 is the right one for the job. The HP Envy 7640 can do the same things, but its paper capacity is smaller.
Thus, HP Envy 7645 is the better choice because it holds more paper. It wins because it is so convenient for busy moments, especially in larger firms. Make your printing extraordinary by purchasing the right printer today!